Vegan Chocolate Coconut Oatmeal
This vegan chocolate coconut oatmeal with caramelised banana makes a comforting breakfast that's filling, satisfying and ready in under 10 minutes! Serve with berries for a healthy start to the morning. Gluten-free and oil-free, with an overnight oats option.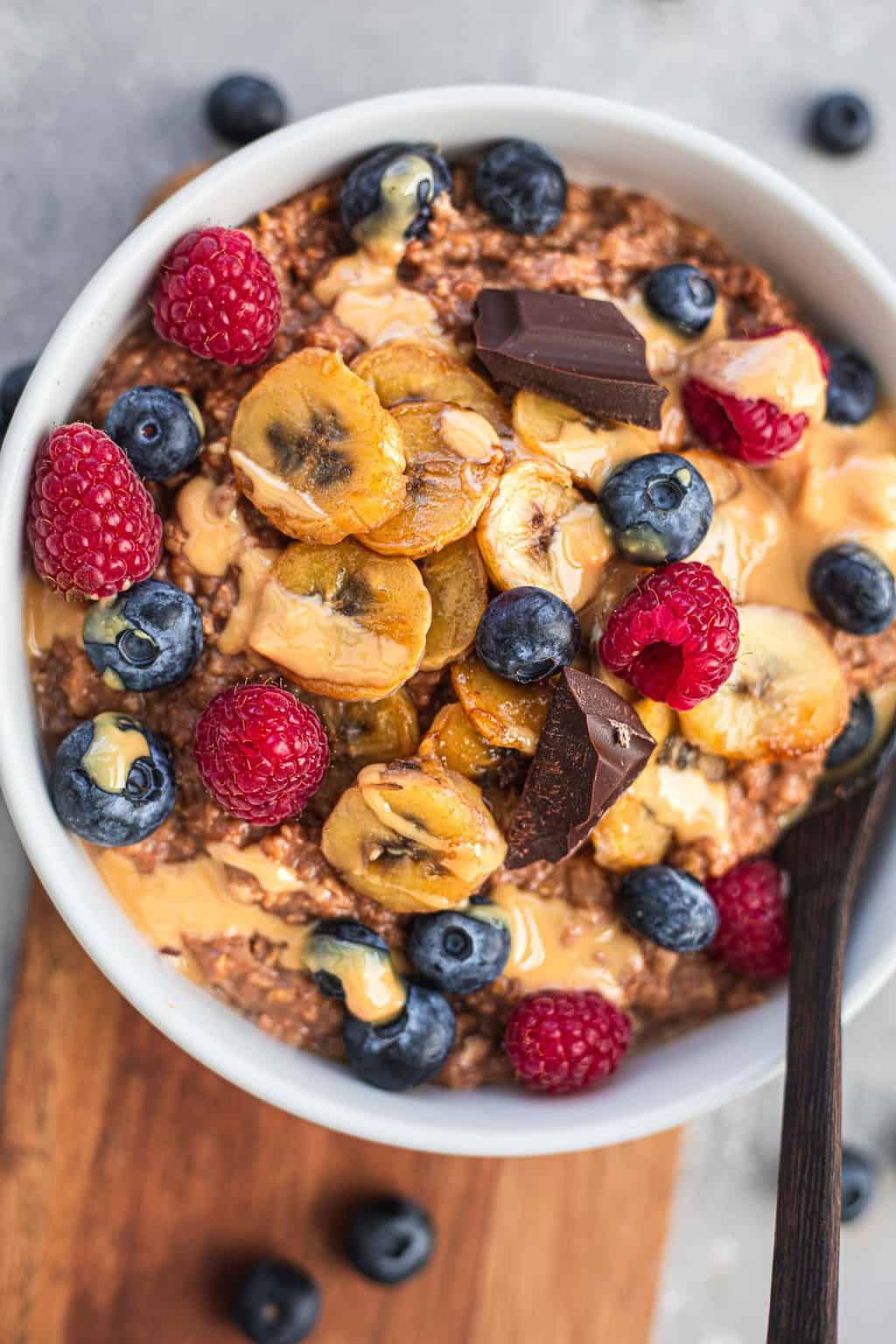 I start around 90% of my mornings with oats. No exaggeration there – I'm obsessed, and have been for a long time. And the obsession probably won't go away any time soon. There's just something special about the warming cosiness of porridge as your first meal. One of those little things to look forward to on a daily basis.
LOOKING FOR MORE EASY AND COSY VEGAN BREAKFAST IDEAS? MY EBOOK EASY VEGAN UNDER 30 MINUTES IS OUT NOW TO HELP YOU START THE MORNING RIGHT!
So, today I'm bringing to you my current fave combo: chocolate coconut oatmeal with caramelised banana! Try this next time you want to switch up your breakfast.
Vegan chocolate coconut oatmeal with caramelised banana
The reason why I love starting my day with oatmeal is because of how filling and satisfying it is. It's easy to make it really voluminous, and definitely makes something to look forward to when I'm on my way back from a morning gym session.
(Music for video: https://epidemicsound.com)
Plus, the chocolate-coconut combo is one of my favourites. The coconut is not overpowering in this recipe at all, but still noticeable through a subtle hint of sweetness. While the chocolate is, well, just chocolate. Enough said there. Typically, chocolate porridge calls for cacao powder, but I used actual dark chocolate for this one for an extra layer of indulgence.
Even though the ingredients are healthy and wholesome, this coconut oatmeal is the definition of dessert for breakfast. Especially with the caramelised banana on top. That's my favourite part for sure.
How to caramelise bananas
It's so easy and works like magic! I love serving caramelised banana with oats, smoothies and on pancakes. But sometimes I'll make a batch on simply to snack on and satisfy my sweet tooth.
Start by heating up around a tbsp coconut sugar in a non-stick frying pan with 1/2 tsp water. Alternatively, you can use a tbsp maple syrup instead. After 1-2 minutes, add the banana slices and cook them for 2-3 minutes on each side on a low heat (this is important, because you don't want them to burn).
If you don't have a non-stick saucepan, you may have to use a little bit of oil or a frying spray to prevent sticking.
Ingredients and substitution
Gluten-free quick cooking oats. Check ingredients and ensure gluten-free certified if necessary
Zest of one lemon. This is optional but does add a good hint of flavour. You can use lime zest as well.
Coconut sugar. You can use maple syrup or a sweetener instead.
Tinned coconut milk. For this recipe, I usually use a reduced-fat version, but if you want it even creamier, use a full-fat coconut milk. Coconut yoghurt works too.
Plant based milk of your choice. I usually go for oat milk.
Dark chocolate. You can also use 1 tbsp raw cacao powder instead.
Bananas, to make the caramelised banana.
Other toppings of your choice! For instance, berries, fruit, more chocolate, nut butter, nuts and seeds.
How to make the best vegan coconut oatmeal
STEP 1: Add the oats, lemon zest, coconut sugar, coconut milk and plant based milk to a non-stick saucepan. Cook over a medium heat, stirring frequently, for around 5 minutes, or until the oatmeal reaches your desired consistency.
STEP 2: Meanwhile, caramelise the banana. Heat the coconut sugar in a non-stick frying pan over a low heat with 1/2 tsp water. Add the banana slices and fry for 2-3 minutes on each side.
STEP 3: Serve the oatmeal with the caramelised banana on top and other toppings of your choice.
OVERNIGHT OATS OPTION: Stir together the oats, lemon zest, coconut sugar, coconut milk, plant based milk and a tbsp cacao powder. Transfer to a jar or airtight container and leave in the fridge for at least 30 minutes, ideally overnight.
You will love this simple vegan breakfast recipe!
It's …
Entirely dairy-free and vegan, as always.
Gluten-free.
Oil-free.
Great for a healthy start to the morning.
Perfect for meal prep.
Indulgent, like dessert for breakfast!
Comforting.
Ready in 10 minutes.
Easy and beginner-friendly.
Vegan coconut oatmeal tips and tricks
The coconut oatmeal keeps well in the fridge for 2-3 days in a mason jar/airtight container. Make it ahead of time for meal prep, and prepare the banana when you're ready/serve with other toppings.
If you make this ahead of time, you can either eat it cold, or reheat on the stove with a little bit more plant based milk.
Don't skimp on toppings! They really enhance the porridge and your whole breakfast experience.
To make the coconut flavour stronger, add a tbsp coconut flour or desiccated coconut.
If you want to, you can skip adding sugar to the oats as the bananas will bring a lot of sweetness. Alternatively, you can sweeten the porridge with either chopped dates or a mashed banana.
Add a scoop of vegan protein powder for extra protein and volume.
Another great trick for a fluffier porridge is adding around 1/2 a cup grated zucchini per serving. Don't worry, your oats won't taste like vegetables!
Stir in a tbsp tahini for a deeper, more earthly flavour.
Other vegan breakfast ideas you might like
Let me know in the comments: what's your favourite way to start the morning? If you give this vegan chocolate coconut oatmeal with caramelised banana a go, be sure to tag me on Instagram (@earthofmariaa) so I can see your creations, and leave your feedback in the comments below!