A soba noodle stir-fry with oyster mushrooms, vegetables and a rich miso tahini sauce: just what you need to enjoy a comforting dinner within 15 minutes. Vegan, gluten-free and made from just a few simple ingredients. 
Wow. Before writing this, I was going over my content calendar for September. This, I have to admit, brought a few tears into my eyes. I swear just last week, my life revolves around pasta salad and endless smoothie bowls. And now, I'm sitting here thinking about pumpkin and soup (pumpkin soup too, of course). It's one of the struggles of being a blogger: you have to plan ahead, but that automatically makes you notice just how fast time flies by.
One of the things I've been doing to prepare myself for seasonal is by drawing all my attention to stuff that cancels out what I dislike about colder seasons. And no, I'm not taking about scented candles and fluffy socks. I'm not massively into all of that. I mean big events and occasions I can look forward to. Starting uni. Making new friends. Learning more about myself. All of it makes me less concerned with the fact that England's gonna get real soggy and grey over the upcoming months.
If you have any favourite tips on dealing with seasonal change, leave them in the comments! I'm always searching for new ideas.
Now, let's discuss this soba noodle stir-fry recipe.
(In case you're new here: Hi. I'm Maria, and I like being irrelevant at the start of my posts.)
A food that always makes me happy is noodles. I've been creating all sorts of recipes with them for years, and practically living off cold soba when I was in Japan in April further intensified my obsession.
I'm sharing this recipe today because it's just SO easy, and does not skimp on flavour.
It features oyster mushrooms as the centre stage ingredient, which are much more rich and flavourful than normal button mushrooms. They also have a 'meaty' texture, making them a great swap if you usually have meat in your stir-fries but want a plantbased alternative. For extra texture and crunch, we add ribboned zucchini and carrot. Stir-frying for a few minutes brings out their natural flavours and they perfectly complement the softer noodles.
All you need is a wok/frying pan, a small bowl to make the sauce, and 15 minutes to make the meal as a whole. Yes, just 15 minutes! Goes to show how effortless healthy, vegan cooking can be.
Miso tahini stir-fry sauce
Okay, this is the thing that really pulls the soba noodle stir-fry together. Miso and tahini are both magical ingredients. I'm pretty sure that tahini is liquid gold: I've been eating it non-stop over the last couple of weeks, on porridge, in pasta dishes, in dressings, drizzled over nourish bowls, etc. Together with warm noodles and crisp vegetables? You'll fall in love with it.
The only ingredients you need to make the sauce are:
Tahini
Brown rice miso
Date syrup (or agave/maple syrup)
Water
Arrowroot powder
You can also use this sauce to turn the recipe into a cold soba noodle bowl: brilliant if you don't want to bother with a frying pan! Simply leave out the mushrooms and combine it with cooked noodles, the carrots and the zucchini, putting everything to chill in the fridge for 10 or so minutes before serving.
How to make a vegan soba noodle stir-fry
This recipe couldn't be easier. Firstly, stir together the ingredients for the sauce. Then start cooking the soba noodles. Meanwhile, add the add onion to a wok or frying pan, cooking it down for a couple of minutes. I added the oyster mushrooms with a pinch of garlic powder, but you can leave this out if you don't like your food to be too garlicky.
After adding the zucchini and carrot and allowing those to soften for a bit, stir in the drained and rinsed noodles with the miso tahini sauce. Let the sauce thicken up for a minute or so, adding a splash more water if necessary. After that, it's pretty much ready to serve with a few flaked almonds, a chopped red chilli (totally optional, if you don't like spice) and spring onions. 100% beginner-friendly, and delicious every time!
What noodles should I use?
Whenever you make any sort of stir-fry, try out different egg-free noodle varieties to see which ones you like best. For this one, I used some buckwheat soba I had lying around, but rice noodles are another favourite of mine.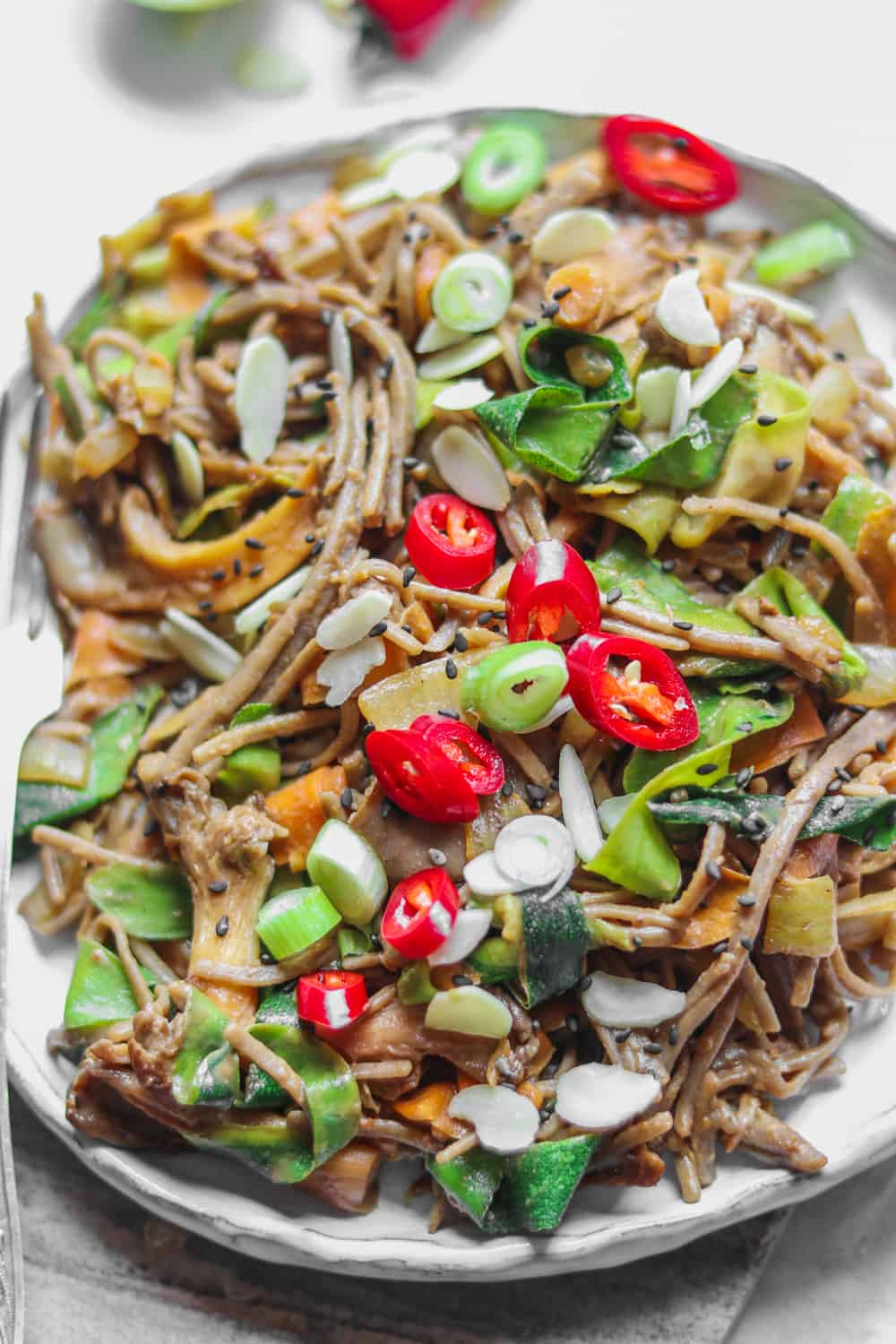 Have a look round your supermarket or health food store, because there's so much choice out there! The key is not to overcook before adding them to the frying pan. Check individual cooking times and go for a minute or two lower than that.
Why you'll love this oyster mushroom stir-fry
This is honestly one of those dishes you can make over and over again and never get bored of. The finished product is:
Packed full of flavour in every bite.
Gluten-free.
Versatile: add in any vegetables of your choice to switch it up.
Warming and comforting as an easy weeknight dinner. 
Deliciously healthy and good for you.
Some other recipes you might enjoy…
Let me know in the comments: what are your go-to dinners that are quick and delicious? If you give this soba noodle stir-fry a go, be sure to tag me on Instagram (@earthofmaria) so I can see your creation!
Also, I have just started a new Facebook page for my blog, so be sure to give Earth of Maria a like and a follow on there to stay updated with new recipes.
Miso Tahini Soba Noodle Stir-fry With Oyster Mushrooms
A soba noodle stir-fry, made with oyster mushrooms, vegetables and a rich miso tahini sauce: just what you need to enjoy a comforting dinner within 15 minutes. Vegan, gluten-free and made from just a few simple ingredients.
Ingredients
3.5

oz

soba noodles

2-3

cloves

garlic

1

small

white onion

2

large handfuls

oyster mushrooms

1

large

zucchini

1

large

carrot
For the miso tahini sauce
2

tbsp

tahini

1

tbsp

brown rice miso

2

tbsp

date syrup

or agave

2

tbsp

water

1

tsp

arrowroot powder
Instructions
Make the miso tahini dressing by stirring together the tahini, brown rice miso, date syrup and arrowroot powder.

'Ribbon' the zucchini and the carrots using a vegetable peeler, until you have around 1 large handful of each. I like to store the leftover vegetables in the fridge and use them later in salads.

Start cooking the soba noodles, but remove them from heat to drain and rinse within 1-2 minutes of cooking time indicated on label. Meanwhile, add the garlic cloves and onion to a frying pan on a medium-high heat with a few tbsps of water and cook for 1-2 minutes, until translucent.

Add the oyster mushrooms and cook for a further 4-5 minutes, until they have browned lightly.

Add the vegetable ribbons and stir for around 2 minutes: do not overcook, because you want them to retain some crunch.

Finally, lower the heat and pour in the sauce with the soba noodles and stir for a minute more to allow it to thicken. Best when served straight away, with sesame seeds, chilli, spring onion and flaked almonds as garnish.
Nutrition
Calories:
405
kcal
|
Carbohydrates:
73
g
|
Protein:
13
g
|
Fat:
9
g
|
Saturated Fat:
1
g
|
Sodium:
756
mg
|
Potassium:
799
mg
|
Fiber:
4
g
|
Sugar:
22
g
|
Vitamin A:
6335
IU
|
Vitamin C:
35.2
mg
|
Calcium:
90
mg
|
Iron:
2.9
mg
Pin this recipe for later!