Vegan Pumpkin Pasta Recipe
This vegan pumpkin pasta recipe is a fall-inspired comfort food dream come true. Made with just simple, wholesome ingredients in under 30 minutes, it's perfect for a flavourful weeknight dinner!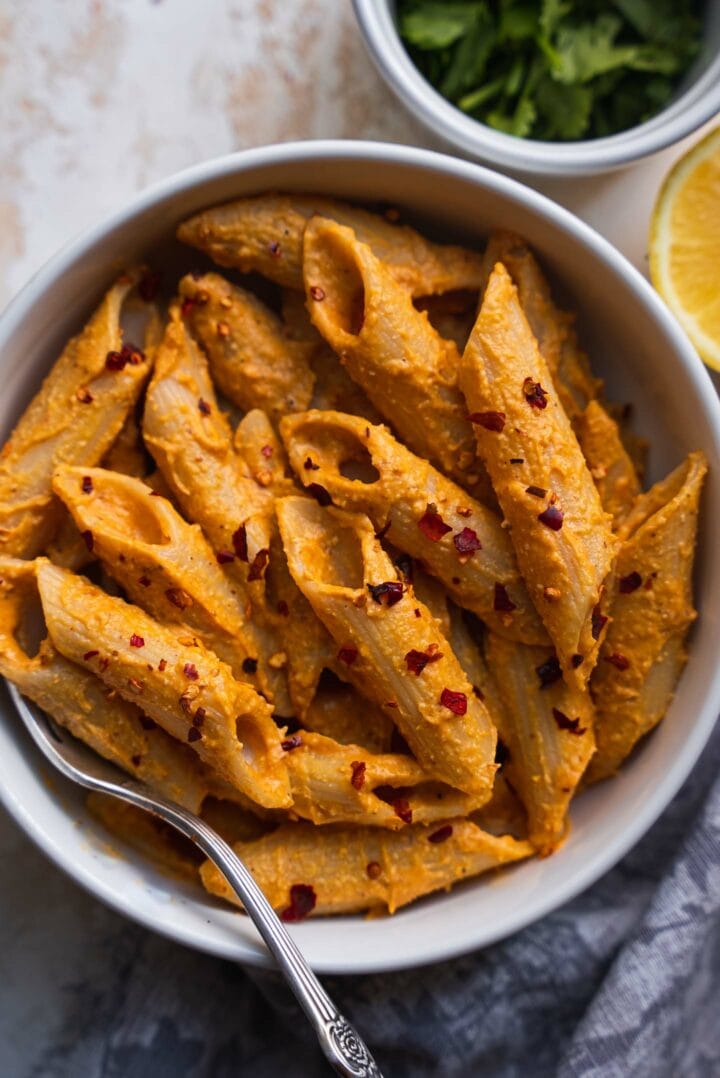 There's no shortage of pasta recipes on my blog. Think one-pot chickpea pasta, or tofu pasta, or caramelised onion pasta… And I don't plan on stopping any time soon. Pasta is one of those foods that never gets old. Plus, there are countless ways you can prepare it, depending on your mood and general preferences. So, put shortly, pasta is pretty much magic.
That's why today I'm sharing my favourite creamy vegan pumpkin pasta recipe with all of you. Trust me, you'll be going back for seconds with this one, and if you're making it during fall or winter, it'll make the colder seasons much more exciting!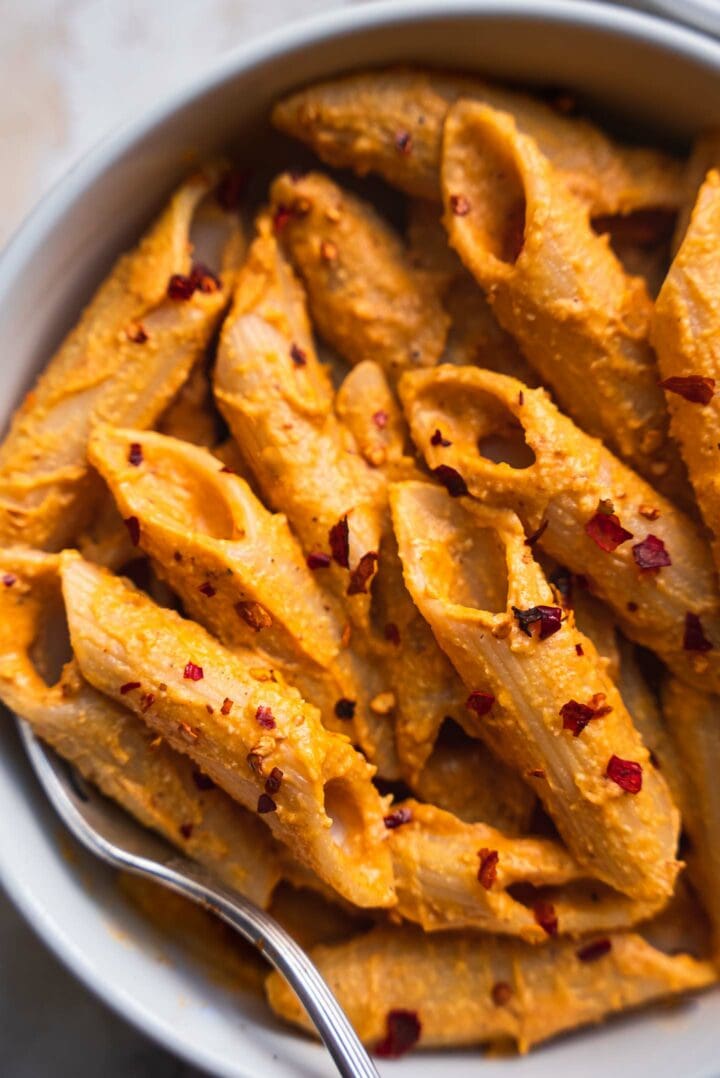 Creamy vegan pumpkin pasta
This dish turned out so flavourful, I could hardly believe it. You need just a handful of ingredients, and absolutely no complicated preparation methods. In fact, you'll be done within 30 minutes in terms of getting dinner on the table. Yet, the results are phenomenal.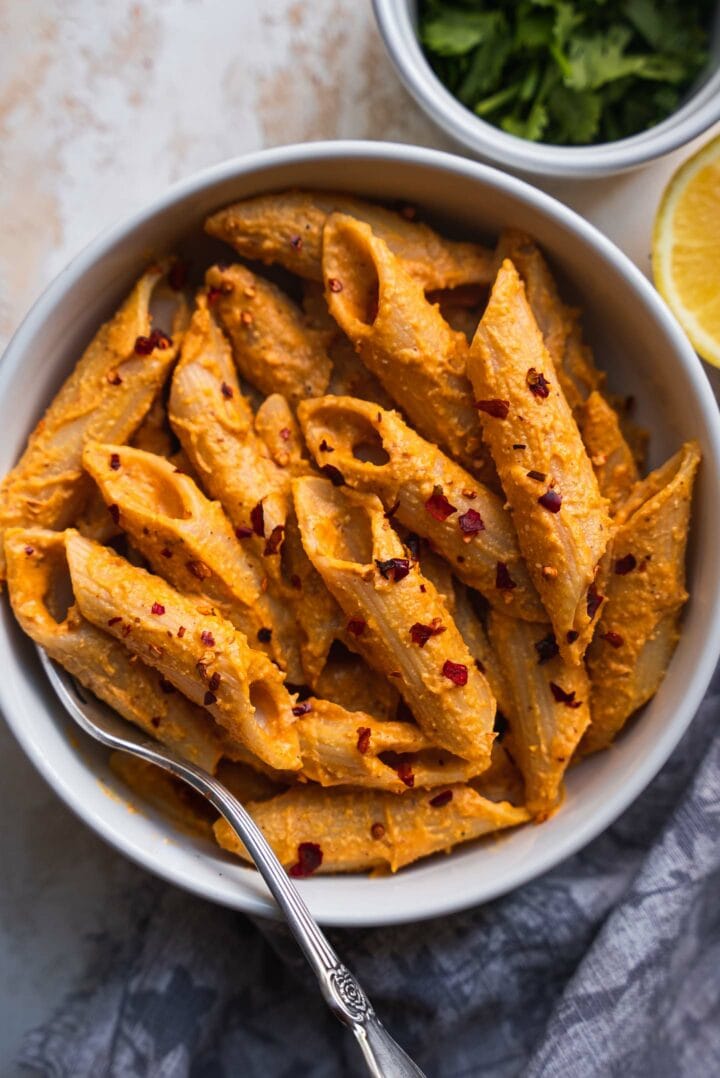 The easy pumpkin sauce is made from fresh pumpkin, but you can swap this for the canned variety if you want to. There is a hint of earthiness to it and a perfect balance of sweet and savoury. Nutritional yeast, a long-term favourite ingredient of mine, adds a wonderful hint of cheesiness.
I also added cashews to this pumpkin pasta for even more creaminess. But the secret ingredient which takes this pasta to a whole new level is miso paste, which adds a distinctive hint of umami. When you add the sauce to the pasta, it thickens up nicely and complements the overall neutral flavour of the noodles. So long story short, you need to add this to your dinner rotation as quickly as you can!
What pumpkin variety should I use?
Any pumpkin variety will work for this vegan pumpkin pasta recipe, but I would recommend using a sweet one, such as kabocha, fairytale, or even butternut squash. You can also use canned pumpkin, the instructions for which are listed below and in the recipe card. Fresh roasted pumpkin will help you achieve the best possible result in terms of flavor.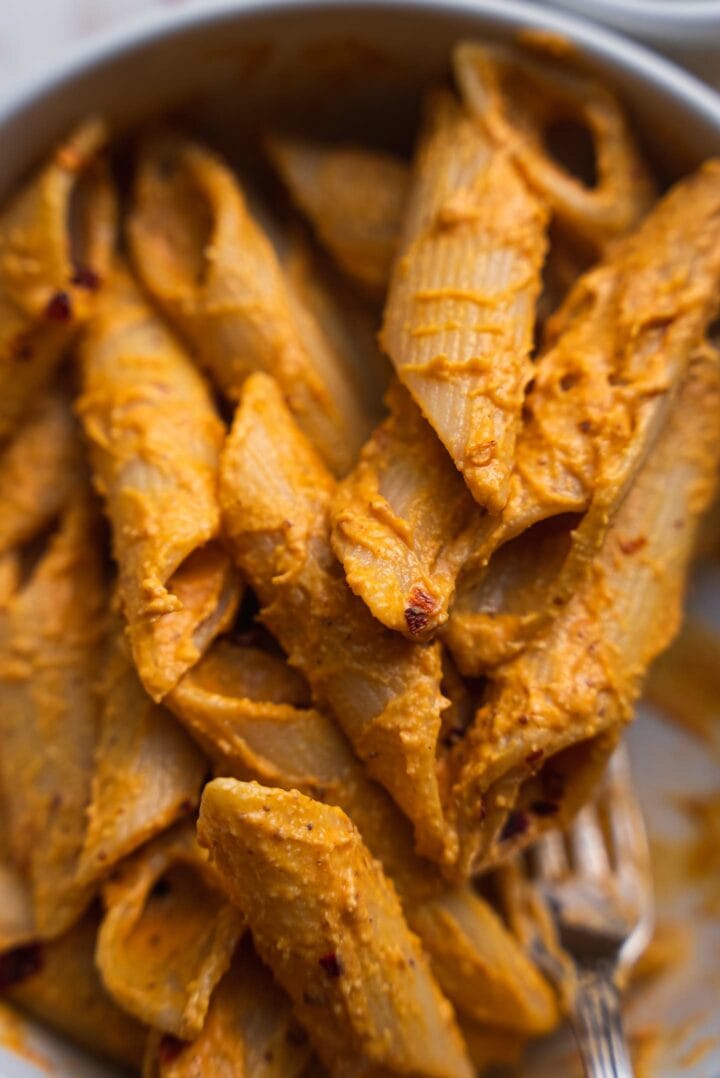 How to make this easy creamy pasta dish
Roast the pumpkin
Start by roasting the pumpkin. Preheat the oven to 180 degrees C/350 F, and line a large baking tray with parchment paper.
Cut the pumpkin in half just beside the stem, then remove the seeds and cut it in half once again. You can now peel it using a vegetable peeler, and proceed to cut into small, bite-sized pieces.
Arrange the pumpkin cubes on the baking tray and drizzle with a little bit of olive oil. Bake in the preheated oven for 20 minutes, until fully cooked through and fork-tender.
Make the sauce, and serve
To a blender, add the roasted pumpkin, cashews, nutritional yeast, maple syrup, mustard, miso paste, paprika, cumin, lemon juice and plant based milk. Blend until smooth.
Mix together with cooked pasta of your choice, stirring in a large pan over a medium-high heat for a couple of minutes to warm through. Serve with garnishes of your choice, such as cilantro and chilli flakes.
Recipe tips and substitutions
If you want to use canned pumpkin, simply add it to the blender with the other ingredients. Use around 1/2 cup per serving.
You can also boil the pumpkin, which takes around 12-15 minutes.
If you're not using a high-speed blender, you may need to soak the cashews for 3-4 hours beforehand to ensure the smoothest texture.
You can also use full-fat coconut milk instead of cashews. Use around 1/4 cup per serving.
To make this recipe gluten-free, ensure you use a gluten-free miso paste and mustard variety, and serve with gluten-free pasta.
You can also serve this vegan pumpkin pasta sauce with zucchini or sweet potato noodles.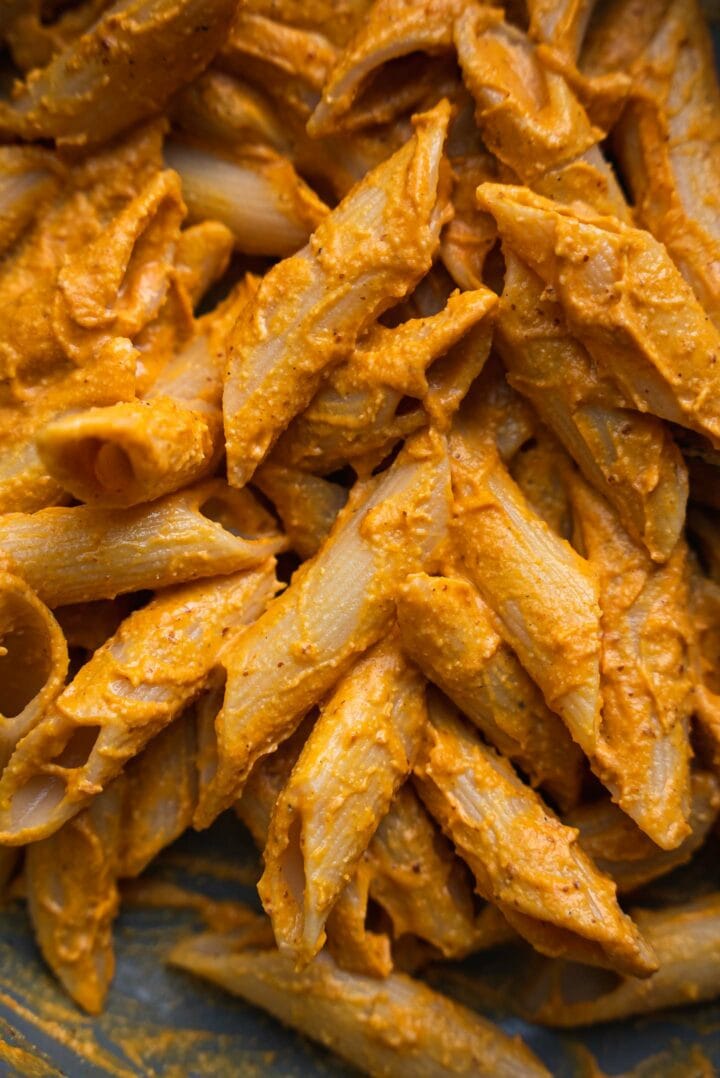 How to store and freeze pumpkin pasta sauce
You can keep this pumpkin pasta sauce in the fridge for up to 3 days, reheating on the stove and adding to pasta when ready to serve. You can also freeze it in an ice cube tray for 2-3 months, and reheat on the stove from frozen.
Other vegan pumpkin recipes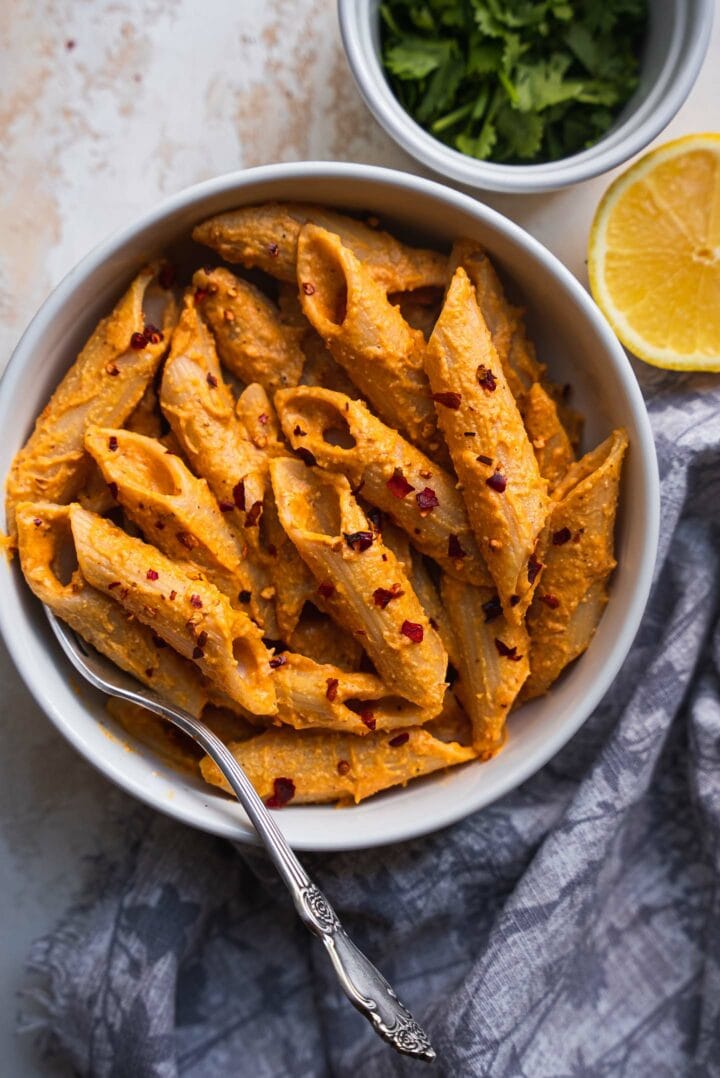 Let me know in the comments: what's your favourite comfort food this time of year? If you give this creamy vegan pumpkin pasta recipe a go, be sure to tag me on Instagram (@earthofmariaa) and leave your feedback in the comments below!

Get the Recipe: Creamy Vegan Pumpkin Pasta
This vegan pumpkin pasta recipe is a fall-inspired comfort food dream come true. Made with just simple, wholesome ingredients in under 30 minutes, it's perfect for a flavourful weeknight dinner!
Ingredients
4 cups pumpkin, peeled and cubed (around 1/2 large pumpkin)
2 tbsp olive oil
4 cups pasta
1 cup cashews
1/4 cup nutritional yeast
1 tbsp maple syrup
1 tbsp mustard
1 tsp miso paste
1 tsp paprika
1 tsp cumin
1 lemon, juice of
1 1/2 cups plant based milk
Equipment
Conventional oven

Baking tray

Saucepan

Blender
Instructions
Preheat the oven to 180 degrees C/350 F, and line a large baking tray with parchment paper.

Cut the pumpkin in half just beside the stem, then remove the seeds and cut it in half once again. You can now peel it using a vegetable peeler, and proceed to cut into small, bite-sized pieces.

4 cups pumpkin

Arrange the pumpkin cubes on the baking tray and drizzle with a little bit of olive oil. Bake in the preheated oven for 20 minutes, until fully cooked through and fork-tender.

4 cups pumpkin, 2 tbsp olive oil

About 5 minutes before the pumpkin is ready, start cooking the pasta according to instructions on packaging.

4 cups pasta

To a blender, add the roasted pumpkin, cashews, nutritional yeast, maple syrup, mustard, miso paste, paprika, cumin, lemon juice and plant based milk. Blend until smooth.

1 cup cashews, 1/4 cup nutritional yeast, 1 tbsp maple syrup, 1 tbsp mustard, 1 tsp miso paste, 1 tsp paprika, 1 tsp cumin, 1 lemon, 1 1/2 cups plant based milk

Mix together with the pasta, stirring in a large pan over a medium-high heat for a couple of minutes to warm through.

4 cups pasta
Calories: 547kcal, Carbohydrates: 71g, Protein: 18g, Fat: 24g, Saturated Fat: 4g, Polyunsaturated Fat: 4g, Monounsaturated Fat: 14g, Sodium: 231mg, Potassium: 873mg, Fiber: 6g, Sugar: 11g, Vitamin A: 10138IU, Vitamin C: 25mg, Calcium: 183mg, Iron: 5mg