Sweet Almond Tofu Rice Stir-fry
This sweet almond tofu rice stir-fry ticks all the boxes for a quick and wholesome weeknight dinner that's ready in 30 minutes. Vegan, gluten-free and made from simple ingredients.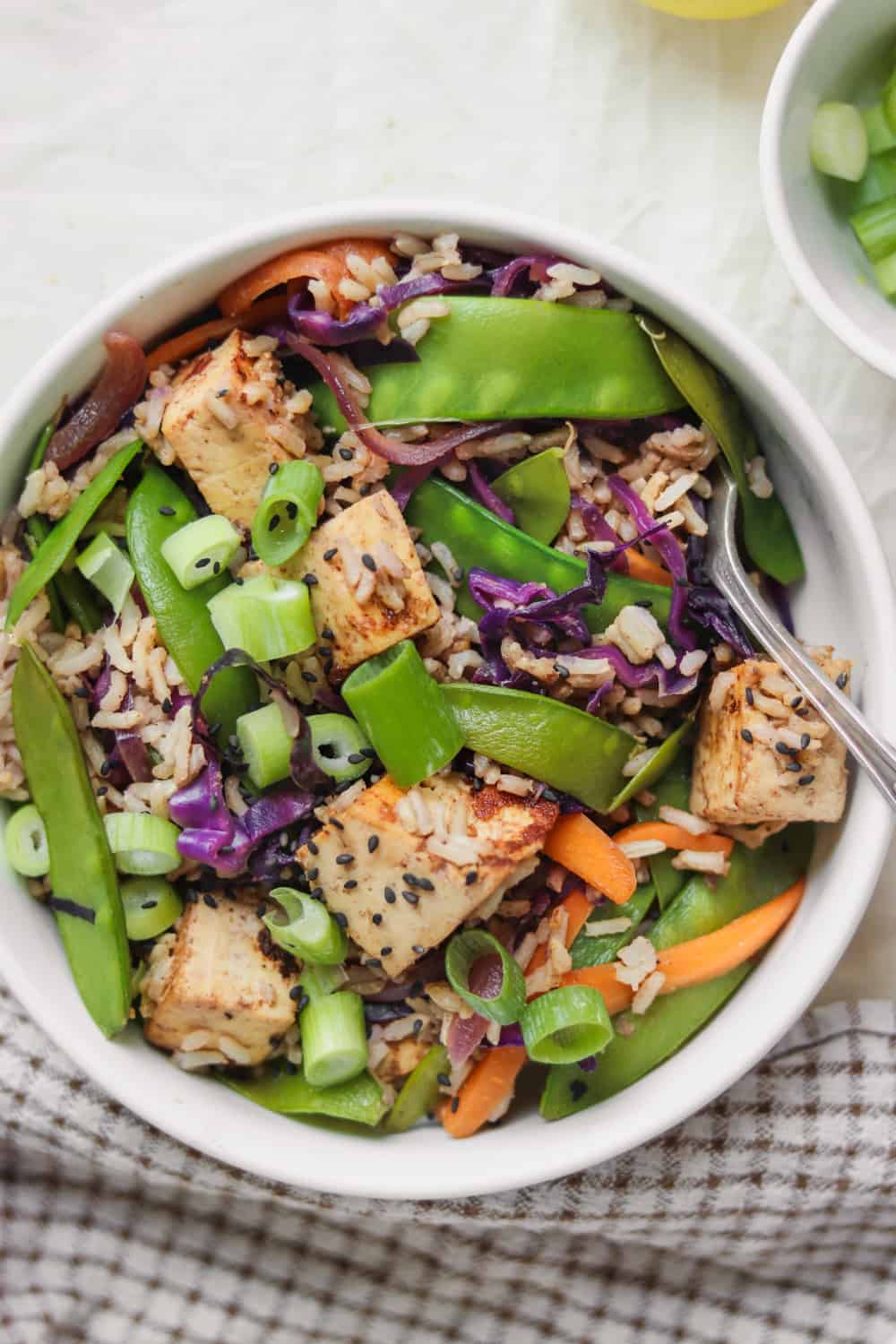 Why do I love cooking so much? The answer to this question varies from person to person. For me, there are several reasons. Firstly, I find it incredibly therapeutic. Whenever I encounter stress or overwhelm, I head straight to either the gym, or the kitchen. Writing down new ideas, preparing the ingredients and putting a delicious meal together brings a sense of calmness and stability into my day. It's a creative outlet that also has a positive impact on my mental health. Aka, a win-win situation. When I was younger, I used sketching and drawing to find balance in turbulent times. Now, cooking (and often photographing) new and long-time favourite dishes takes up that role.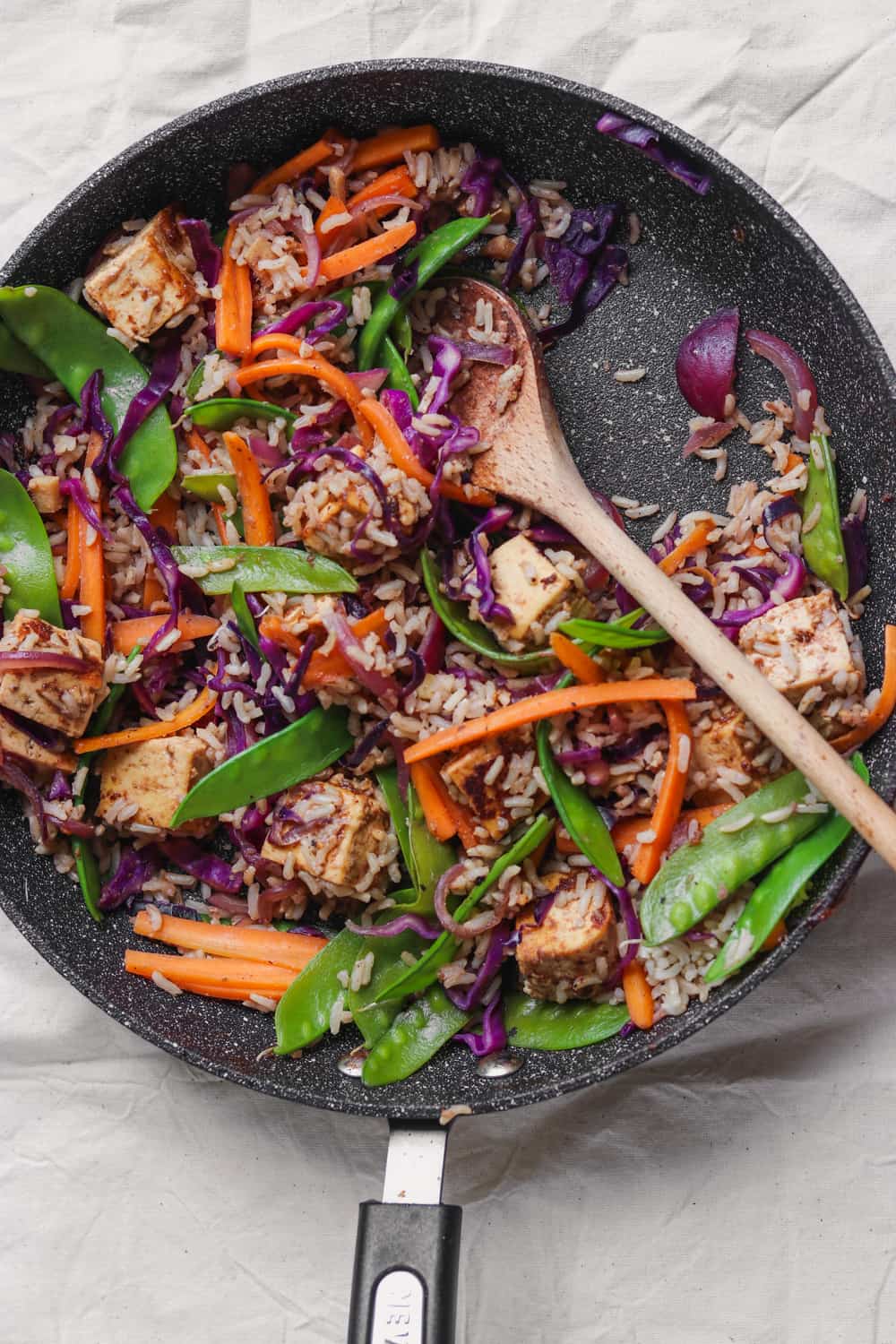 My history with an eating disorder bring even more value to the process. I used to fear food, and stuck to a handful of 'safe', bland meals, every single day. Nothing could make me venture out of my comfort zone. Years later, I've learnt to see that food is both fuel and something that brings us together, something to enjoy for the sake of enjoyment. Whenever I'm in the kitchen, either testing out a dish from scratch or adding a new twist to a staple dinner, and recognise how much my relationship with food has changed, I can't help but smile. Metaphorically, because how I feel doesn't often reflect what I look like, lol.
Oh, and there's always so much more to learn! I'm far from an expert, but love watching my skills  improve.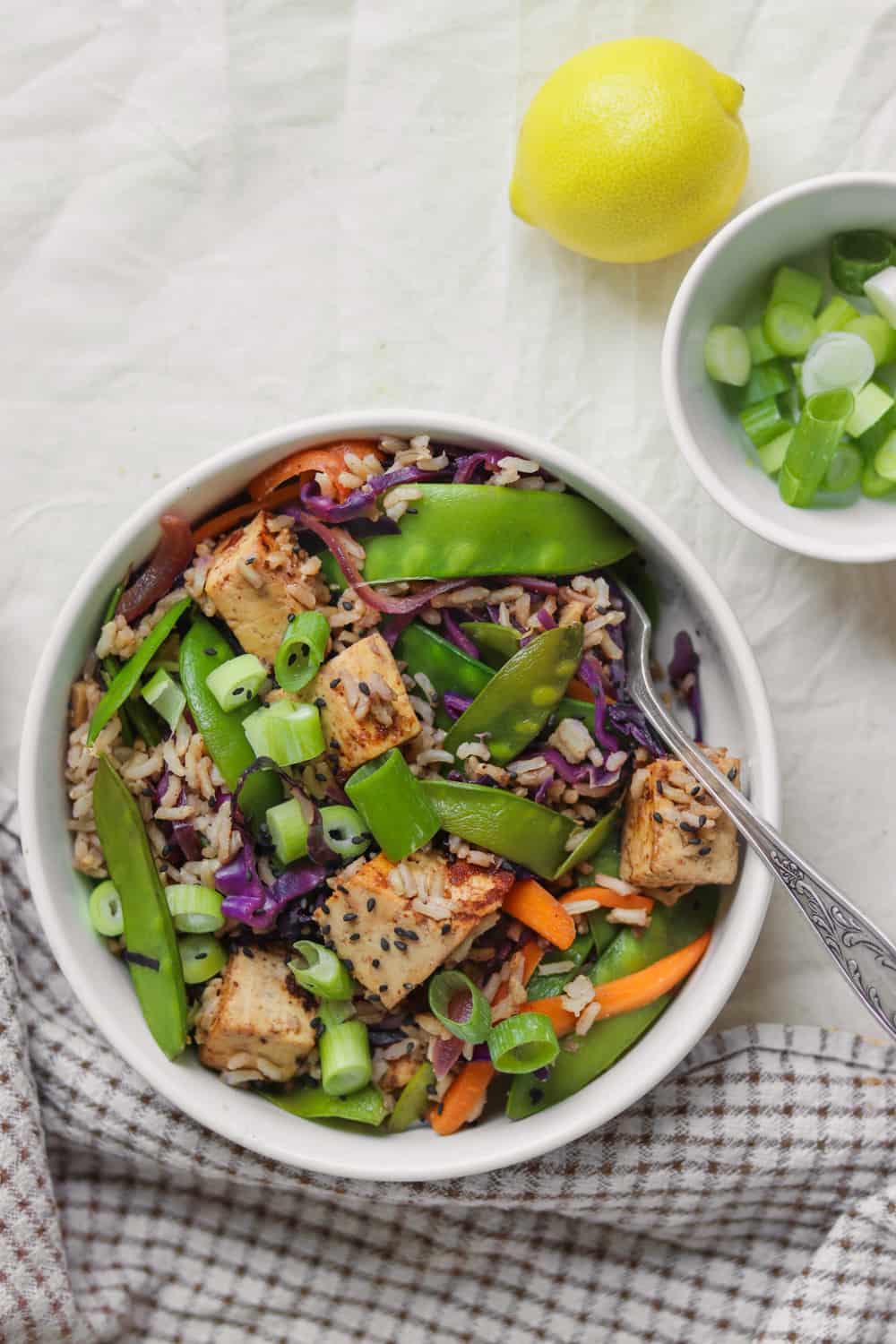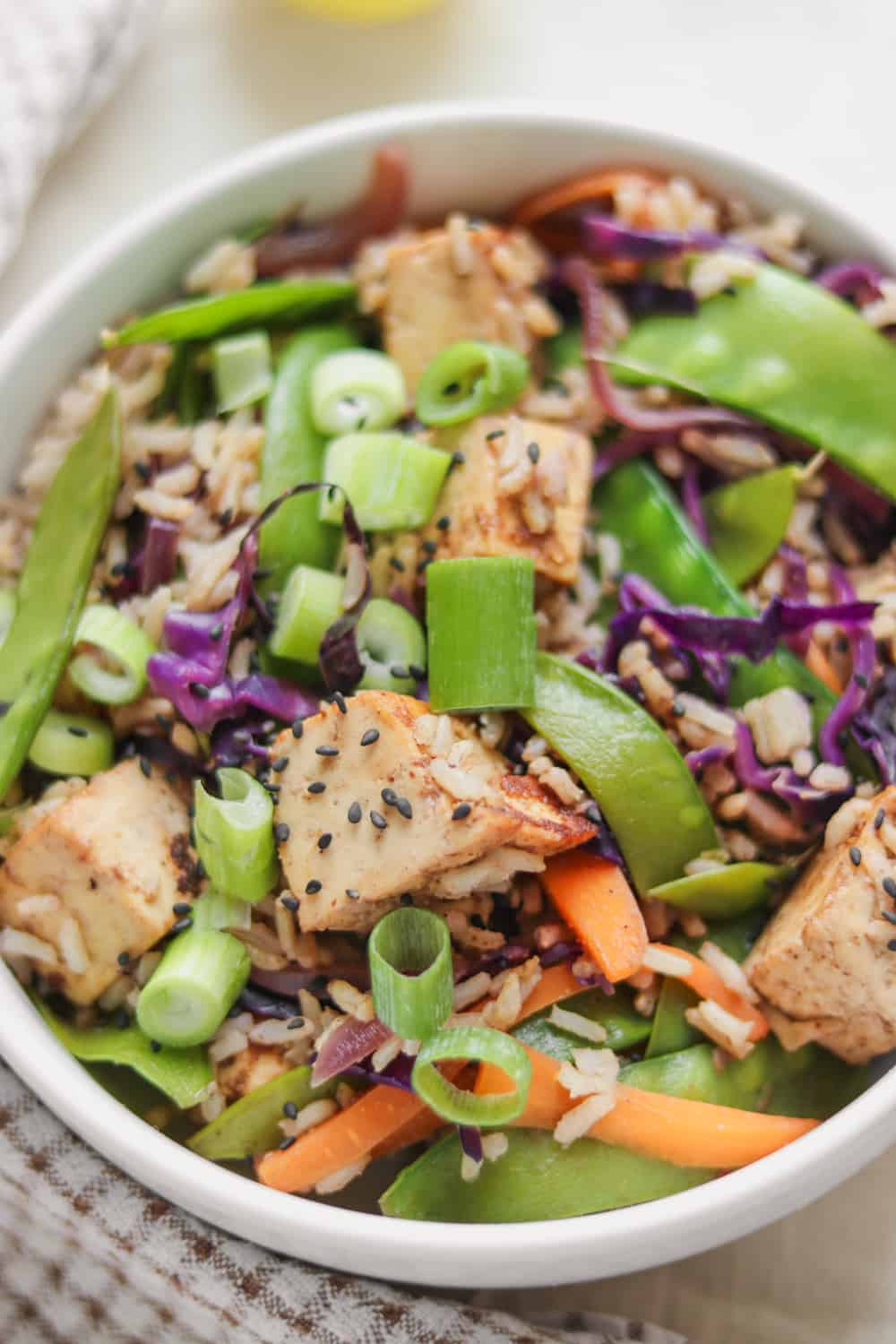 And since we're on the subject of staple recipes (or types of recipes), a good stir-fry is something I'll never get bored of. There just isn't a right or wrong way to do them. Bring together a protein source of your choice, whatever vegetables you have in the fridge, a simple sauce, and you've got yourself a delicious without fuss or fancy ingredients.
The vast majority take under thirty minutes, making them perfect for people who typically find themselves too busy to cook. Trust me, I've been there myself. But it's important to recognise that there are always ways to save time in the kitchen. One of them is compiling a list of go-to recipes you can cook up on autopilot while listening to your favourite audiobooks or podcasts and not have to worry about missing out on fuelling yourself with nourishing foods. You'll find that a range of stir-fries, including this one, are some of my favourites.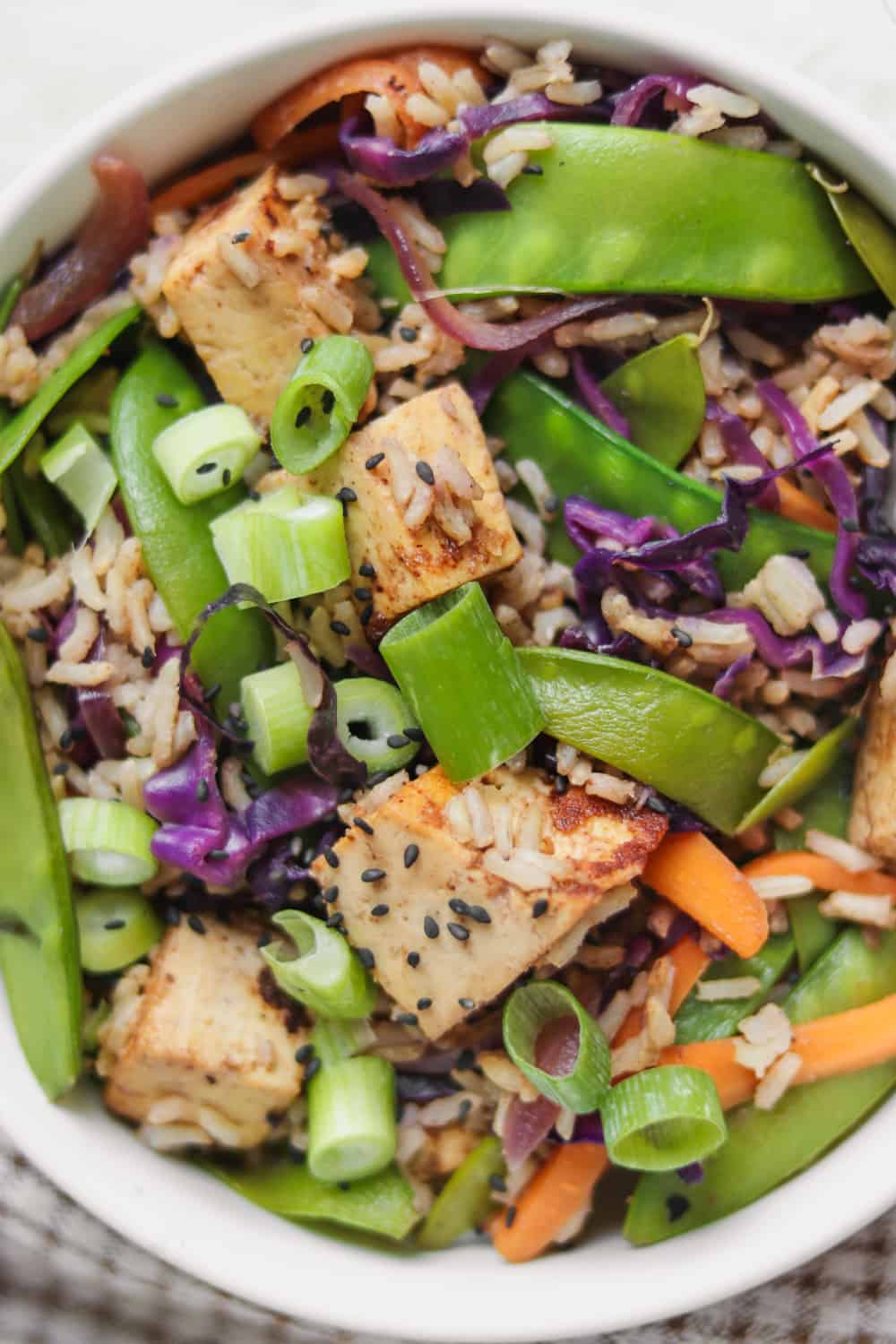 What you can expect from this almond tofu rice stir-fry.
This quick and easy vegan dinner is:
A great way to eat more plants
Gluten-free
Healthy and nourishing
Meal prep-friendly
Super flavourful and cosy
In other words, many of the things I look for in quick and simple dinners. If you don't have time to go grocery shopping or simply want to make the dish your own, use whatever vegetables you have in the fridge instead of the ones I've included.
The star of the show is definitely the tofu and the subtly sweet almond sauce. As I've mentioned quite a few times, tofu definitely doesn't have to be boring! It's all about how you prepare it. And although I've only tested the recipe with almond butter, I'm sure it would work wonderfully with other nut/seed butter varieties.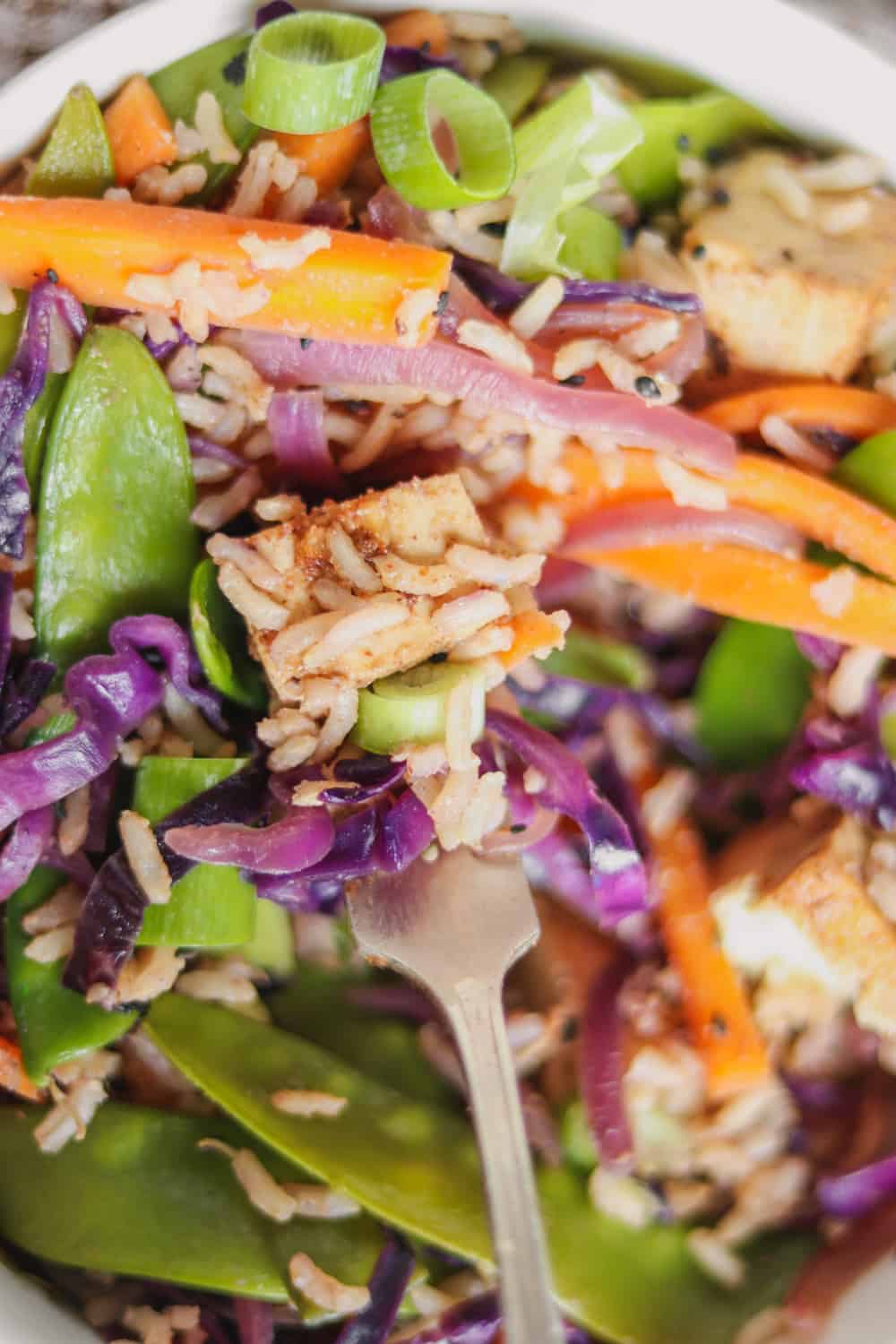 Let me know in the comments: are you as much of a fan of stir-fries as I am? If you end up giving this tofu rice stir-fry recipe a go, be sure to tag me on Instagram (@earthofmariaa), so I can see your creation!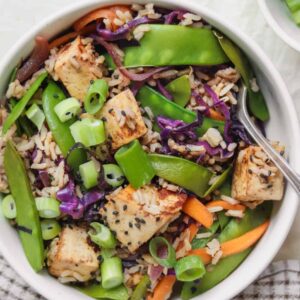 Get the Recipe: Sweet Almond Tofu Rice Stir-fry (Vegan and gluten-free)
This simple vegan tofu rice stir-fry is made from simple ingredients and completely fuss-free. It's ideal for weeknight dinners and lunchbox friendly too!
Ingredients
1 cup brown rice , uncooked
10 oz firm tofu
2 cloves garlic
1 small red onion, chopped
1 large carrot, chopped into matchsticks
1/4 medium red cabbage, chopped
5 oz snow peas
1 tsp garlic granules
2 tbsp tamari
2 tbsp rice vinegar
sesame seeds, to serve
For the tofu sauce
2 tbsp tamari
2 tbsp date syrup
2 tbsp almond butter
2 tbsp plant milk of choice
Instructions
Cook the brown rice according to packaging instructions. This usually takes around 25 minutes.

Combine the sauce ingredients (tamari, date syrup, almond butter and plant milk) in a bowl. Add the tofu and set aside for 5-10 minutes.

Add the tofu to a frying pan on a medium heat and cook for 5-6 minutes, until golden brown. Remove from heat and set aside.

Add the onion and the garlic to the same frying pan and cook on a medium-high heat for 2-3 minutes, until translucent. Then, add the carrots, cabbage and snow peas with around a quarter cup water, garlic powder, tamari and rice vinegar. Cook for a further 5 minutes, until the vegetables have softened.

At the last minute, stir in the cooked brown rice and the tofu. Serve immediately, or store in the fridge in an airtight container for 3-4 days.
Calories: 734kcal, Carbohydrates: 114g, Protein: 30g, Fat: 18g, Saturated Fat: 1g, Sodium: 2098mg, Potassium: 962mg, Fiber: 11g, Sugar: 24g, Vitamin A: 7955IU, Vitamin C: 105.4mg, Calcium: 377mg, Iron: 7.3mg