15 30-Minute Vegan Meals
A selection of 30-minute vegan meals that are delicious, easy, and healthy too! Featuring curries, pasta dishes, bowls and much more, this selection of vegan meals will have your weeknight cooking covered. Many gluten-free and oil-free options.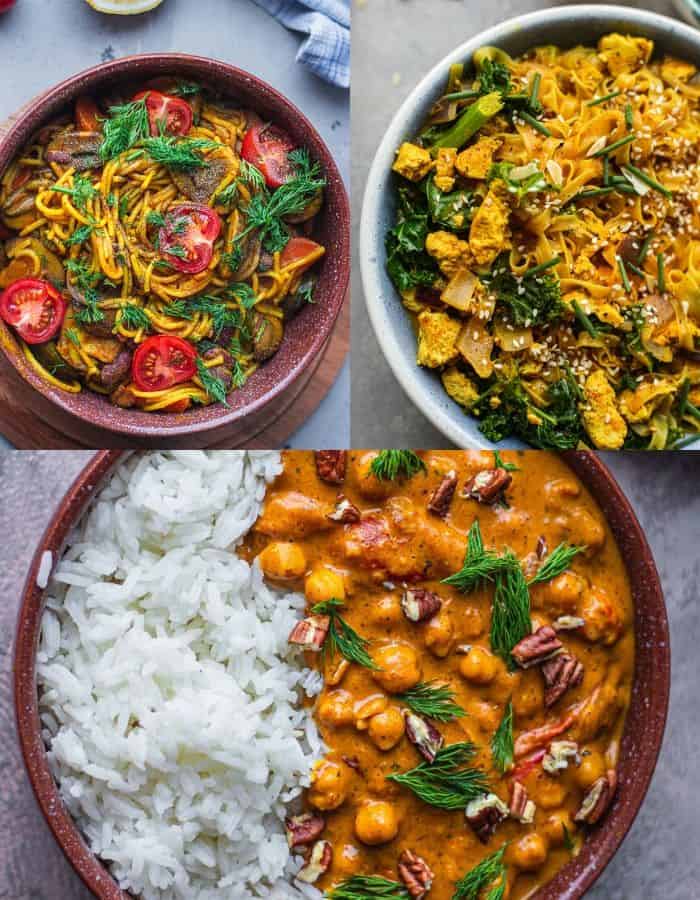 One of the most common questions I get is: how do you have time to eat healthy? And the simple answer is that healthy eating isn't time consuming. Well, not always. For me, what takes the most time is logging onto Pinterest for inspo and reemerging after an hour of delicious procrastination. 
In all seriousness, I think that having a rotation of go-to recipes is key. Hence my Easy Vegan Under 30 Minutes recipe ebook. This is my first recipe ebook and I couldn't be more excited about it!

I created this ebook with simplicity and creativity both in mind. The recipes are unique and full of flavour, but not out of a beginner cook's comfort zone. Overall, there are 61 recipes, with options for breakfast, lunch, dinner, snacks and desserts, plus a shopping list and a guide to saving time in the kitchen. 
All the recipes are also gluten-free, oil-free and non-vegan approved. If you have any questions at all about this book, feel free to slide into my DMs on Instagram (@earthofmariaa), or send me an email. 
The 30-minute vegan meals featured in this post give a good sneak preview into the sort of thing you can expect. Pin this post on Pinterest if you like the look of them as a perfect reference for lazy weeknight cooking!
15 30-Minute Vegan Meals For Lunch and Dinner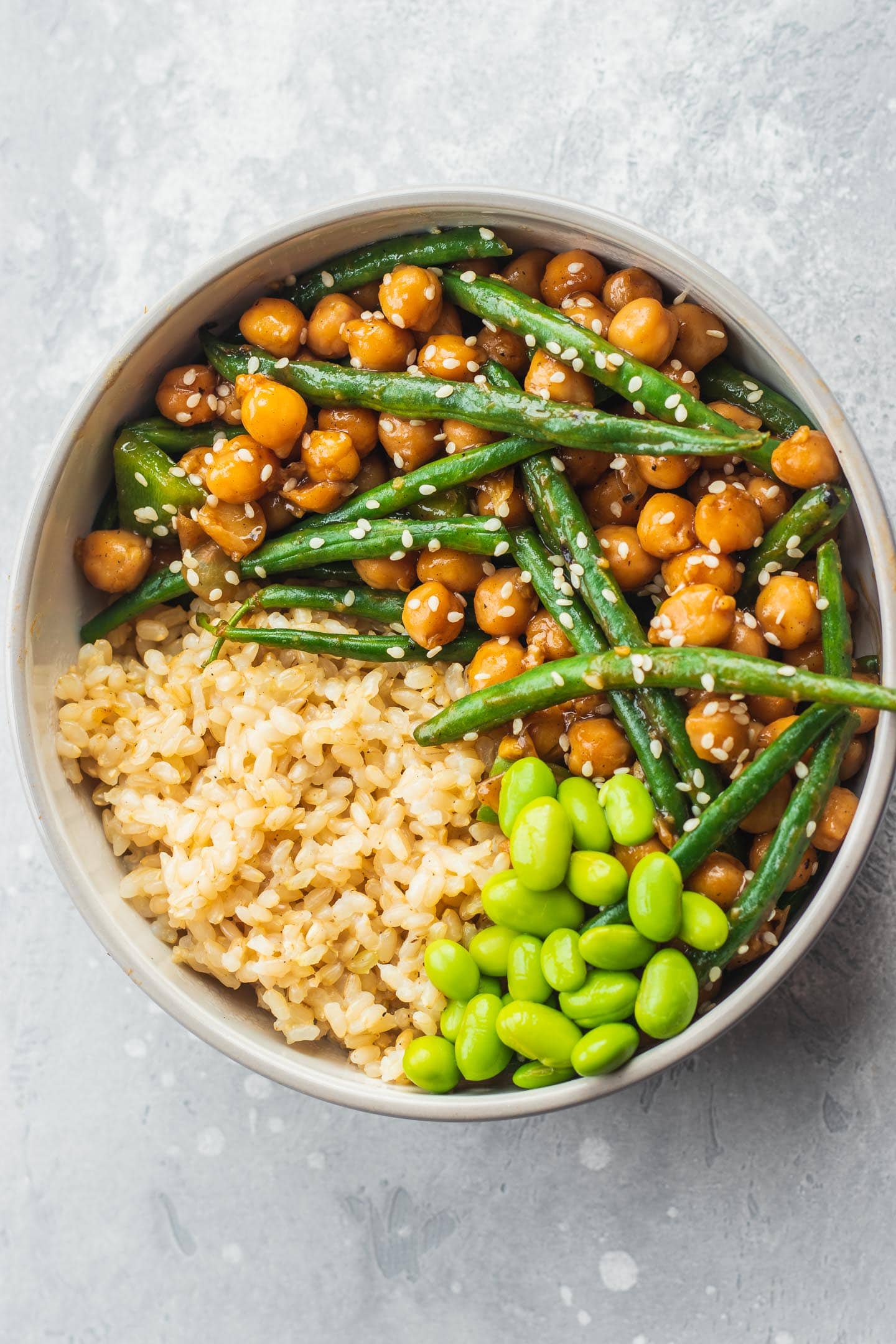 This is lowkey one of my favourite recipes on my site. The flavours are incredible, and it's ready in under 10 minutes too! Talk about quick weeknight dinner dream.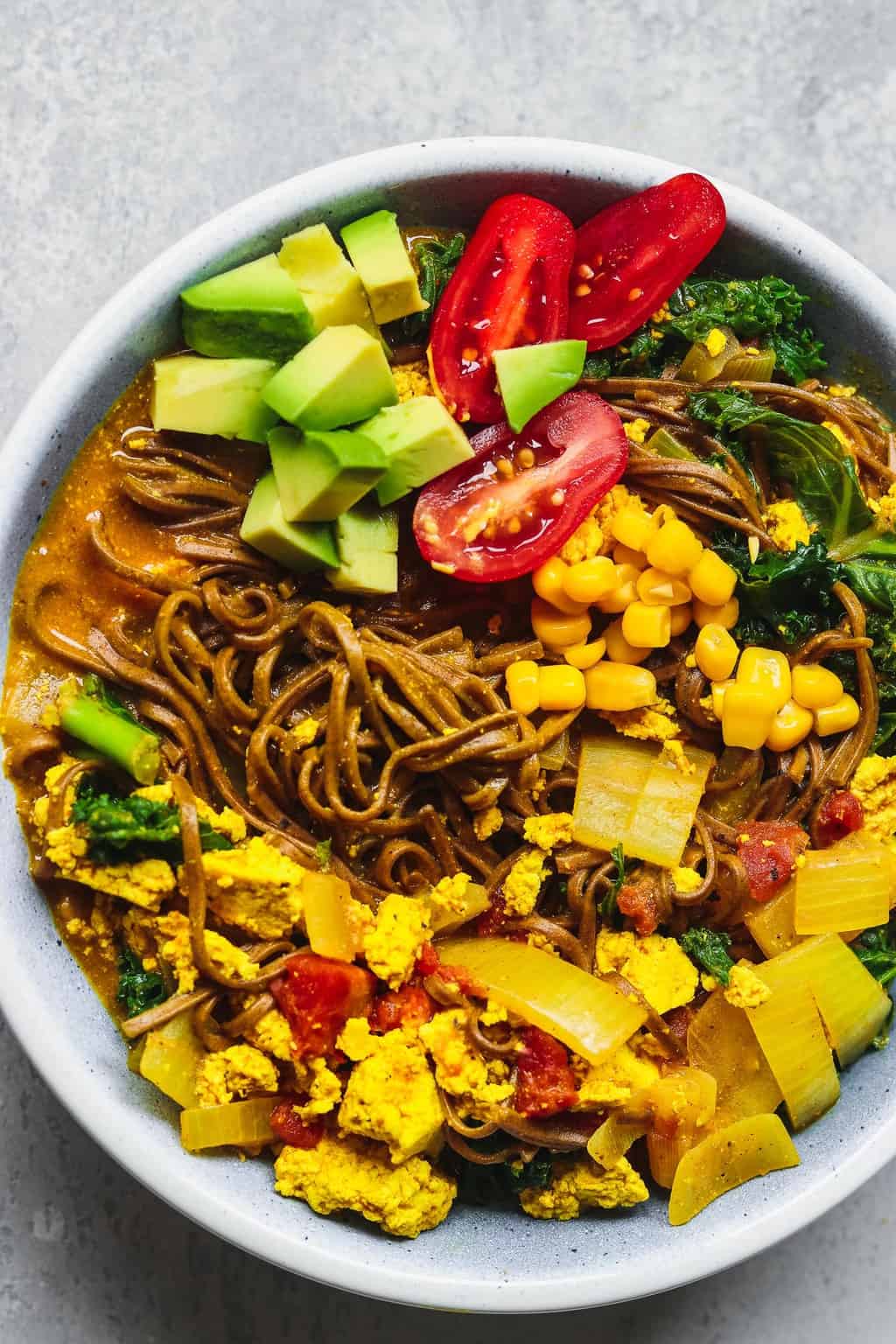 If you've been following me for a while, you know I adore anything curry-related. In particular curry soup. This one is super creamy, with added tofu for extra plant based protein. Try it out if you're a noodle lover!
3. Potato Salad With Almond Bacon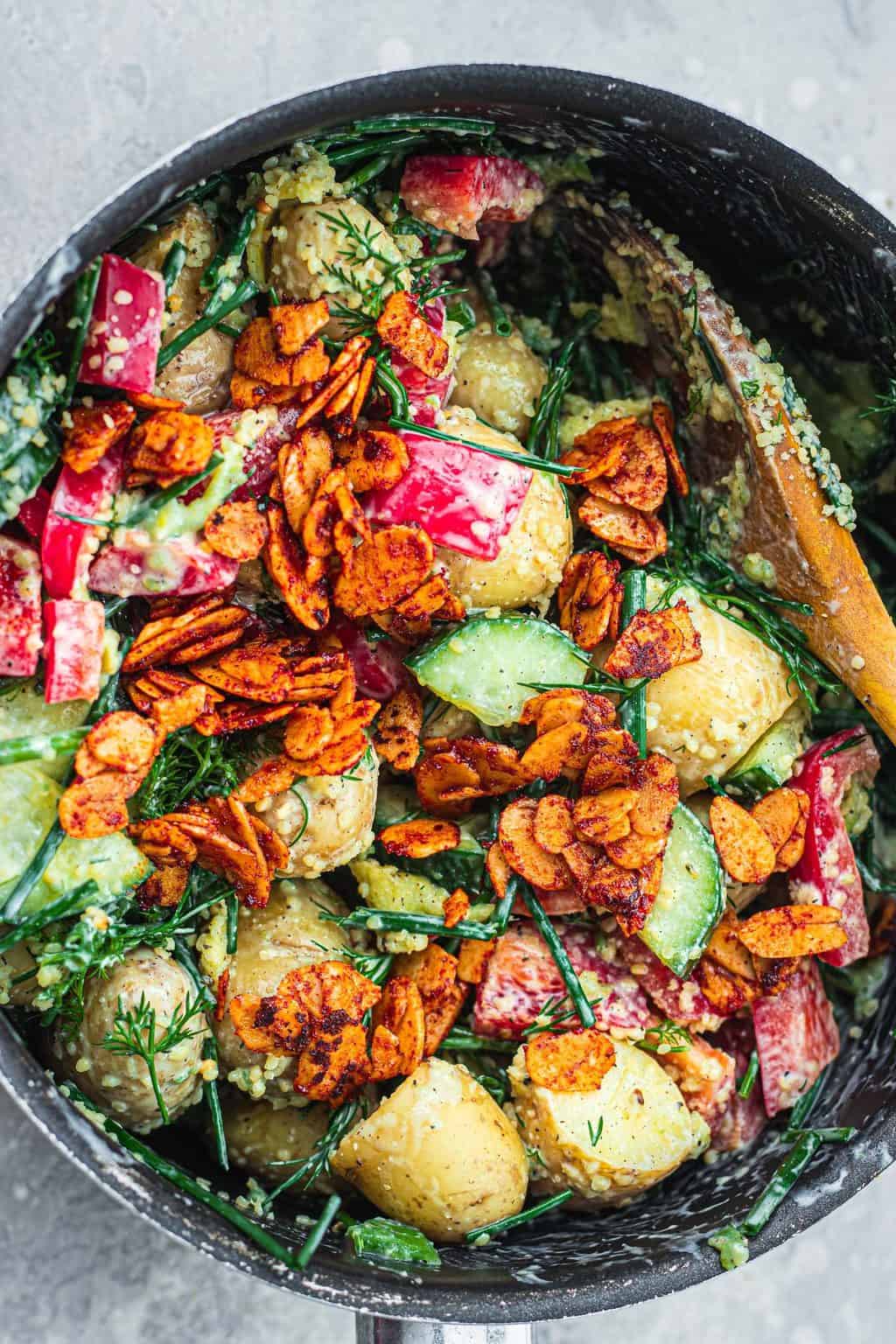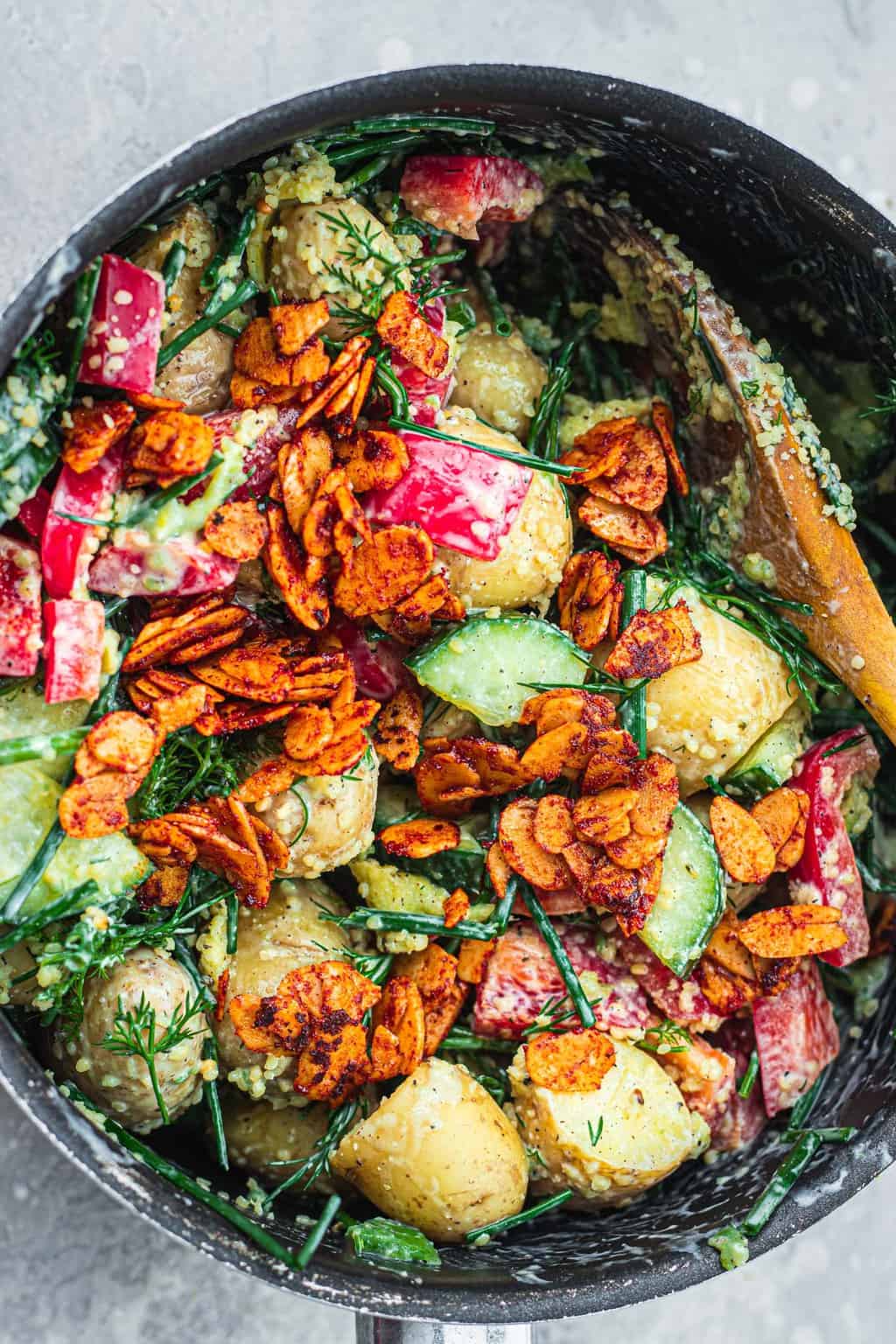 This is a recipe from my Easy Vegan Under 30 Minutes ebook, and gives a good idea of what the recipes are like: creative yet easy, refreshing, with a lot of flavour. Give it a go to step up your potato salad game! 
Ingredients
17 oz (500g) new potatoes, halved
3-4 tbsp flaked almonds
1 tsp tamari
1/2 tsp liquid smoke
1 tsp maple syrup
1/2 tsp smoked paprika
1 medium bell pepper, chopped
1/3 large cucumber,  chopped
1/4 cup fresh dill, chopped
3 tbsp fresh chives, chopped
1 medium avocado, mashed
1/4 cup (60ml) soy yoghurt
1/4 cup hemp seeds
 Salt and pepper to taste
Instructions
Boil the potatoes for around 15 minutes, until fully softened. 
Meanwhile, add the almond flakes, tamari, liquid smoke, maple syrup and paprika to a non-stick frying pan and roast over a medium heat for around five minutes to make the almond 'bacon'.
Drain and rinse the potatoes and transfer to a mixing bowl. Add the bell pepper, cucumber, dill, chives, avocado , soy yoghurt and hemp seeds. Season to taste with salt and pepper and stir well.
Serve with the almond 'bacon' sprinkled on top.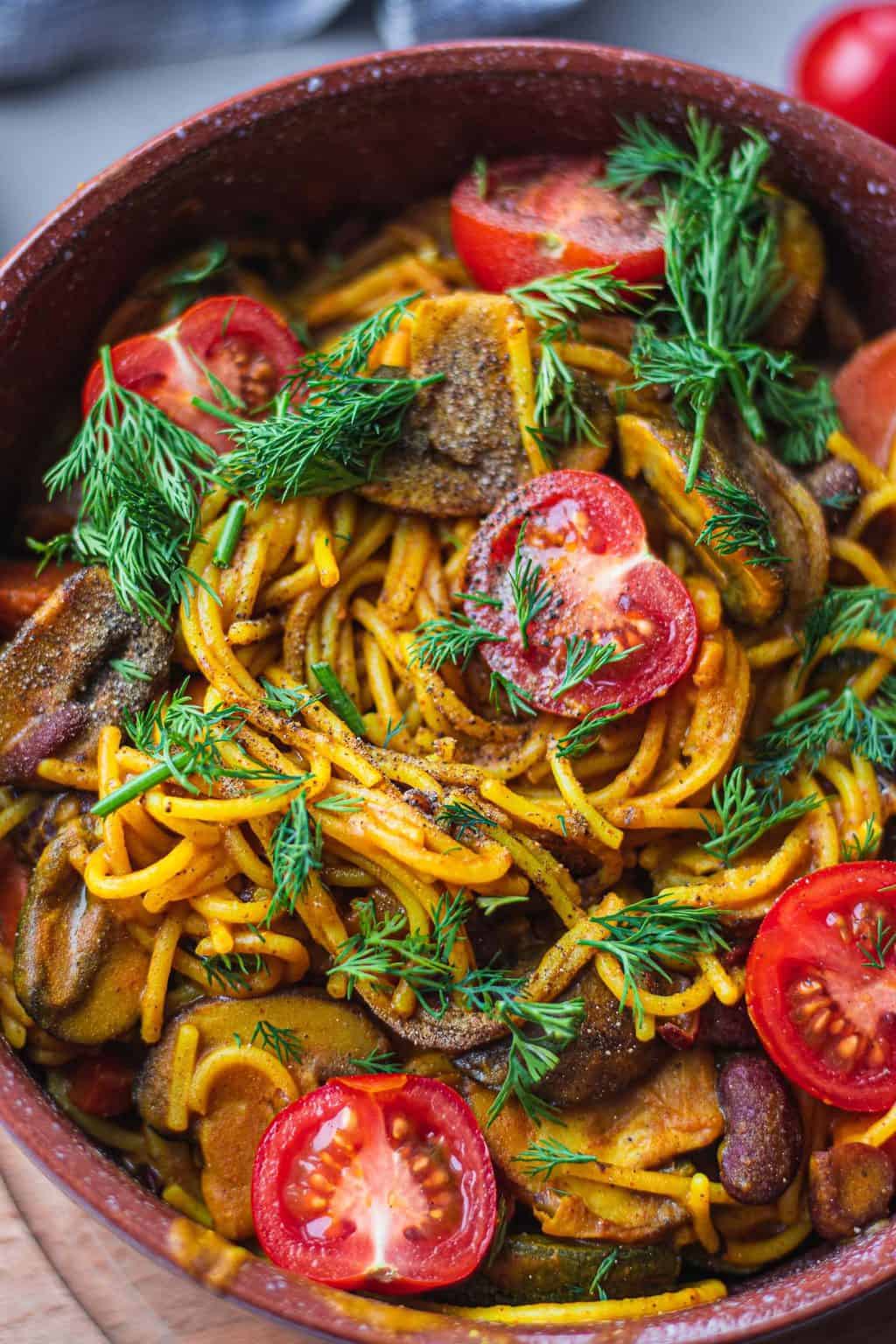 One pot meals always save time as well as washing up! This dish is super efficient and delicious served with a side salad of your choice.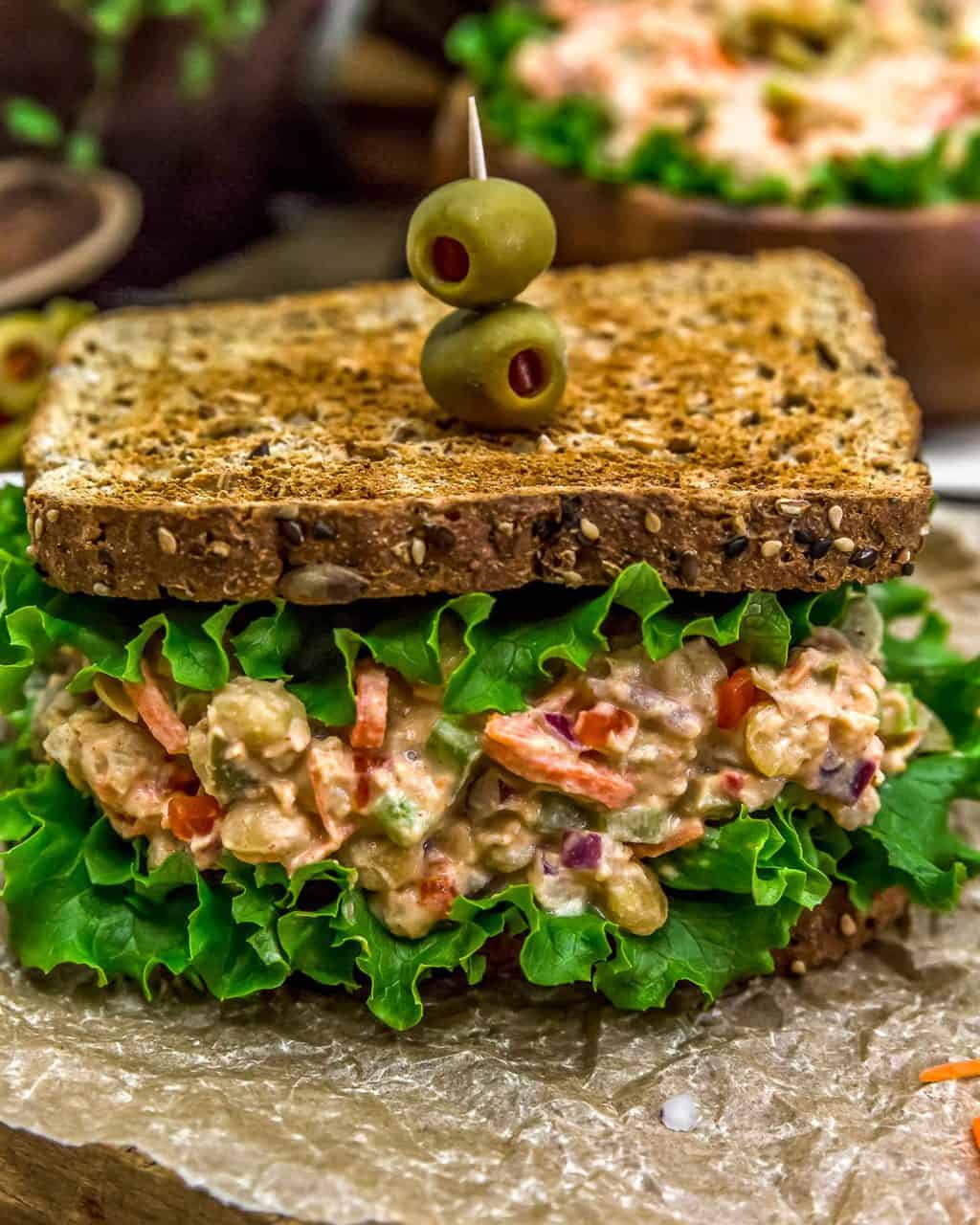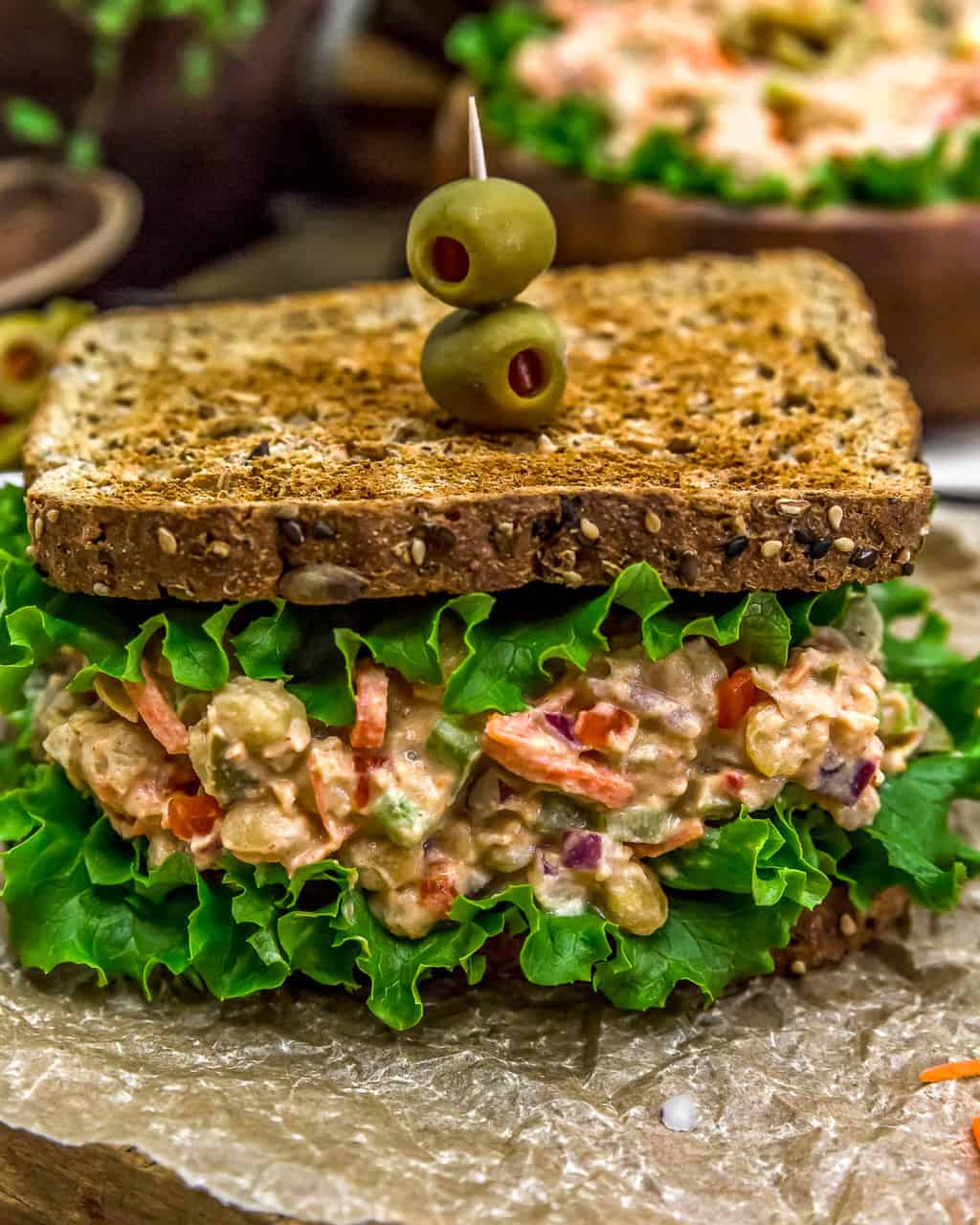 This pimento olive chickpea salad sandwich by Ameera and Robin from Monkey And Me Kitchen Adventures is a dream come true! Perfect for eating at any time of day to satisfy savoury cravings.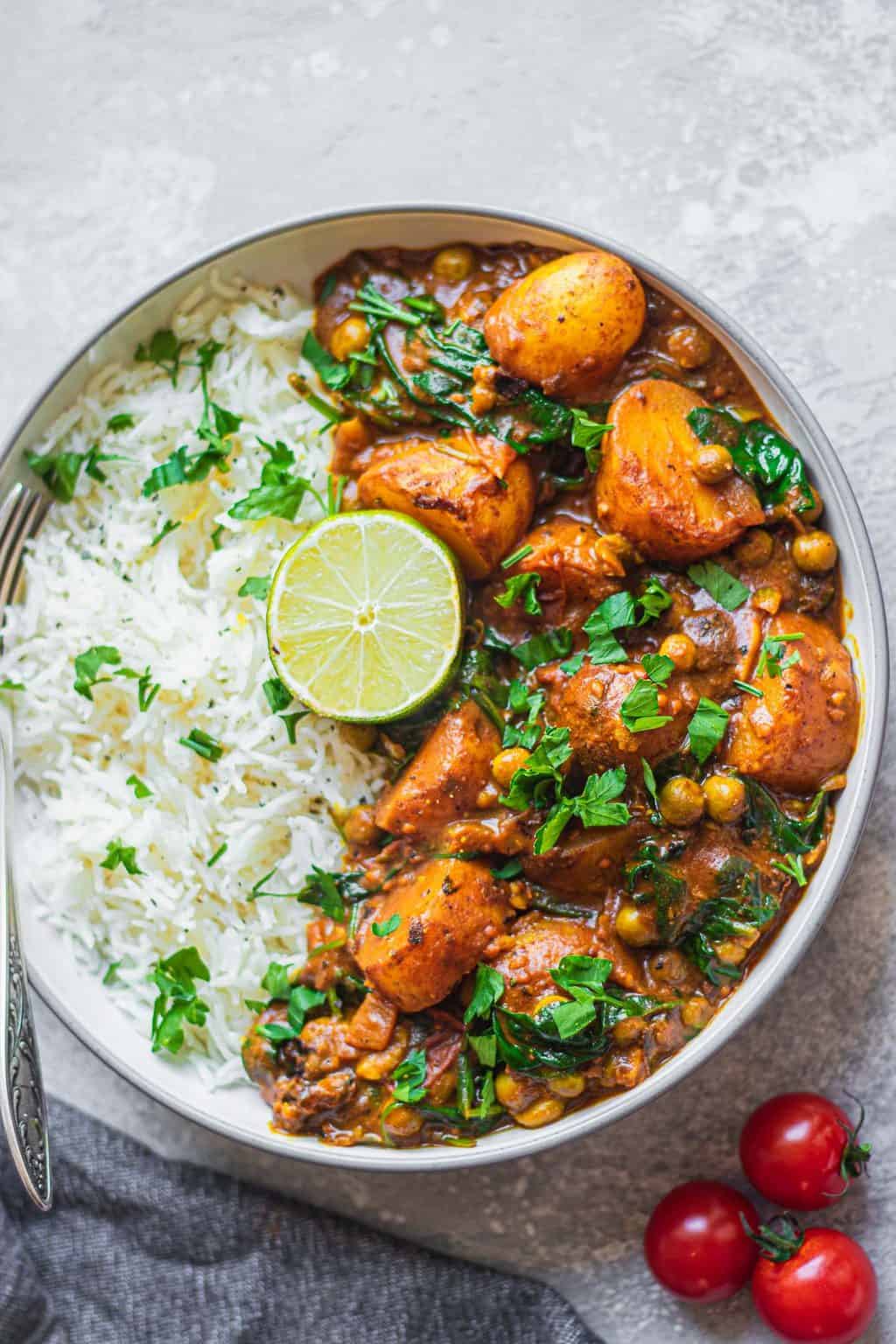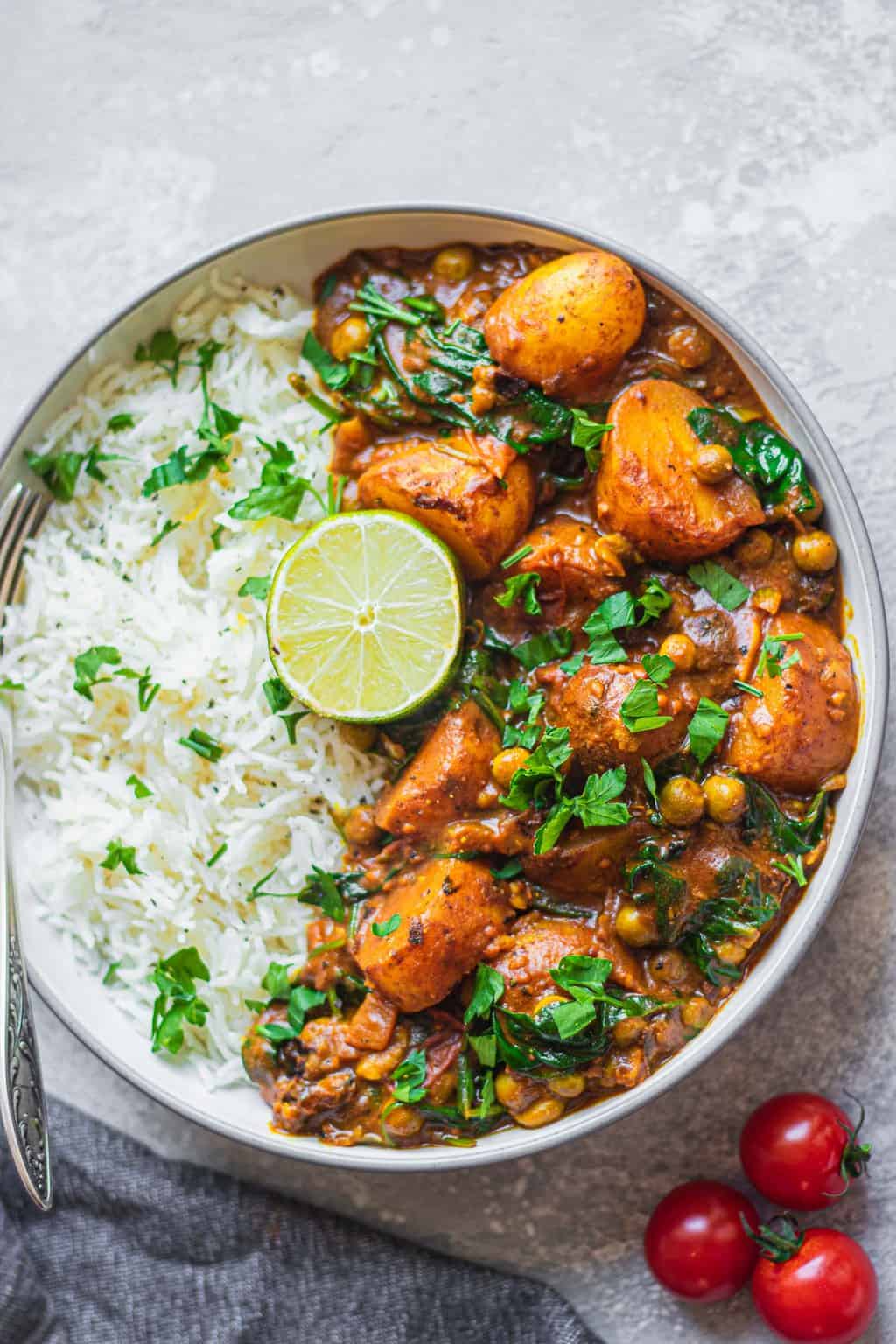 This is a reader favourite on the Earth of Maria website, and one of my favourite dinners too! Potatoes are so starchy and satisfying and make a great addition to curry dishes. Perfect for feeding a crowd as well.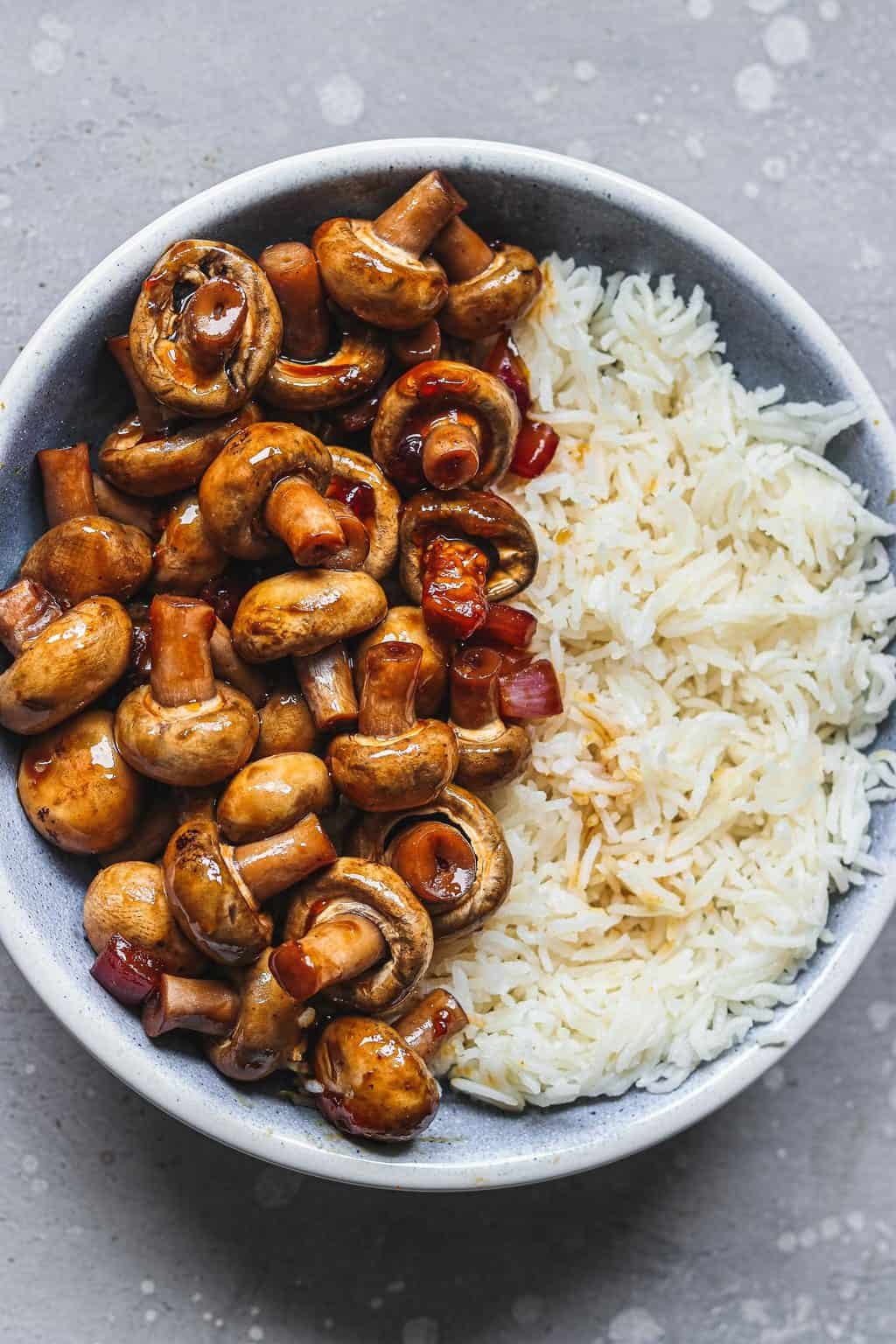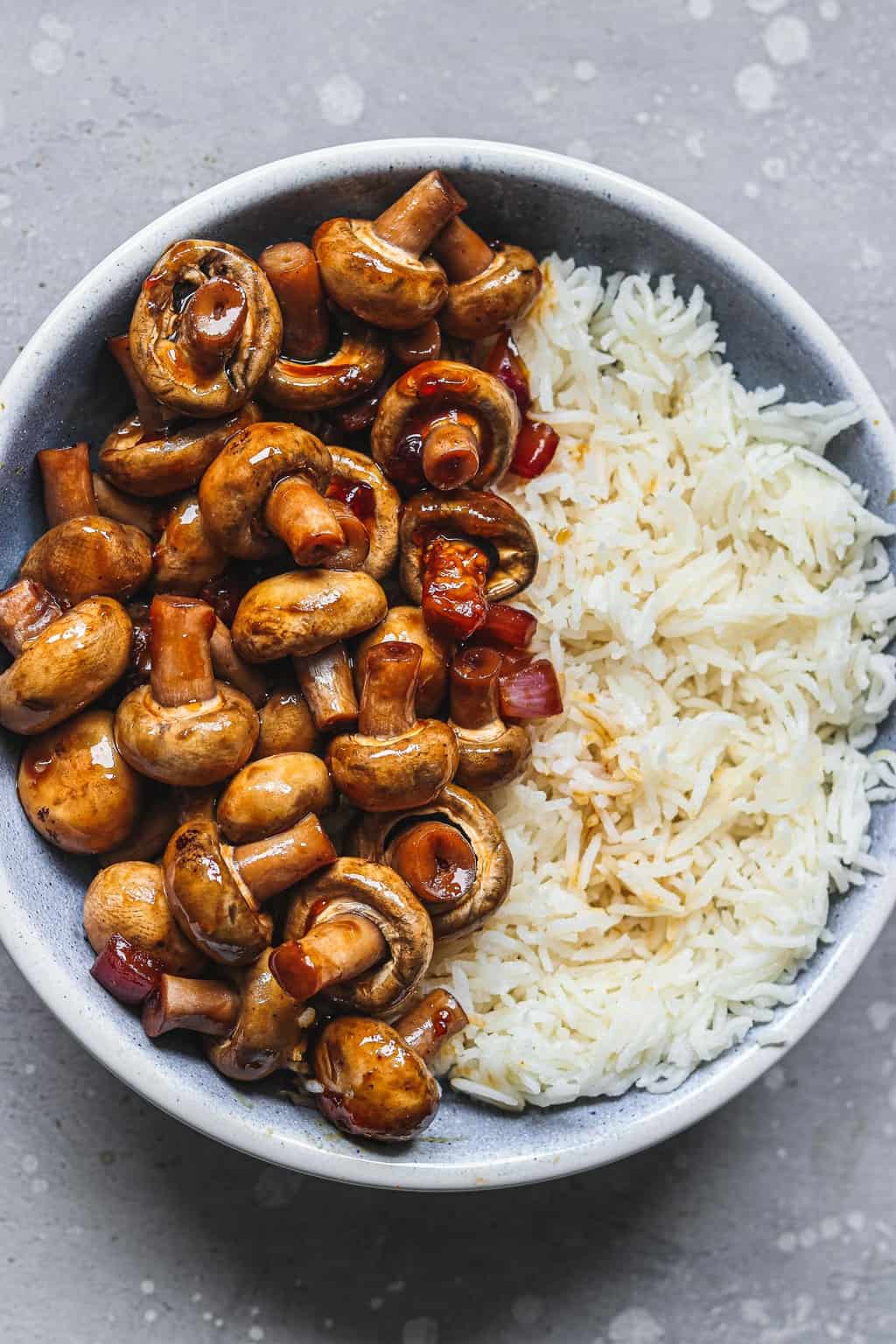 These miso glazed mushrooms are incredible served with rice, noodles or pasta. Give them a try if you're a fan of rich, savoury umami flavours.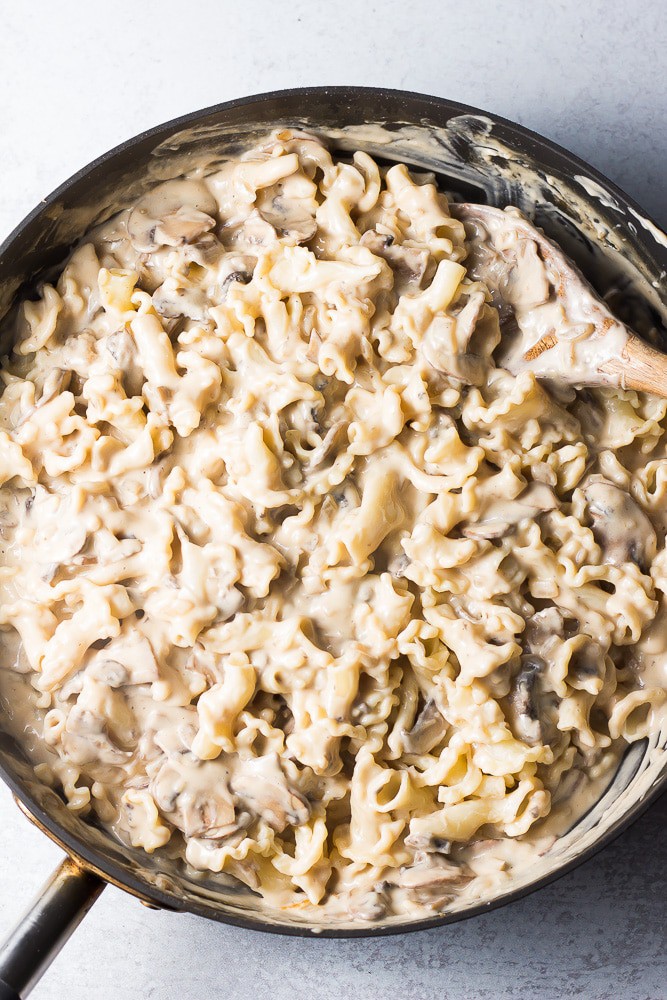 This vegan mushroom stroganoff by Nora from Nora Cooks looks out of this world! Stroganoff is super cosy and easy to prepare, even as a complete beginner in the kitchen.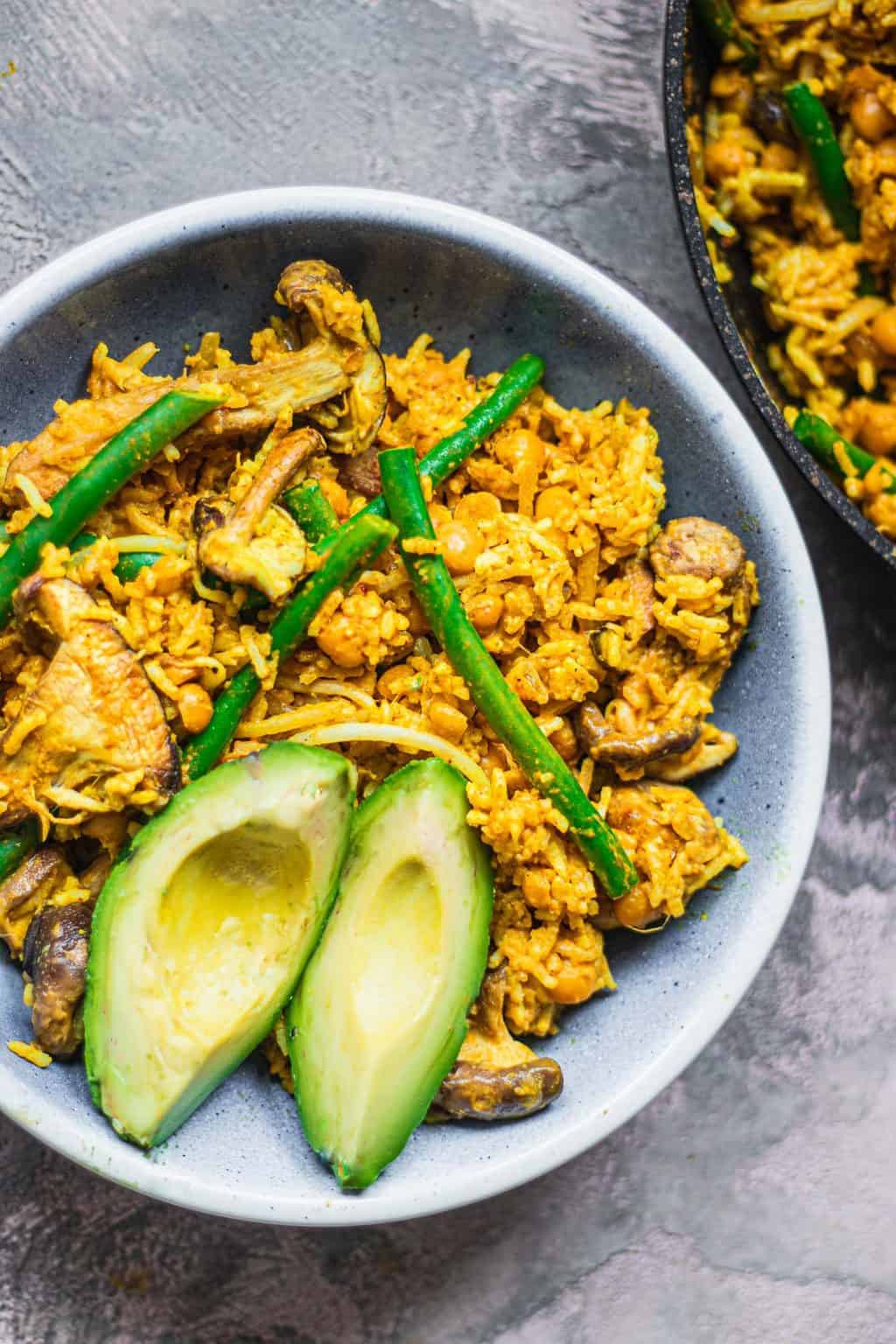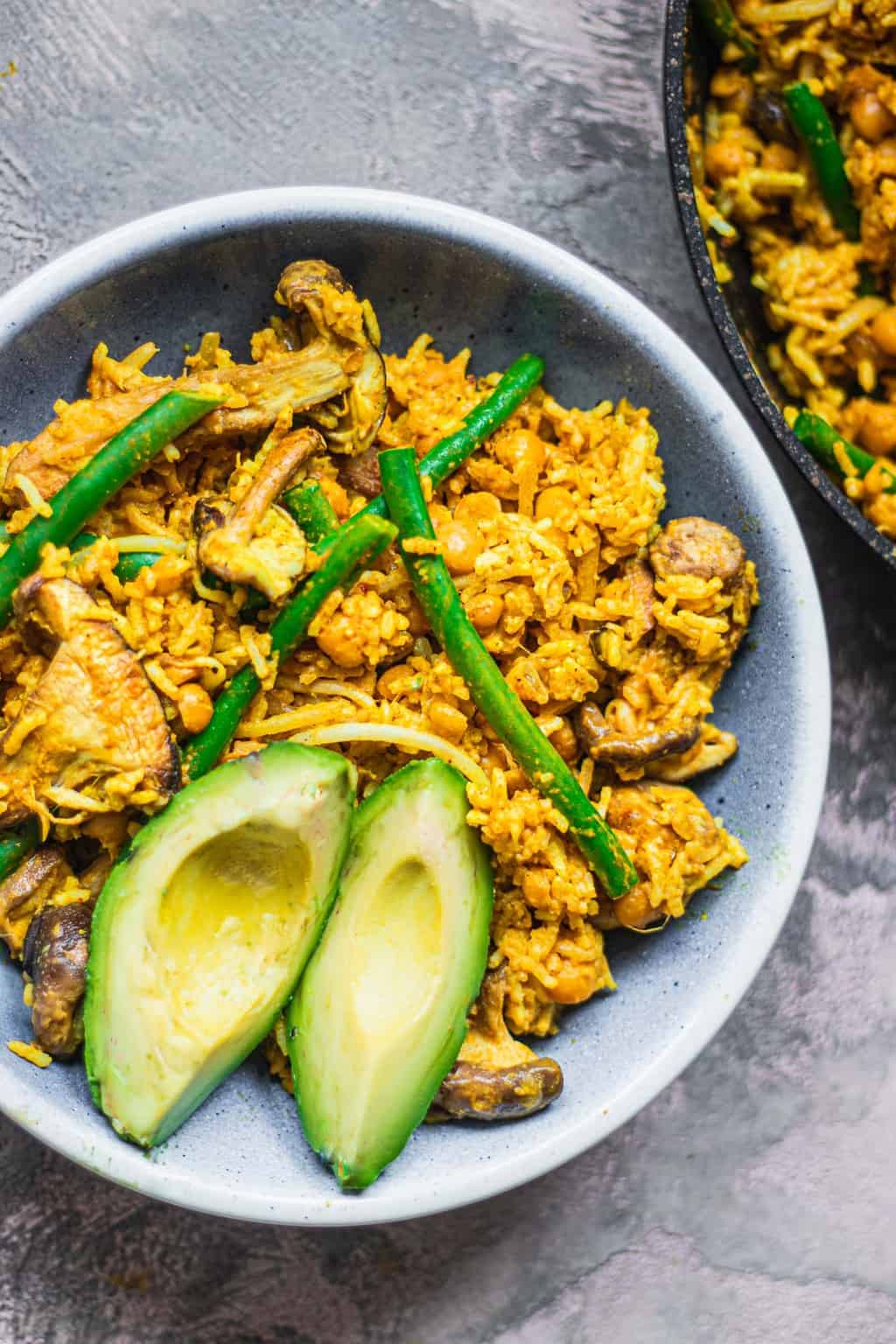 Fried rice is excellent as either a main or a side. This one is made with shiitake mushrooms for extra flavour and texture. Feel free to add beans of your choice for more bulk and protein. 
Bolognese is a long-time favourite of mine and I make this recipe on pretty much a weekly basis. It's ideal for meal prep and can be served with pasta, salad or both. Get ready for flavour perfection!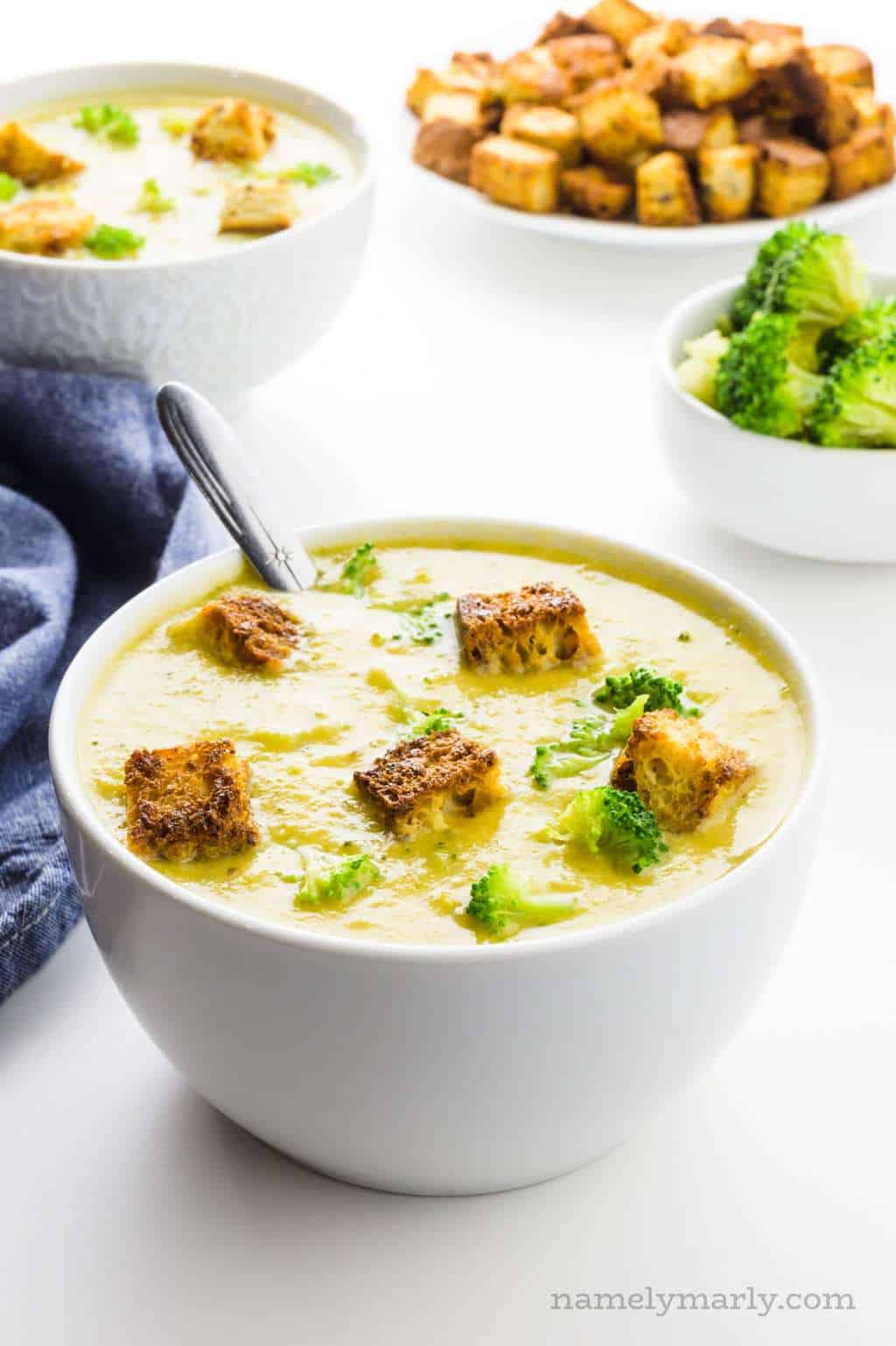 This broccoli soup by Marly from Namely Marly looks phenomenal! Make this if you want something comforting and quick on a cold evening.
12. Black Bean Burrito Bowl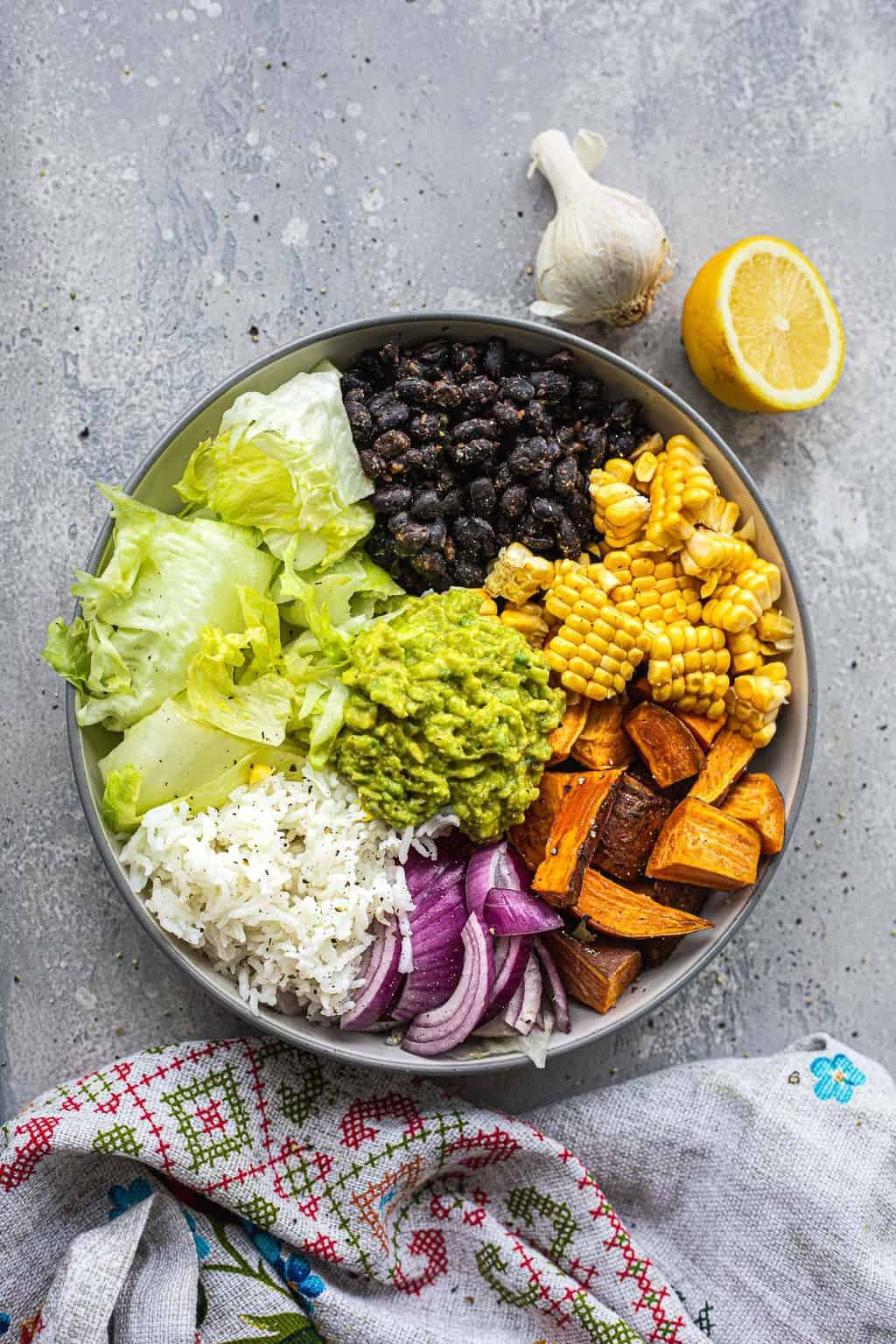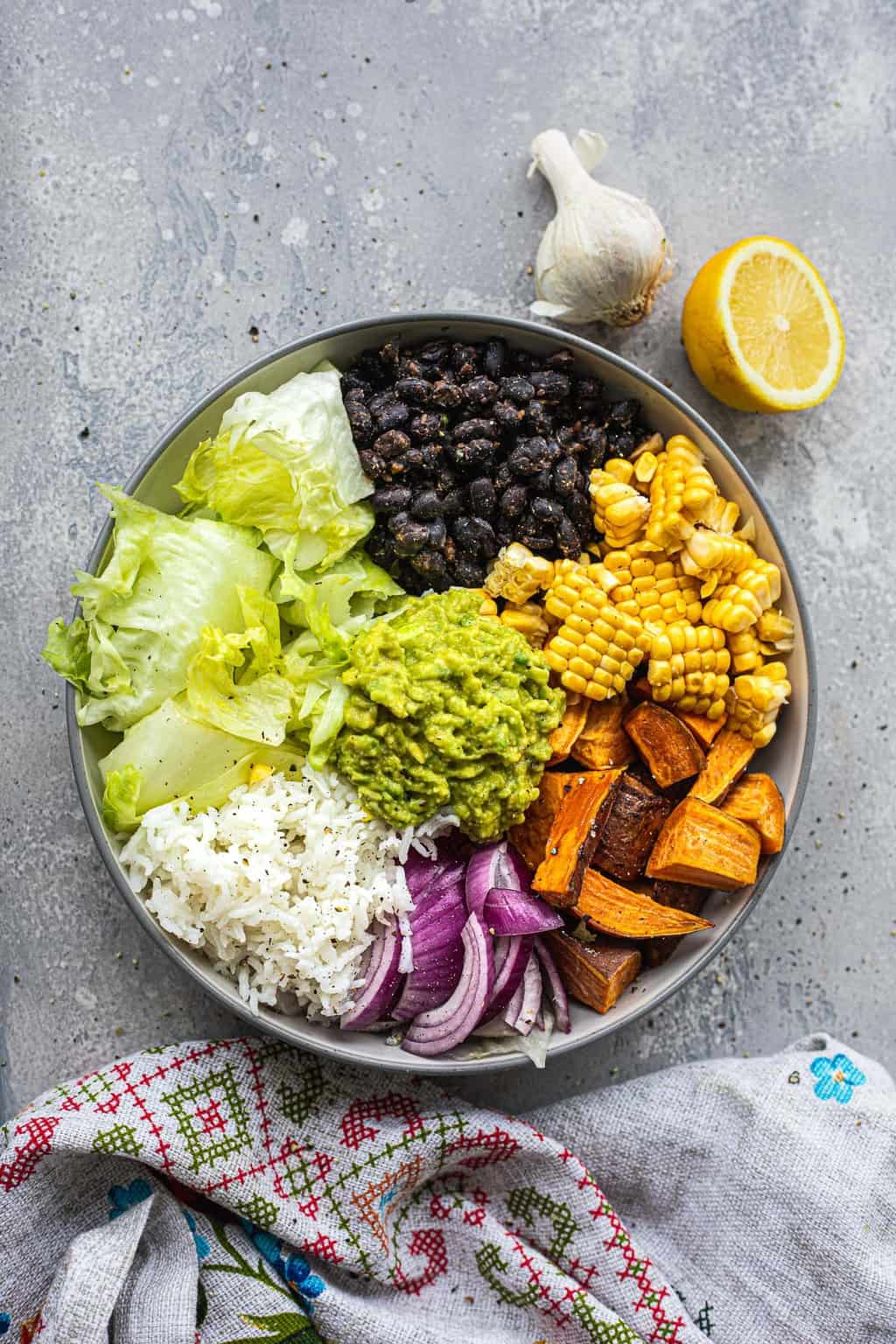 I have a confession, which is that I'm burrito bowl obsessed. They are so easy to throw together and very versatile too! This one is a go-to recipe for me, and a great make-ahead option for extra busy weeks. 
Ingredients
1 medium sweet potato, cubed
½ tsp pink Himalayan salt
1 tbsp maple syrup
1 can (240g) black beans, drained and rinsed
1 tbsp nutritional yeast
1 tbsp tamari
1 clove garlic, chopped or minced
½ large avocado, mashed
Juice of ½ lemon
1 tbsp apple cider vinegar
Pink himalayan salt, to taste
Paprika, to taste
Black pepper, to taste
Lettuce, to serve
Sweetcorn, to serve
Red onion, to serve
White rice, to serve
Instructions 
Preheat the oven to 200 degrees C/400 F.
Toss the sweet potato cubes with the pink Himalayan salt and maple syrup. Spread over a sheet of baking paper and bake for around 25 minutes, until soft. 
Meanwhile, stir together the black beans, nutritional yeast, tamari and garlic in a large mixing bowl. Transfer to a non-stick frying pan and stir to heat up for 3-4 minutes, 
To make the avocado sauce, stir together the mashed avocado, lemon juice, apple cider vinegar, pink Himalayan salt, paprika, and black pepper. 
Serve the sweet potato, black beans and avocado with lettuce, sweetcorn, red onion and white rice in a large bowl.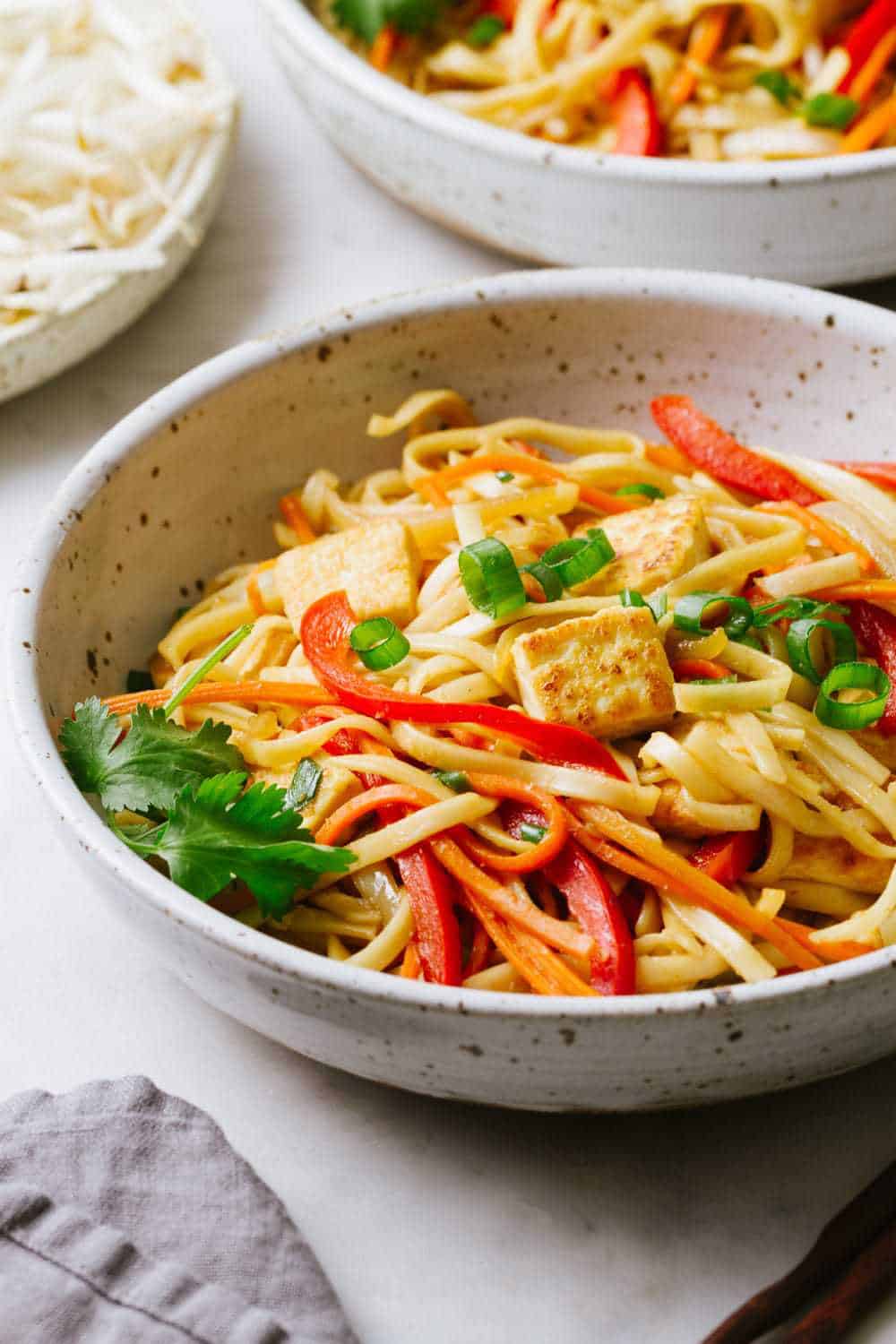 Julie from The Simple Veganista makes plant based dinners easy with this fantastic Lo Mein recipe that could make anyone love tofu!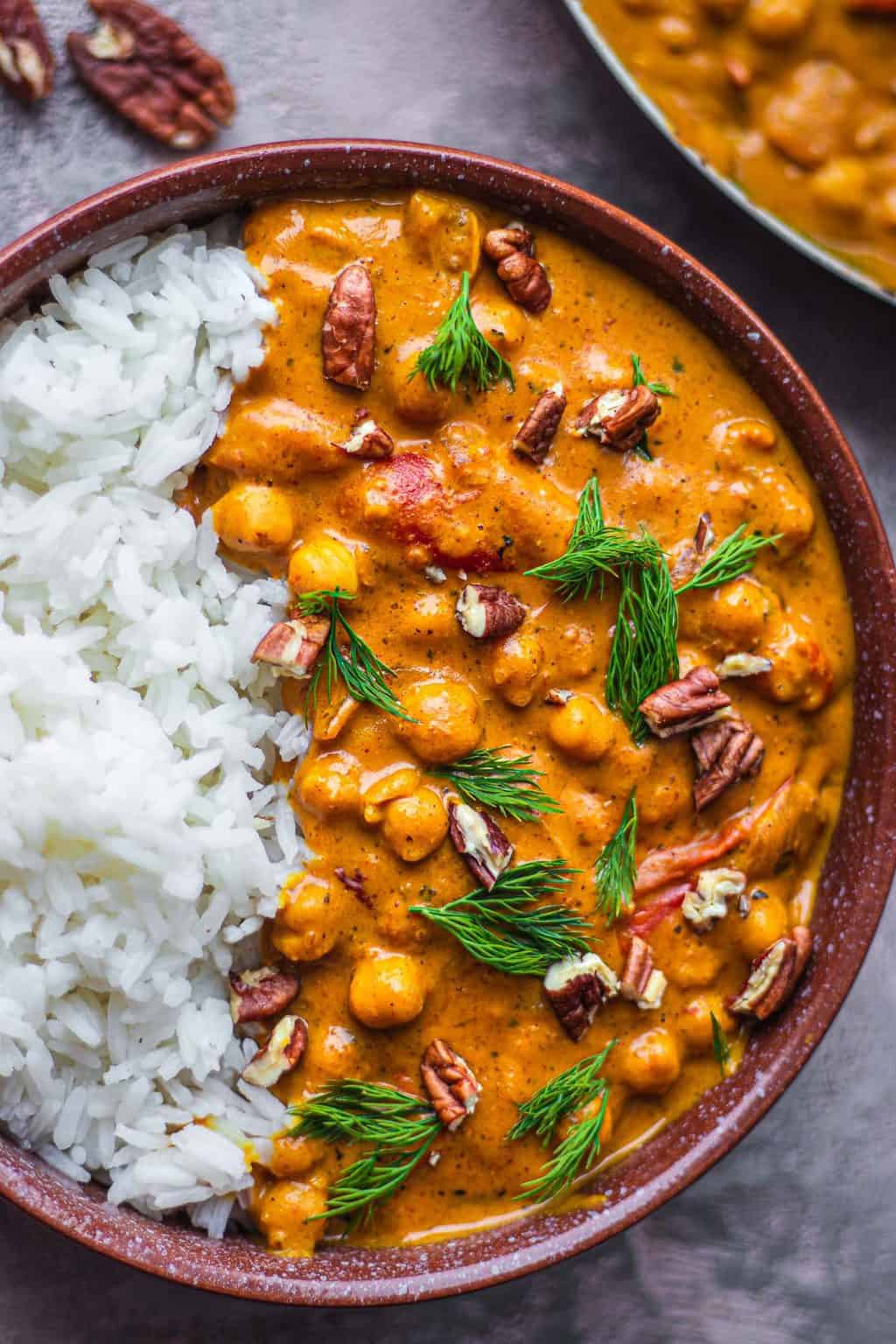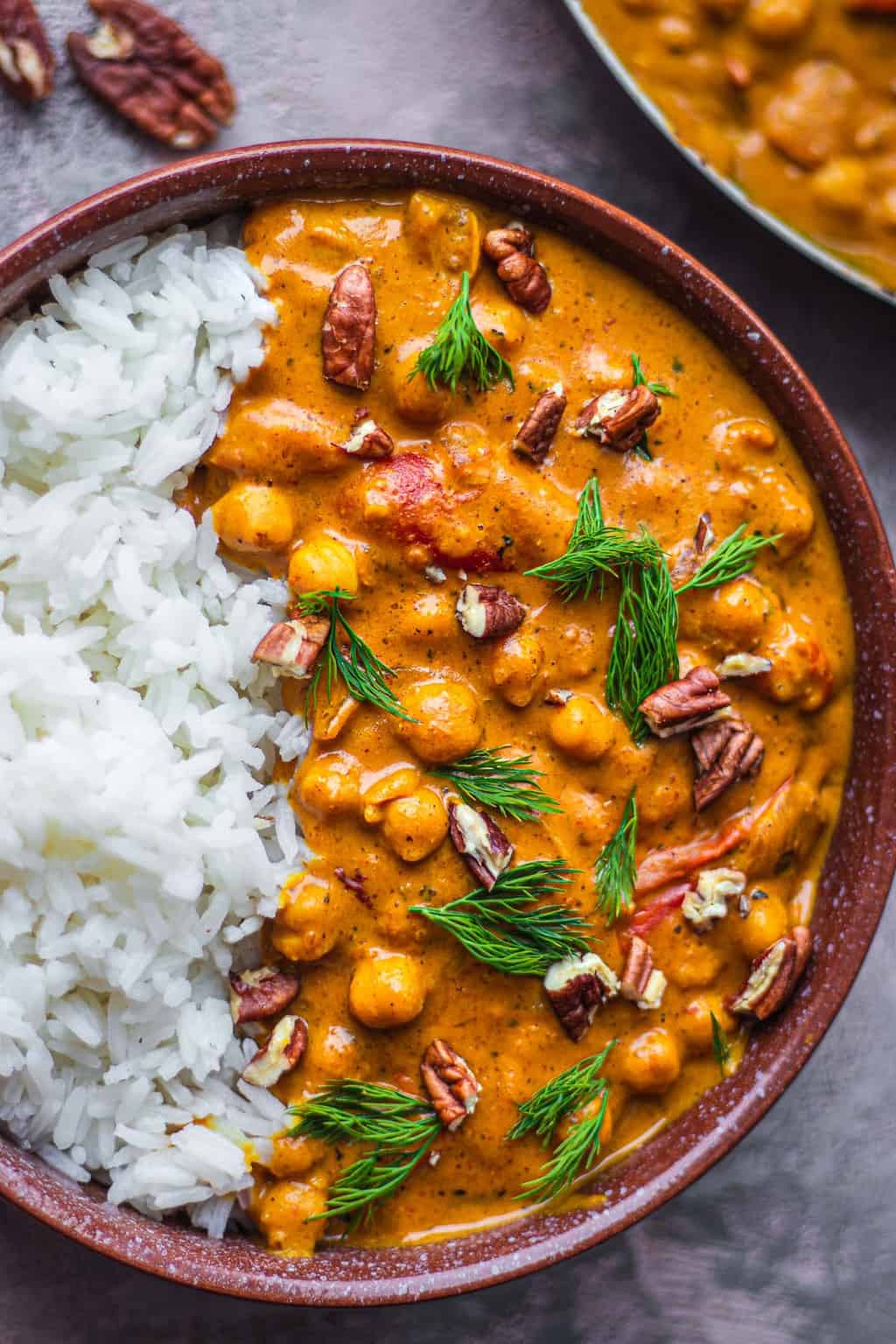 Butter 'chicken', but made vegan and healthy with chickpeas and peanut butter! Try this if you're craving a dinner that's rich and indulgent, but won't leave you feeling heavy.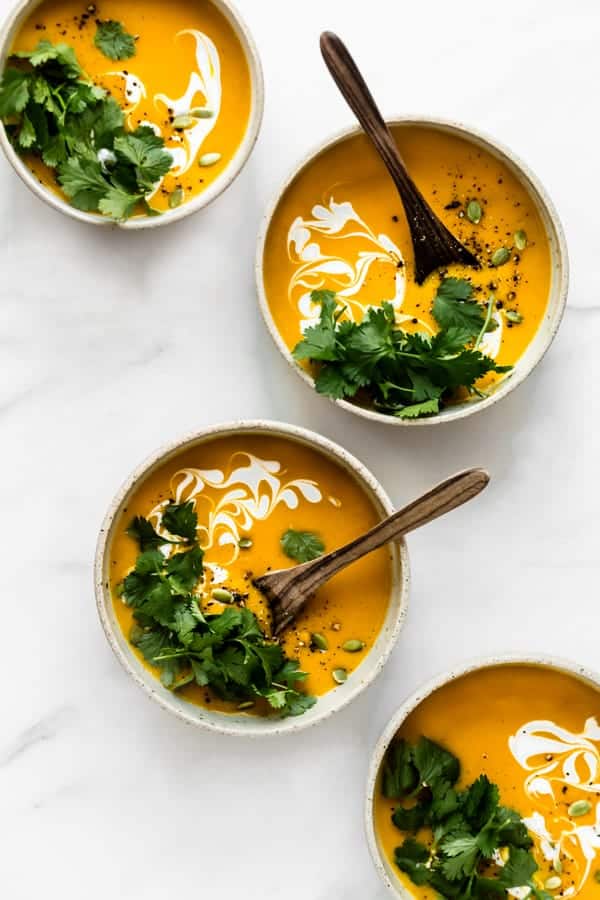 This butternut squash soup by Jess from Choosing Chia is something I could eat every day! It's certainly a great way to make use of your Instant Pot.
Let me know: which one of these 30-minute vegan meals is your favourite? And don't forget to Pin this post for later, and follow me on Pinterest for more quick lunch and dinner ideas.