Quinoa And Tempeh With Tomato Sauce (Vegan Meal Prep)
Looking for a vegan meal prep idea that's simple and super yummy? This quinoa and tempeh with a rich, spicy tomato sauce may become your new favourite make-ahead lunch. Ready in under 25 minutes, oil-free and gluten-free.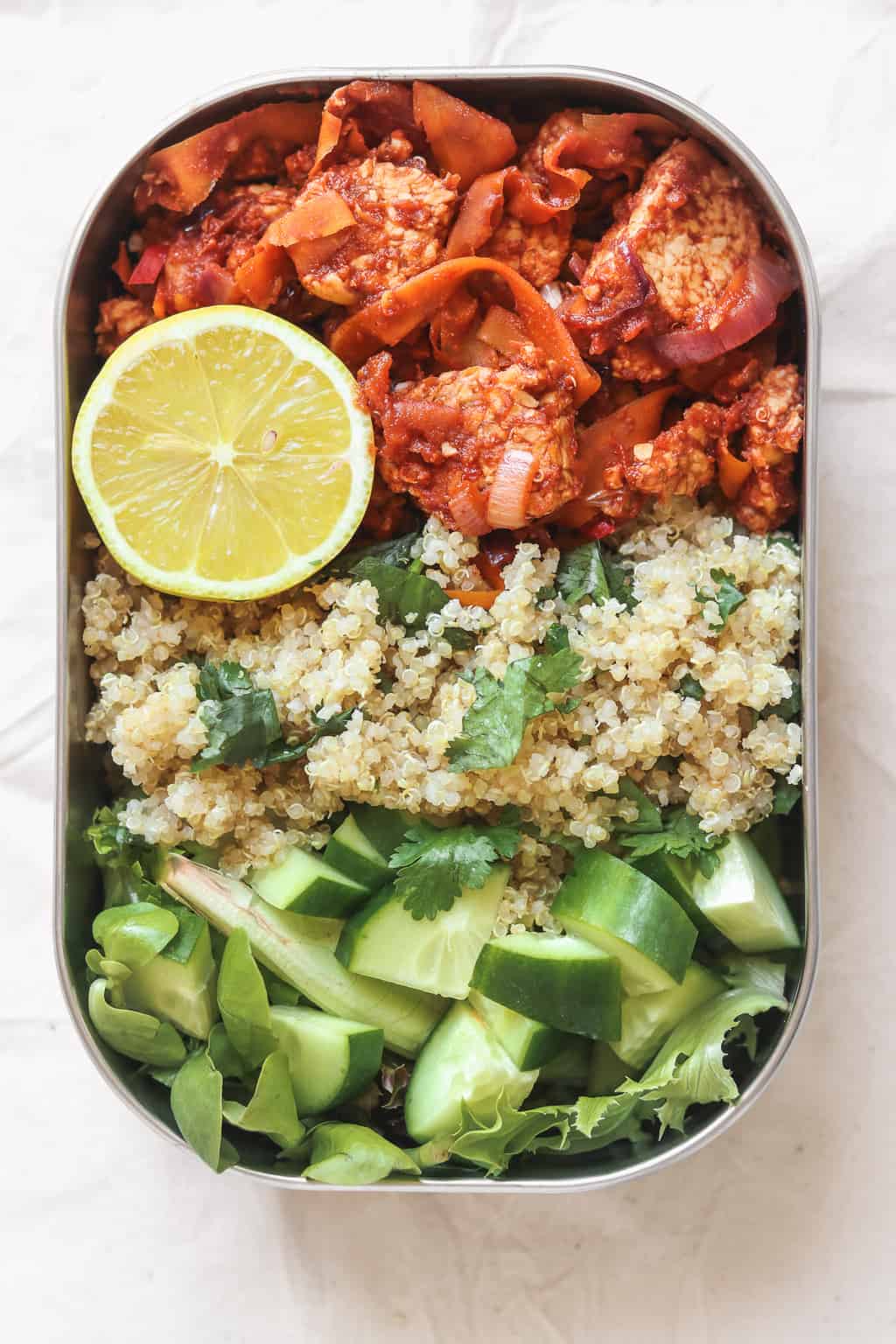 Who else loves meal prep? It's an often overlooked but crucial habit for anyone that lives a busy lifestyle and is out and about during the day.
I got into cooking my meals a few days in advance soon after I went vegan at 16. My school cafeteria didn't exactly boast a range of plant based options, and I wanted to optimise my time as a busy student. Ever since, I've been collecting and creating simple, lunchbox-friendly recipes that you can't get bored of.
If you're like me and want to keep organise and eat healthy with little effort, this quinoa with tempeh in a rich, smoky tomato sauce might be for you.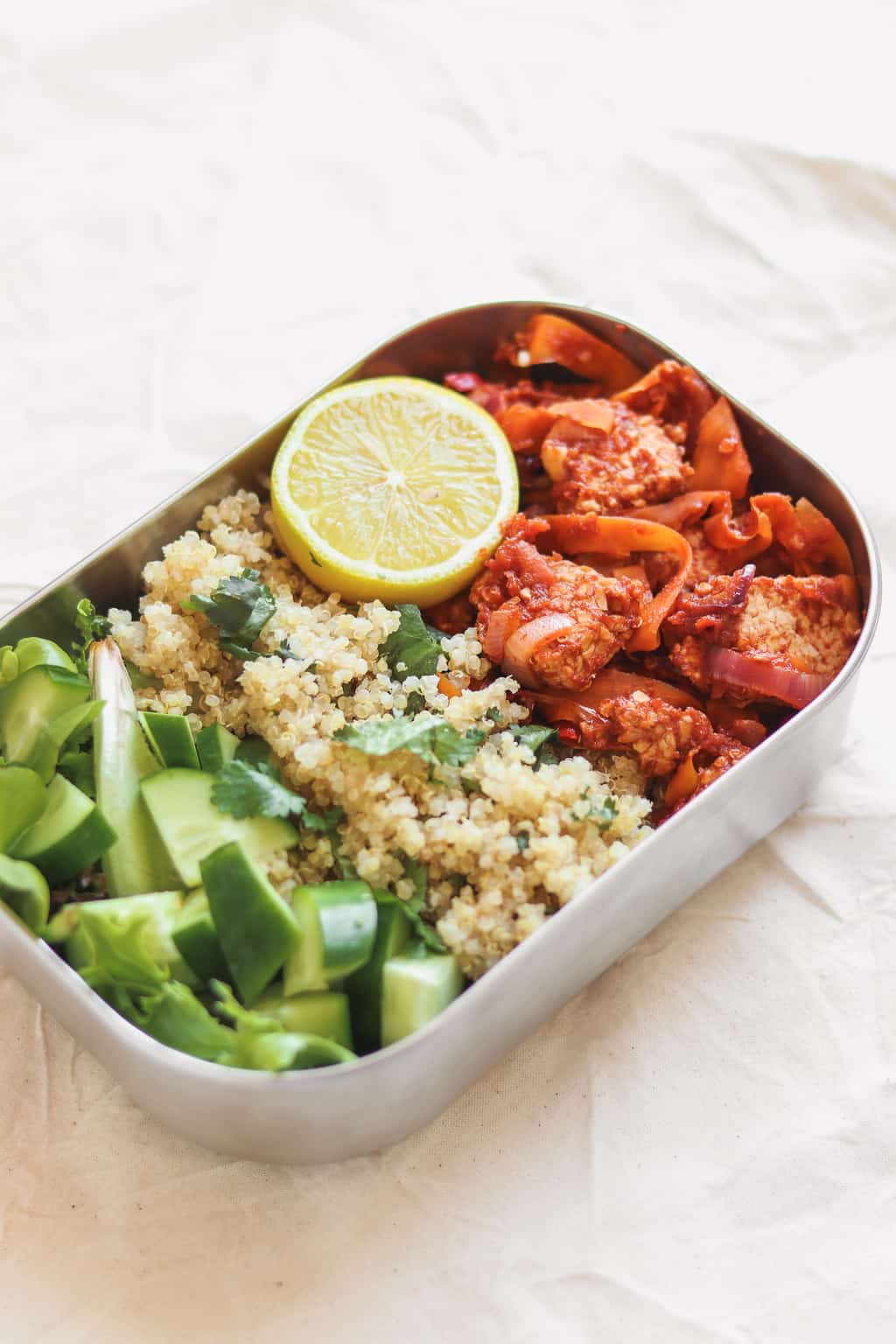 High protein vegan meal prep
If you follow me on Instagram, you know I'm pretty serious about my fitness and weightlifting. I'm far from bikini competition/professional bodybuilding standards lol, but I lift and eat to build muscle and feel strong. After all, there's nothing like a good gym session for an immediate confidence boost! And even as someone that's active and consciously trying to put on muscle, I get more than enough protein every day from eating plants – without even thinking about it.
Take this simple vegan meal prep box as an example. There really is nothing fancy about it. No supplements or powders, just wholesome ingredients. But it still brings in a good 31g protein, thanks to the tempeh and quinoa, which are both complete protein sources. So, if you want to re-energise after a workout or fuel a busy day, you're in the right place. (Disclaimer: this nutritional information is roughly calculated using WP Recipe Maker and not guaranteed to be accurate – talk to your doctor, nutritionist or dietician to ensure you're meeting all your personal daily guidelines).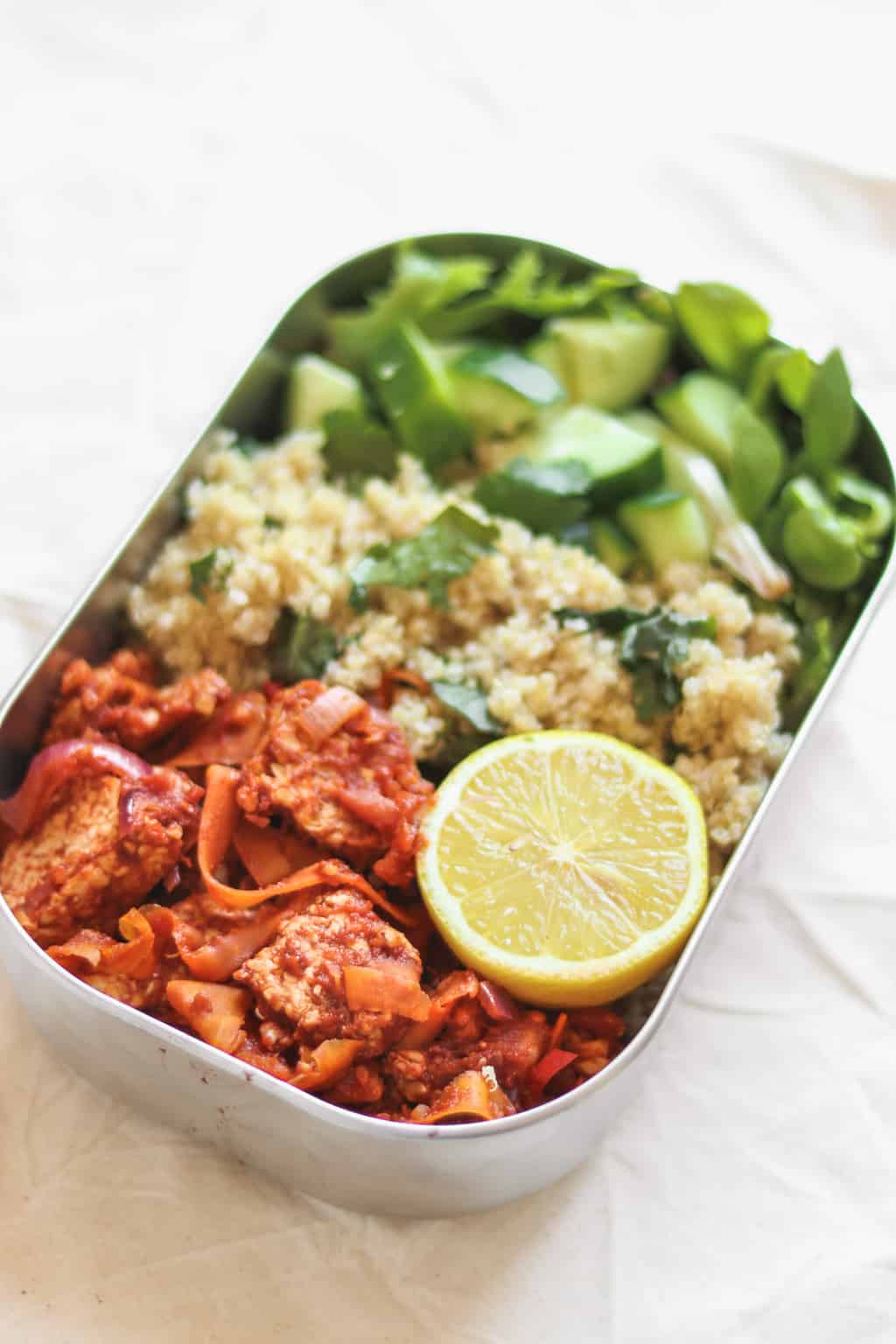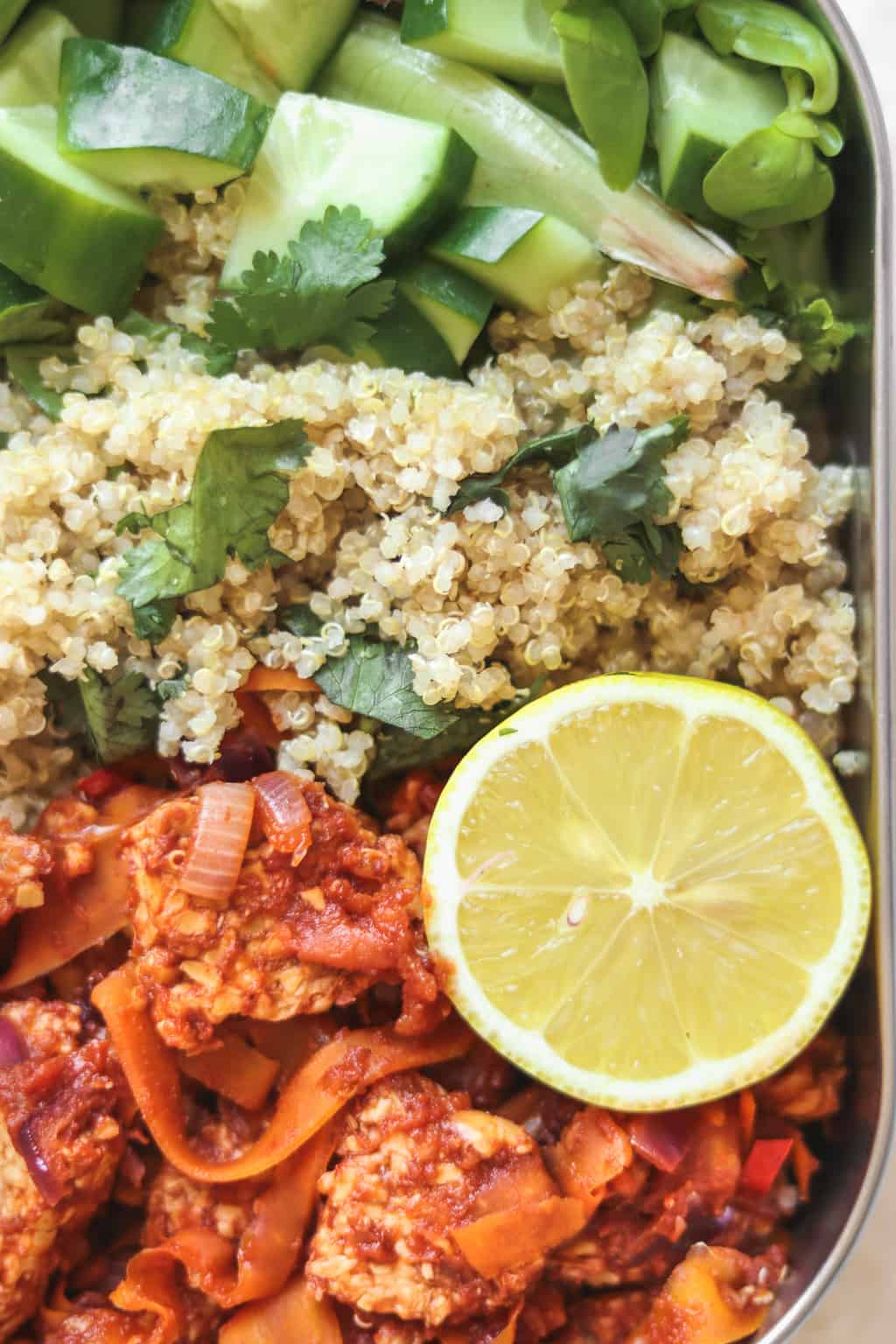 How to make tempeh in a rich, smoky tomato sauce
Like tofu, tempeh is a product made from fermented soybeans. While slightly less well-known, it's another fantastic source of vegan protein and to an extent, easier to make flavourful and delicious. Dense in texture with a slightly nutty undertone, it makes a great meat alternative. Plus, given the overall neutral flavour of tempeh, you just can't go wrong with it. In other words, versatility on point.
One of my favourite ways to prepare tempeh is marinading and then roasting it in the oven. But today, we're keeping things really straightforward and using it to make a tomato sauce that's very much reminiscent of spaghetti bolognese. It has a smoky flavour due to the paprika and with a hint of spice – which you can, of course, leave out.
Heat some red onion, garlic and carrot strips (for an extra 'hidden' vegetable') into a pan. Add tempeh pieces and cook for 5 or so minutes, until browned. Throw in canned tomatoes and spices, and continue stirring on a low heat for around 8-10 minutes more.
Do this while the quinoa cooks, arrange your boxes with fresh vegetables, and in under 25 minutes, you've got yourself a healthy vegan lunch for the next few days! Tasty, high protein meal prep has never been easier.
If you don't like tempeh or can't find it in the store, swap it for crumbled tofu or beans/pulses of your choice. However, keep in mind that this may affect cooking time. For example, I love making this tomato sauce with lentils, which I cook ahead of time and simply add at the same time as the canned tomatoes.
 Why do I love this easy vegan meal prep recipe (and you might too)?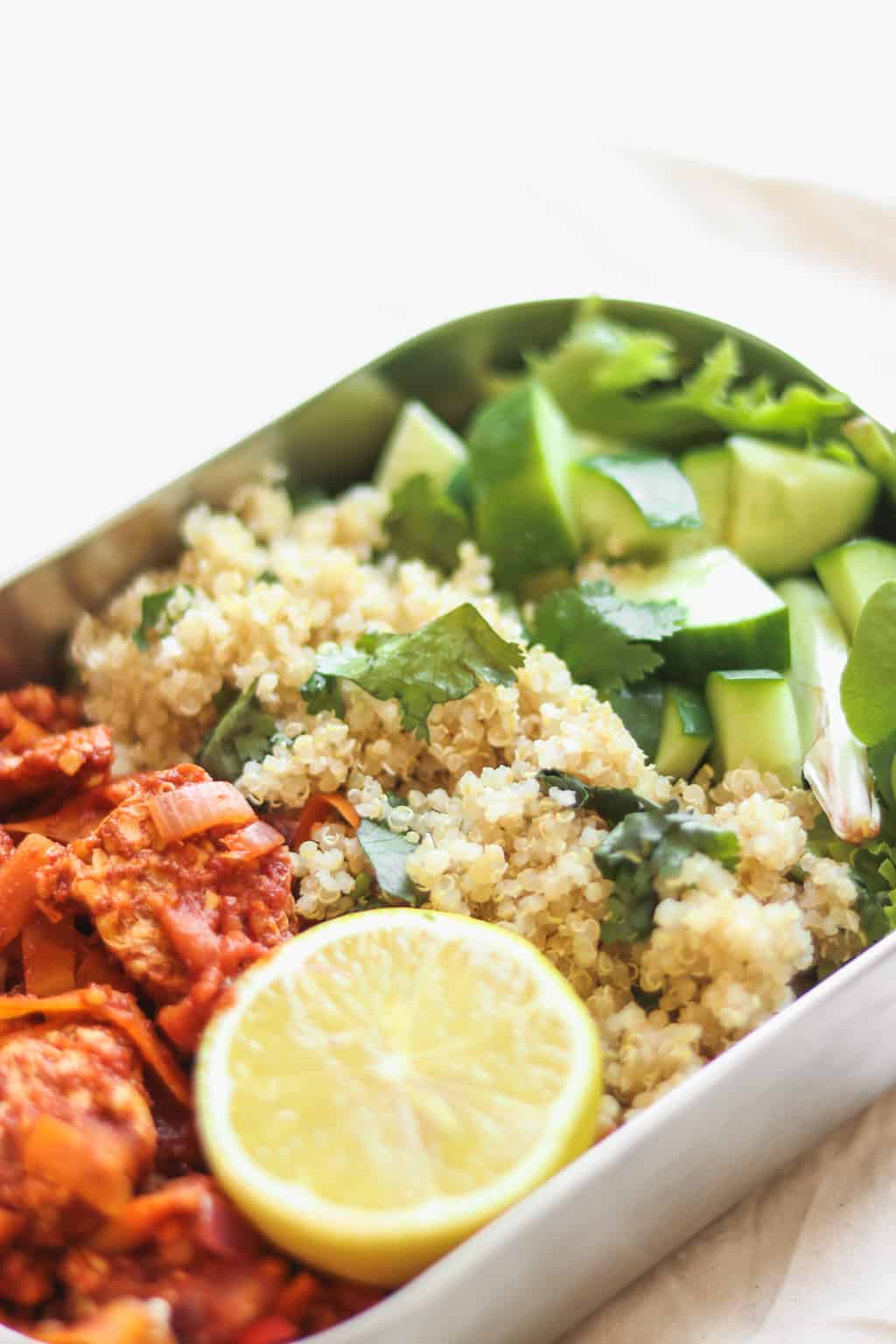 It's…
Really easy and beginner-friendly! You don't need anything other than basic kitchen equipment and a love for preparing nourishing food.
Ready in under 25 minutes. Need I say more? You could potentially save hours with this vegan meal prep recipe.
The definition of 'vegan protein content on point'. As a gym rat, this is the unique selling point for me. You'll be getting in not one, but two high protein vegan foods in one meal.
Gluten-free. 
Oil-free, as long as you use a good non-stick frying pan.
Packed full of flavour. Healthy eating, or at least how I define it, should be neither bland nor boring.
Delicious either hot or cold. If you can't heat up your make-ahead lunch on the go, no worries! Who doesn't love a meal prep recipe that doesn't need the extra work of seeking out a microwave?!
Notes and substitutions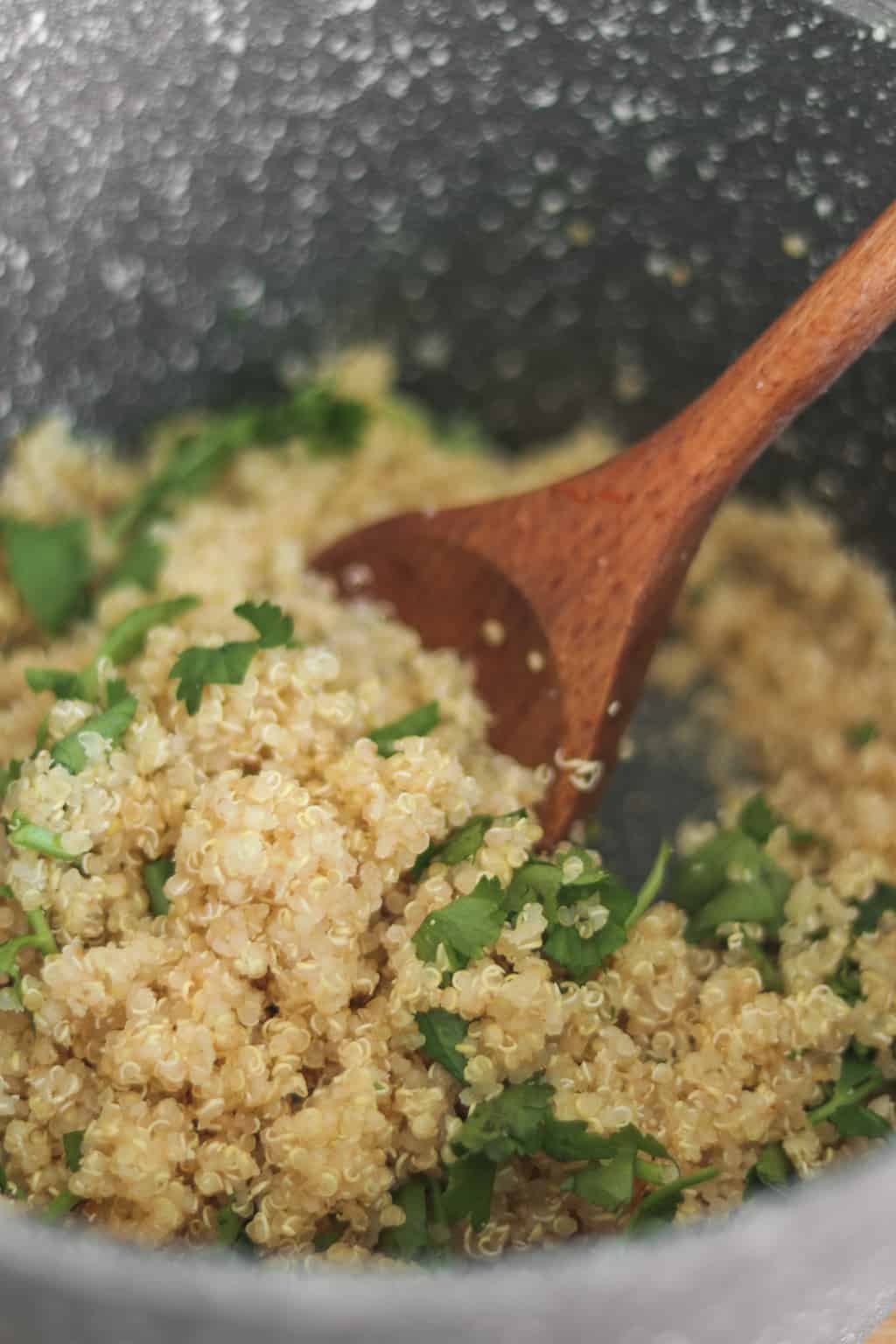 As I mentioned, you don't have to use tempeh: tofu or beans/pulses work super well in high protein meal prep boxes.
Likewise, swap the quinoa for any grain of your choice, such as rice or buckwheat. For a classic pasta with tomato sauce dish, use spaghetti, pasta, or noodles of your choice. Alternatively, roast a jacket potato in the oven or prepare a big batch of homemade fries for the week to eat with the tempeh.
Add any other toppings or sauces of your choice. I like to sprinkle some nutritional yeast on top and add fresh avocado.
Leave in the fridge for up to 4 days.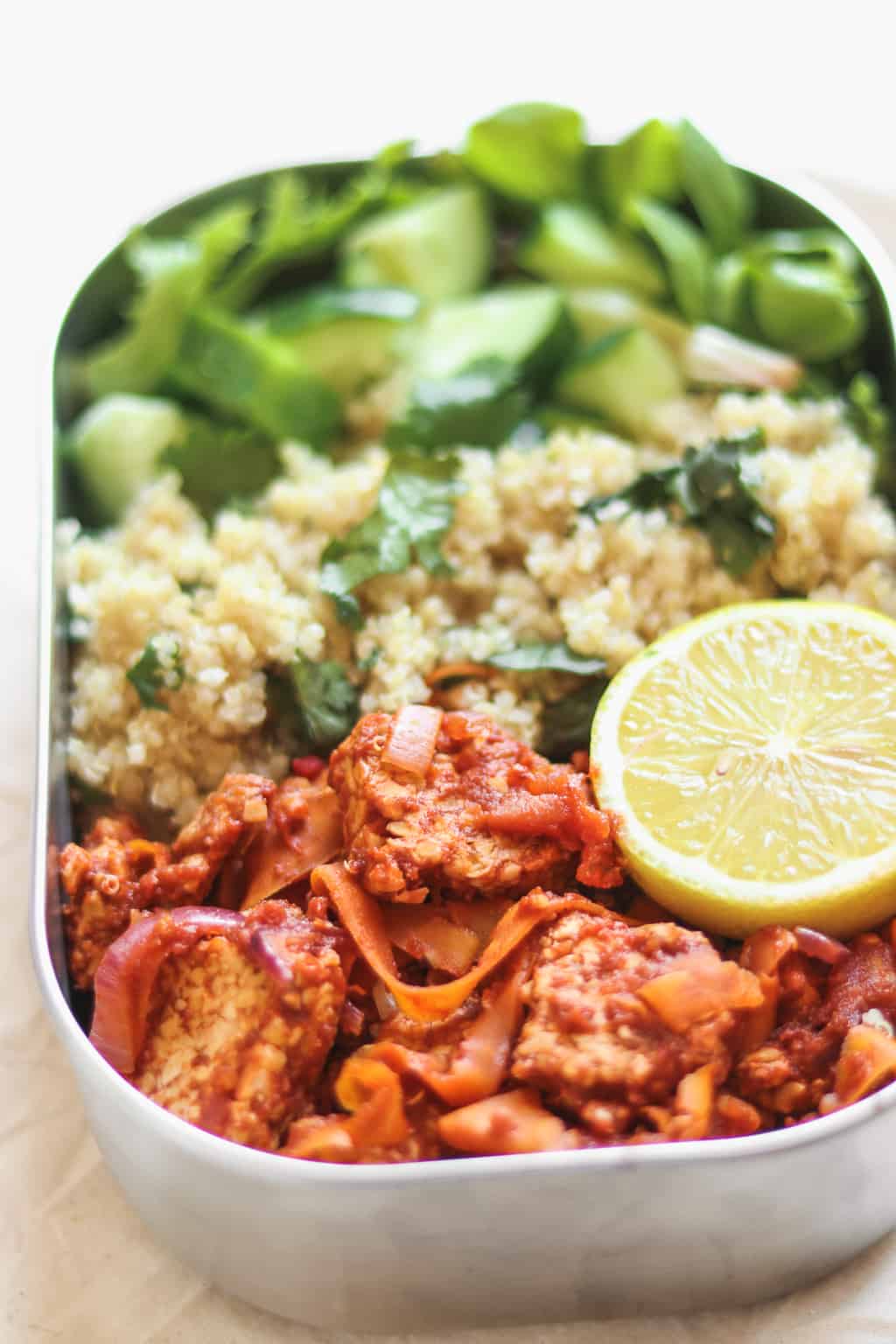 Other vegan meal prep ideas
Let me know: do you like preparing your meals ahead of time? What's your go-to recipe? If you give this vegan meal prep idea a try, be sure to tag me on Instagram (@earthofmariaa) so I can see your creations, or leave a review below.
Get the Recipe: High Protein Meal Prep: Quinoa And Tempeh With Tomato Sauce
Looking for a high protein meal prep idea that's also vegan, simple and delicious? This quinoa and tempeh with a rich, spicy tomato sauce may become your new favourite make-ahead lunch. Ready in under 25 minutes, as well as oil and gluten-free.
Ingredients
1 cup + 2 tbsp quinoa, dry
1 large red onion, diced
2 cloves garlic, minced
1/2 fresh red chilli, chopped (optional)
3 medium carrots, peeled into ribbons (simply continue peeling the carrot once you have removed the outer edge)
400 g tempeh, small bite-sized pieces
1 tbsp garlic powder
4 tbsp tomato paste
14 oz tinned tomatoes
1 tsp paprika
2 tbsp balsamic vinegar
2 tbsp agave nectar
small handful fresh coriander, chopped
juice of 1 lemon
To serve
fresh cucumber, chopped
fresh mixed greens
Instructions
Cover the quinoa with around 4 cups boiling water and simmer on a medium heat for 20 minutes, until cooked.

Meanwhile, add the red onion, garlic, and fresh chilli into a large non-stick frying pan with around 1 tbsp water and cook on a medium-high heat for around 3 minutes, until softened.

Add the carrot strips and stir for a further one minute.

Add the tempeh pieces, garlic powder, and tomato paste. Cook for 5 minutes, stirring occasionally, until the tempeh is lightly browned.

Lower the heat and pour in the canned tomatoes, followed by the paprika, balsamic vinegar and agave nectar. Simmer on a low-medium heat for 8-10 minutes, or until the sauce reaches your desired consistency.

Once the quinoa is cooked, stir in the fresh coriander and lemon juice.

Distribute the quinoa and the sauce evenly between 4 airtight containers with cucumber and fresh greens. Store in the fridge for up to 4 days. Can be eaten hot or cold.
Calories: 553kcal, Carbohydrates: 78g, Protein: 31g, Fat: 15g, Saturated Fat: 2g, Sodium: 305mg, Potassium: 1436mg, Fiber: 8g, Sugar: 16g, Vitamin A: 8385IU, Vitamin C: 15.8mg, Calcium: 200mg, Iron: 8mg