30+ Easy Vegan Weeknight Dinner Recipes
30+ Easy vegan weeknight dinner recipes using simple seasonal ingredients and often ready in under 30 minutes. Featuring plenty of gluten-free and oil-free options like avocado pasta, beetroot risotto and miso-glazed tofu steaks, for when you're too busy to cook.
I absolutely love juggling my degree, blog and social media but by the end of the day I'm always super hungry. When I finish a day of work, all I want is a filling and comforting meal that's easy to make and on the table fast. If you're super busy and have a lot on your plate, you'll probably find that very relatable!
However, quick and easy meals don't have to be bland and boring. I've compiled this roundup of my favorite vegan weeknight dinner recipes from myself and other bloggers to show how you can cook delicious, flavorful food, even when you're low in time or energy.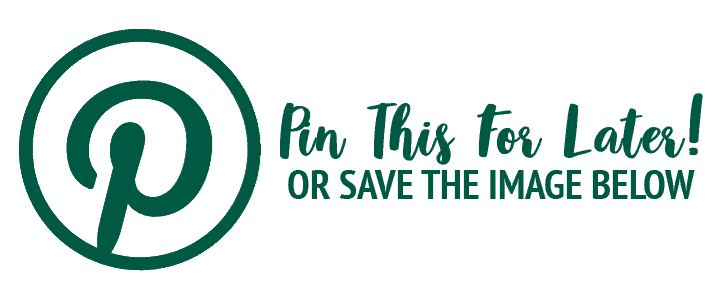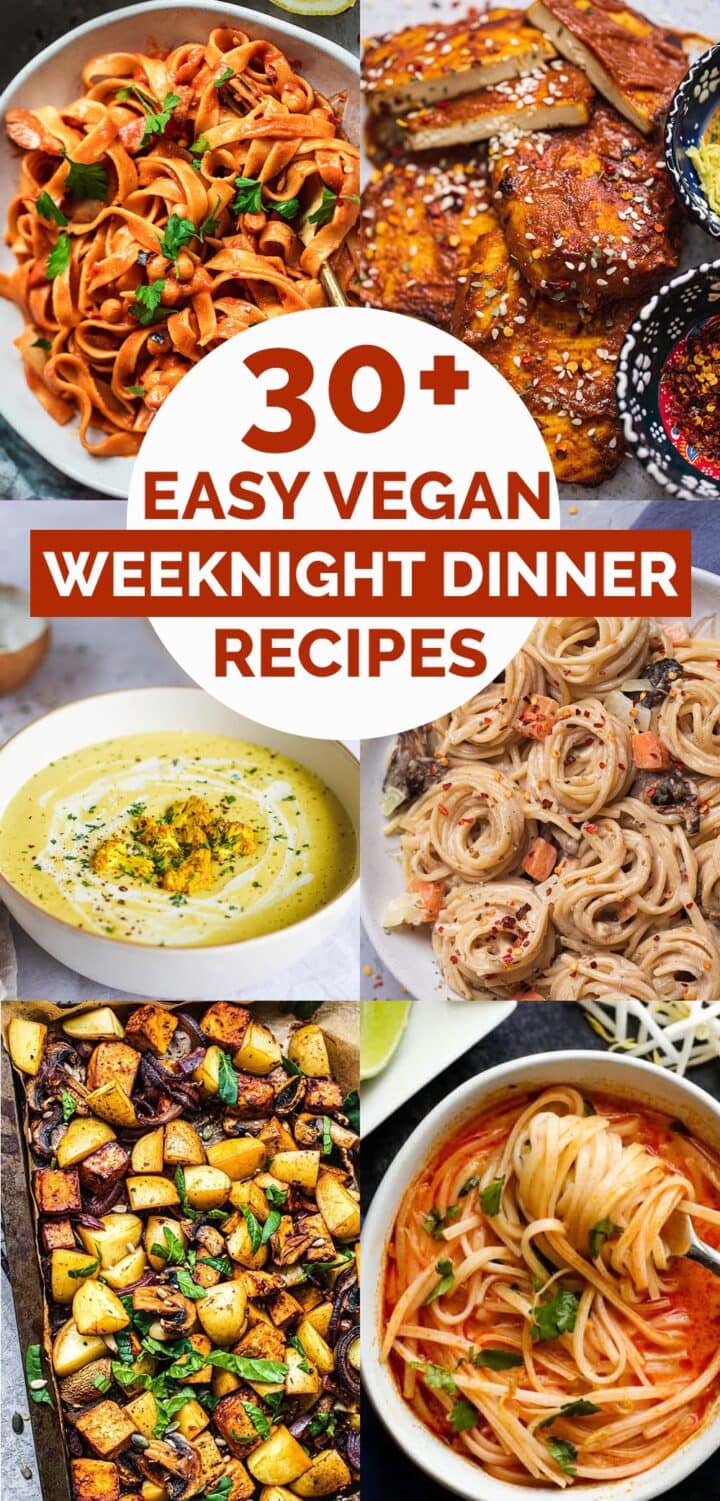 Whether you're cooking for yourself or impressing guests, there's loads of fuss-free, one pot options to add to your meal plans, regardless of your skill, equipment or dietary requirements. Make sure you save this post to refer back to and let me know if you try any of these tasty vegan dinners from myself and other bloggers! I'm sure you will love them.
Forget diamonds, pasta is a girl's best friend. This one pot chickpea pasta needs just one pan and 20 minutes to create the ultimate comfort food dinner. With a rich, smoky tomato sauce and juicy oyster mushrooms, you'll definitely come back for seconds.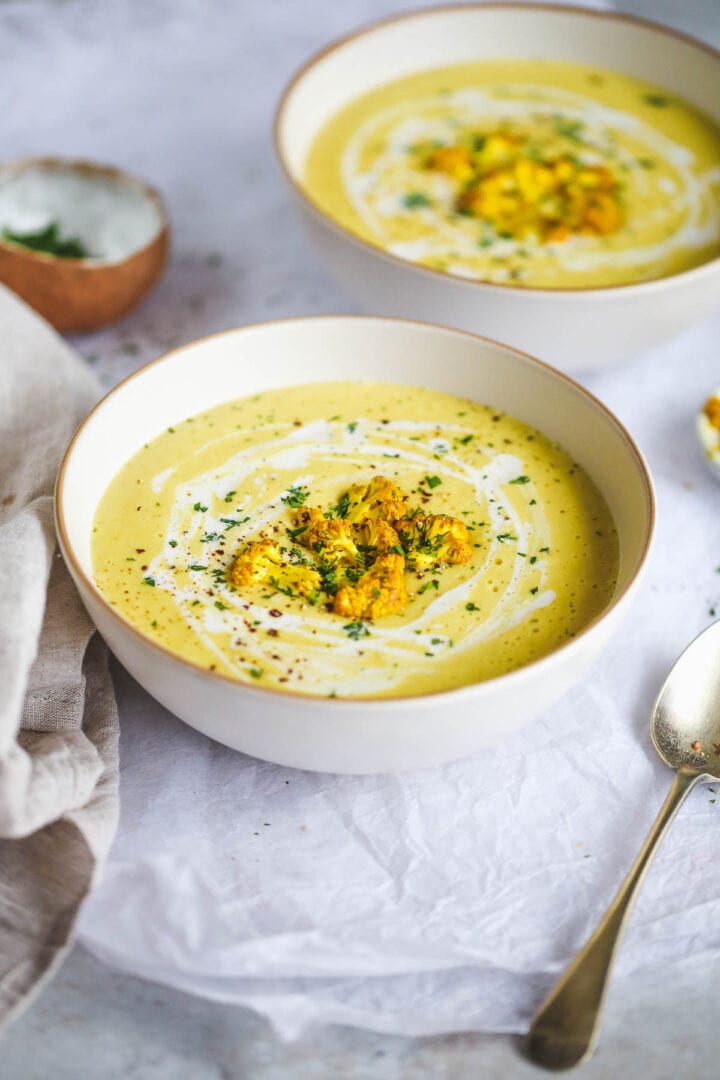 Cauliflower really is an amazing vegetable, that goes very well in a lot of meals. You need to try this savoury and creamy curried cauliflower soup recipe from Nourish Plate! Not only is it beautifully spiced and super flavorful, but it's ready in under 30 minutes so great for when you're low on time.
Soups make a delicious and versatile weeknight dinner option as they're easy to make and a great way to use up any leftover vegetables or pulses. This vegan coconut soup with sweet potato and jackfruit is especially rich, savoury and warming, ready in 35 minutes, using just one pan. You can find it and more similar recipes in my first cookbook, Earthy Vegan Eats!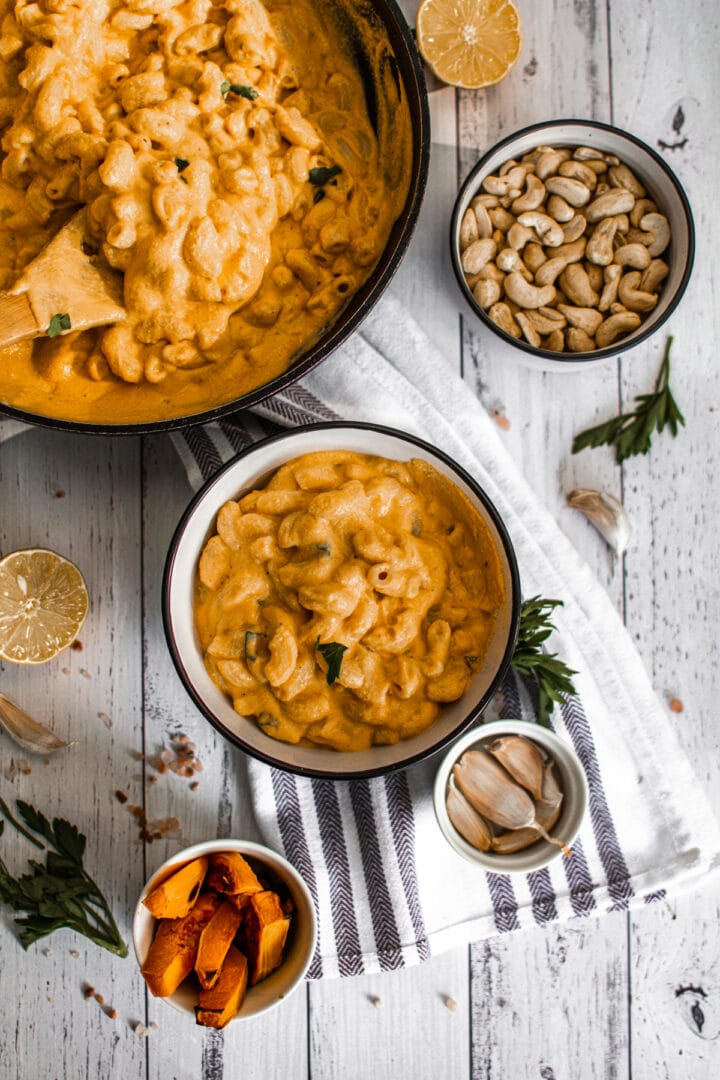 Nothing says weeknight dinner as much as mac and cheese. This vegan pumpkin mac and cheese from Nadine at Two City Vegans is full of dairy-free cheesiness and a creamy cashew pumpkin sauce. My mouth is watering just thinking about it!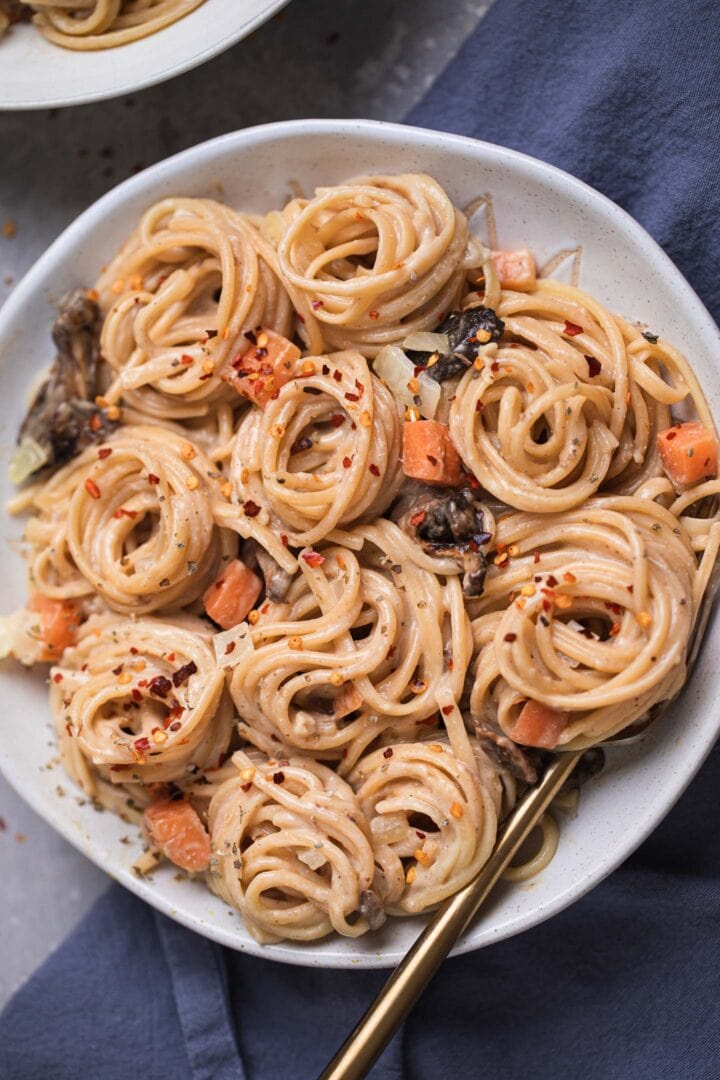 My vegan carbonara recipe is a plant-based alternative to the classic Italian dish, complete with meat-free mushroom 'bacon' and a creamy dairy-free sauce. Serve this comforting dinner in 15 minutes and eat the leftovers the next day for a fuss-free lunch.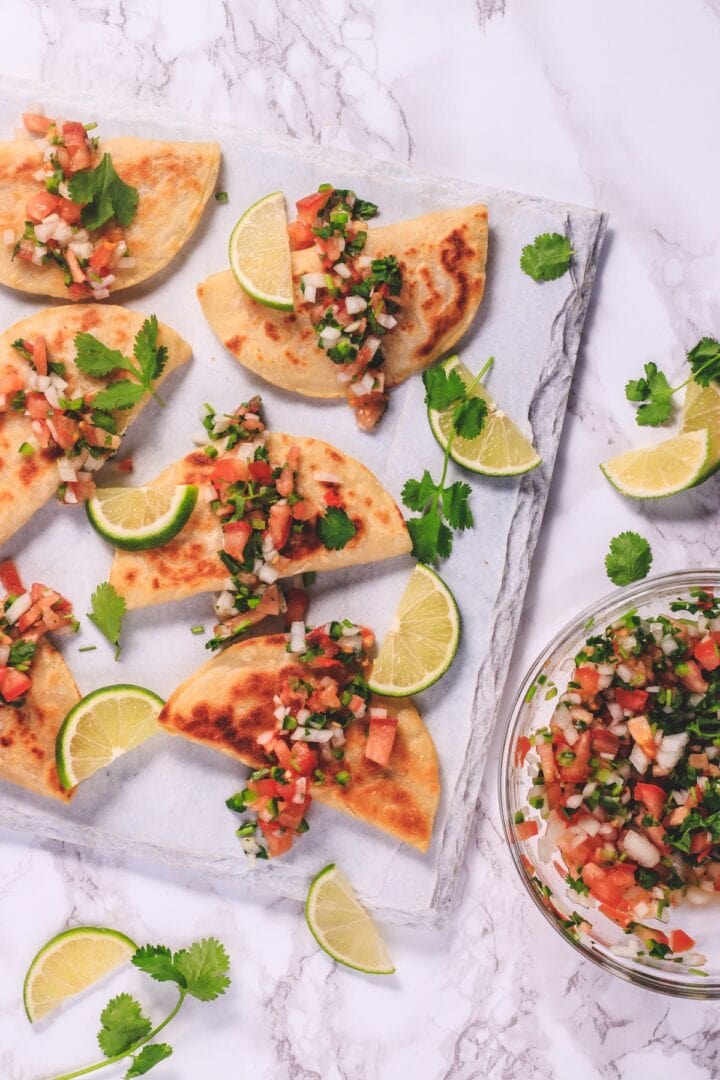 How fun do these crispy potato tacos from Kanan at Spice Up The Curry look! Topped with pico de gallo, these Mexican-inspired tacos are an easy way to add some originality to your meal plan. Plus they're super easy to make with just 6 ingredients.
Tofu has a reputation for being bland, but the bold umami flavors of these vegan miso-glazed tofu steaks will show you how delicious tofu can be. Serve these meat-free steaks with rice and steamed vegetables for an exciting and easy dinner. For more tofu tips, check out my guide on how to make tofu taste good!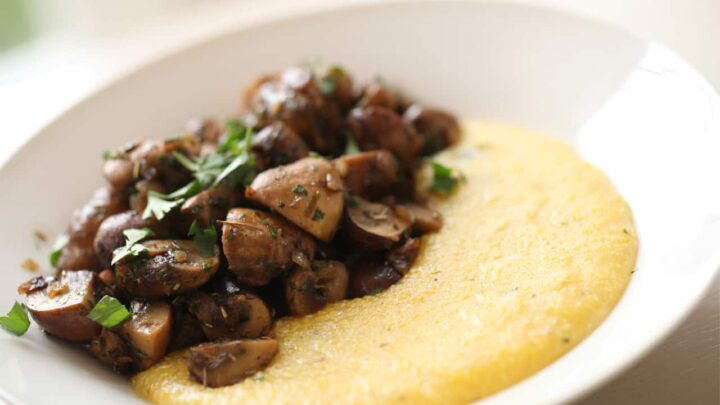 Beth from Entertaining with Beth has created the ultimate comfort food with this mouth-watering mushroom ragu with creamy polenta. Ready in just 30 minutes, this hearty dinner is exactly what you need after a long day of work or school. Polenta is an amazing ingredient, and if you haven't tried it yet, you need it in your life!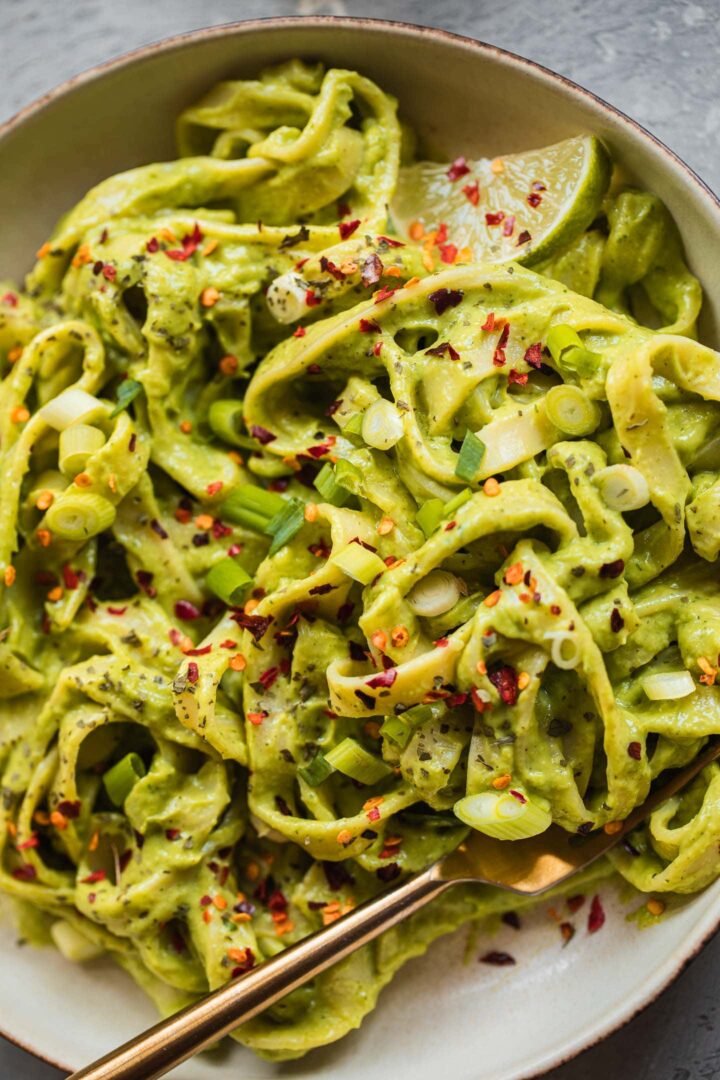 If you need dinner on the table in 15 minutes then try this vegan avocado pasta. Blend all the ingredients to create a silky, creamy sauce and serve with gluten-free pasta for a quick, fuss-free meal that's perfectly fresh.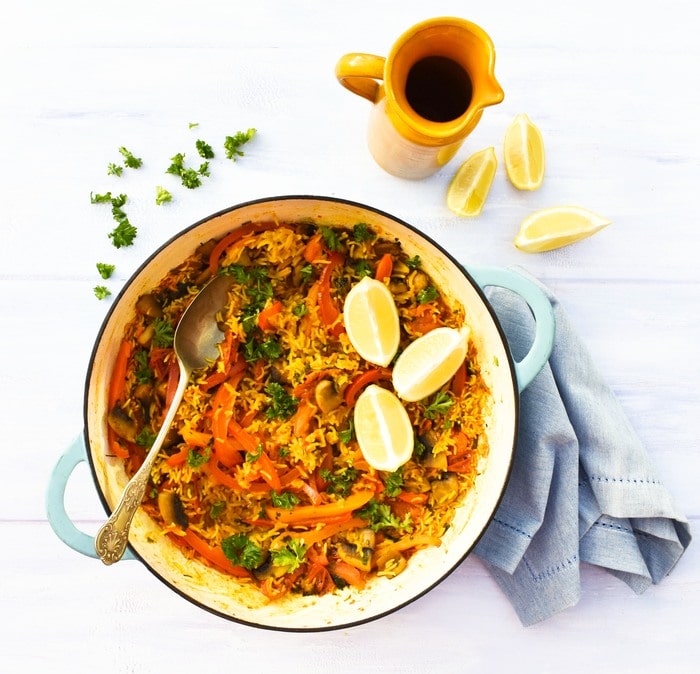 Jacqueline from Tinned Tomatoes is proving that anything can be made plant-based with this delicious Spanish-inspired vegetable paella. This recipe is full of fresh vegetables and zesty lemon to create a healthy and vibrant dinner – you can even freeze the leftovers.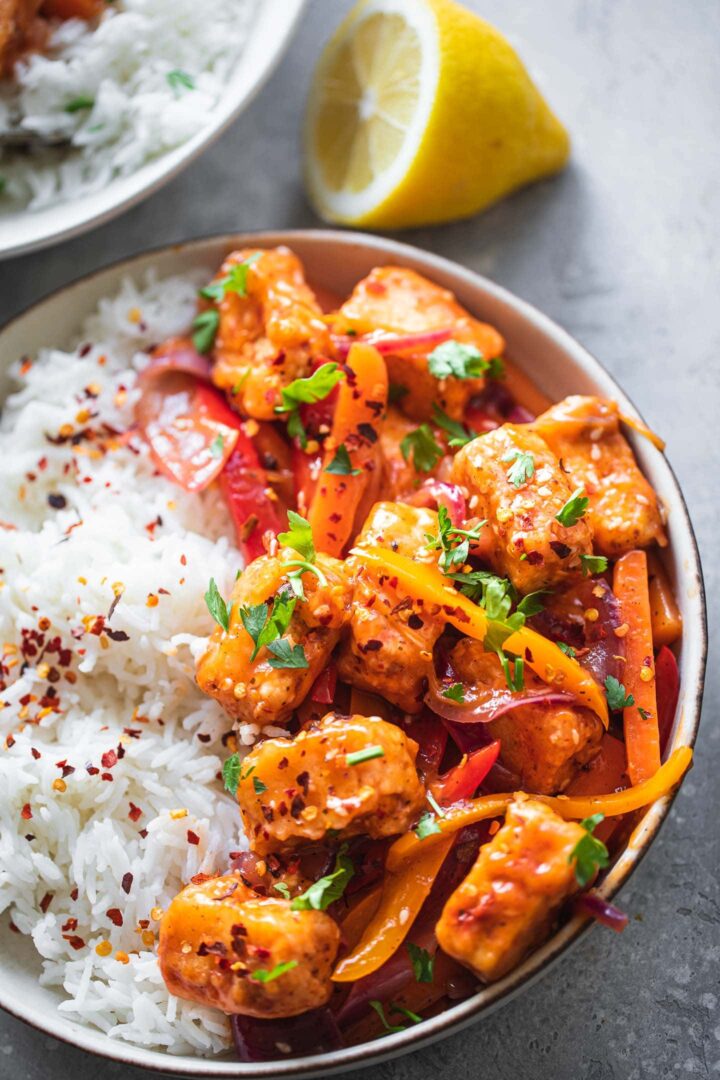 Takeouts can be expensive and leave you feeling sluggish, but this homemade sweet and sour tofu with a fragrant orange sauce is a healthier, budget-friendly alternative. This gluten-free recipe is perfect for an easy weeknight dinner, served with rice and sesame seeds.
Thai red curry paste is one of my favorite pantry staples, so I'm obsessed with how Liz from I Heart Vegetables uses it in her coconut curry noodle bowl recipe. These noodles are full of gorgeous umami flavor and really easy to make in 15 minutes.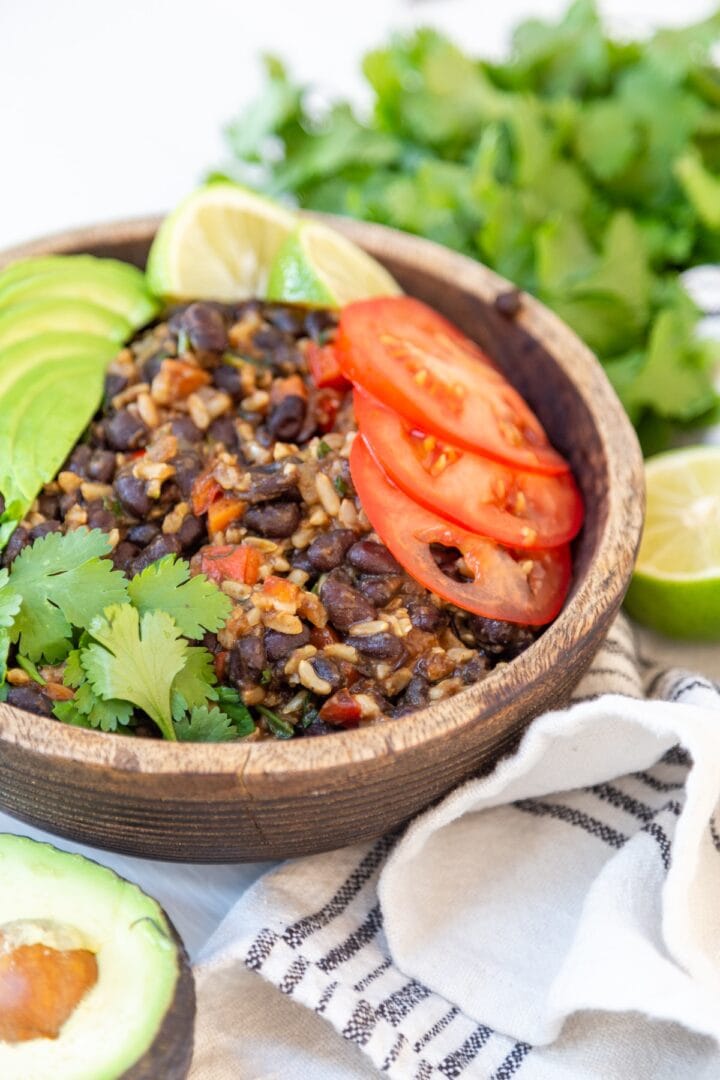 These easy veggie loaded black beans and rice from Linda and Alex at Veganosity would make a healthy and filling dinner, that's full of budget-friendly pantry staples. You can even store the leftovers for make ahead lunches.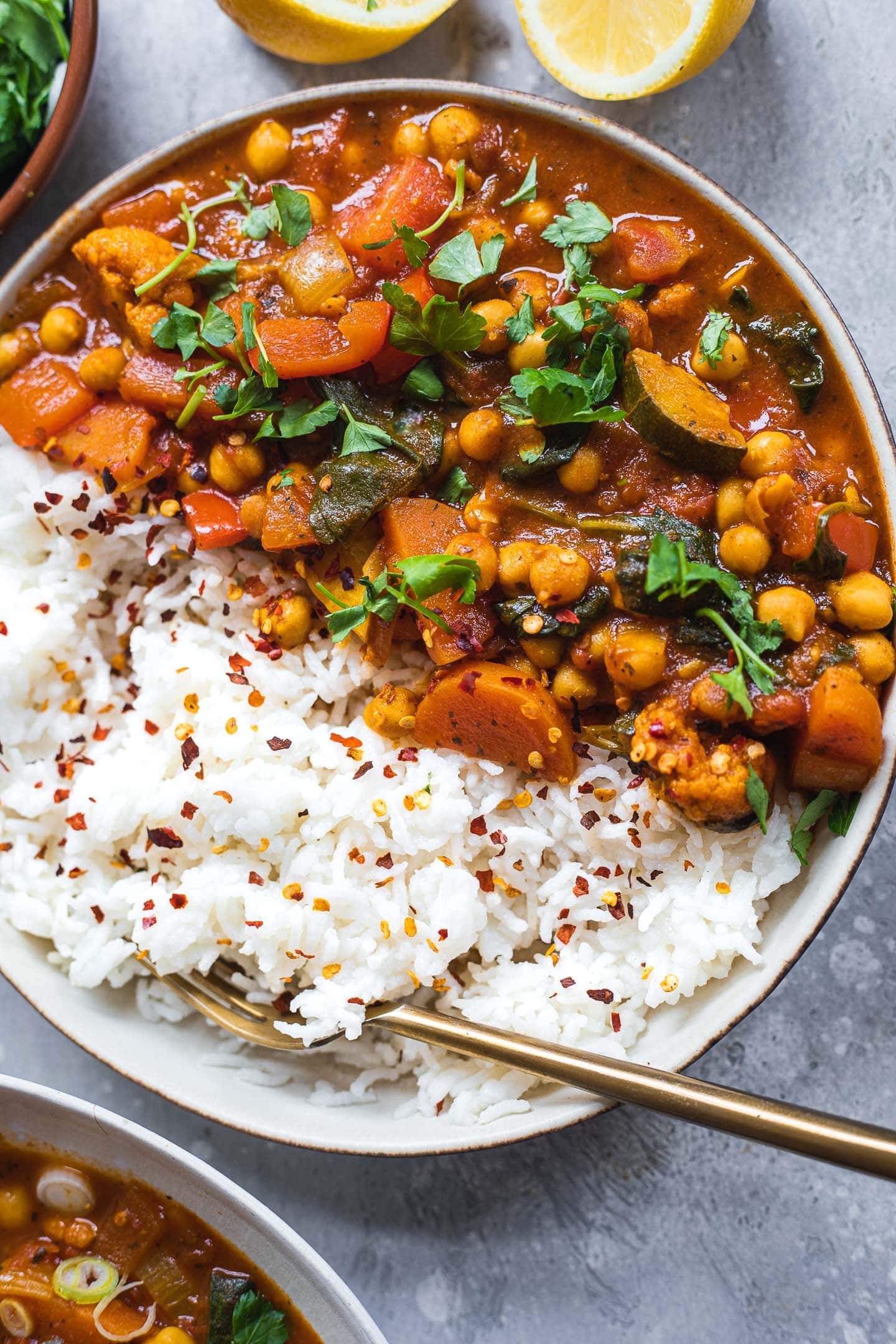 Looking in your cupboards and wondering what to make? Chances are you probably have all the ingredients to make this 30 minute vegan chickpea stew. Every spoonful is wholesome, warming and packed full of fresh vegetables and chickpeas.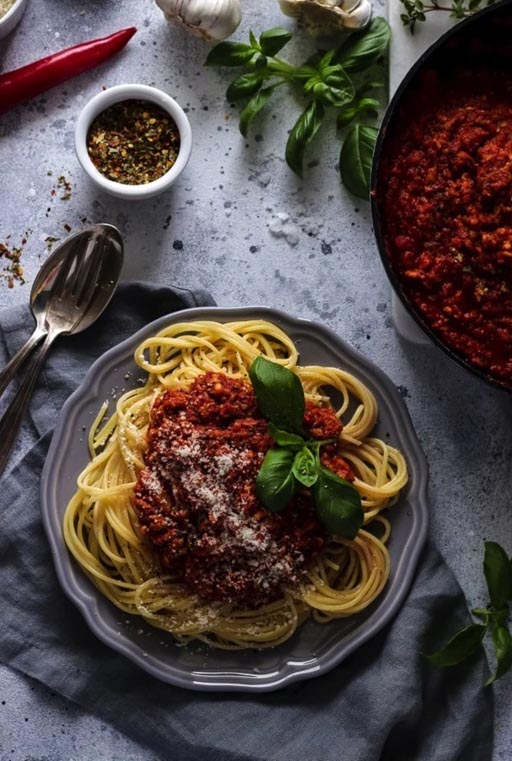 Bold claims from Elena at Happy Kitchen Rocks as she calls this the best vegan bolognese but, with it's Italian herbs, meat-free tempeh 'mince' and secret ingredient of Marmite, it sounds like she could be right! This rich and savoury pasta would be an instant hit for the whole family.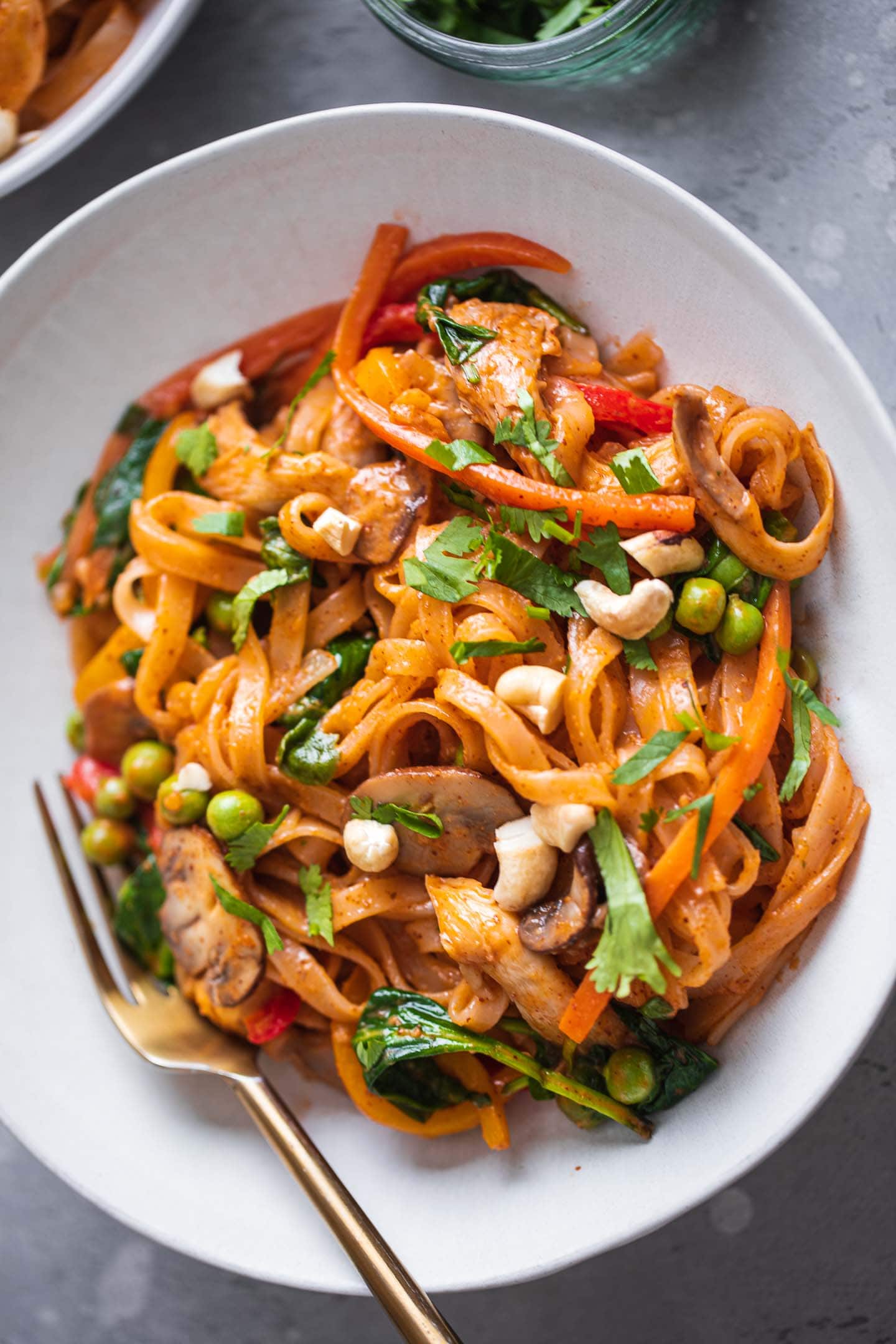 This vegan coconut vegetable noodle stir-fry is one of my go-to meals after a busy day as it's easy and full of healthy goodness. You can stir any leftover vegetables into this creamy coconut sauce for a flavorful and fuss-free 15-minute weeknight dinner.
Lisa from The Organic Kitchen has created this exciting and unique spring roll spaghetti bowl which brings together two of my favorite cuisines. She serves the pasta salad with a ginger and sriracha almond butter dressing to create a 20-minute dinner that everyone will be talking about.
This vegan potato soup by Julianne from No Sweat Vegan is oil-free, perfect for meal prep and full of hearty root vegetables. Serve with gluten-free bread whenever you need a hug in a bowl and are craving soup on a cold evening (or otherwise – soup is pretty much always a good idea).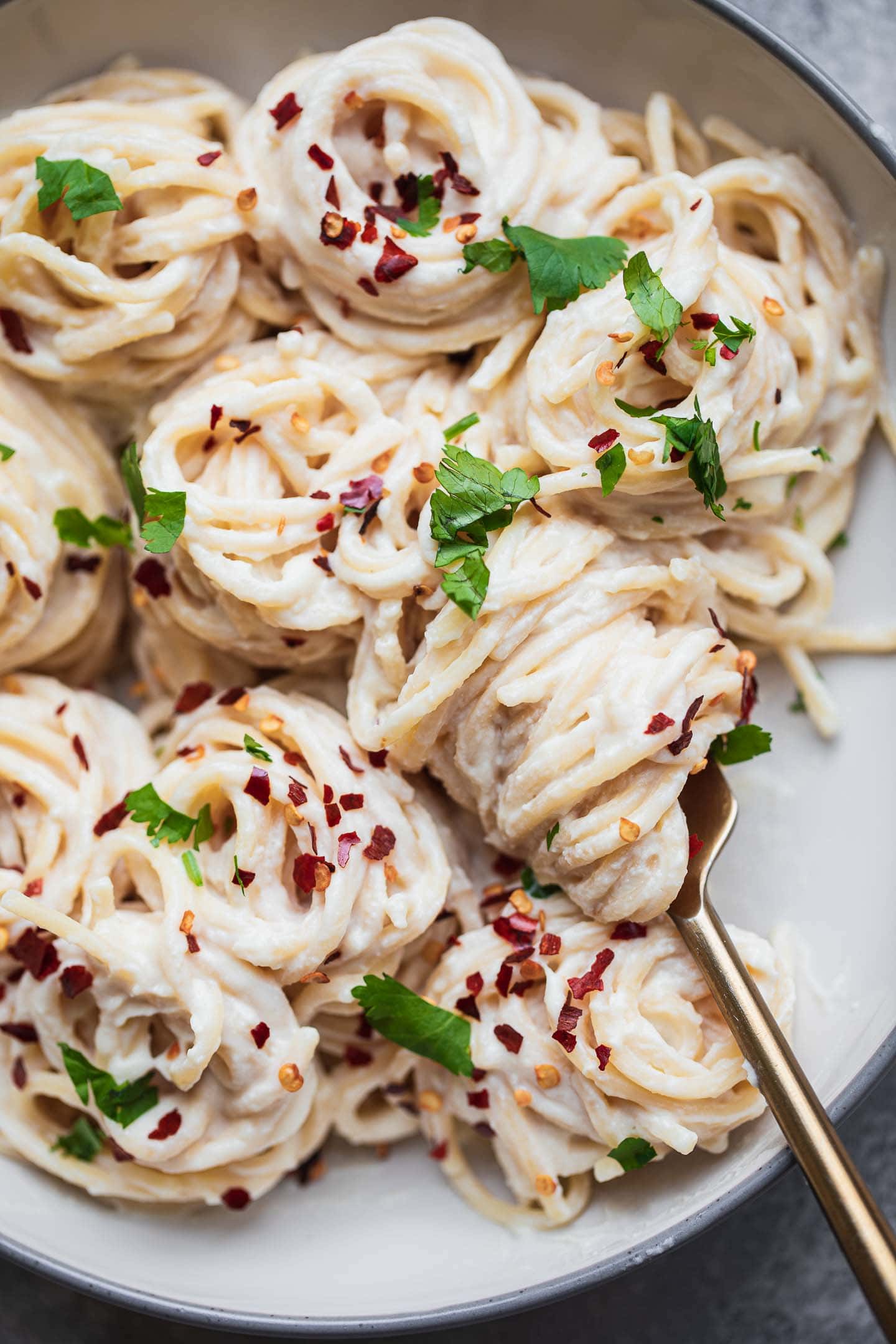 I know I always talk about this vegan cauliflower alfredo sauce recipe but that's because it's the creamiest dairy-free sauce I've ever made, all thanks to the secret ingredient – tofu. Pour over gluten-free pasta for 15 minute comfort food at its finest.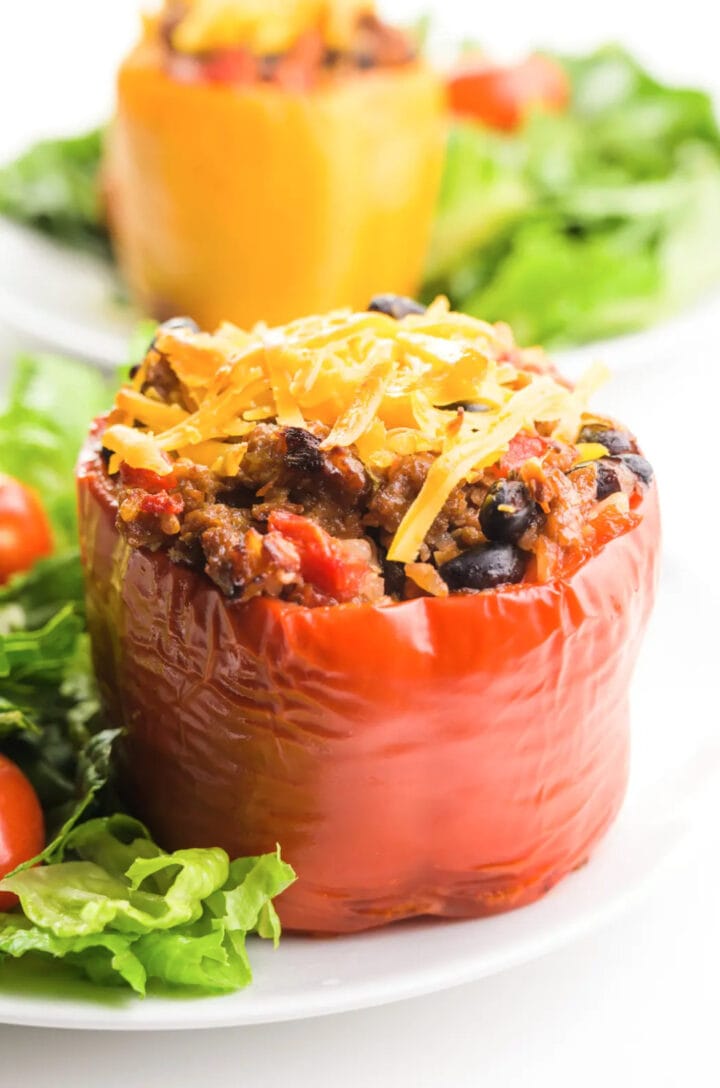 Vegans eating stuffed vegetables have been a running joke as they used to be the only plant-based option on the menu but, in this recipe, Marly from Namely Marly proves that stuffed peppers can be filling, flavorful and delicious. Give this recipe a go and you will see exactly why! The cheese is an amazing finishing touch.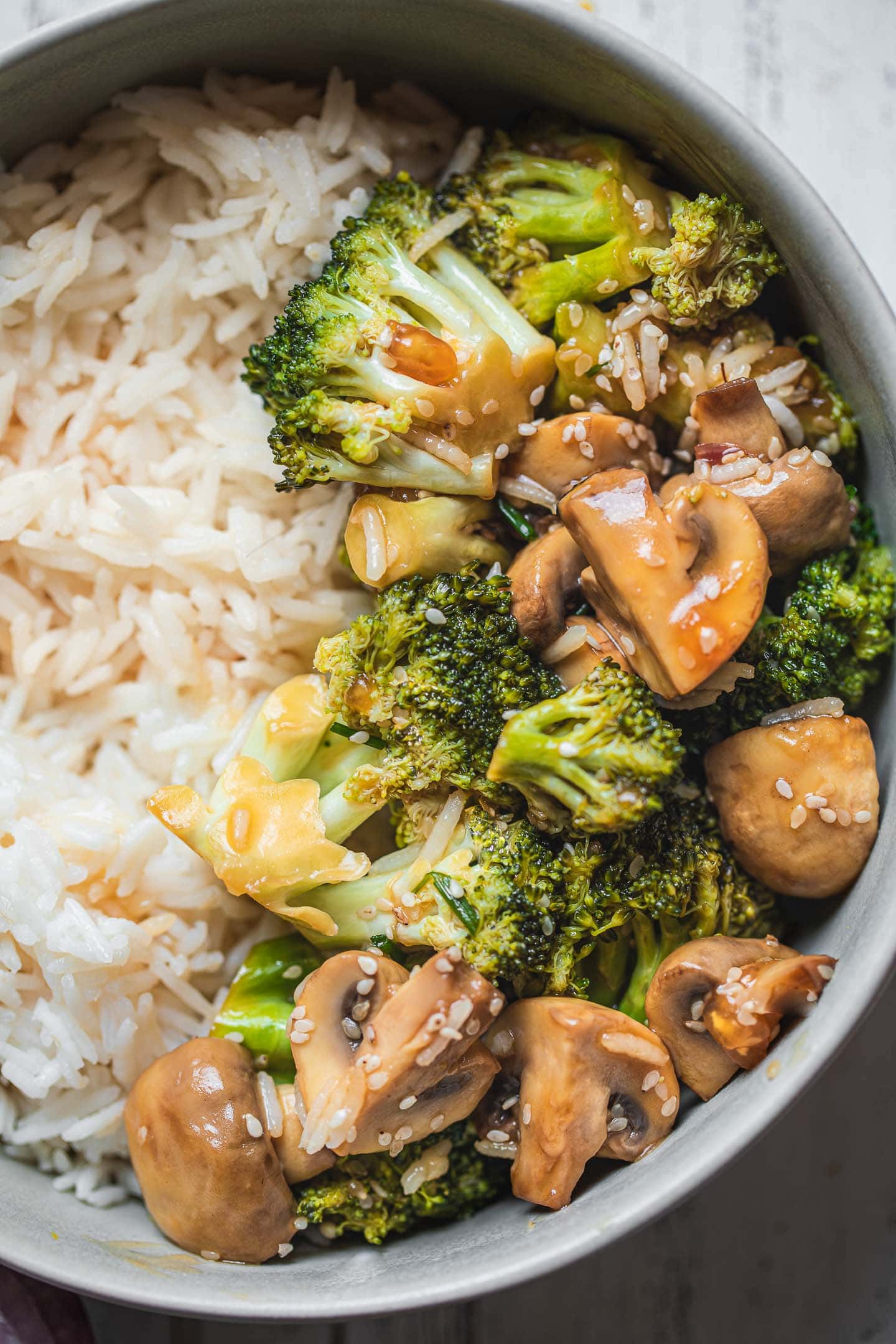 Filled with mushrooms, broccoli and a sweet and sour orange sauce, this simple broccoli stir-fry makes a 20-minute healthy dinner for when you don't know what to cook.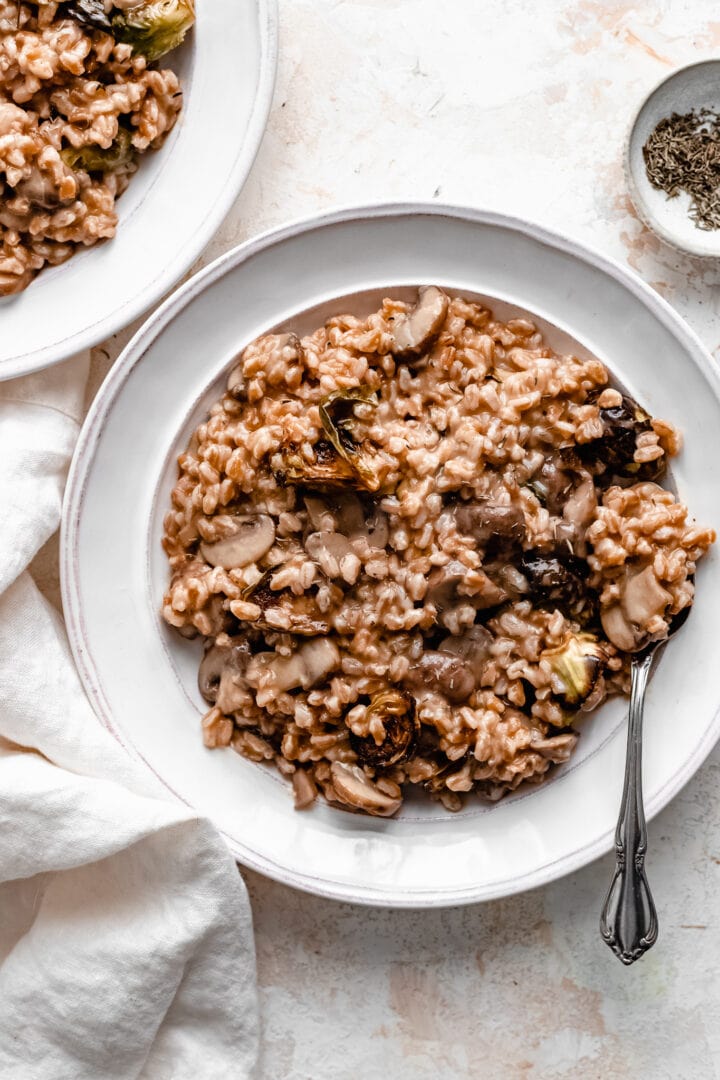 Risotto always has a place in my heart and this creamy instant pot vegan mushroom risotto from Britt from The Banana Diaries looks especially good. With hints of cheesiness from the nutritional yeast and plenty of depth from the white wine, this recipe is super flavorful as well as being easy to make in one pot.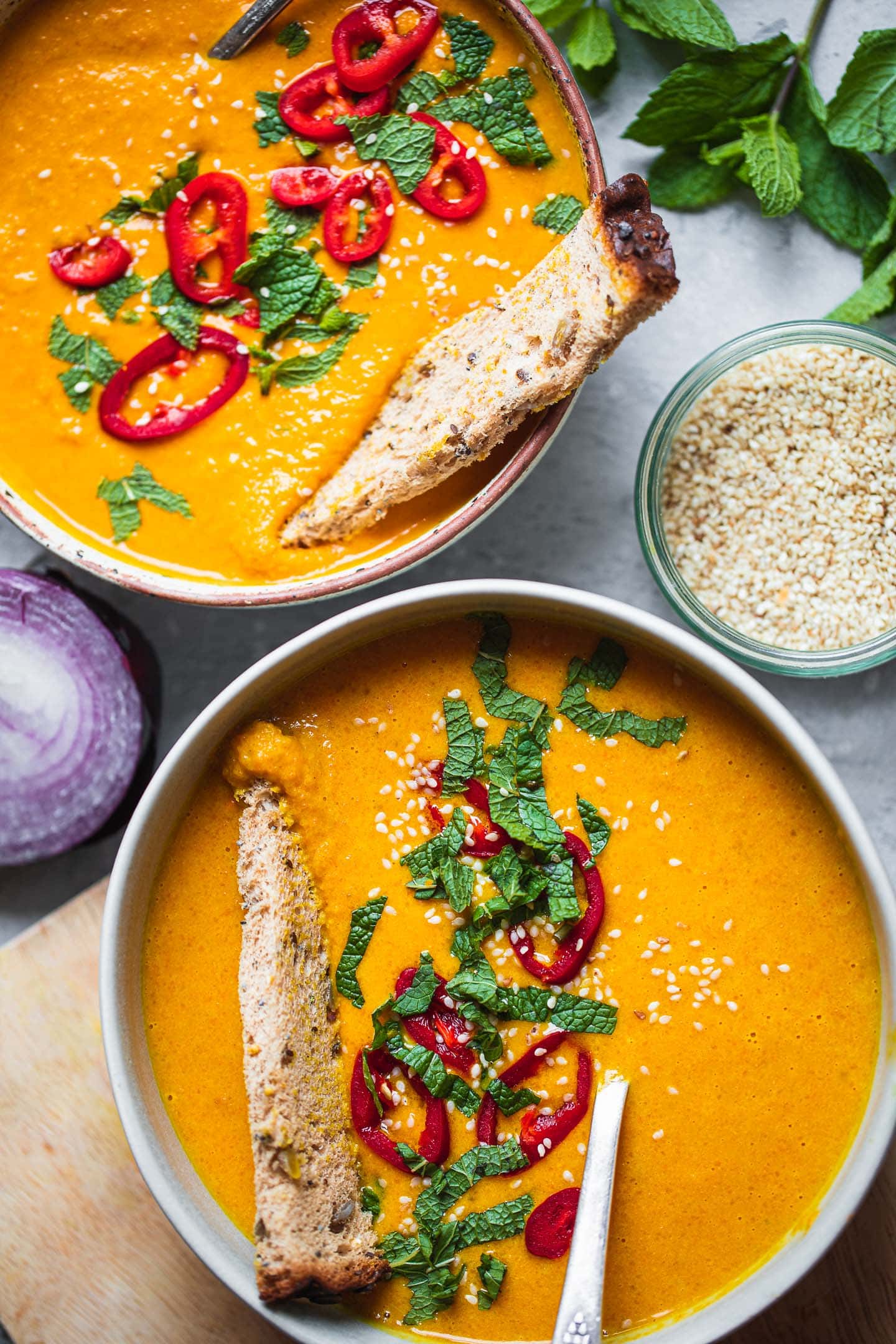 Turn up the heat with this spicy butternut squash soup that's bursting with carrots, celery and squash to make a hearty weeknight dinner. This recipe is easy to follow and great for batch cooking – store your leftovers in the freezer and defrost next time you need a quick meal.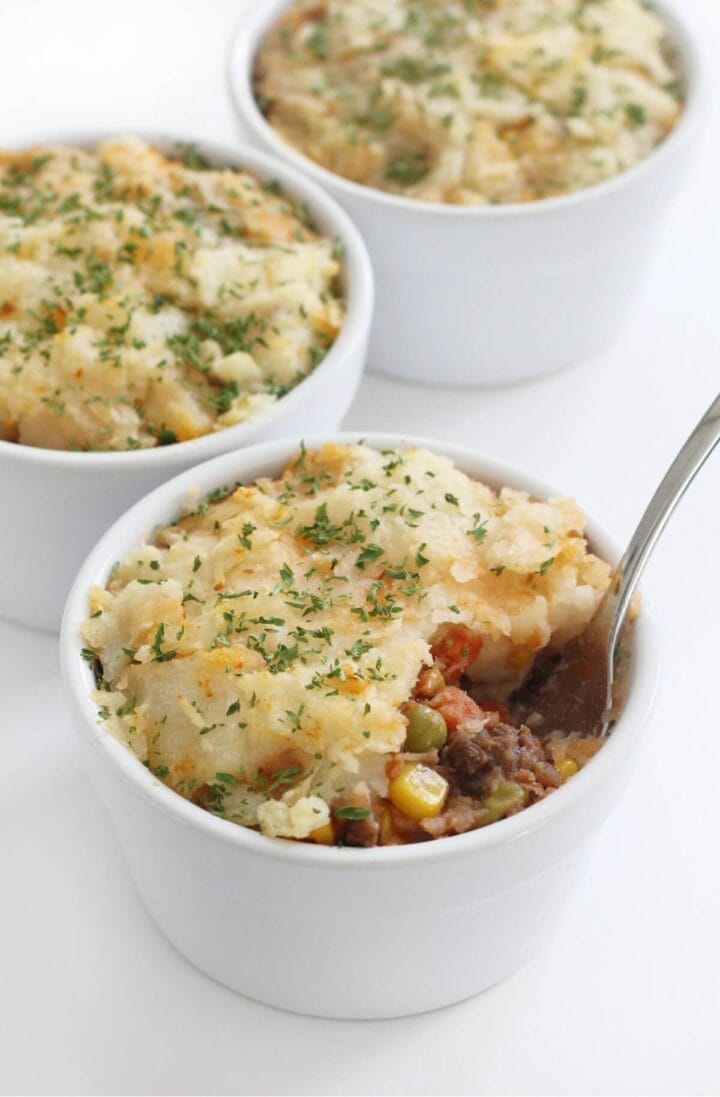 You only need 10 simple ingredients to make this easy lentil shepherd's pie by Rebecca at Strength and Sunshine. With a creamy, dairy-free mashed potato topping and hearty lentil filling, this pie is the definition of comfort food.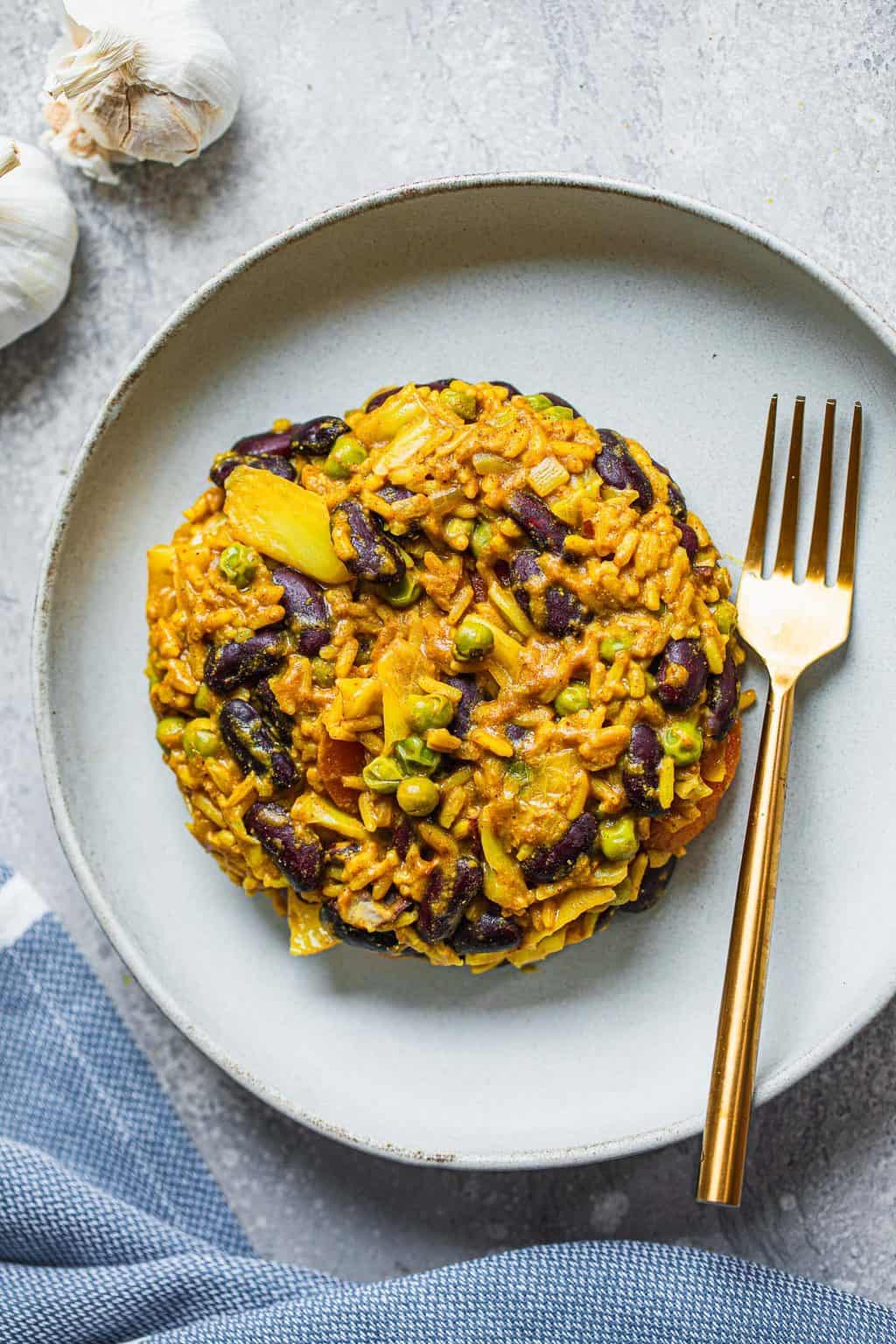 Using budget-friendly ingredients and pantry staples, you can make this curried vegan red beans and rice. I know what you're thinking – isn't vegans eating rice and beans the biggest cliche ever? But trust me, the rich tahini and tamari flavors elevate this dish, making it perfect for dinner or meal prep.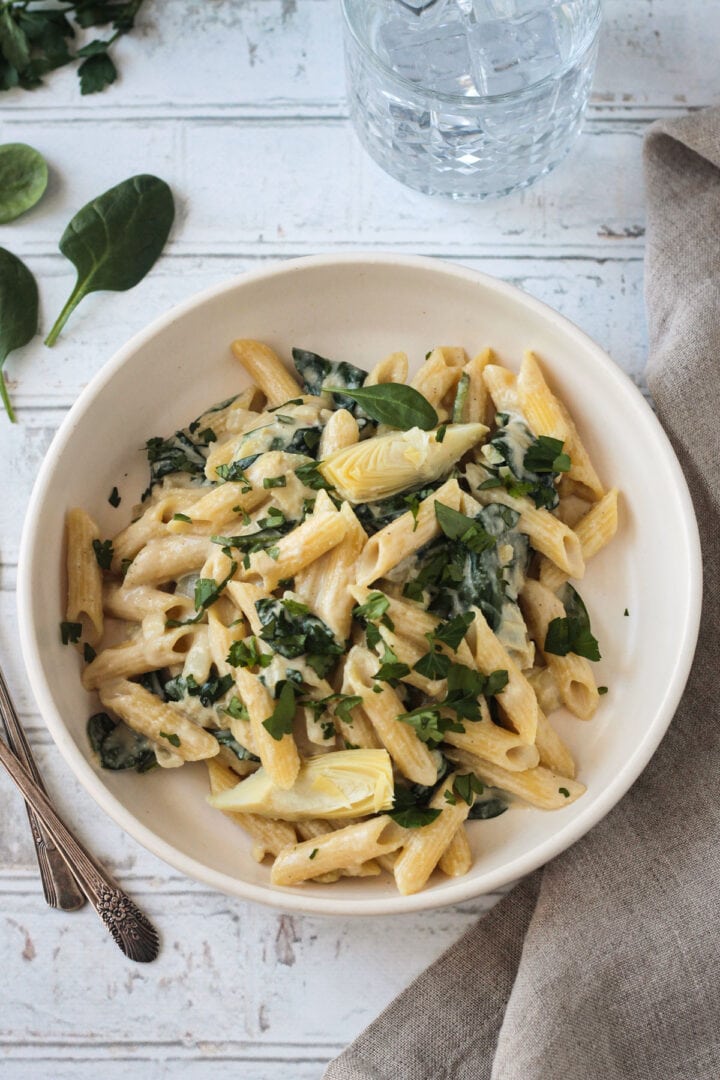 This vegan spinach artichoke pasta by Jenn from Veggie Inspired uses cashews to create the creamiest dairy-free sauce before stirring in spinach and canned artichokes for extra heartiness. You can have this easy pasta on the table in just 30 minutes.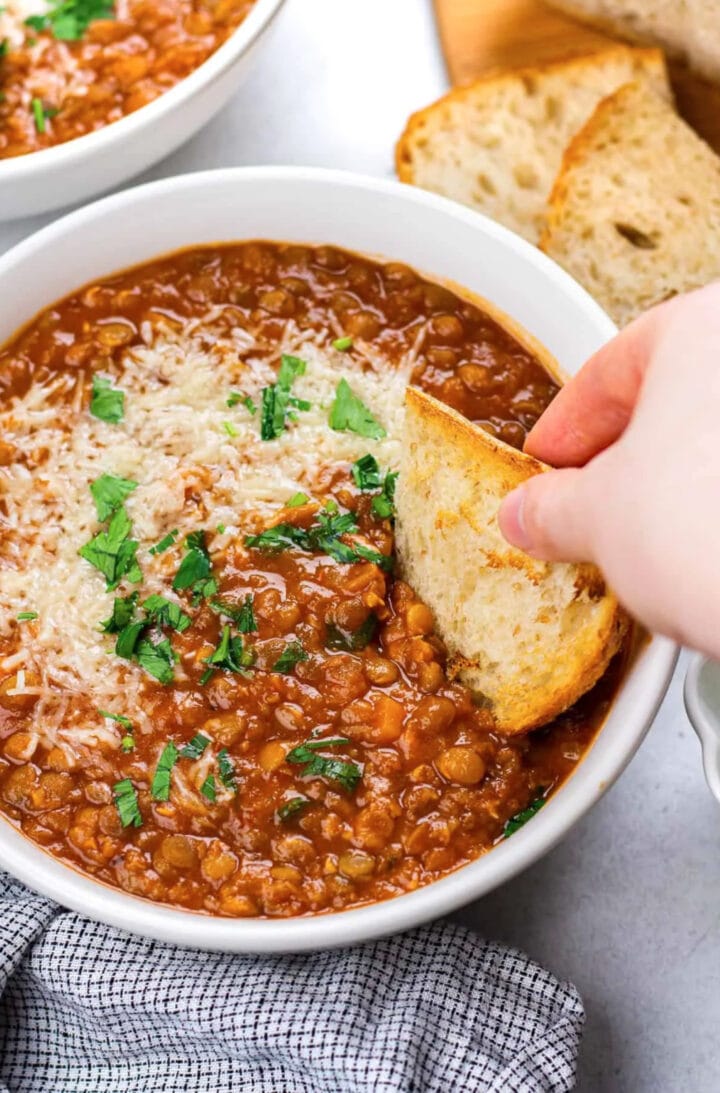 This instant pot lentil soup by Veronika from Veronika's Kitchen makes a healthy and comforting dinner that's ready in 30 minutes and full of carrots, green lentils and fresh herbs. Serve this with crusty gluten-free bread for a filling, budget-friendly meal.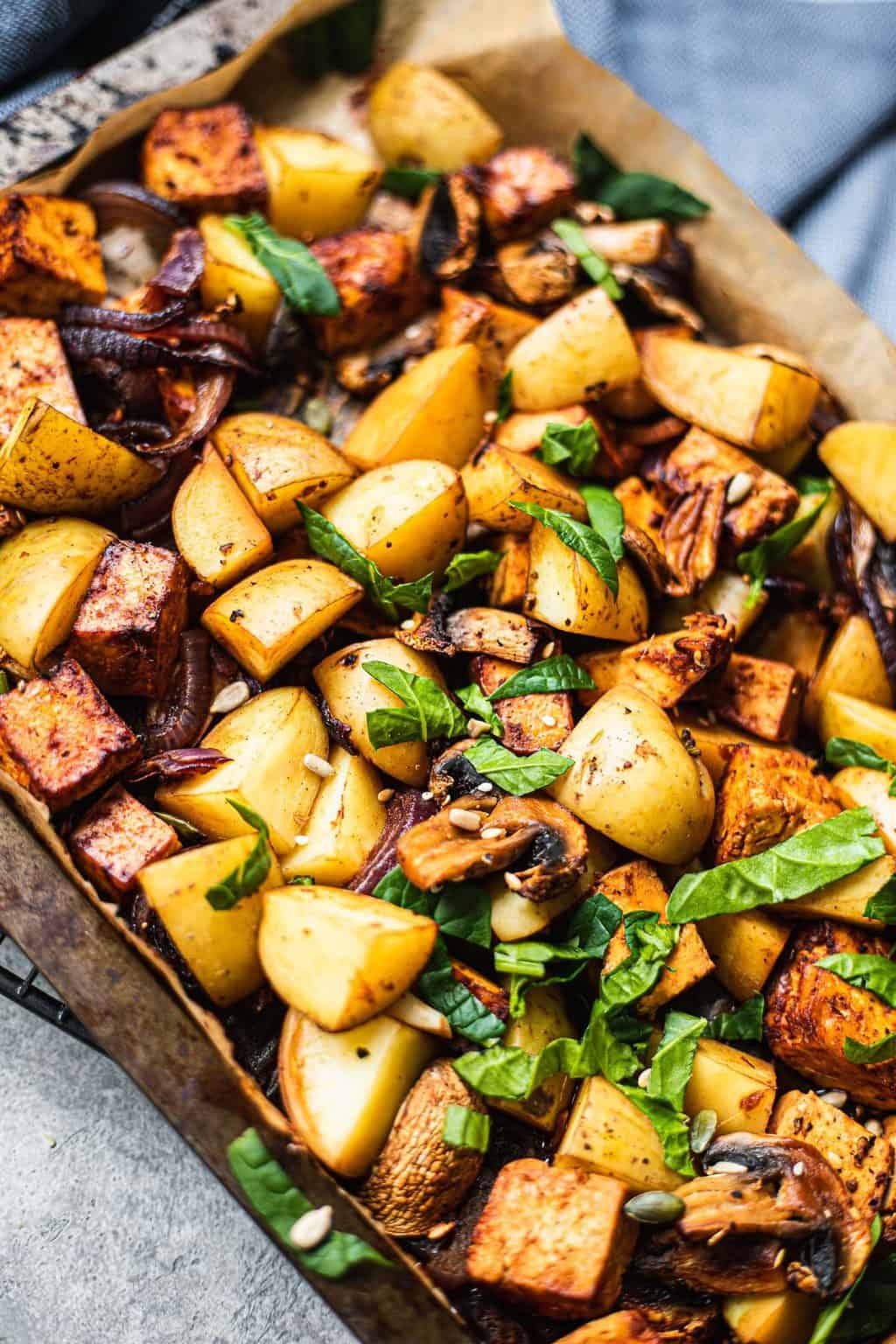 Sheet pan dinners are amazing whenever you want to save on washing up and on time. You simply marinade the tofu, place on a baking tray and put it in the oven. Then, serve as a meal prep lunch, or a dinner that's ideal for after a long day!
Mary Ellen from V Nutrition and Wellness has created this delicious and wholesome tofu green bean stir fry with a spicy sweet sauce for an easy 20-minute dinner that's an MSG-free alternative to takeout.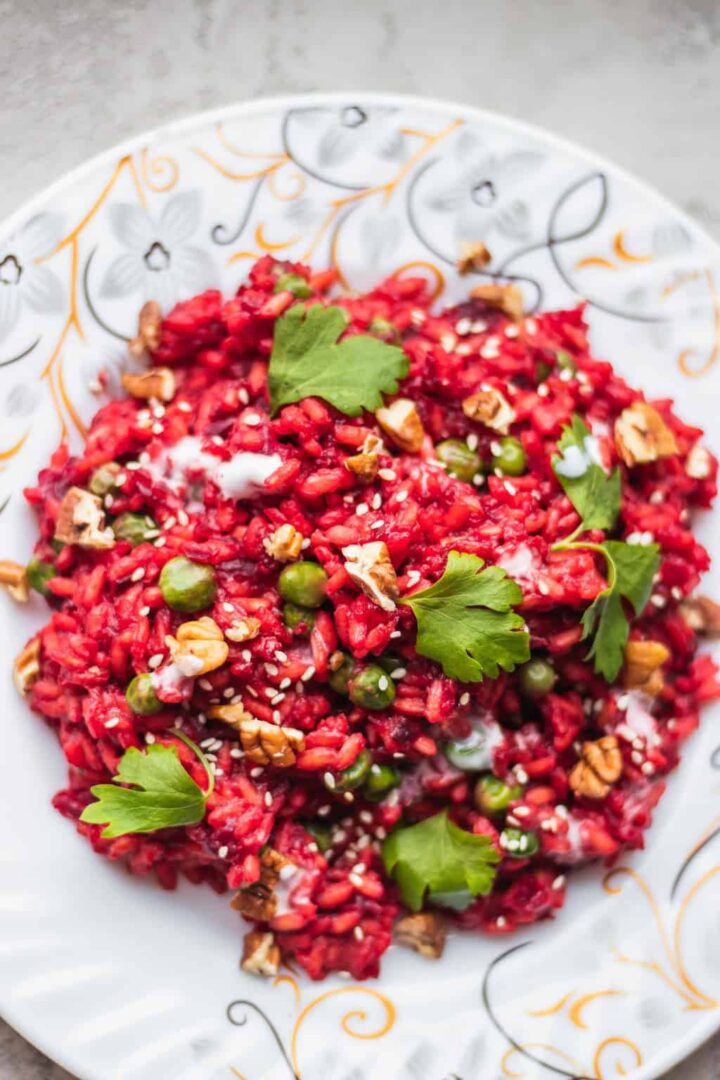 Rich in fiber and vitamin C, this beetroot risotto is as nutritious as it is delicious! This beginner-friendly recipe creates an incredible variety of textures, from the crunch of the walnuts to the soft, blended beetroot, and is ready in under 30 minutes.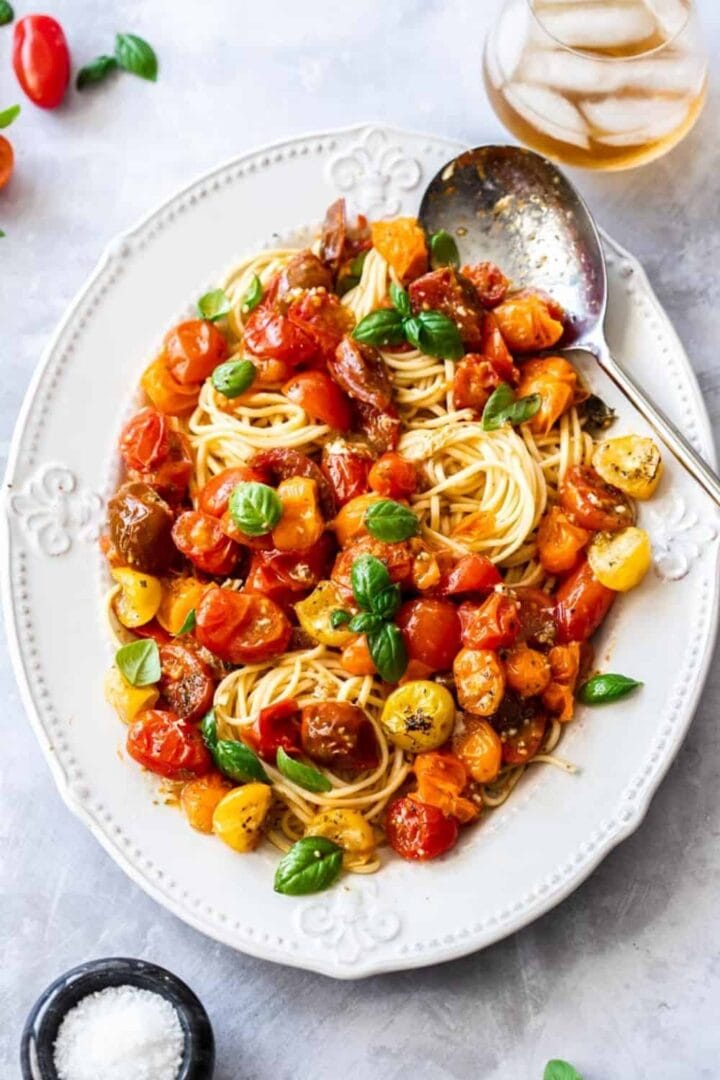 This Mediterranean-inspired roasted cherry tomato pasta recipe by Alex from It's Not Complicated is simple to make but full of bright colors and caramelized flavor. This would be the perfect family dinner, with a sprinkling of dairy-free cheese and slice of garlic bread!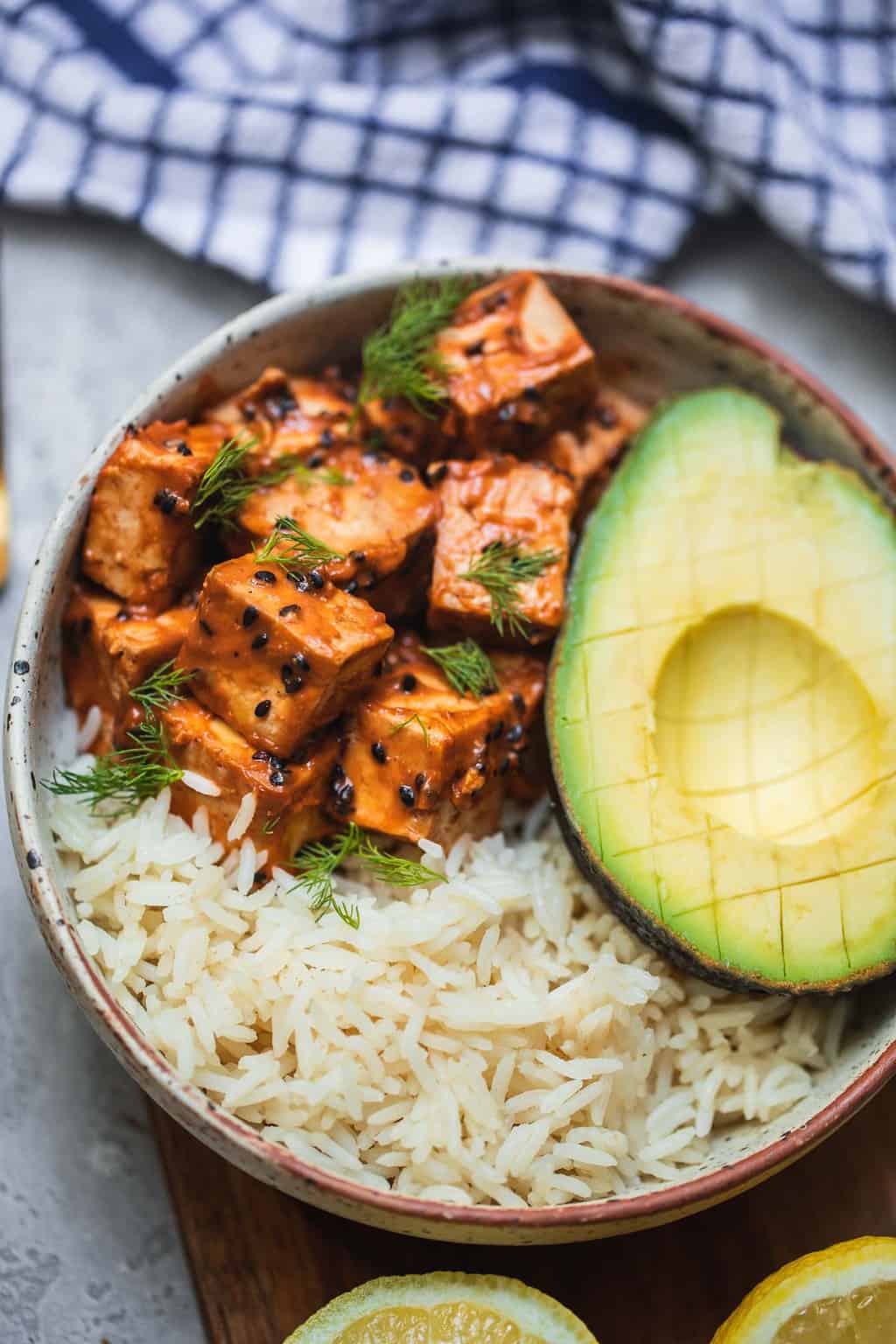 Make tofu taste good in this delicious sesame peanut tofu recipe with a creamy, umami peanut butter sauce. Serve with rice for a savoury and rich oil-free dinner.
Which recipe will you be making for dinner tonight? Let me know in the comments and be sure to tag me on Instagram (@earthofmariaa) if you cook any of these amazing recipes so I can see your creations.