40+ Gluten-free Vegan Christmas Recipes
40+ gluten-free vegan Christmas recipes, featuring breakfasts, main courses, side dishes, drinks and desserts. From vegan roasts and salads to pancakes and cookies, there are plenty of festive ideas that everyone will love!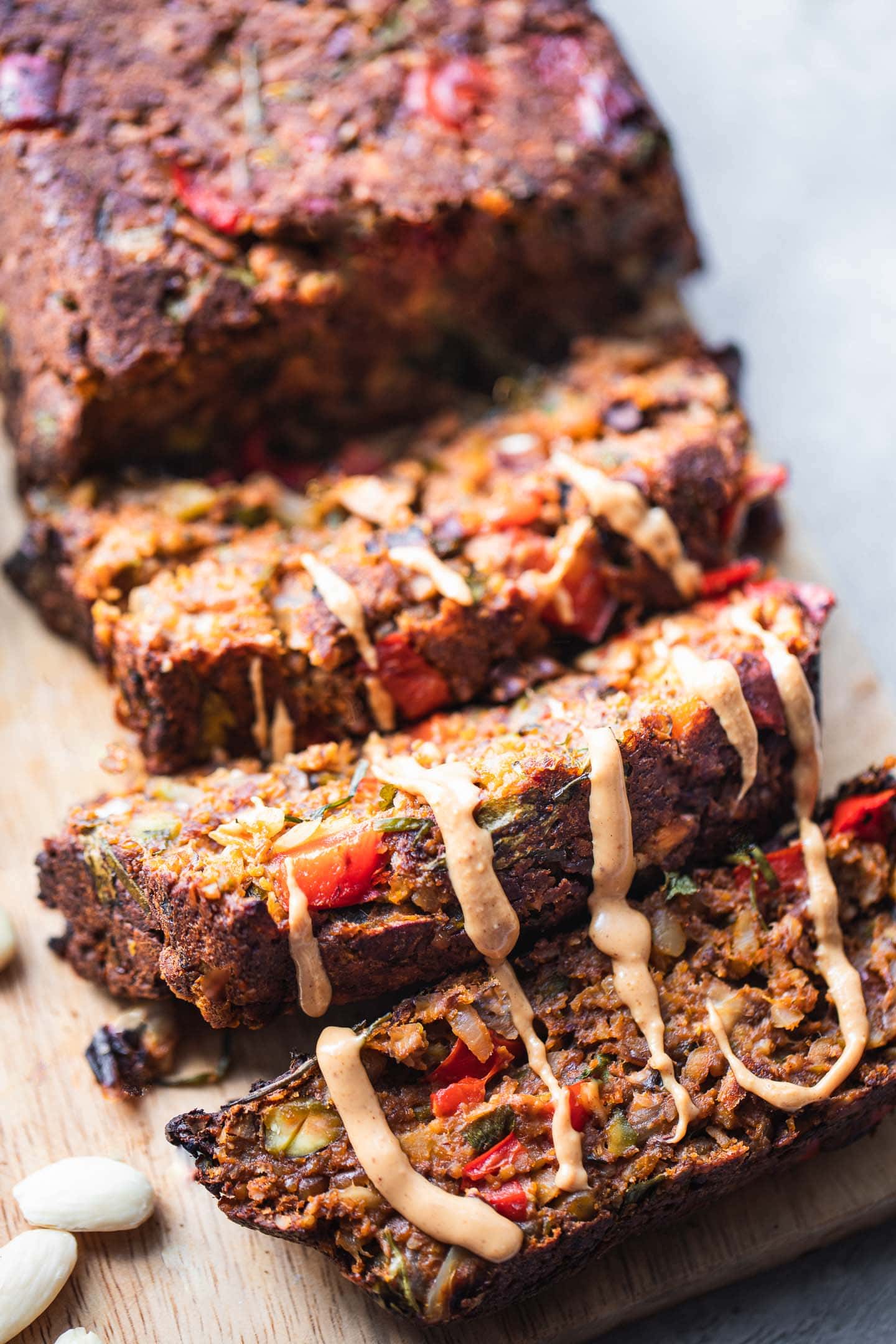 I feel like there's a misconception that around the holiday season, vegans can only eat roast potatoes and side salads. That, however, is far from the truth. In fact, it's very much possible to have an entirely vegan Christmas and put together a versatile, festive table that will impress anyone, regardless of their dietary requirements.
This time of year is one of my favourites as far as cooking is concerned because it provides the perfect opportunity to recreate old favourites. For anyone that's looking to have a vegan Christmas, or simply give new vegan Christmas recipes a go, I've put together a roundup of delicious ideas that are also gluten-free. To guarantee a day full of delicious festivities, I've included recipes for breakfast, the main course, side dishes and drinks, and, of course, desserts.
So, have a browse below, and pick your favourites. Included in the40+ vegan Christmas recipes are:
Vegan roasts
Casseroles
Pancakes
Festive bread
Stuffed vegetables
Classic side dishes
Delicious salads
Cookies
Cake
Eggnog
…and so much more! Be sure to save this post for later, and return to it when you're getting your shopping list ready ahead of the 25th.
Vegan Christmas Recipes For Breakfast
These pancakes are incredibly fluffy and chocolatey, making them the perfect indulgent breakfast for Christmas morning.
This oatmeal by Mary Ellen from V Nutritional And Wellness looks super cosy and comforting!
These banoffee jars by Stacey from Goodness is Gorgeous are sure to get your breakfast off to a great start!
Chocolate for breakfast is always a fantastic idea, especially in buckwheat porridge form!
Enjoy some festive date bread by Jenn from Veggie Inspired with some nut or seed butter and a cup of coffee!
How about some cookies for your Christmas breakfast? These peanut butter cookies by Bintu from Recipes From A Pantry are a perfect choice!
These vegan skillet potatoes make a wonderful and cosy savoury breakfast!
Flaky, buttery biscuits with a savoury mushroom gravy! This makes a wonderfully cosy start to the morning.
These gingerbread waffles have the perfect amount of crunchiness, sweetness, and festive flavours!
Vegan Christmas Main Courses
This easy vegan lentil loaf is one of my favourite vegan Christmas recipes. Packed full of vegetables and flavour, it's also super easy to make.
This roasted cauliflower by Michelle from Healthier Steps would make a fantastic Christmas table centrepiece.
A dish that will certainly impress anyone is this incredible casserole by Scotty from Plant Based Scotty.
Looking for a nut-free nut roast alternative? This seed loaf by Trinity from Trinity's Conscious Kitchen is the way to go!
Alison from Loving It Vegan has created an incredible way to celebrate Christmas with vegetables!
This meatless meatloaf by Alex and Linda from Veganosity looks super flavourful and delicious.
This stuffed squash by Amanda from My Goodness Kitchen is super easy to make from healthy ingredients.
Dana from Minimalist Baker created this vegan 'meatloaf' that vegans and non-vegans alike will love.
This Shepherd's pie by Tania from Fit Foodie Nutter makes a comforting and flavourful main course for Christmas.
This vegan nut roast is made with lots of vegetables in just a few simple steps, and has a perfect texture and flavour!
11. Whole Roasted Cauliflower With Tahini Sauce
This is an amazing way to make cauliflower taste delicious!
Vegan Christmas Side Dishes
Super flavourful vegan cauliflower cheese, that's easy to make, creamy, and even better with breadcrumbs on top.
For a delicious side dish, make there roasted veggies by Diana and Natalia from Little Sunny Kitchen!
These pizza rolls by Thomas from Full Of Plants are super creative, served with a dairy-free cheesy frosting.
Who doesn't love Brussels spouts?! This dish by Sarah from My Darling Vegan looks perfect for any festive table!
No one has to miss out on a classic Christmas drink with this eggnog by Andrew and Larisha from Make It Dairy Free!
Sara from Gathering dreams shows that salads can make super flavourful and yummy side dishes.
These mashed potatoes by Raquel from Foodal can take any festive table to the next level.
Made with a healthy butternut squash 'cheese' sauce, this dish will have everyone coming back for seconds.
No Christmas feast is complete without stuffing, and this recipe by Marlena from Where You Get Your Protein is a perfect gluten-free vegan version.
A healthy twist on a Russian classic, these piroshki are a yummy and flavourful starter or side dish idea.
The flavours of butternut squash and Brussels sprouts must work perfectly together in this recipe by Elena from Happy Kitchen Rocks.
These scalloped potatoes by Nora from Nora Cooks look perfectly cheesy and super comforting!
Tamsin from Cupful Of Kale created these garlicky mashed potatoes that will undoubtedly become everyone's favourite side dish.
This super versatile dressing by Sam from It Doesn't Taste Like Chicken will work super well with a variety of holiday dishes!
These crispy roast potatoes are crispy on the outside and soft on the inside, with plenty of flavour and crunch!
Easy vegan roasted vegetables, served with a savoury turmeric cashew sauce! They make a fantastic wholesome side dish that's made with simple ingredients.
The yummiest gluten-free vegan stuffing made with carrots and vegan sausages: this is perfect as a hearty, flavourful side dish for Christmas and Thanksgiving.
Vegan Christmas Desserts
Two classic flavours come together in these super fluffy, easy to make muffins that are also made with healthy ingredients!
Make these sugar cookies by Rhian from Rhian's Recipes for a delicious Christmassy treat.
These cinnamon roll cookies by Nadia from Nadia's Healthy Kitchen would make a super tasty post-Christmas dinner snack!
The whole family will love these incredibly festive sticky toffee puddings by Gwen from Delightful Adventures!
These chocolate truffles by Verna from The Cheeky Chickpea would make an excellent homemade Christmas gift!
Sugar cookies are always a fantastic festive treat! These ones by Sara from Beaming Banana look beyond delicious.
If you're looking to eat cookies on repeat this festive season (who isn't?!), these ones by Shannon from Yup, It's Vegan are a great option!
This gingerbread cake by Brandi from The Vegan 8 is fluffy, oil-free and super easy to make too!
Homemade chocolate is always a great idea! This superfood chocolate bark by Kirstina by Spabettie is not only delicious, but also healthy.
This pecan pie by Caitlin from From My Bowl looks like a wonderful treat to enjoy after a Christmas dinner.
Fudgy, rich and chocolatey, these vegan peppermint brownies make a delicious holiday treat.
Yummy gluten-free vegan snickerdoodles! These cookies are soft and thick, with just the right amount of chewiness and sweetness.
Let me know in the comments: which one of these vegan Christmas recipes is your favourite? Which one are you thinking of making? If you give any of them a go, be sure to leave a comment and let me know how it went!