Baked Vegan Orange Cauliflower
This baked vegan orange cauliflower is flavourful, chewy, crunchy on the outside and soft on the inside. You only need simple ingredients and around 40 minutes for this 'fakeaway' weeknight dinner.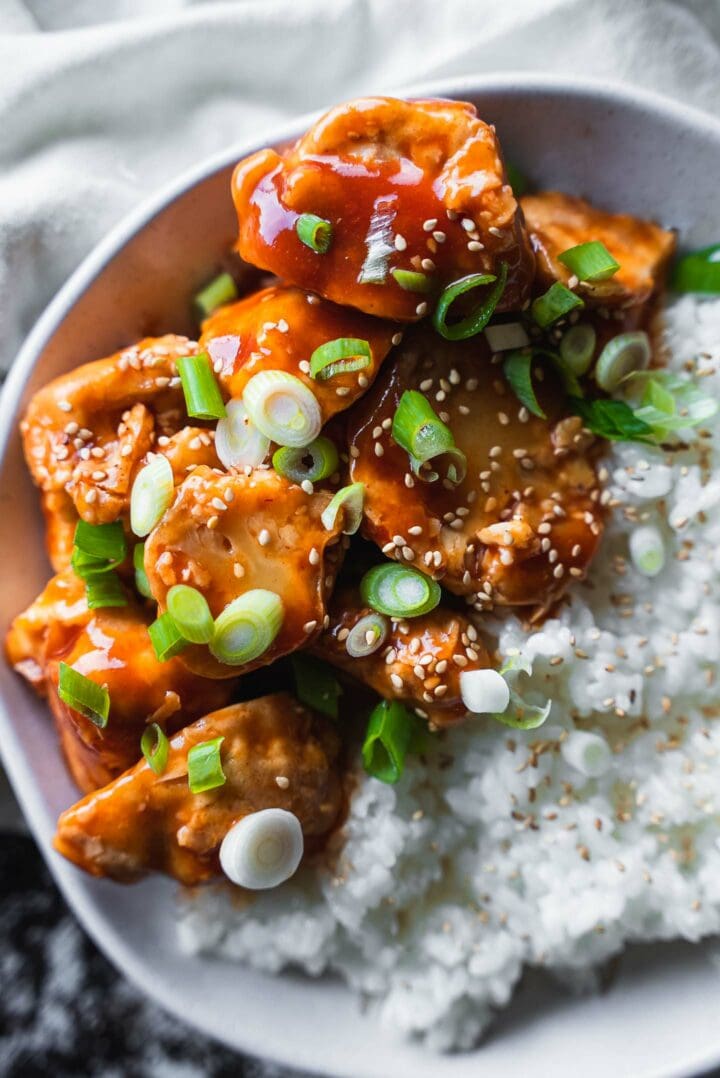 One of my favourite cooking endeavours is making vegetables taste delicious. Or, hiding vegetables in comforting recipes that don't feel veggie-based at all. One of the best things to do that with is cauliflower for sure. It's famous for its ability to transform into pretty much any dish.
So as someone who loves sweet and sour orange flavours and cauliflower, it made sense to develop and share an orange cauliflower recipe. Trust me, you're gonna wanna give this one a go! It's pretty much everything you look for in a comforting dinner that's fuss free and easy to make from scratch.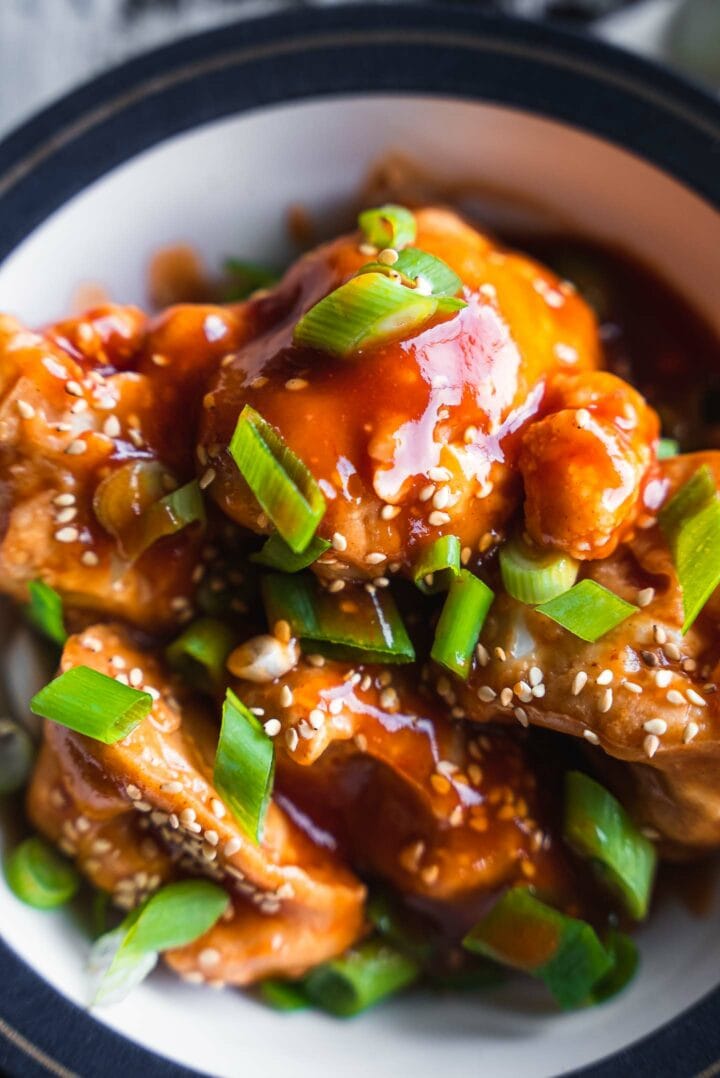 Baked vegan orange cauliflower
If you want to recreate Chinese takeaway at home, orange cauliflower is a great plant based alternative to orange chicken – and this one requires no fancy ingredients/fake meats. Just simple ingredients and a very straightforward preparation method. Serve it over a bed of rice, and you're good to go.
The cauliflower is dipped in a thick and flavorful batter, and then baked to achieve a balance between softness on the inside, and crunchiness on the outside. There's plenty of flavor, and whenever I make it I always make sure to snack on some straight from the baking tray!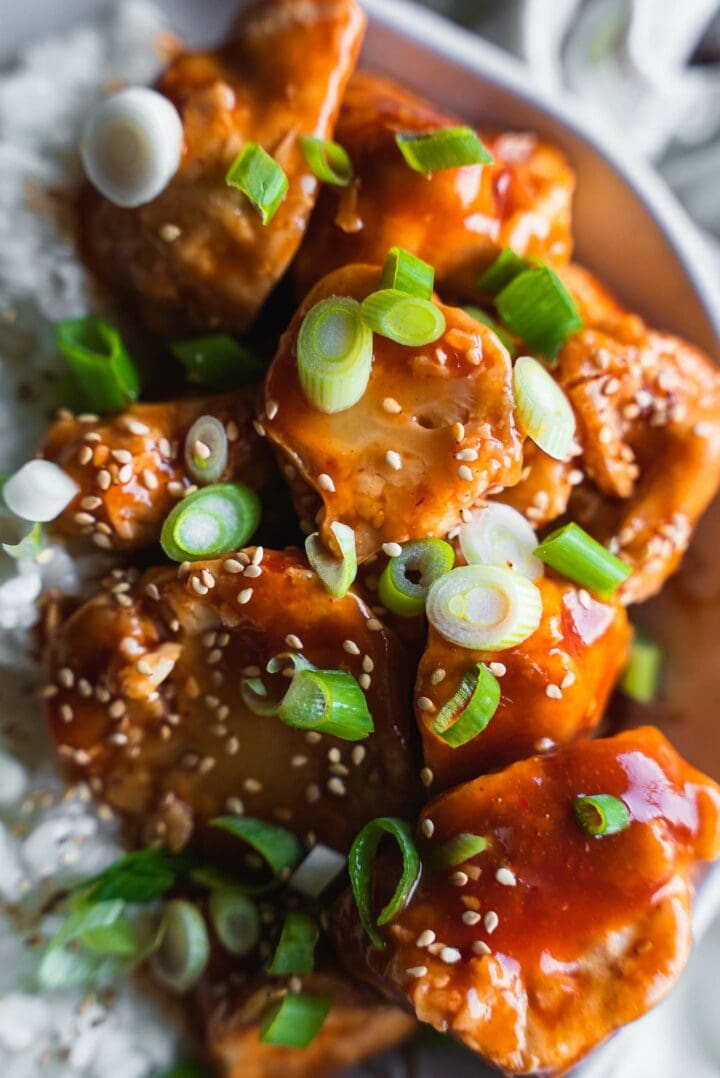 The orange sauce simply takes this recipe over the top. It's sticky, rich, and without an overwhelming orange flavour. It compliments the battered cauliflower perfectly with its umami goodness. Add some sesame seeds as a finishing touch, and I'm sure you'll have a new favorite dinner.
Ingredients you'll need
A large head of cauliflower.
All-purpose flour. I've also tried this recipe with a gluten-free blend, and it works just as well.
The spices: cumin and paprika. These are used to add extra flavor to the batter.
Plant based milk of your choice. Any variety will work.
Soy sauce. For a gluten-free alternative, use either tamari or coconut aminos.
Tomato paste. This adds tanginess to the sauce.
Rice vinegar.
Orange juice. For best results, use fresh oranges because this will achieve the most rich and dynamic flavor.
Cornstarch for thickening the sauce.
Sesame seeds, chilli flakes and scallions for serving.
How to make vegan orange cauliflower
Firstly, prepare the cauliflower. Trim off the leaves and remove the stem, then chop the cauliflower into medium-sized florets.
Next, preheat the oven to 180 degrees C/350 F. Line a large baking tray with parchment paper.
In a mixing bowl, whisk together the flour, cumin, paprika and plant based milk. Dip each cauliflower floret in the batter, shaking off any excess. Arrange them in a single layer on the baking tray, and bake in the preheated oven for 35 minutes. You can test for doneness using a knife or a fork to make sure the cauliflower is tender all the way through.
Meanwhile, prepare the sauce. Whisk together water, soy sauce, tomato paste, rice vinegar, orange juice and cornstarch. Transfer to a skillet over a medium heat and whisk continuously for 5 minutes, until the sauce thickens.
When the cauliflower is done, mix it together with the sauce, also adding the sesame seeds. Serve immediately garnished with more sesame seeds, chilli flakes and scallions.
Tips for the best crispy baked cauliflower
Make sure to drip off any excess batter from the cauliflower florets to prevent them from becoming soggy.
Don't overcrowd the baking tray because overcrowding will trap in moisture and prevent the cauliflower from crisping up.
Ensure that you bake the cauliflower for long enough so that it's soft on the inside, and to allow the batter to crisp up nicely.
Try to make the size of the florets as even as possible, because otherwise some may overcook/burn while others will still be hard on the inside.
Don't start making the sauce too soon. It's best served warm and fresh. Begin around 5 minutes before the cauliflower is ready.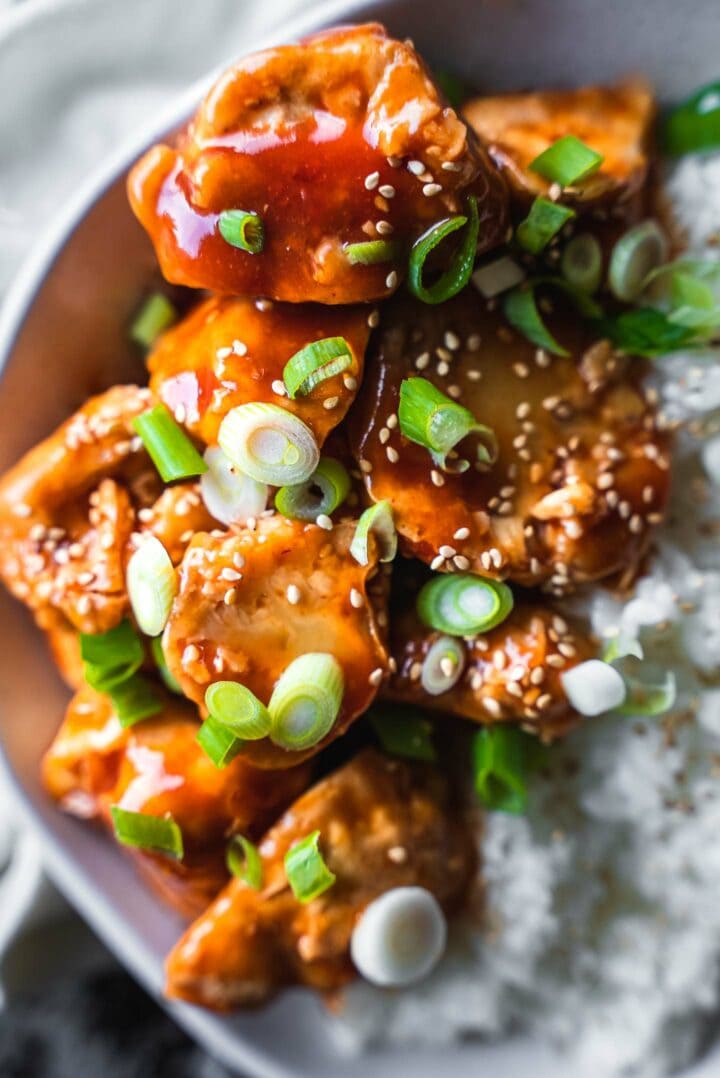 How to store orange cauliflower
This recipe tastes best when eaten on the same day, however you could keep it in the fridge for up to around 2 days in an airtight container. Store the sauce and the cauliflower in separate containers. I would not recommend freezing this dish.
Other vegan recipes with cauliflower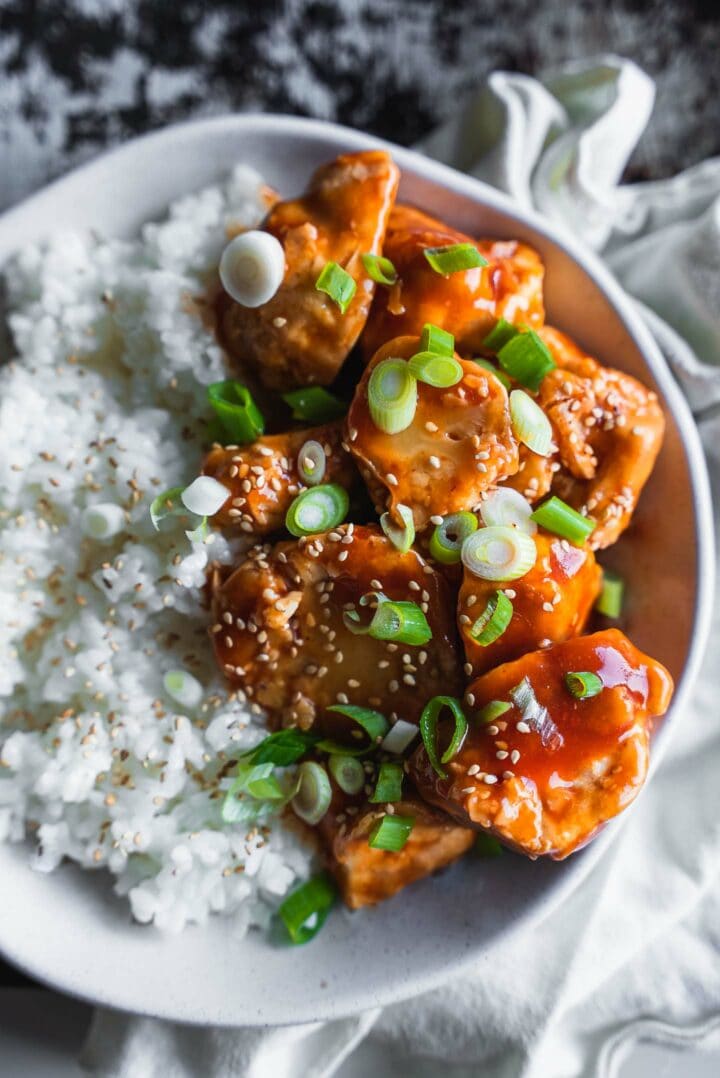 Let me know in the comments: what's your favourite way to cook with cauliflower? If you give this baked vegan orange cauliflower recipe a go, be sure to tag me on Instagram (@earthofmariaa) so I can see your creations, and leave your feedback in the comments below.
[mv_video doNotAutoplayNorOptimizePlacement="false" doNotOptimizePlacement="false" jsonLd="true" key="yuhnpjhcyk1xznhxquzg" ratio="16:9″ thumbnail="https://mediavine-res.cloudinary.com/v1638694919/c4n10podkellmrik20sf.jpg" title="Baked Vegan Orange Cauliflower" volume="0″]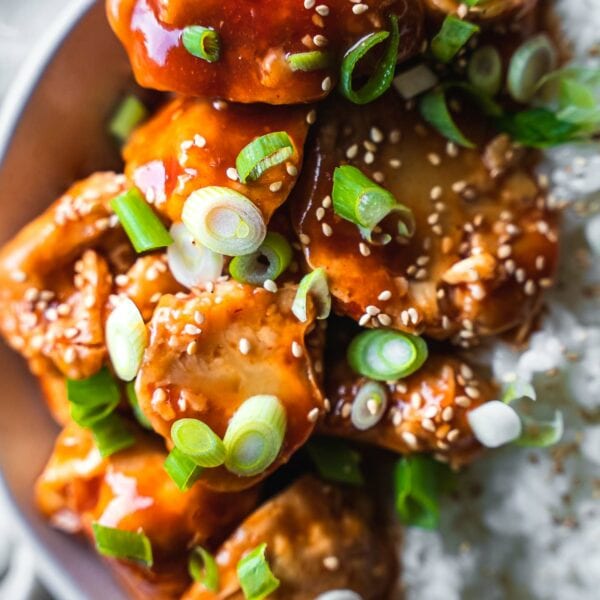 Get the Recipe: Baked Vegan Orange Cauliflower
The tastiest baked vegan orange cauliflower! This recipe is a great 'fakeaway' option that's made with simple ingredients. Serve with sesame seeds and rice for a super comforting meal!
Ingredients
For the cauliflower 'wings'
1 head cauliflower
1 cup flour
1 tsp cumin
1 tsp paprika
1 cup plant based milk
For the orange sauce
1/2 cup water
1/4 cup soy sauce
2 tbsp tomato paste
2 tbsp rice vinegar
1/2 cup orange juice
2 tbsp cornstarch
To serve
3 tbsp sesame seeds
chilli flakes
scallions
Equipment
Mixing bowl

Conventional oven

Baking tray

Skillet
Instructions
Prepare the cauliflower. Trim off the leaves and remove the stem, then chop the cauliflower into medium-sized florets.

1 head cauliflower

Preheat the oven to 180 degrees C/350 F. Line a large baking tray with parchment paper.

In a mixing bowl, whisk together the flour, cumin, paprika and plant based milk.

1 cup flour, 1 tsp cumin, 1 cup plant based milk, 1 tsp paprika

Dip each cauliflower floret in the batter, shaking off any excess. Arrange them in a single layer on the baking tray, and bake in the preheated oven for 35 minutes. You can test for doneness using a knife or a fork to make sure the cauliflower is tender all the way through.

Prepare the sauce. Whisk together water, soy sauce, tomato paste, rice vinegar, orange juice and cornstarch. Transfer to a skillet over a medium heat and whisk continuously for 5 minutes, until the sauce thickens.

1/2 cup water, 1/4 cup soy sauce, 2 tbsp tomato paste, 2 tbsp rice vinegar, 1/2 cup orange juice, 2 tbsp cornstarch

When the cauliflower is done, mix it together with the sauce, also adding the sesame seeds. Serve immediately garnished with more sesame seeds, chilli flakes and scallions.

3 tbsp sesame seeds, chilli flakes, scallions
Calories: 242kcal, Carbohydrates: 42g, Protein: 10g, Fat: 5g, Saturated Fat: 1g, Polyunsaturated Fat: 2g, Monounsaturated Fat: 2g, Sodium: 1002mg, Potassium: 686mg, Fiber: 5g, Sugar: 7g, Vitamin A: 437IU, Vitamin C: 87mg, Calcium: 186mg, Iron: 4mg