20+ Exciting Tofu and Tempeh Recipes You Need to Try
These 20+ tofu and tempeh recipes will teach you how to reinvent two staple vegan ingredients! This collection features sweet and savoury dishes – from tofu chocolate mousse to teriyaki tempeh – ready to be served for breakfast, lunch, dinner or dessert. There's plenty of fuss-free and gluten-free options too.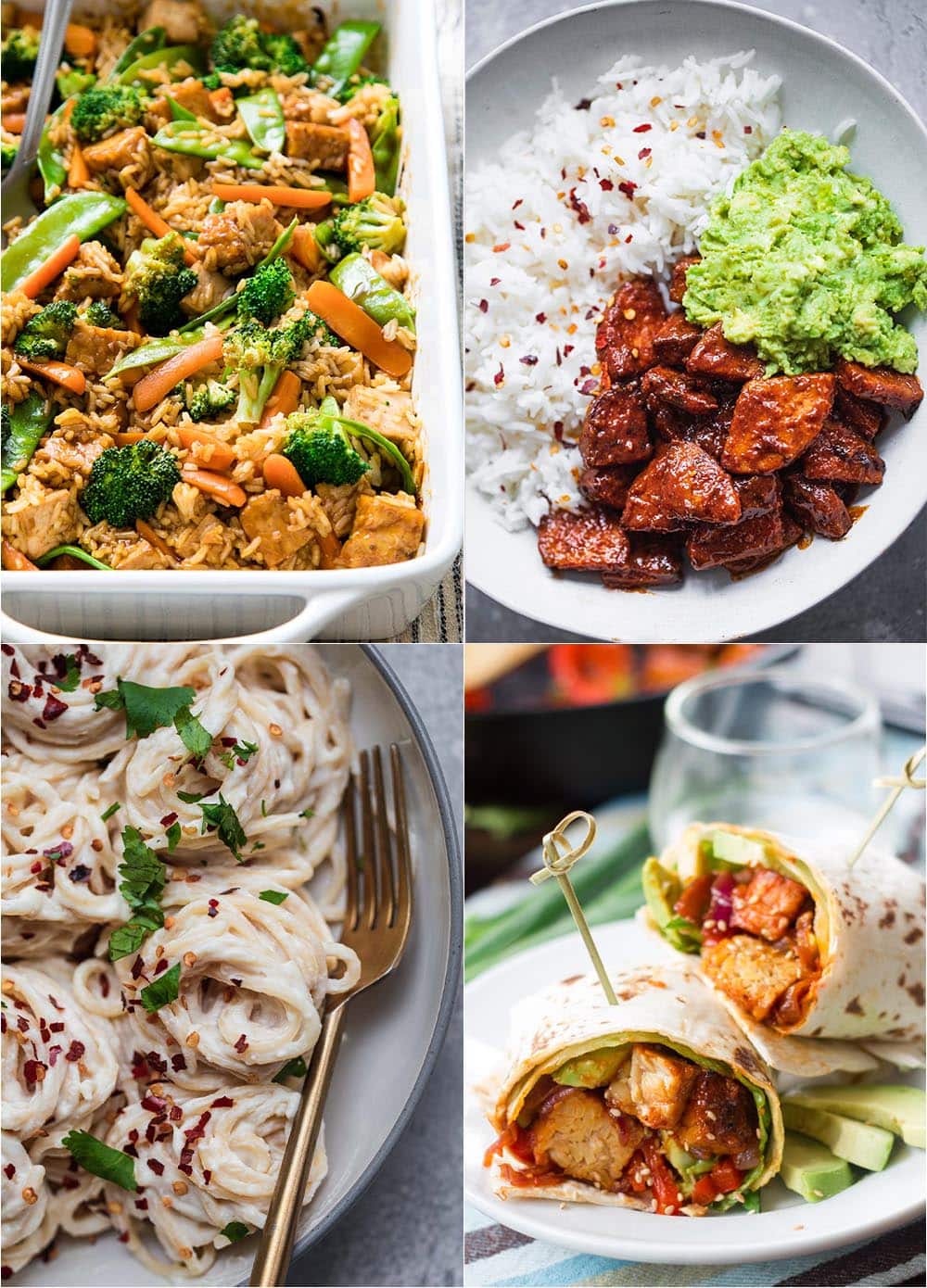 Tofu has been a vegan staple for decades, but tempeh is a more recent addition to my fridge. Both are soy products – tofu is from soy milk, and tempeh from soybeans – but they add slightly different dimensions to a meal. Tofu is sold with different levels of firmness and is great for absorbing marinades and thickening sauces, while tempeh is more chewy, and often used as a meat substitute.
They're two of the most versatile ingredients that every vegan or vegetarian should have on their weekly shopping list. They can be blended into sauces to add creaminess, baked to become crispy, and even scrambled for breakfast – the options are endless. So, why then, do tofu and tempeh get a reputation for being boring?
Often, when people start using tofu and tempeh, they simply don't know what to do with it, so it ends up tasting bland and uninspiring. But after lots of experimenting, I've found ways to make them incredibly flavorful and exciting. If you want to find out how to make tofu taste good on its own, you can read my tips here.
Regardless of whether you're a tofu pro or have never even heard of it, hopefully this collection will inspire you to experiment with tofu and tempeh. There's recipes for every level of effort, for every meal of the day, so remember to save this post to refer back to.
20+ Tofu and Tempeh Recipes You'll Love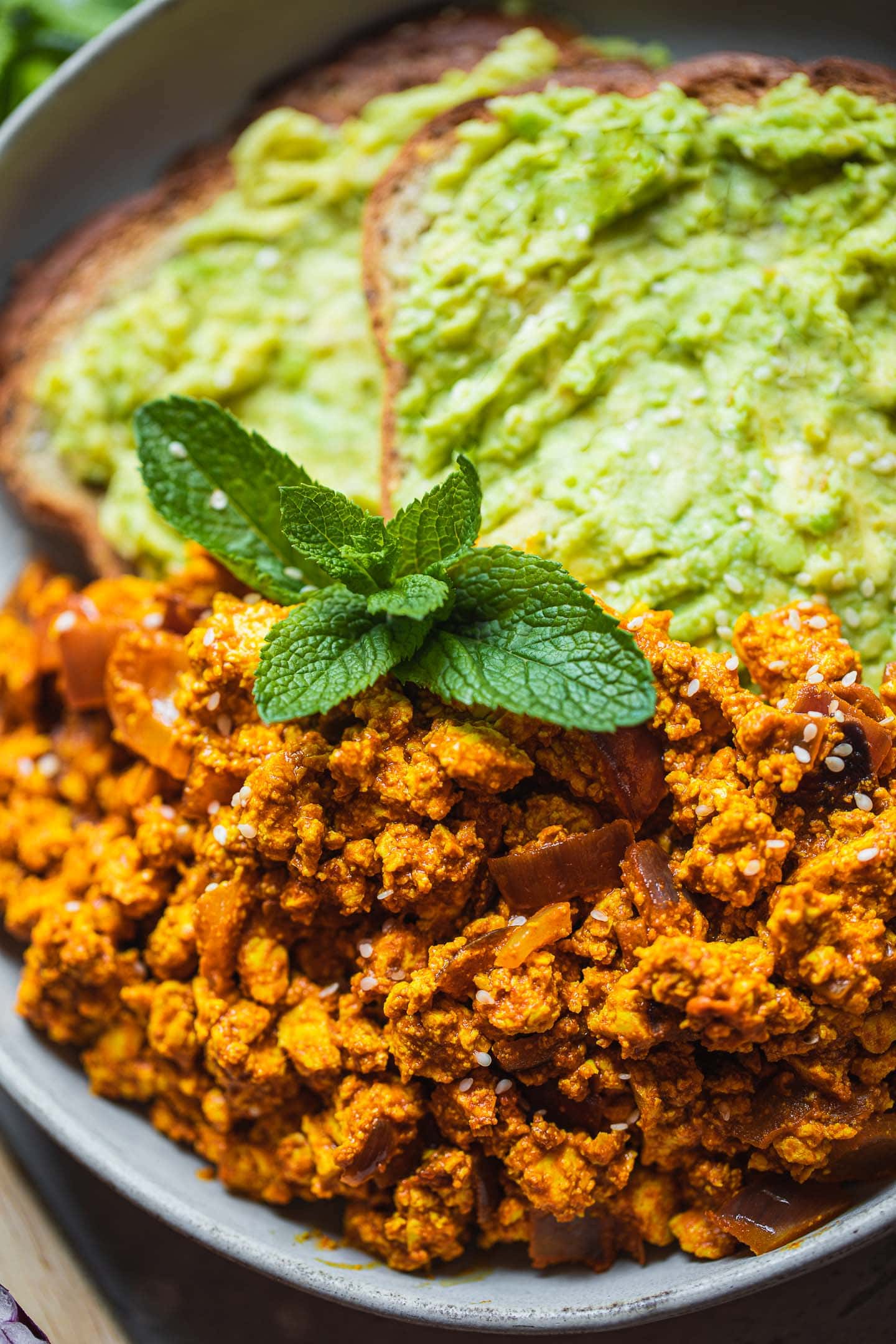 Scrambled tofu is my favorite vegan egg substitute and I make it every time I'm craving a hearty breakfast. It's ready in 15 minutes and I serve mine with avocado toast or vegan bacon.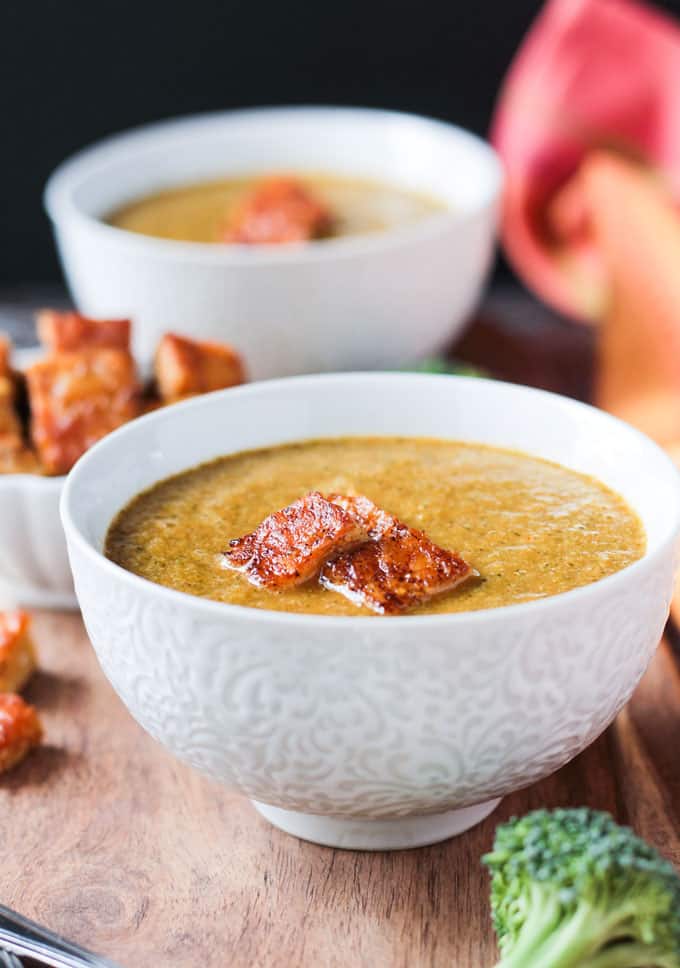 This smoky vegan broccoli soup by Jenn from Veggie Inspired would make the perfect starter to a three course meal or a comforting dinner after a long winter walk. It's filled with warming spices and topped with innovative tempeh croutons, which I've never seen before but look absolutely delicious.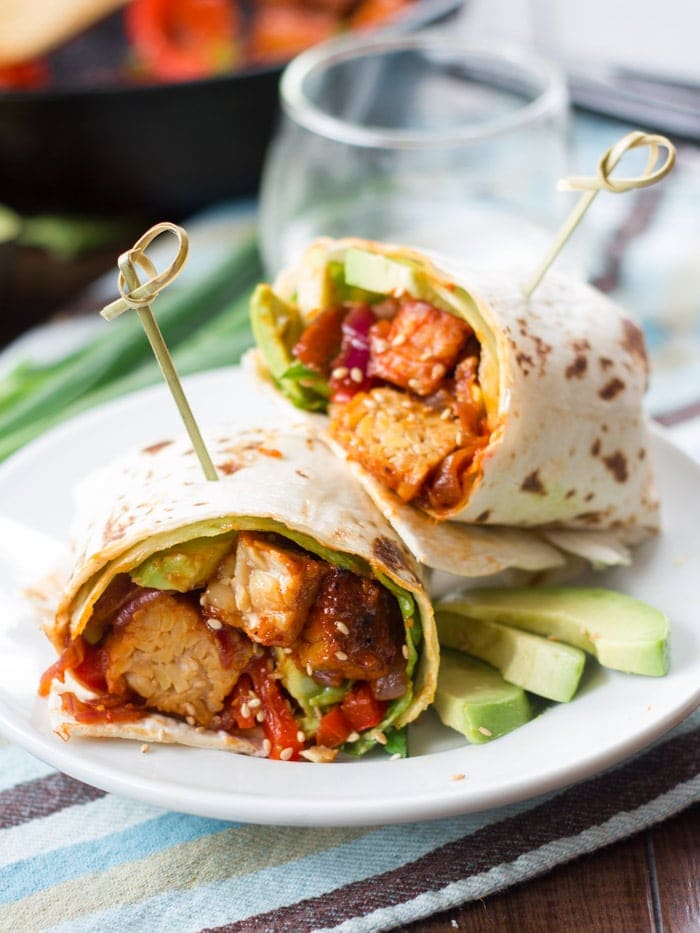 If you're looking to level up your lunches then this Korean recipe from Alissa Connoisseurus Veg will be for you. The tempeh is pan-fried in soy sauce, maple syrup and gochujang to become beautifully spicy and sticky. This would also work on top of salads or in rice bowls.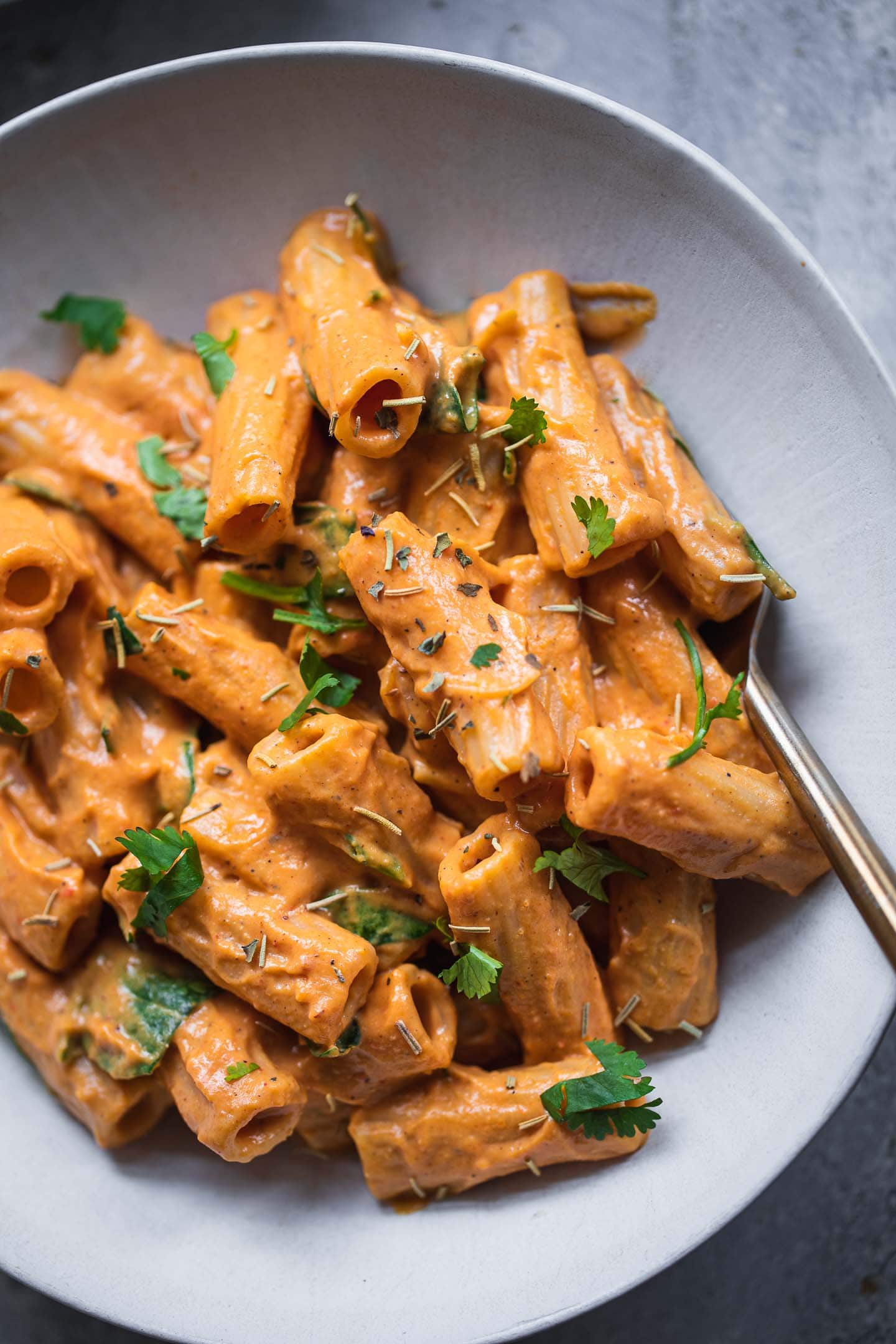 This vegan butternut squash pasta uses silken tofu as the secret ingredient. The tofu is blended into the sauce, along with the caramelized roasted veggies, to make it exceptionally creamy and decadent. It's a nutritious and delicious lunch or dinner which you have to try.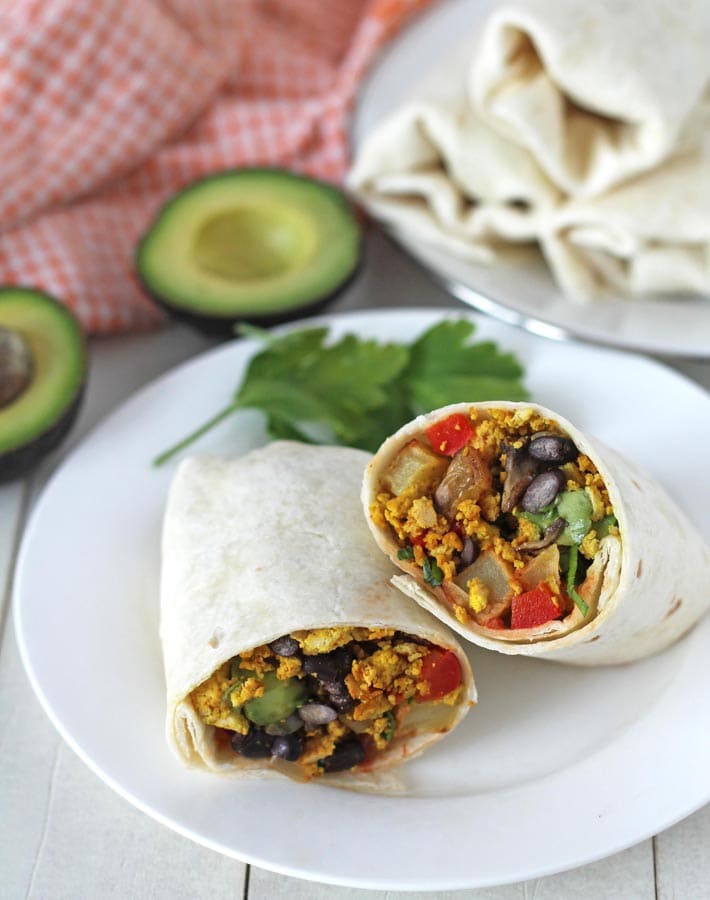 Gwen from Delightful Adventures has come up with these delicious tofu breakfast burritos. They're packed full of tofu scramble, roast potatoes and mushrooms, which are three of my favorite things! Plus they're super freezer-friendly, which makes them great for meal prepping.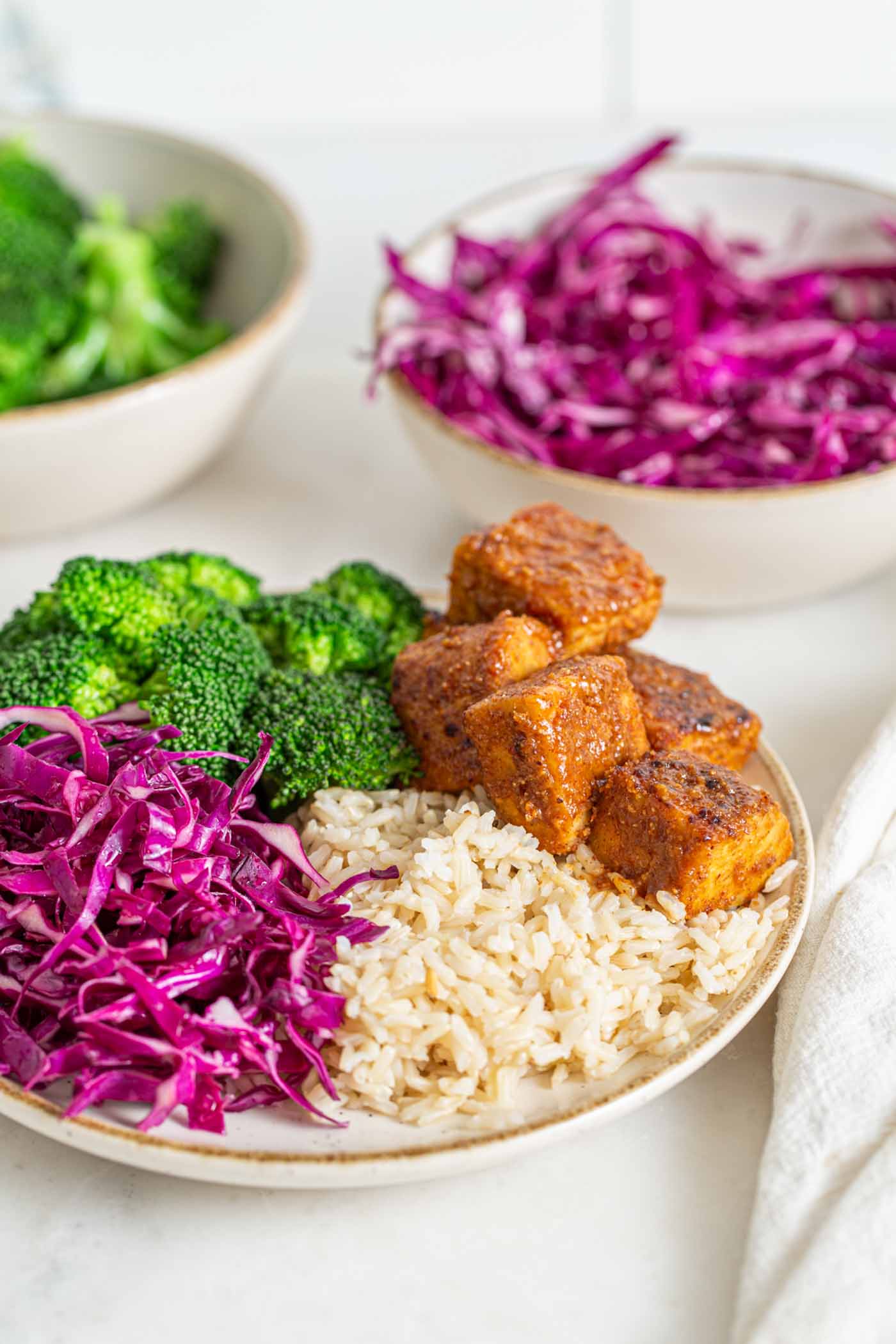 I love the vibrancy of rice bowls and this baked tempeh brown rice bowl from Deryn at Running on Real Food looks especially appetizing. The tempeh is marinated in almond butter, sweet chilli and soy sauce to ensure it's super flavorful. It's served alongside a gorgeous red cabbage slaw and broccoli – a nutritious and exciting way to 'eat the rainbow'.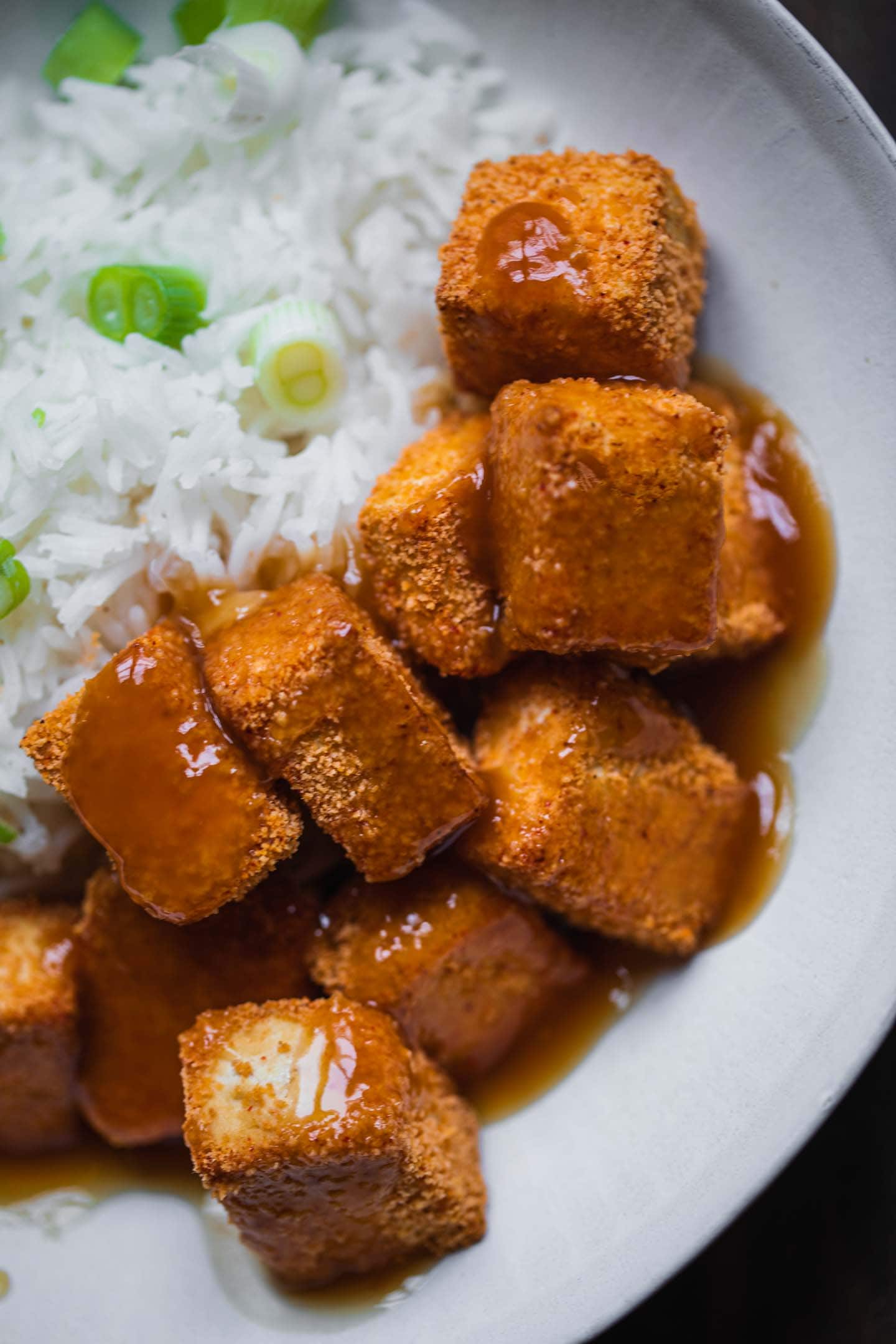 In this recipe, I share my tips on how to make easy vegan crispy tofu, which is perfect for adding to dinners, lunches, or even snacking on. There's options for baking and frying, to ensure your tofu is crunchy on the outside and chewy in the middle.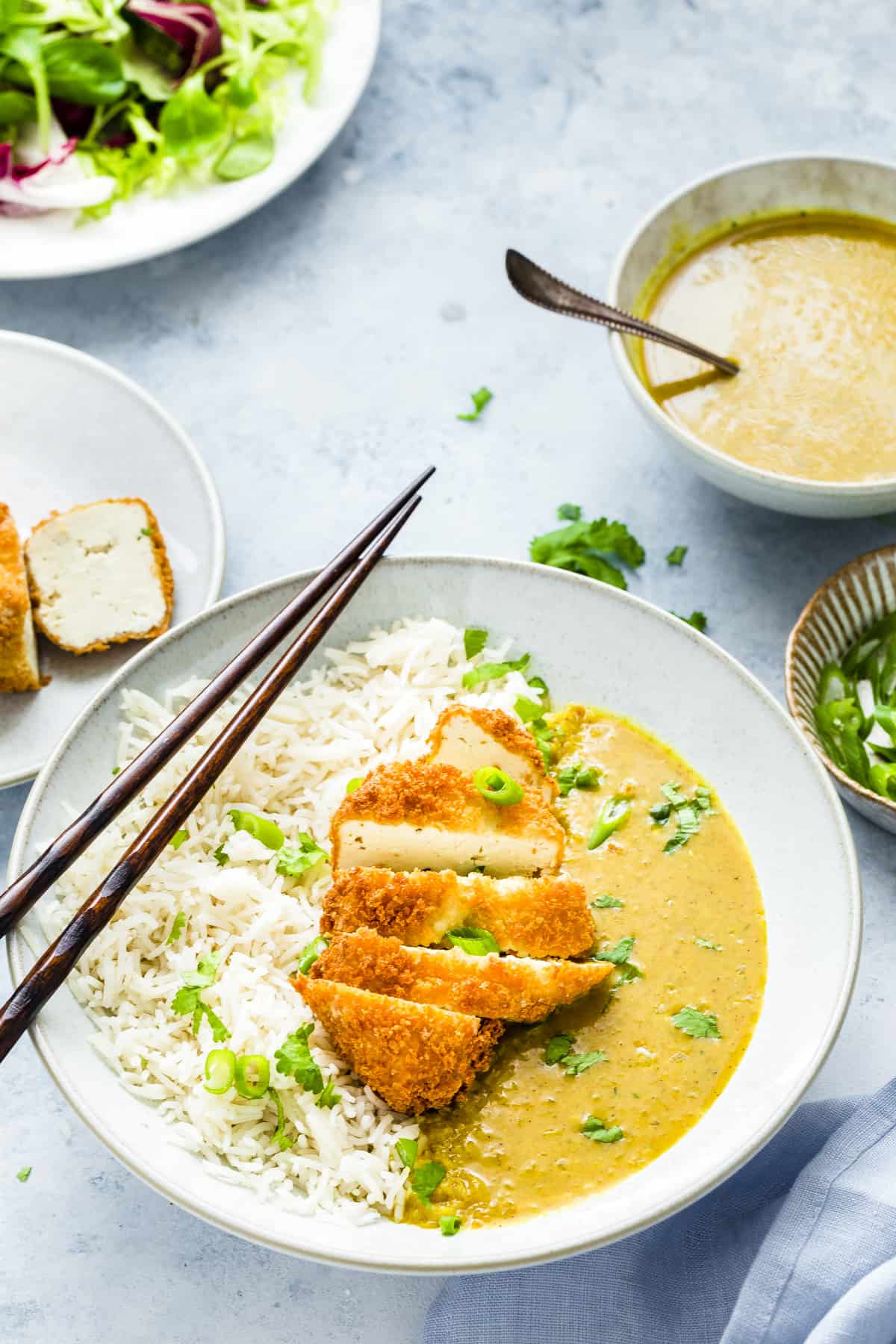 This tofu katsu curry from Melissa at Vegan Huggs is a vegan version of one of my favourite takeouts! The tofu is coated in panko breadcrumbs to ensure it's extra crunchy, and served with a fragrant katsu sauce. This would be a great addition to any meal plan, as a super filling, family-friendly dinner.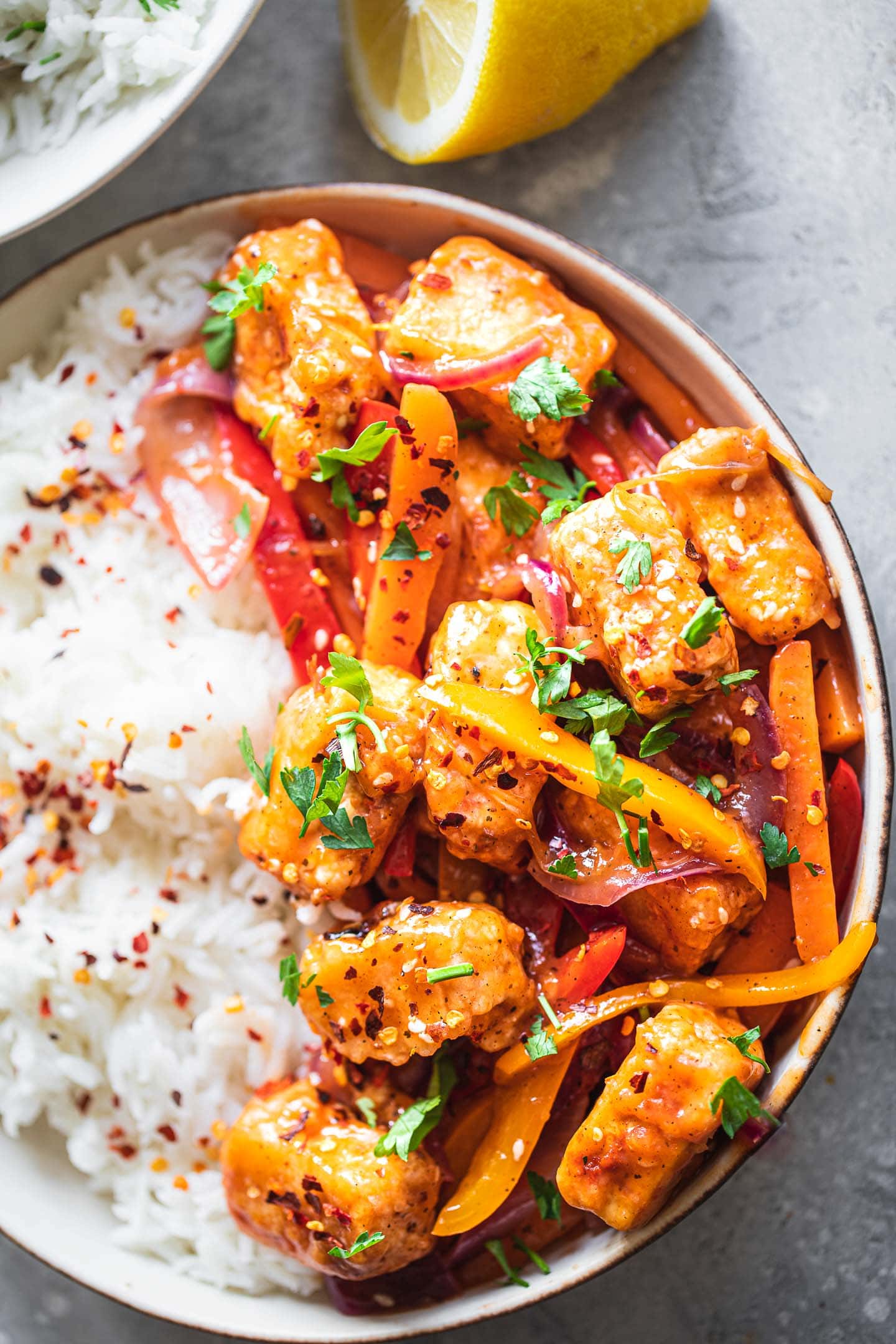 Nowadays, most takeouts cater for vegans, but homemade meals are often cheaper, quicker and, ultimately, tastier. This sweet and sour tofu is super easy to make and bursting with sweet and spicy flavors.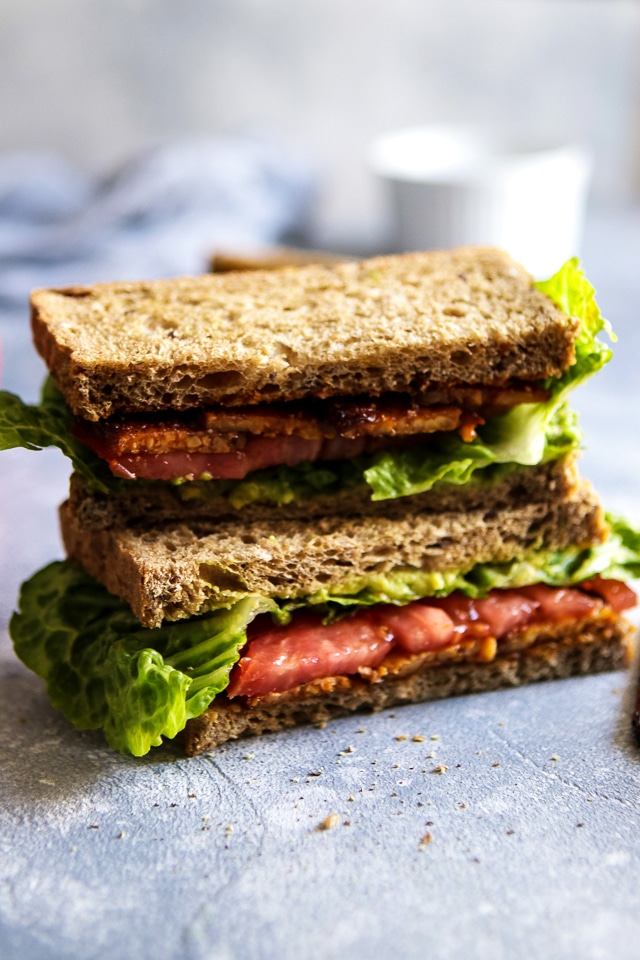 With this BLT recipe, Elena from Happy Kitchen has taught us that sandwiches aren't just for kids' lunchboxes. This sandwich is the definition of sophisticated, with avocado, beef tomato and, the star or the dish, tempeh bacon. These tempeh bacon strips are so versatile, you could use them for breakfasts, on salads, or cut up in carbonara.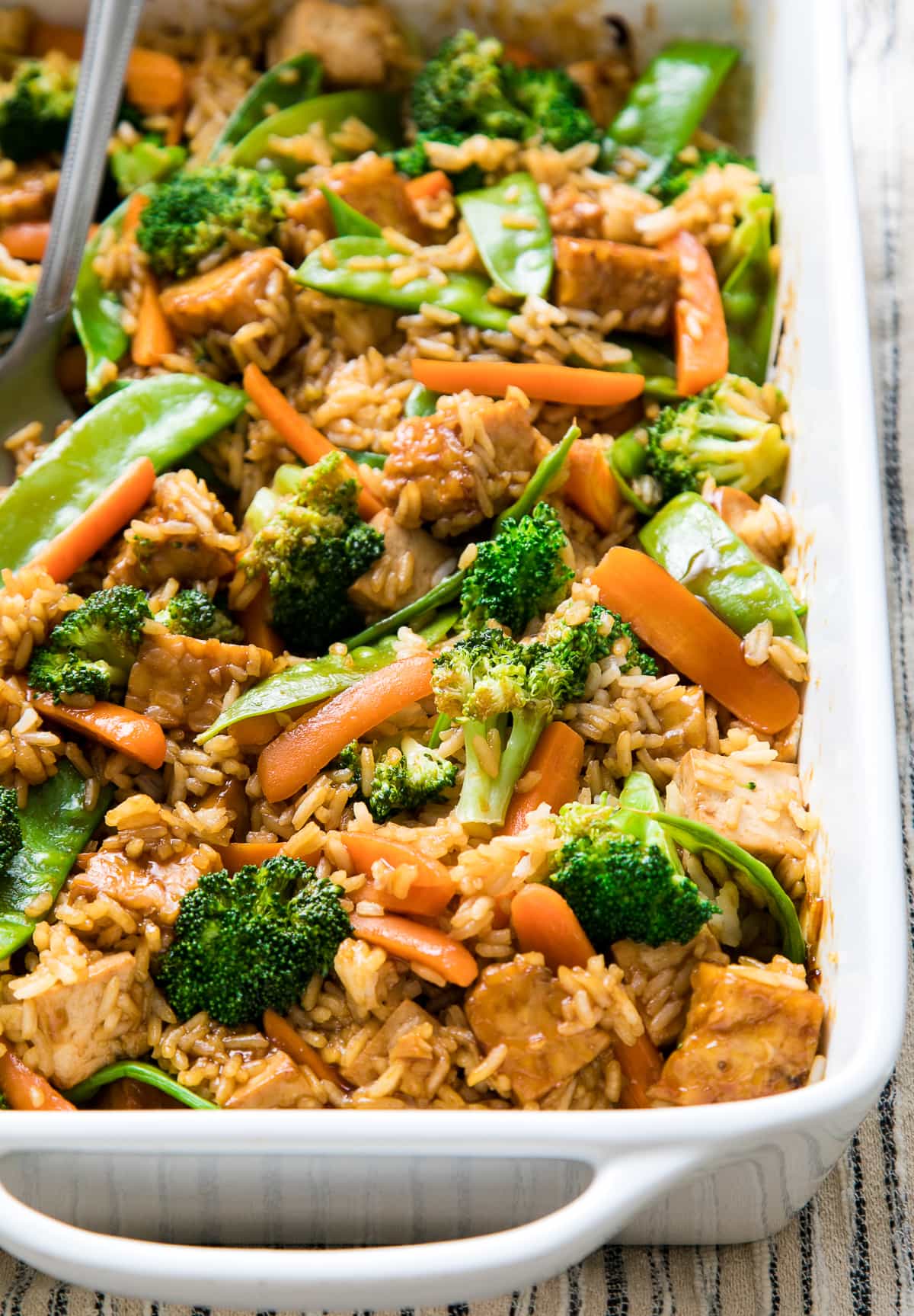 Not only does this teriyaki casserole from Julie at The Simple Veganista look like amazing comfort food, but it also contains both tofu and tempeh. If you're new to tofu and tempeh then this dish is a great way to try them together and see which is your favorite. Plus, this teriyaki sauce looks perfectly sweet and sticky.
If you need dinner on the table in 15 minutes, then this cauliflower alfredo is for you. Extra firm tofu and steamed cauliflower are blended to create a smooth, creamy pasta sauce, that will definitely have you coming back for seconds.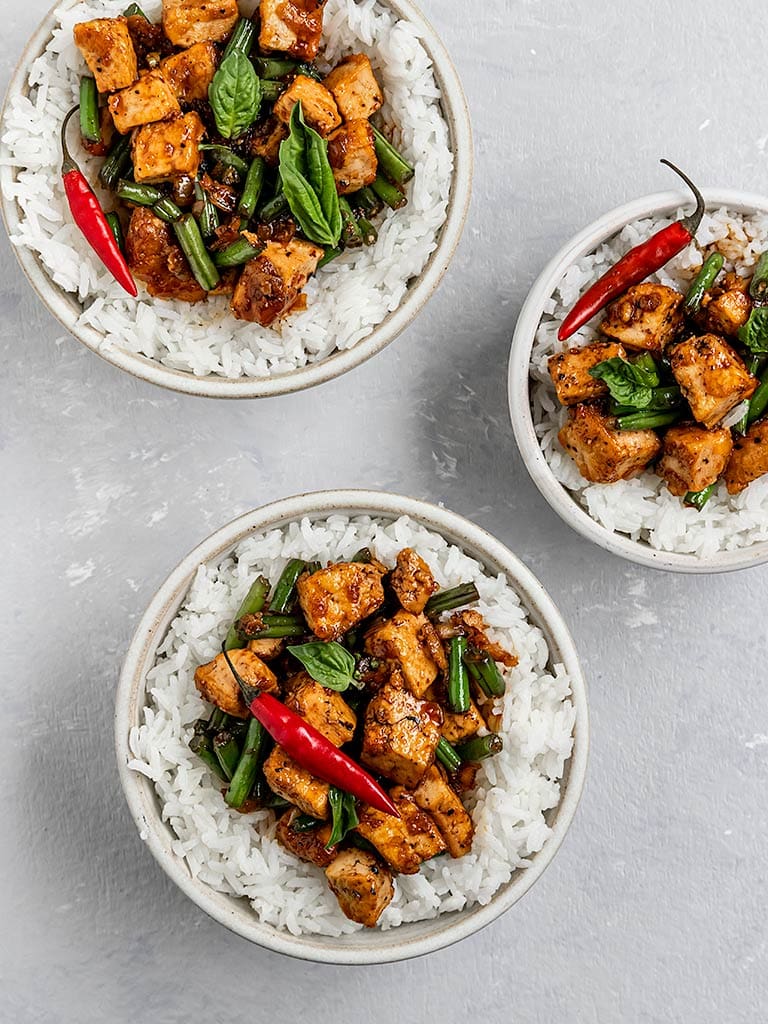 Another 'fakeout' option here, as Megan from Short Girl Tall Order has recreated her favorite Asian dish – black pepper tofu and green beans. Her recipe requires less than 10 ingredients and only takes 40 minutes to make – much quicker than waiting for an actual takeout to arrive!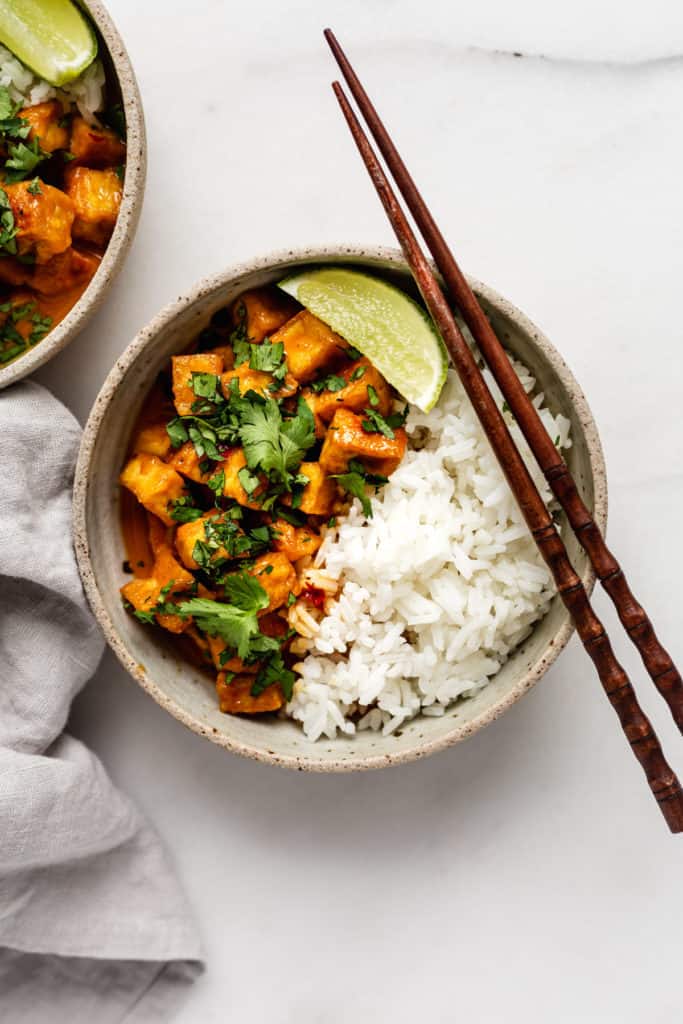 This Thai Red Coconut Curry Tofu by Jess from Choosing Chia is authentic, aromatic and ready in 30 minutes. Jess panfries the tofu until it's golden brown to make it gorgeously crispy, and then serves it on a bed of jasmine rice for a quick and delicious midweek dinner.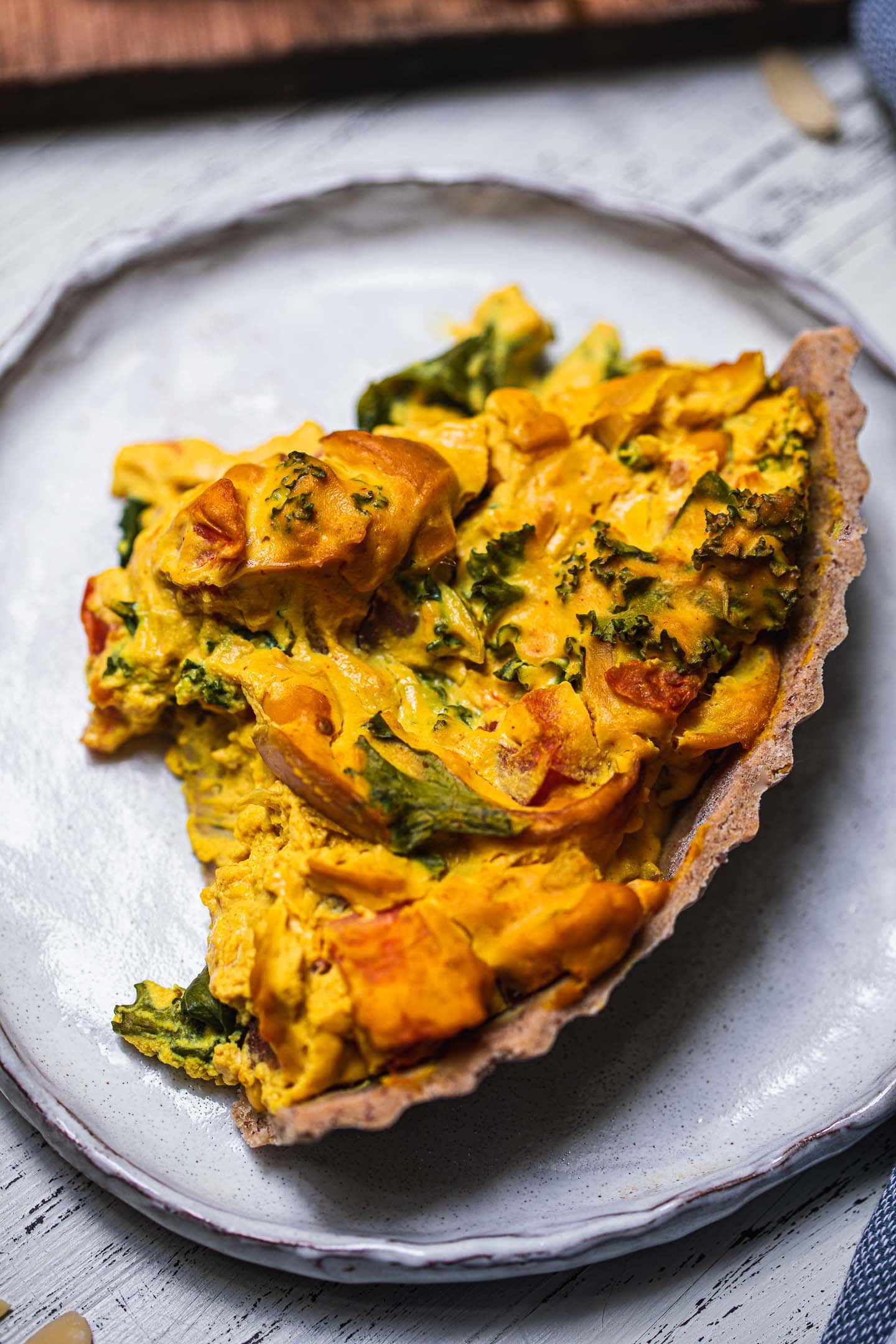 Not only is this vegan quiche gluten-free, but it's also super easy and ready in 30 minutes. You can eat it hot or cold, so it's great for a fuss-free lunch that can be made ahead.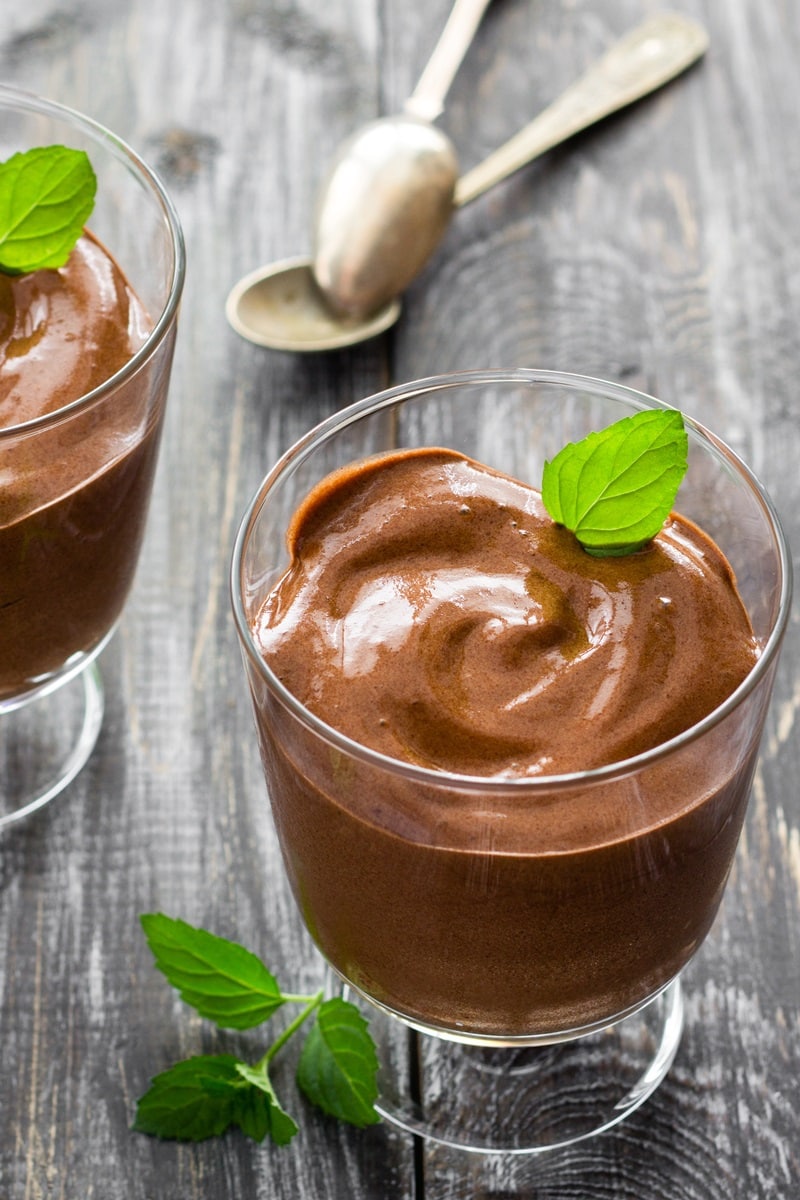 You won't believe that tofu is the secret ingredient in this chocolate mousse from Alisa at GoDairyFree. This mousse is the perfect show-stopping dessert to present at a dinner party, or an indulgent treat to tuck into after work. There's even raspberry, mint and mocha flavor options – you really can veganize anything these days!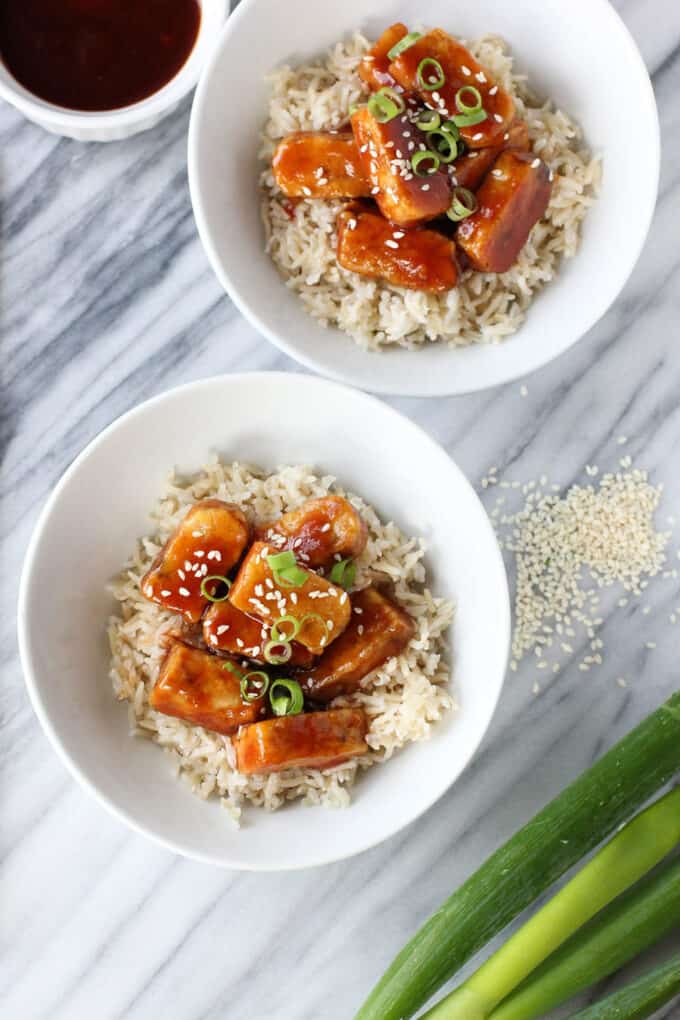 Liz from I Heart Vegetables shares her love of tempeh in this sweet and sour recipe tempeh recipe. It's a healthier, high-protein alternative to takeout, and it's ready in 30 minutes so super easy too.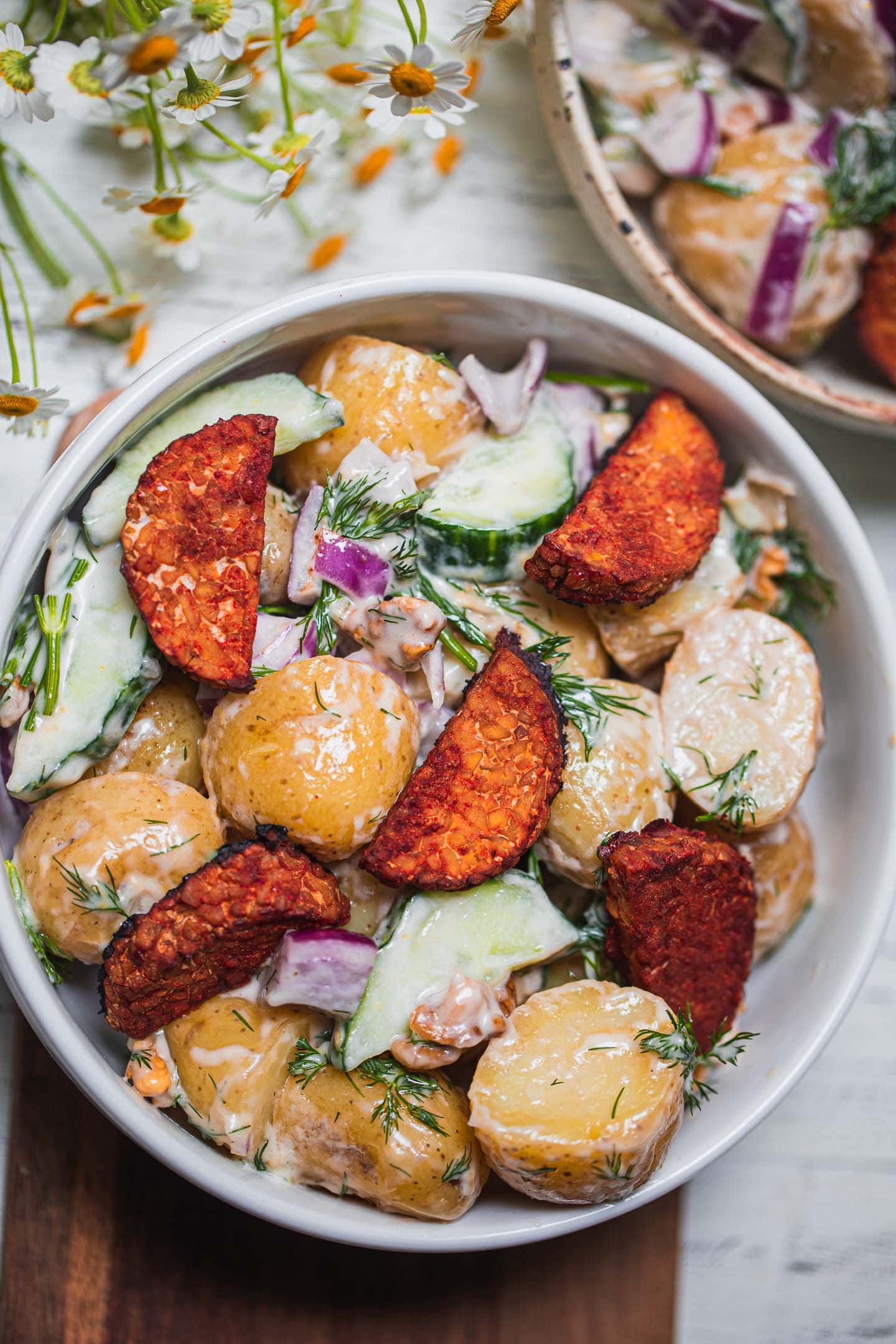 This vegan potato salad is the perfect side dish for BBQs and buffets. The tempeh is baked with liquid smoke and paprika to ensure it's super smoky and savoury, then served with a fresh, gluten-free potato salad.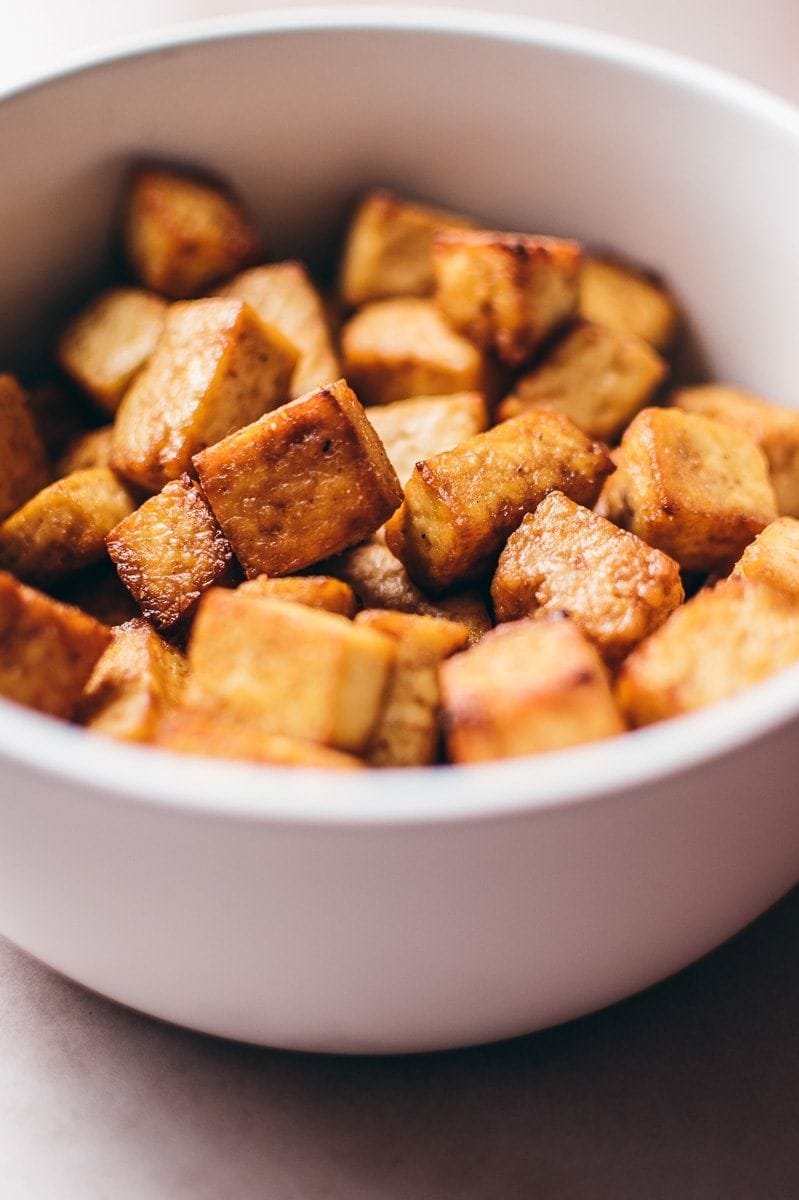 If you want to learn how to make the crispiest tofu, then Kristen from Moon and Spoon and Yum has shared how she achieves this with an air fryer. Her air fryer tofu recipe will ensure your tofu has a crunchy coating, soft middle, and subtle taste of garlic and sesame. This can be used in curries, stir fries or alongside steamed vegetables.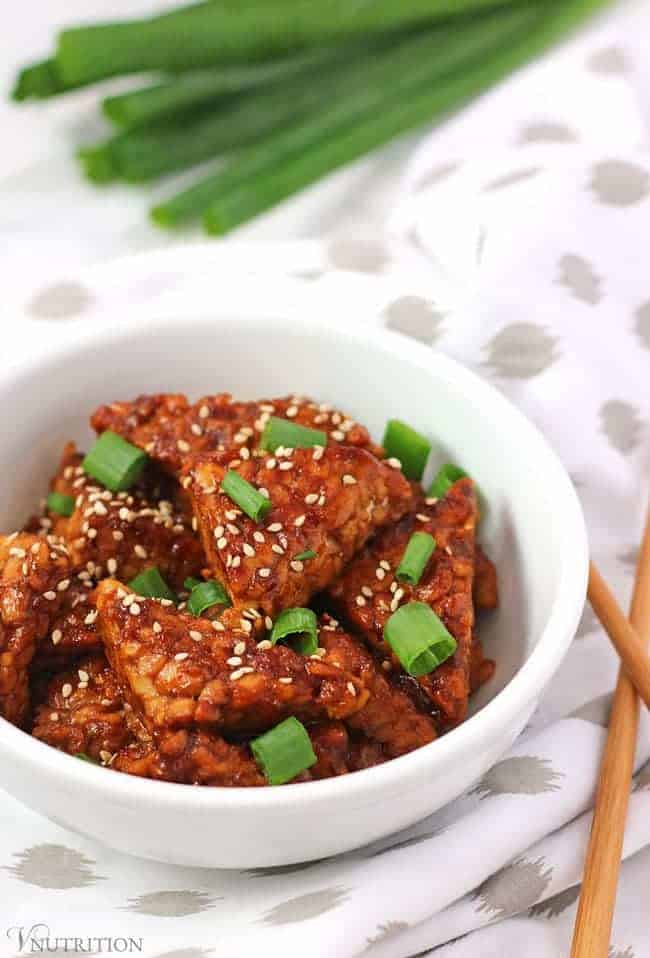 Mary Ellen from V Nutrition promises that this teriyaki tempeh is 'the best tempeh recipe ever' and I'd have to agree! She marinates the tempeh in veggie broth and tamari to give it an amazing savoury flavor, and then covers it in the sticky, spicy teriyaki sauce. This dish is a filling, protein-rich dinner to spice up your meal plan.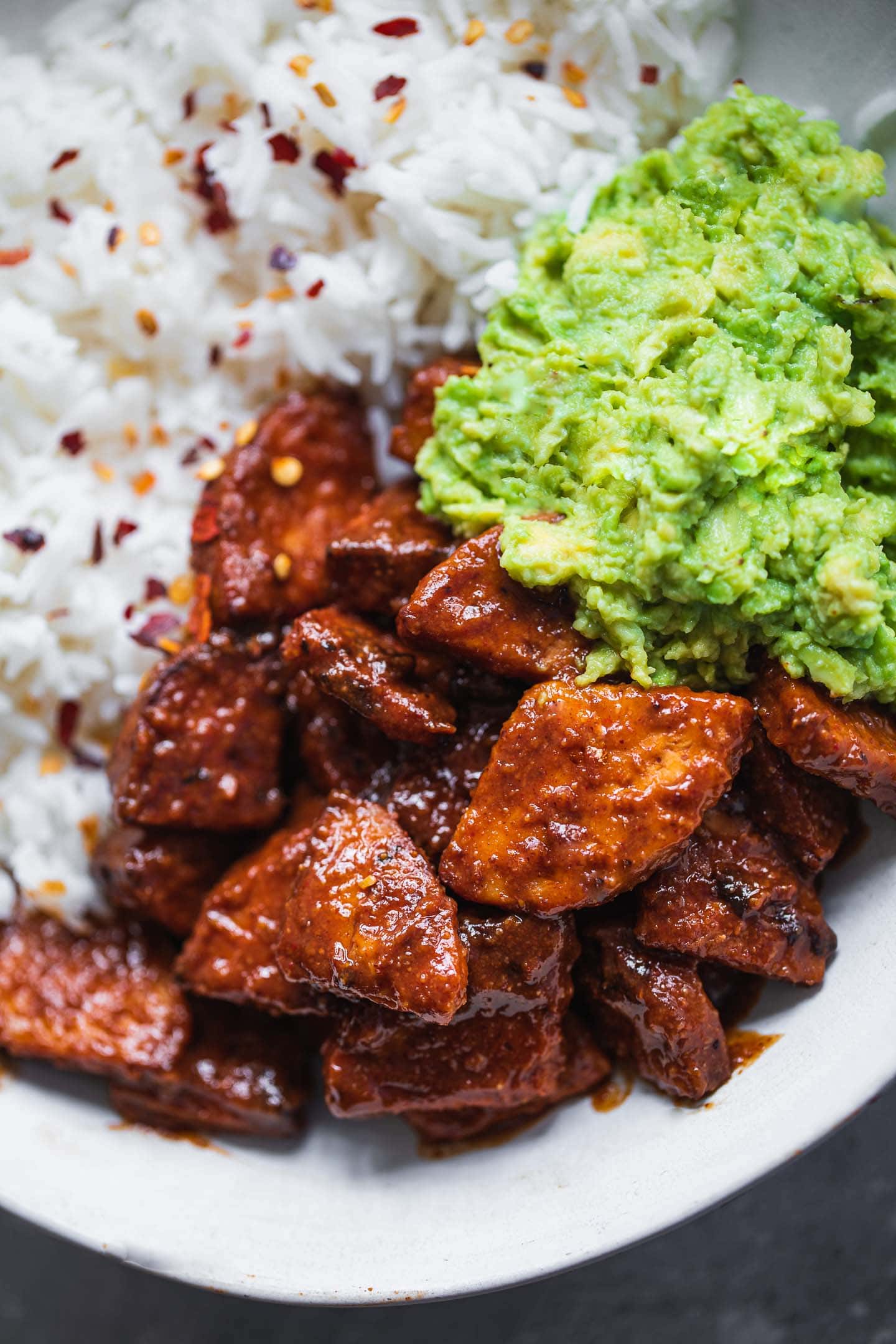 Nothing compares to the deliciously savoury and smoky flavour of this vegan BBQ tempeh. It's perfect for salads, sandwiches and wraps. Plus, it's gluten-free and ready in under 30 minutes.
I hope you loved this roundup! Let me know in the comments: what's your favourite tofu or tempeh recipe? Remember to tag me on Instagram (@earthofmariaa) if you make any of my suggestions.