White Bean Vegan Skillet Potatoes With Garlic Mushrooms
These vegan skillet potatoes with white beans in a savoury tomato sauce make a comforting weekend breakfast or brunch. Served with a side of garlic mushrooms, this meal brings out the yumminess of whole, plant based ingredients. Gluten-free and ready in 25 minutes. 
There's a lot to love about weekends. Think having a slower start than usual, spending time with friends and family, getting everything together and planning for the week ahead. However, being an unapologetic foodie, weekend breakfasts are pretty high up on my list of thing that make Saturdays and Sundays special.
Growing up, these were pretty popular in my family. In the morning, my grandma would cook up anything from pancakes and waffles, to a full-on breakfast buffet. We'd sit around, drink tea and allow food to bring us together.
These days, I still like to make something special for weekend breakfasts – but vegan-style, of course. On one hand, I have to admit I don't like sleeping in. Waking up too late for my body puts me in a horrible mood and can bring back my insomnia. But at least these early start mean longer leisurely mornings and more time to make something that's worthy of the title '#breakfastgoals'.
White bean skillet potatoes with garlic mushrooms
Okay, we can all agree that potatoes for lunch and dinner are the go-to yummy solution for when you don't know what to cook. I could never turn down a bowl of homemade fries for dinner. But vegan skillet potatoes for breakfast? Next level.
The ones I'm sharing today are cooked in a simple, but fool-proof tomato sauce. Boil them, then add to a frying pan with the rest of the ingredients, and you're good to go. Cannellini beans are added for extra protein and a bit of a baked bean, full English vibe. Then, we serve everything with panfried garlic mushrooms and a side salad to get in some greens first thing in the morning. I mean, why go out to a restaurant and spend extra $$ when you can make something this good at home?!
How to make vegan skillet potatoes
We start by boiling the potatoes for 10-15 minutes until they're fully cooked, which also gives us plenty of time to prepare the garlic mushrooms.. Keep in mind that these aren't supposed to be crunchy skillet potatoes. Let them fall apart slightly and combine with the sauce, but not to the extent that they turn into mashed potatoes.
Once the potatoes are ready, add them to a skillet with paprika, garlic salt and cumin. Then, lower the heat and stir in pre-cooked/canned cannellini beans and canned tomatoes. I like to add some brown rice miso paste and lemon juice for extra flavour. After that, just continue cooking and stirring for 7-8 minutes until the sauce has evaporated slightly and thickened.
Easy garlic mushrooms
I know that plenty of people out there like neither garlic, nor mushrooms. I can't relate. Together, they're even better than by themselves: as a toast topping, a side dish, an appetizer.
To complete this vegan skillet potatoes meal, I like to panfry some mushrooms with garlic, red onion, bell pepper and tamari, serving the end result with the potatoes. The textures complement each other perfectly, and the whole thing reminds me of eating mushrooms for breakfast all the time as a kid. Ah, gotta love nostalgic meals.
Oh, and don't forget the avocado on top! Either thinly slice, or mash it into guacamole. The natural coolness of the fruit will balance out the spiciness of the tomato sauce and your tastebuds will thank you for it.
What's to love about this vegan breakfast potato recipe?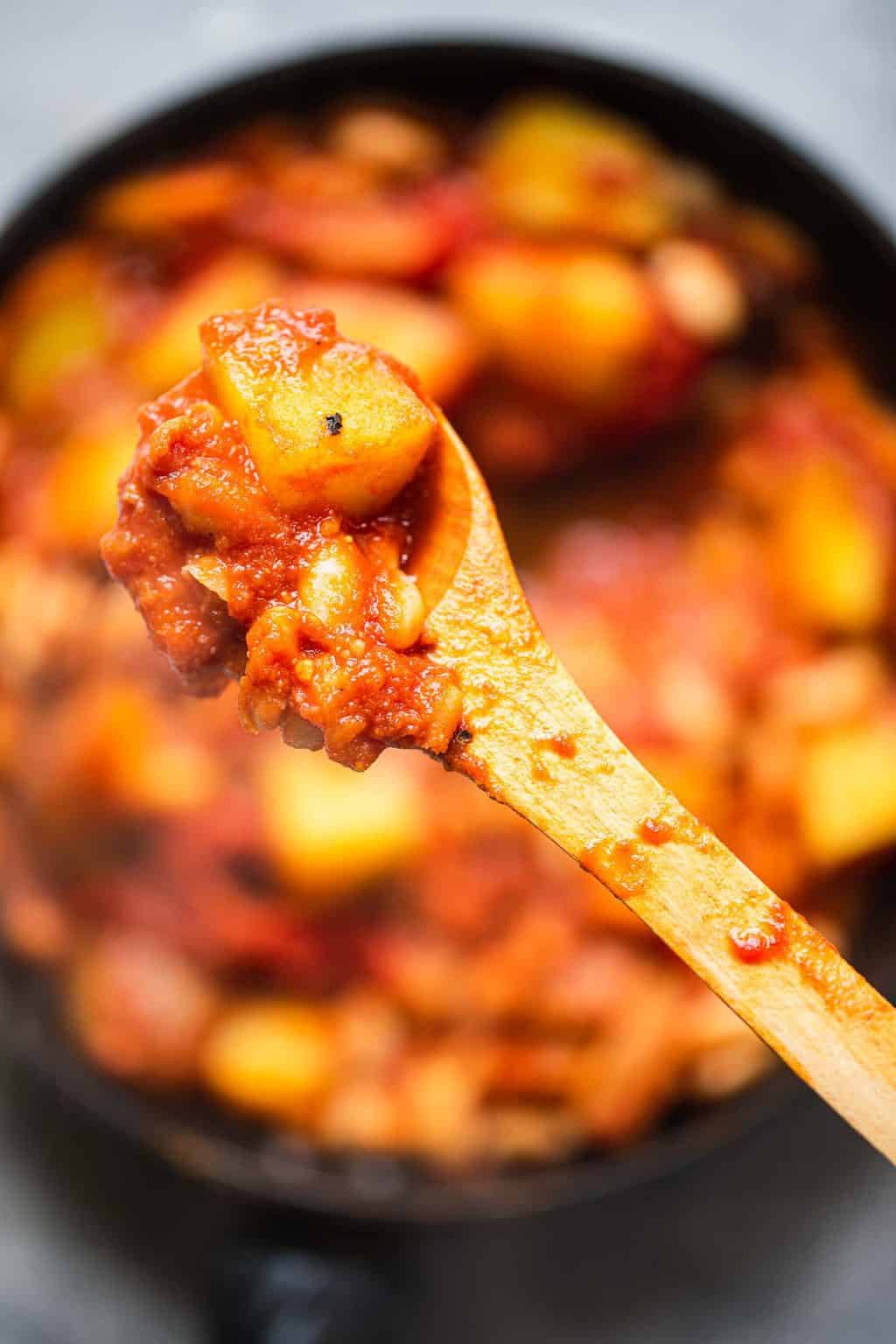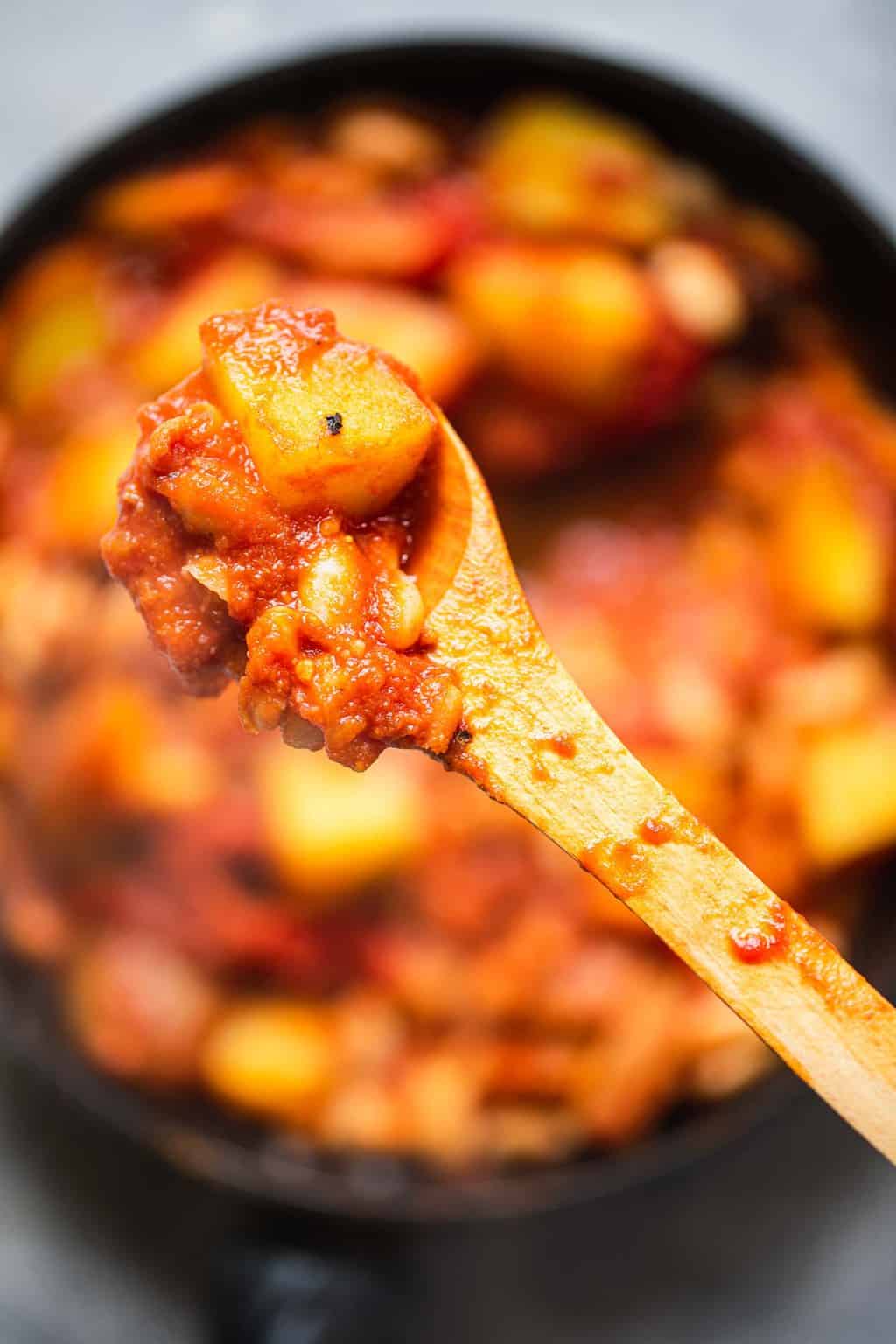 Pretty much everything. It's:
Big. In other words, no rumbly stomachs thirty minutes after breakfast.
Comforting. Enjoy this to warm up a colder morning, or share with friends and family.
Made from healthy, whole ingredients. Yeah, these vegan skillet potatoes taste like comfort food, but they're nonetheless packed full of goodness.
Naturally gluten-free.
High protein, thanks to the mushrooms and the cannellini beans.
Meal prep and lunchbox friendly. If you have any potatoes left over, simply store them in the fridge in an airtight container, and serve for lunch with rice and/or a side salad.
Packed full of flavour. Smoky, with a hint of sweetness. You're seriously going to enjoy every bite.
A perfect option for weekend breakfast or brunch. You can start start your weekend on the best possible note with a plate of cosy deliciousness.
Ready in 25 minutes. Who doesn't want delicious vegan skillet potatoes that take less than half an hour?!
Other savoury vegan recipes
Buckwheat crepes with mushrooms
Savoury oatmeal with zucchini and black beans
Mushroom buckwheat porridge bowl
Buckwheat pancakes with tahini veggie slaw
Let me know in the comments: are you a fan of potatoes for breakfast? What do you like to prepare for weekend brunch? If you give these white bean skillet potatoes a go, be sure to tag me on Instagram (@earthofmariaa) so I can see your creations, and leave your feedback in the comments below!
Get the Recipe: White Bean Vegan Skillet Potatoes With Garlic Mushrooms
These vegan skillet potatoes with white beans in a savoury tomato sauce make a comforting weekend breakfast or brunch. Served with a side of garlic mushrooms, this meal brings out the yumminess of whole, plant based ingredients. Gluten-free and ready in 25 minutes. 
Ingredients
2 lbs potatoes, finely cubed
1 large red onion, diced
1 clove garlic, minced
1 large yellow bell pepper, diced
14 oz chestnut mushrooms, chopped
2 tbsp tamari
1.5 tsp cumin
1 tsp paprika
2 tsp garlic salt
3 cups cooked cannellini beans, (2 cans)
2 14-oz cans canned tomatoes
2 tbsp lemon juice
salt and pepper, to taste
To serve
vine tomatoes
2 small avocados, chopped or mashed
1 large handful fresh greens
Equipment
Saucepan

Non-stick frying pan
Instructions
Add the potatoes to a saucepan and cover with boiling water. Simmer for 10-12 minutes, or until cooked through.

Meanwhile, add the onion, garlic, bell pepper and mushrooms, yellow bell pepper and onion to a skillet/frying pan. Stir for 4-5 minutes, until the mushrooms have cooked down. Stir in the tamari, remove from heat and set aside.

Once the potatoes are cooked, add them to the skillet with the cumin, paprika and garlic salt. Stir to combine with the spices. 

Lower the heat to low-medium and add the cannellini beans, canned tomatoes, brown rice miso, and lemon juice. Season to taste with salt and black pepper. Continue cooking and stirring for 7-8 minutes, until the sauce has partially evaporated and thickened. 

Serve immediately with the mushrooms, fresh tomatoes, avocado and fresh greens. The potatoes can be stored in the fridge in an airtight container for 2-3 days.
Calories: 447kcal, Carbohydrates: 69g, Protein: 20g, Fat: 15g, Saturated Fat: 2g, Sodium: 1994mg, Potassium: 2051mg, Fiber: 21g, Sugar: 4g, Vitamin A: 486IU, Vitamin C: 126mg, Calcium: 197mg, Iron: 12mg