Vegan Macaroni Salad (Without Mayo)
This vegan macaroni salad without mayo is so easy to make! With tofu 'feta' and lots of fresh vegetables, it's ideal for a summer dinner or side dish. Super flavourful and meal prep-friendly, too!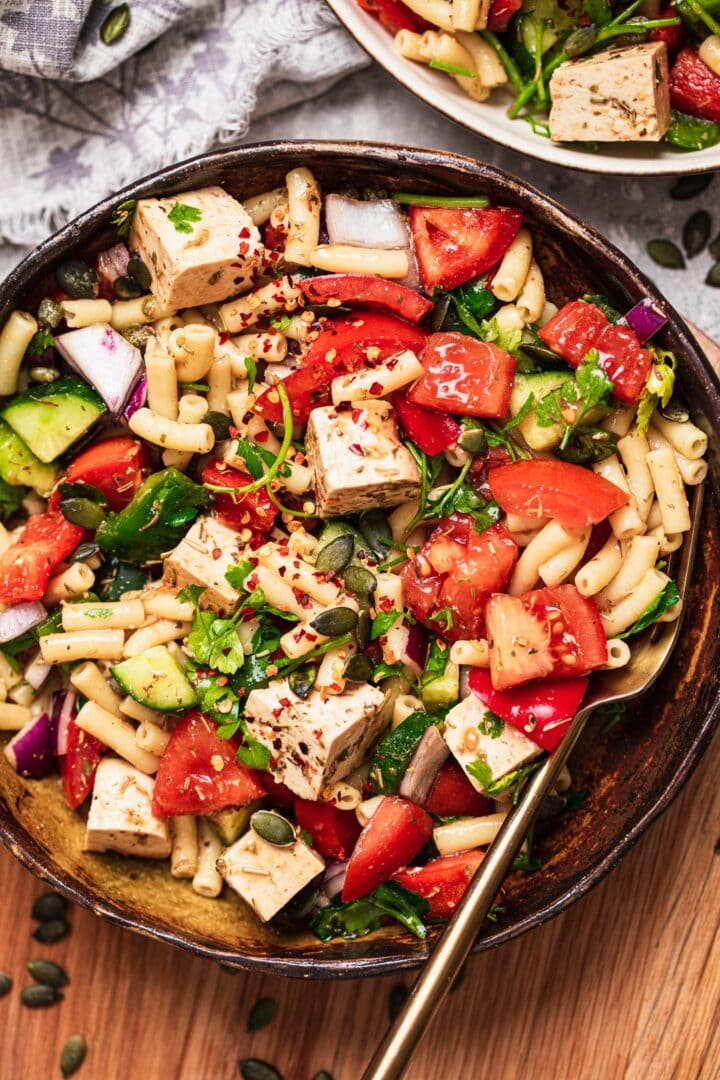 Macaroni is amazing. Salads are amazing, too. Put them together? Even better! Hence, I can hopefully make your day a little bit better with this macaroni salad, that's 100% dairy-free and super easy to make.
This is an incredibly versatile recipe. You can serve it as a light lunch, dinner, or side dish. Not going to lie, I like to keep some in the fridge to snack on! Try it out for yourself and see exactly why I'm hyping it up so much. You won't be disappointed!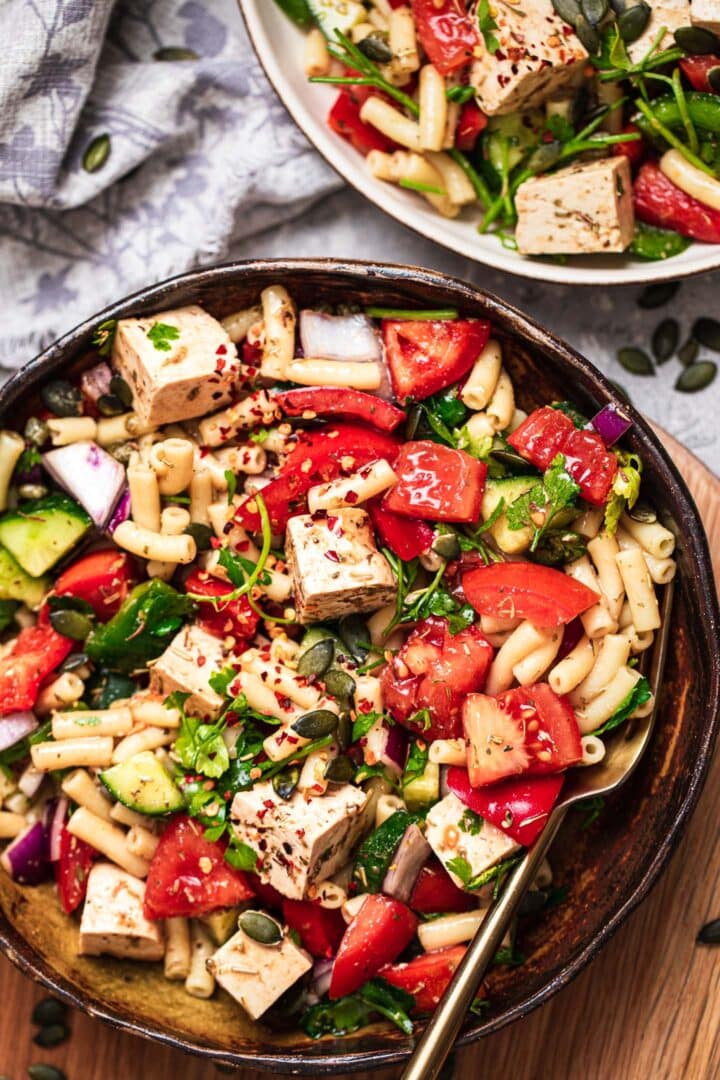 Vegan macaroni salad without mayo
You'll be surprised at how easy it is to make a vegan macaroni salad without mayo! I know that vegan mayonnaise isn't always accessible, so I wanted to make a simpler recipe with a homemade dressing that certainly doesn't miss any flavour.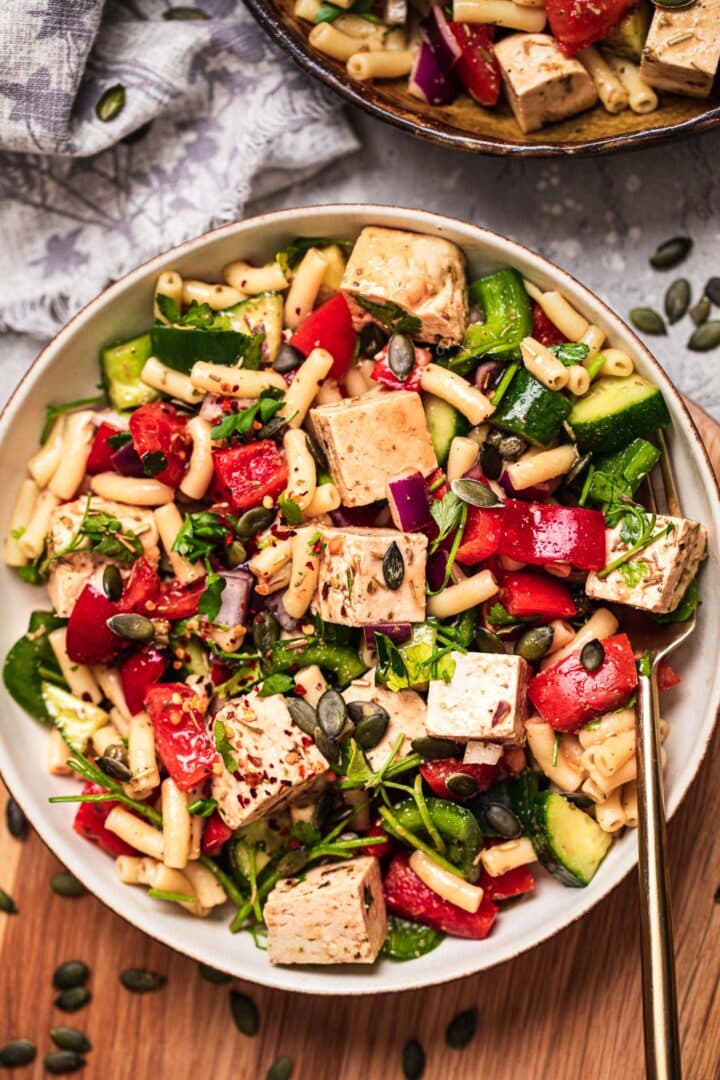 You need just a handful of ingredients to make the dressing: olive oil, salt, balsamic glaze (or vinegar), maple syrup, nutritional yeast, and lemon juice. That's it!
The result is tangy and refreshing, with a hint of sweetness from the maple syrup, and also a savoury undertone due to the addition of nutritional yeast. You can serve this macaroni salad immediately, while the macaroni is still warm. Alternatively, leave it in the fridge to chill for a few hours. It's a well-know fact that pasta salads can taste even better the next day!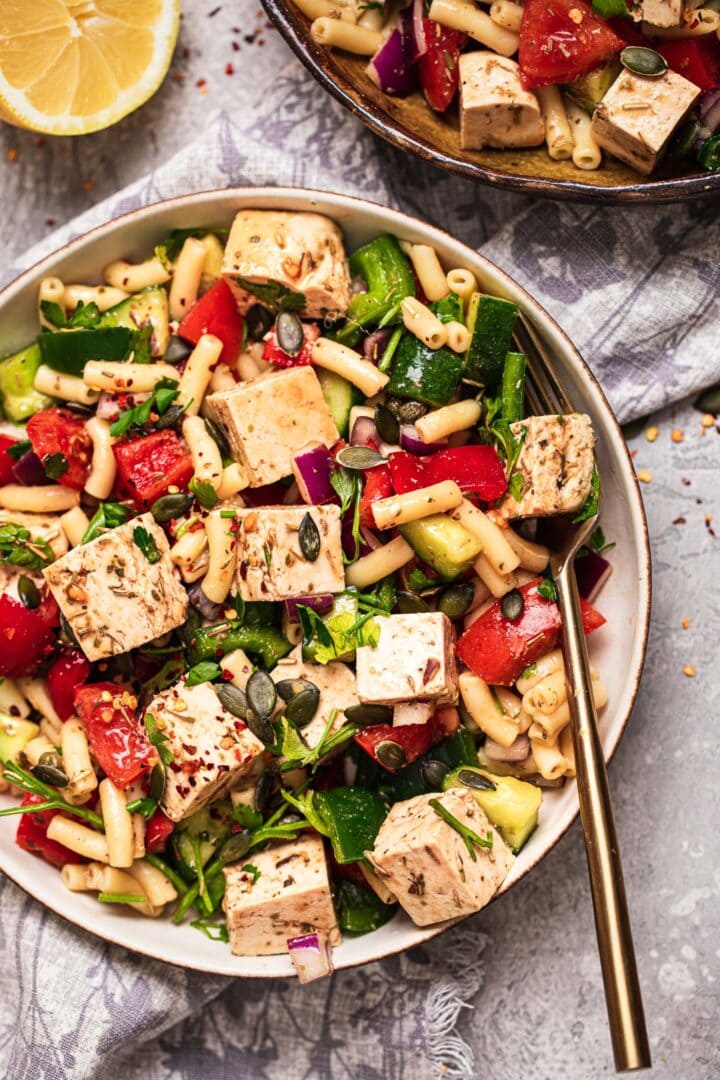 I added capers and pumpkin seeds right at the end for some crunch and extra tanginess. And whenever I make this salad, you can see me eating it straight from the salad bowl!
Tofu 'feta'
The tofu feta here is a great addition which really takes the macaroni salad to the next level. I made something similar for my cold spaghetti salad, and I can say it just never gets old. Tofu really is an amazing, versatile ingredient!
All you need to do is marinade it in tamari, dried basil, dried thyme and apple cider vinegar for at least 30 minutes. I'd recommend leaving it in the fridge overnight, however, for the best flavour. Then, you add it to the salad and you're good to go!
What vegetables do I add to macaroni salad?
You have a lot of choice on what you can add. A pasta salad like this is great for cleaning out the fridge! As you can see, I added red and green bell peppers, tomatoes, cucumber and red onion. But the following options would also work well:
Zucchini.
Roasted sweet potato.
Cabbage, either red or white.
Roasted squash or pumpkin.
Fresh greens like spinach or arugula.
Carrots.
Cauliflower.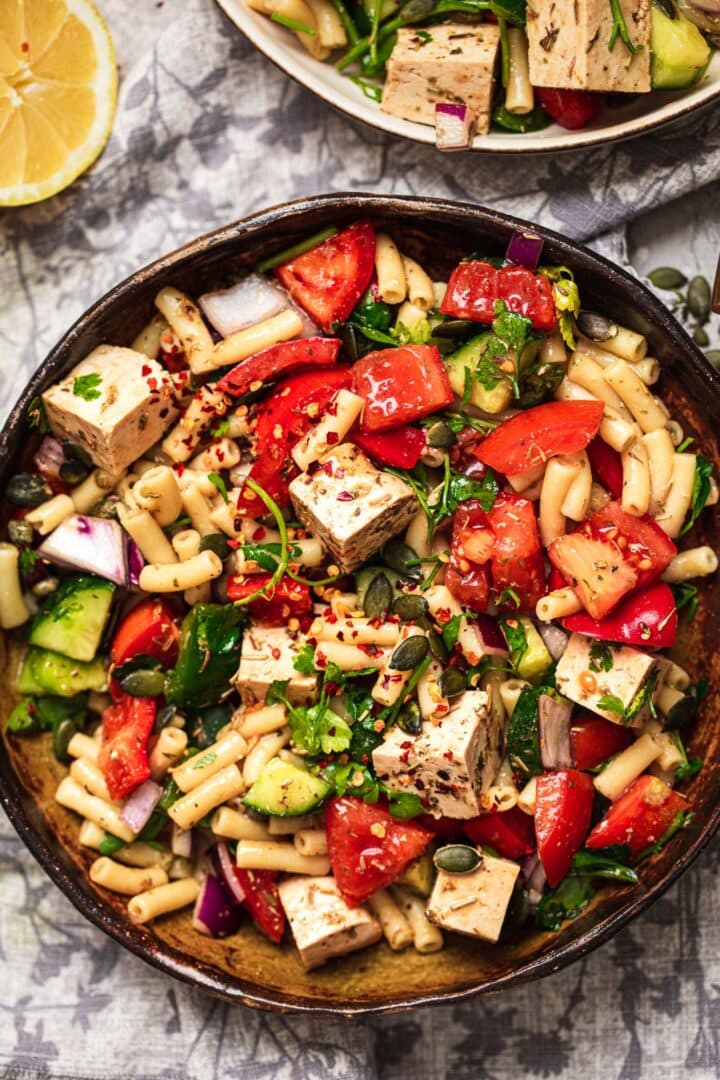 And so much more! You really can't go wrong with a versatile recipe like this.
How to make a vegan macaroni salad without mayo
STEP 1: Firstly, marinade the tofu. At least 30 minutes is great, but overnight is ideal.
STEP 2: Meanwhile, cook the macaroni according to packaging instructions until al dente. Drain and rinse when done.
STEP 3: Add the pasta, vegetables and dressing ingredients to a large mixing bowl and stir together really well.
STEP 4: Add the tofu together with the marinade, and serve with the capers and pumpkin seeds. Serve and enjoy!
Macaroni salad storage instructions
You can leave this salad in the fridge in an airtight container for up to 5 days. As I said, it's just as delicious served cold, so there's no need to reheat!
Tips and substitutions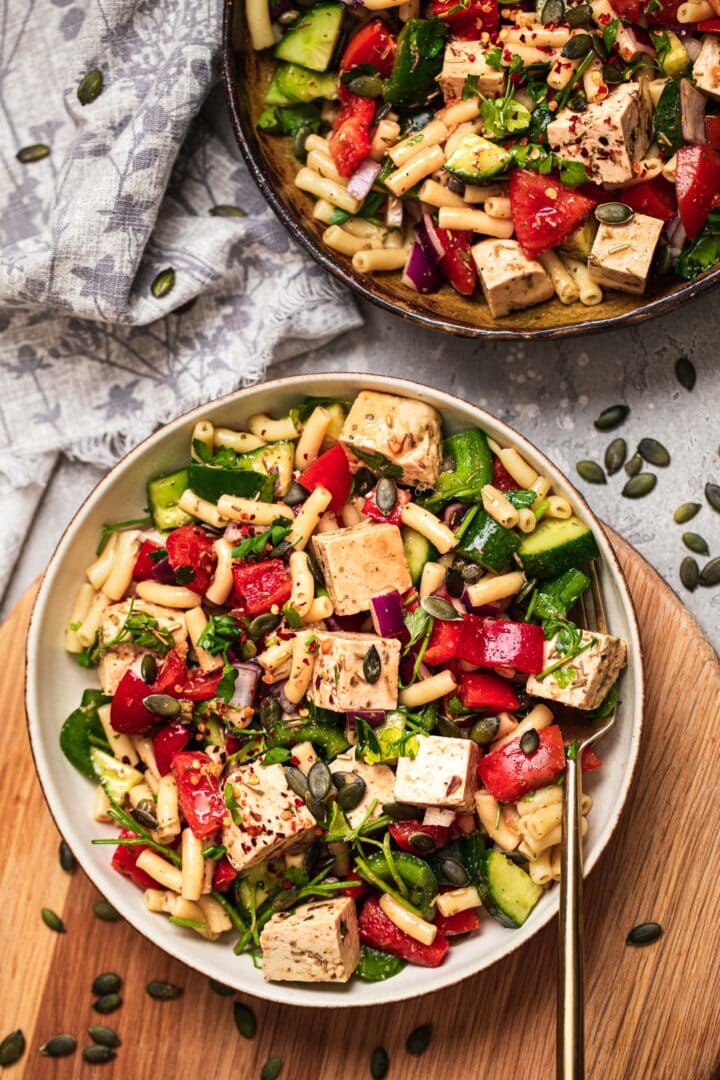 If you want to make a creamy vegan macaroni salad, add a few tbsps of homemade vegan sour cream.
To make a gluten-free pasta salad, simply use gluten-free pasta.
You can swap out the tofu for store-bought vegan feta.
Instead of capers, you can add olives or chopped pickles.
How about serving some flavourful zucchini bread on the side?!
If you want to, you can sprinkle some vegan cheese on top for extra cheesiness.
Adjust the amount of maple syrup and lemon juice depending on how sweet/tangy you want the flavour to be.
Other delicious vegan side dish recipes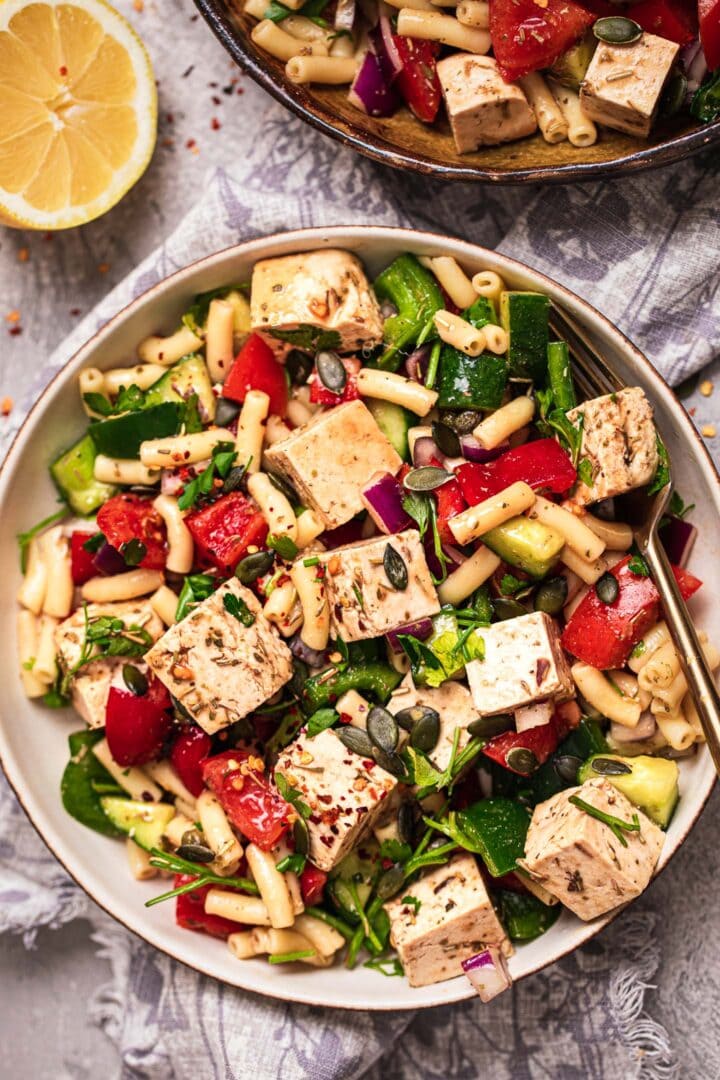 Let me know in the comments – what's your go-to plant based side dish? If you give this vegan mayo-free macaroni salad a go, be sure to tag me on Instagram (@earthofmariaa), and leave your feedback in the comments below.
Get the Recipe: Vegan Macaroni Salad Without Mayo
This vegan macaroni salad without mayo is ideal for a refreshing, summer side dish. With balsamic tofu and a tangy, subtly sweet dressing, it's also super easy to make in around 35 minutes.
Ingredients
10 oz extra-firm tofu, cubed
2 tbsp tamari
1 tbsp dried basil
1 tbsp dried thyme
2 tbsp apple cider vinegar
8 oz macaroni
1 large red bell pepper, diced
1 large green bell pepper, diced
1 cup diced tomatoes
1 cup diced cucumber
1 cup chopped cilantro
1 large red onion
2 tbsp olive oil
1/2 tsp salt
1 tbsp balsamic glaze
1 tbsp maple syrup
2 tbsp nutritional yeast
1/2 lemon, juice of
1 tbsp capers
1/4 cup pumpkin seeds
Equipment
Small mixing bowl

Saucepan

Large mixing bowl or salad bowl
Instructions
Add the tofu, tamari, dried basil and dried thyme to a mixing bowl. Stir together well, then marinade for 30 minutes (preferably overnight for best results).

Cook the macaroni according to packaging instructions.

Drain and rinse the macaroni, then transfer it to a large mixing bowl together with the red bell pepper, green bell pepper, tomatoes, cucumber, cilantro, red onion, olive oil, salt, balsamic glaze, maple syrup, nutritional yeast and lemon juice. Stir together well.

Add the tofu together with the marinade and stir together once more.

Serve immediately with the capers and pumpkin seeds.
Notes
This macaroni salad keeps well in the fridge for up to 5 days in an airtight container. 
Add any other vegetables of your choice. For instance, zucchini, carrots and cabbage also work well in this salad. 
You can replace the capers with chopped pickles or olives.
Calories: 431kcal, Carbohydrates: 64g, Protein: 19g, Fat: 12g, Saturated Fat: 2g, Trans Fat: 1g, Sodium: 912mg, Potassium: 810mg, Fiber: 7g, Sugar: 12g, Vitamin A: 1852IU, Vitamin C: 103mg, Calcium: 129mg, Iron: 6mg