Vegan lettuce wraps, featuring jackfruit, brown rice with green veggies and an oil-free cashew dressing. Refreshing and packed with texture and flavour, this easy recipe is a definite must-try for a healthy lunch or dinner! 
Lettuce wraps: I gave them a go for the first time a few weeks ago, and was pleasantly surprised. Crunchy, fun to make and great to enjoy as a summery picnic.
I think it's important to address a misconception. When you hear 'lettuce wraps'/'lettuce boats'/'lettuce tacos', etc, you might think diets or cutting carbs. But 'lettuce' not judge a book by its cover. I've never pretended to be low-carb on here. In fact, carbs make up approx. 70% of my daily intake and I very much have a mindset of abundance as far as food is concerned. No restriction, no diets. Just eating what makes me feel my best and fuels my lifestyle. If you guessed that may be carbs, you couldn't be more right.
What's in these vegan lettuce wraps?
Following the above principle, I wanted to make these vegan lettuce wraps a satisfying meal that can actually keep you full for more than, ahem, thirty minutes.
For the carby and wholesome base, we're using brown rice. You can use white, or any other grain of your choice, but I love the slightly nutty flavour of the brown variety. Once cooked, we're gonna sauté that with broccoli and kale, adding just a tbsp of tamari for extra flavour.
Of course, I try to keep my recipes as versatile as possible. So feel free to add any other veggies of your choice – this meal is great for cleaning out the fridge!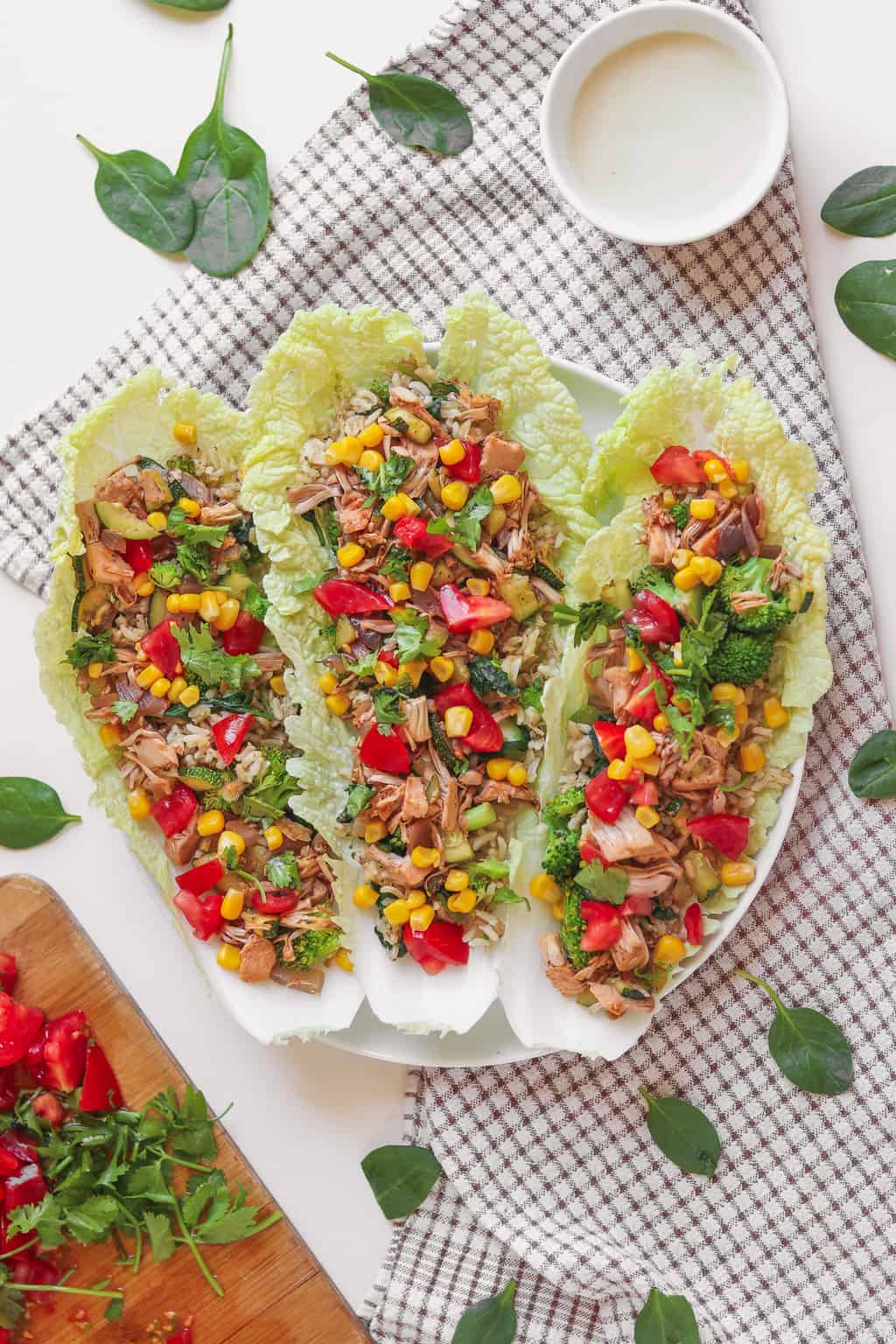 My favourite aspect of these vegan lettuce wraps is the jackfruit. I seriously can't get enough of this stuff. For a while, I had a hard time finding it here in the UK, but recently more and more of the canned variety has been popping up in supermarkets and health stores.
Jackfruit is one of those things that's a bit intimidating and weird at first. But it doesn't have that much of a flavour, so it will simply absorb the flavour of the sauce you cook it in. For these tacos, we're using the one and only agave nectar and tamari (gluten-free soy sauce alternative) with garlic, ginger, and just a few basic spices. Going for a more minimalist, fresh summer vibe, I didn't think it needed too much.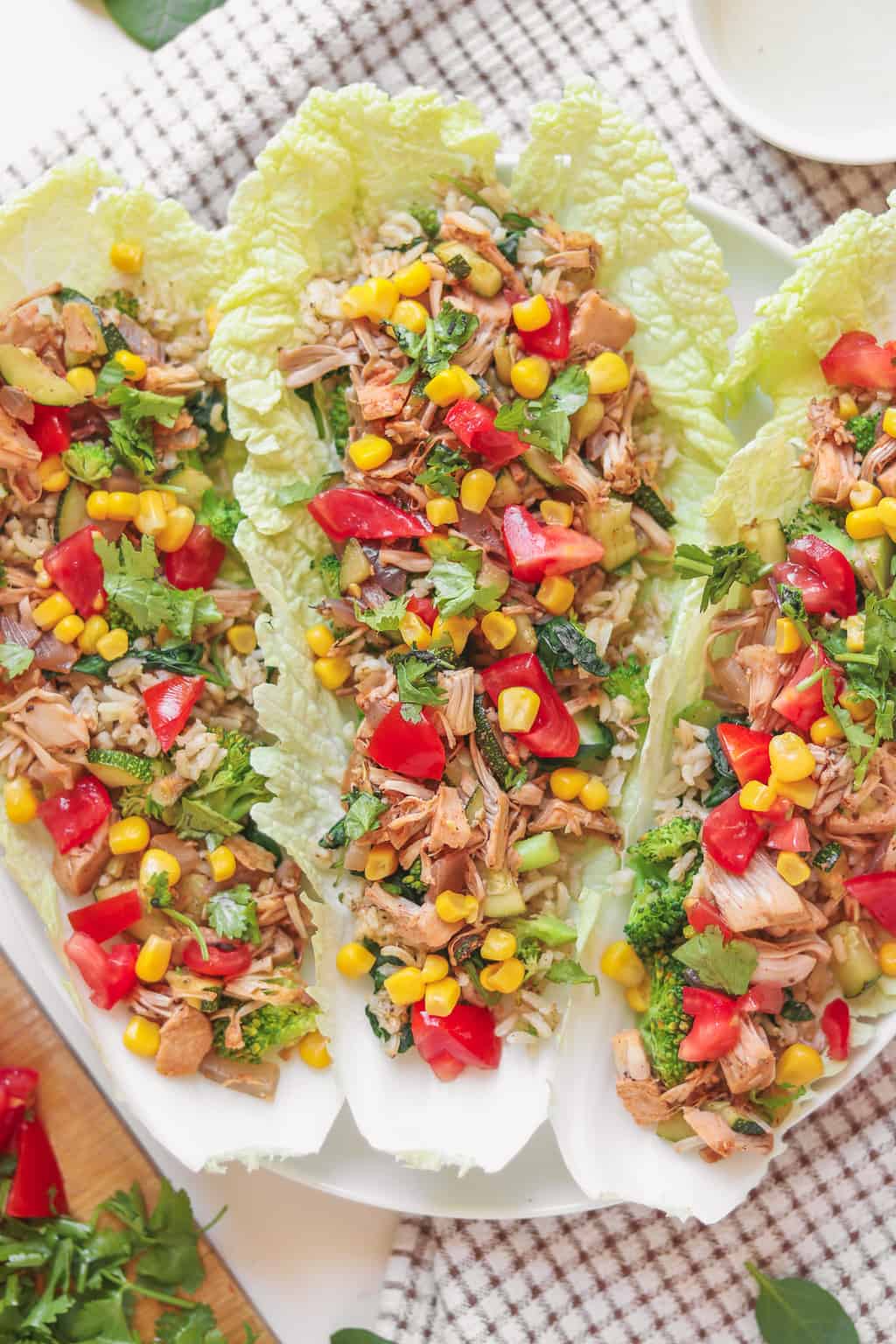 The best time to prepare the jackfruit filling is while the rice cooks, so then you can use the same frying pan to sauté the rice afterwards.
Oil-free vegan cashew dressing.
I don't know about you, but I love making my dressings, sauces and spreads from scratch. Of course, if I'm feeling lazy, I'll start with plant yoghurt, or go for a store-brought alternative altogether. But homemade is not only made from whole, fresh ingredients, but also tastier and cheaper!
To serve these vegan lettuce wraps, we're making an oil-free vegan cashew dressing that kinda reminds me of soured cream. I'd recommend making extra and storing some in the fridge because it works well with so many recipes, salads in particular.
And finally, no taco-ish recipe is complete without tomatoes, sweetcorn and a bit of fresh coriander on top!
The end product is a vibrant, summery lettuce wrap feast.
Bonus points for the fact that they are far easier to eat than traditional hard taco shells. Although, I rarely make things as easy as possible for myself because I add waaay too much filling to each one. But in my opinion, that's the only way to eat anything of the taco/burrito/wrap/sandwich variety!
Tips and modifications:
If you can only find jackfruit in brine/salted water, simply leave out the soy sauce when you cook it.
Serve these vegan lettuce wraps with any veggies and/or fresh greens of your choice – the more, the better!
Quinoa is a good alternative if you want to change up the brown rice.
When you make the seasoning, adjust the amount of water you use depending on how runny you want it to be.
If you're into meal prep, make a bit of extra filling and store in the fridge in an airtight container for lunch the next day!
Other recipes you might like…
Let me know: what's your favourite way to cook jackfruit? If you give these vegan lettuce wraps a go, be sure to tag me on Instagram (@earthofmariaa) so I can see your creations.
Jackfruit And Brown Rice Vegan Lettuce Wraps
These vegan lettuce wraps feature brown rice with green veggies, jackfruit and a super simple oil-free cashew dressing. Refreshing and packed with texture and flavour, it's a must try for a healthy lunch or weeknight dinner! Oh, and they're also super versatile - simply add any veggies of your choice to switch things up.
Ingredients
2

cups

brown rice

dry

1/2

large

red onion

2

cloves

garlic

minced

1

1-inch piece

fresh ginger

grated

1

can

canned jackfruit

in water

3/4

cup

zucchini

chopped

2

tbsp

tamari

1

tbsp

agave nectar

1/2

tsp

garlic powder

1/2

tsp

paprika

1/2

tsp

cumin

black pepper

to taste

1/2

medium

broccoli

chopped

2

cups

spinach

6-8

large

lettuce leaves

vine tomatoes

chopped, to serve

4

tbsp

sweetcorn

to serve

small handful

fresh coriander

to serve
For the dressing
1/2

cup

cashews

soaked overnight

1/3

cup

water

juice of 1/2 lemon

1

clove

garlic

minced

1

tbsp

nutritional yeast
Instructions
Cook brown rice according to instructions on packaging. This usually takes 25-30 minutes.

Meanwhile, add the red onion, garlic and ginger to a non-stick frying pan on a medium-high heat. Cook for 3-4 minutes, until translucent.

Add the jackfruit and zucchini. Use a spatula or a wooden spoon to break up the fibres of the jackfruit pieces.

Lower the heat, and add 1 tbsp of the tamari, agave nectar, garlic powder, paprika, cumin, and black pepper with 1-2 tbsps water. Cook on a low-medium heat for 8-10 minutes. Remove from the frying pan and set aside.

To make the dressing, simply combine the ingredients in a blender or food processor and blend until smooth. Add more or less water, depending on your preferred consistency.

Once the rice is almost cooked, add the broccoli to the frying pan, stirring for 2-3 minutes. Stir in the rice for a minute more, along with the remaining tamari and fresh spinach.

Assemble the lettuce wraps, starting with the brown rice, followed by the jackfruit stir-fry, dressing, fresh tomatoes, sweetcorn and coriander.
Nutrition
Calories:
285
kcal
|
Carbohydrates:
54
g
|
Protein:
7
g
|
Fat:
5
g
|
Sodium:
276
mg
|
Potassium:
403
mg
|
Fiber:
3
g
|
Sugar:
3
g
|
Vitamin A:
2520
IU
|
Vitamin C:
11.7
mg
|
Calcium:
68
mg
|
Iron:
2.5
mg
Pin this for later!