Easy Vegan Peanut Noodles
These easy vegan peanut noodles are perfect for a quick lunch or dinner that's ready in 15 minutes. Packed full of vegetables and rich flavour, it's a meal that you'll want to make multiple times a week!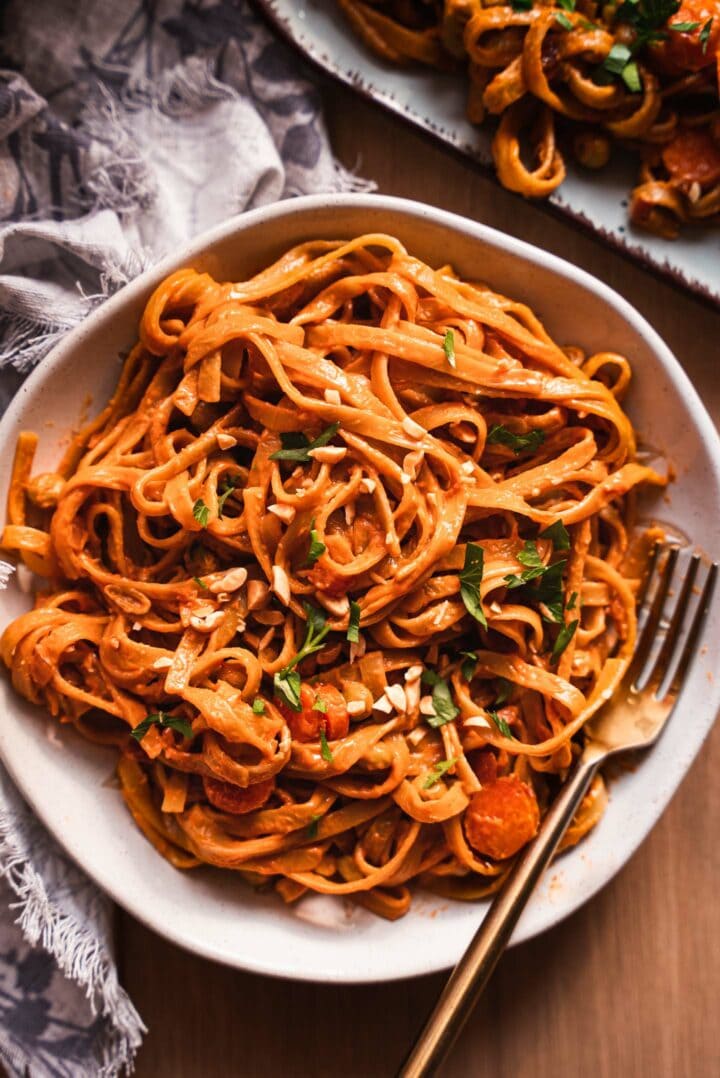 I love noodles, I love peanut butter, and I love meals that come together in no time. So, I am super excited to be sharing this recipe. Despite how simple it is, it's guaranteed to impress and may become one of your go-tos for dinner after a busy day.
If you enjoy flavourful comfort food that requires very little time, I'm sure you will love this recipe. I can't get enough of it at the moment, and always go back for seconds!
About these vegan peanut noodles
Peanut butter in sauces makes such a great ingredient, and it's even better when paired with chewy, delicious noodles.
The flavours in this meal are nutty and savoury, with a hint of spice. The vegetables bring in plenty of texture and really enhance the dish with their natural flavours. But despite how easy this meal is, you only need around 15 minutes to make it!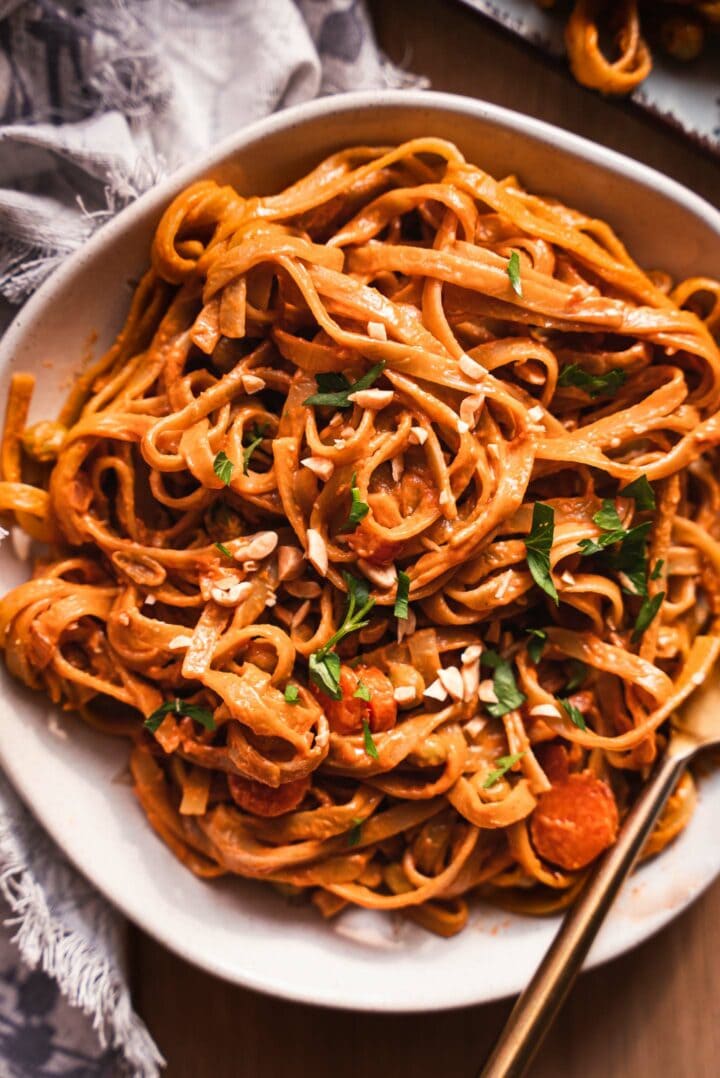 Serve peanut noodles for a quick lunch or dinner whenever you're short on time. They're ideal for a cold evening, when you need a big bowl of comfort with minimal fuss.
What noodles should I use?
You can use any noodles of your choice. Just check the back of the packaging to make sure that they're vegan and don't contain any products such as eggs or milk.
Here, I used gluten-free rice noodles. But varieties such as ramen noodles or soba noodles also work really well as a great option!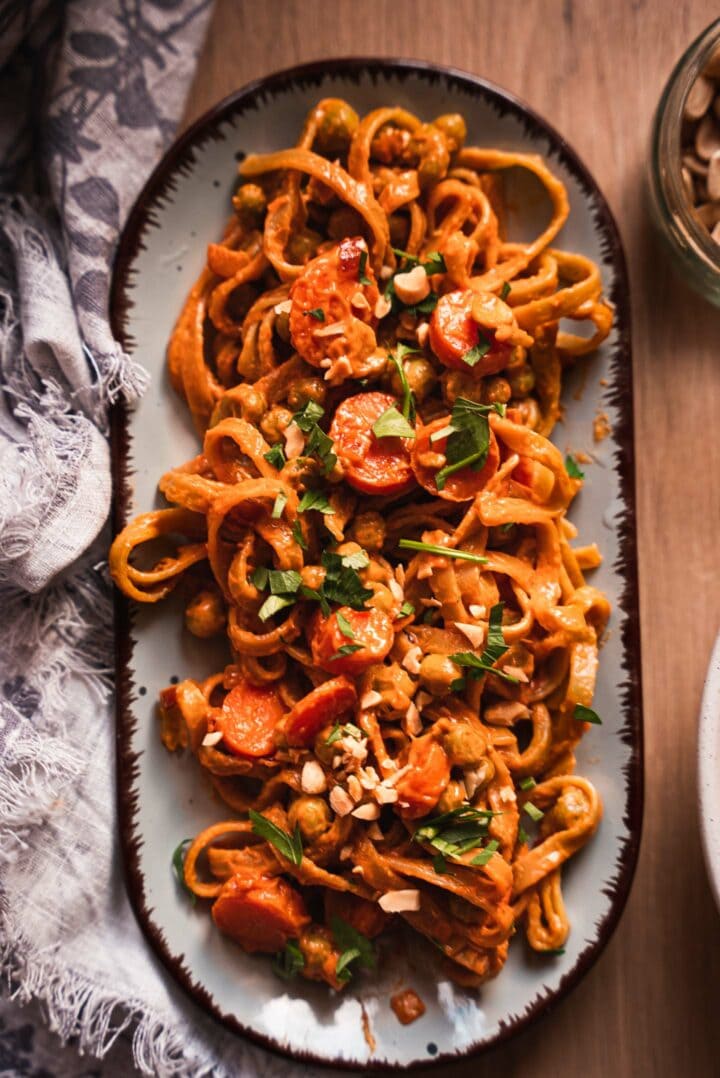 What vegetables can I add?
What I love about vegan peanut noodles is just how versatile they are! It's a great dinner for cleaning out the fridge and using up any spare vegetables. I kept things very simple and used carrots and green peas, but, vegetables such as Pak Choi, bell peppers, broccoli and snow peas also work well.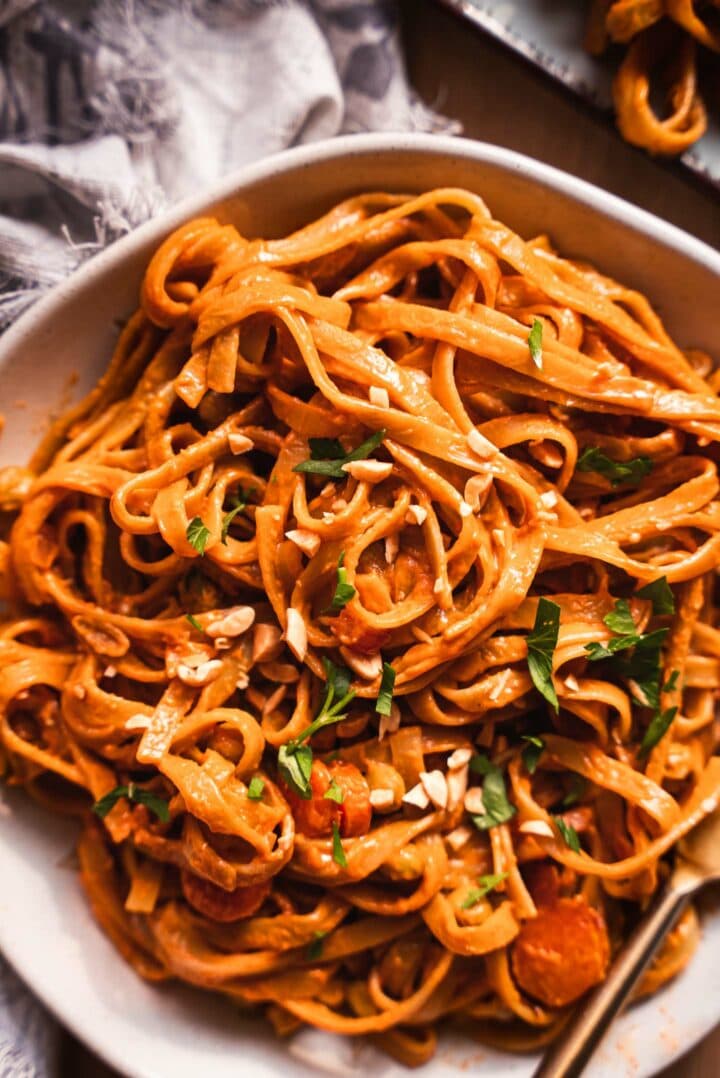 Peanut butter sauce
This peanut butter sauce is rich and packed full of flavour, but requires just a handful of ingredients. These are:
Peanut butter. You can use either smooth or crunchy peanut butter. If you feel like switching it up, use another nut butter variety of your choice.
Tomato paste. This goes really well with the flavor of peanut butter.
Soy sauce. If you want to keep this dish gluten-free, use tamari (together with gluten-free noodles).
Rice vinegar. Apple cider vinegar or lemon juice also work if you don't have rice vinegar on hand.
How to make vegan peanut noodles
Cook the noodles according to packaging instructions, which usually takes around 10 minutes.
Meanwhile, heat sesame oil in a large pan over a medium-high heat and add the carrots, garlic and onion. Cook for 5 minutes, until the vegetables soften.
Next, add the peanut butter, tomato paste, soy sauce and rice vinegar. Stir together thoroughly to combine the sauce ingredients.
Finally, drain the noodles and rinse them under cold water before adding them to the pan together with the green peas. Stir together, and serve when all the noodles are coated in the sauce.
Other 15-minute recipes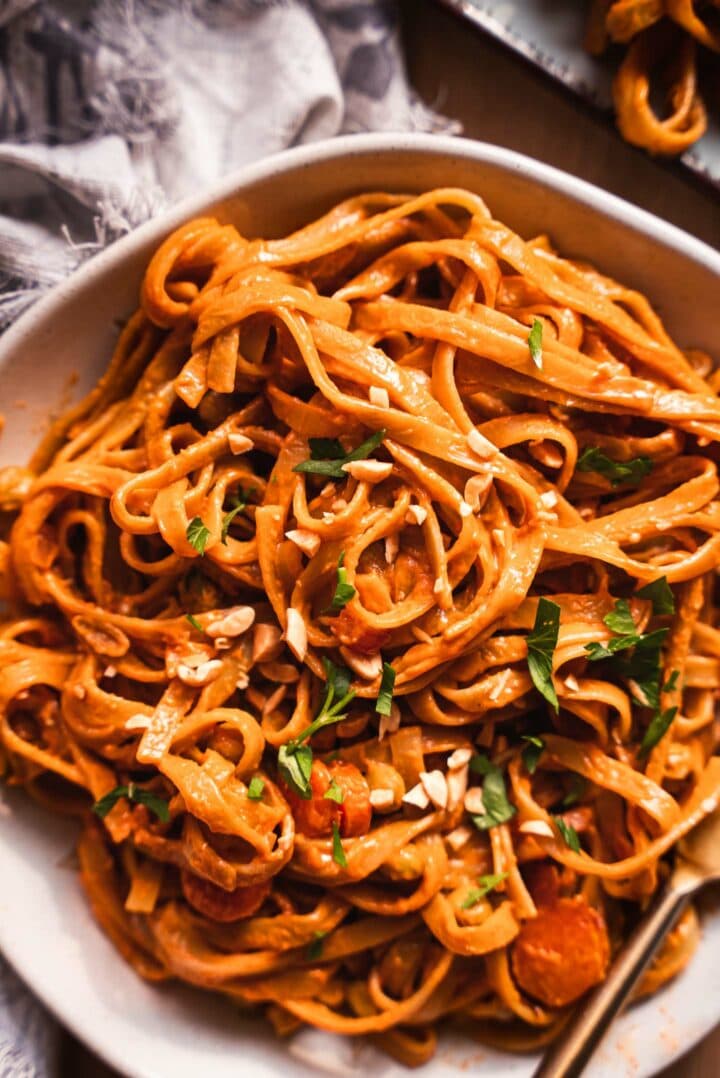 Let me know in the comments: what's your favourite way to use peanut butter in savoury recipes? If you give these vegan peanut noodles a go, be sure to tag me on Instagram (@earthofmariaa) so I can see your creations, and leave your feedback in the comments below.
Get the Recipe: Easy Vegan Peanut Noodles
These easy vegan peanut noodles are great for a quick and flavourful dinner that's ready in 15 minutes. Made with chewy noodles and a flavourful, savoury peanut sauce, this dish is easy to make for a comforting, wholesome meal.
Ingredients
10 oz rice noodles
1 tbsp sesame oil
1 large carrot, chopped into coins
3 cloves garlic, minced
1 large red onion, diced
1/3 cup peanut butter
2 tbsp tomato paste
1/4 cup soy sauce
2 tbsp rice vinegar
1 cup green peas
Equipment
Saucepan

Frying pan

Mixing bowl
Instructions
Cook the noodles according to packaging instructions, which usually takes around 10 minutes.

10 oz rice noodles

Heat the sesame oil in a large pan over a medium-high heat and add the carrots, garlic and onion. Cook for 5 minutes, until the vegetables soften.

1 tbsp sesame oil, 1 large carrot, 3 cloves garlic, 1 large red onion

Add the peanut butter, tomato paste, soy sauce and rice vinegar. Stir together thoroughly to combine the sauce ingredients.

1/3 cup peanut butter, 2 tbsp tomato paste, 1/4 cup soy sauce, 2 tbsp rice vinegar

Drain the noodles and rinse them under cold water before adding them to the pan. Stir together, and serve when all the noodles are coated in the sauce.

10 oz rice noodles
Calories: 483kcal, Carbohydrates: 76g, Protein: 12g, Fat: 15g, Saturated Fat: 3g, Polyunsaturated Fat: 5g, Monounsaturated Fat: 7g, Sodium: 1117mg, Potassium: 468mg, Fiber: 6g, Sugar: 7g, Vitamin A: 3407IU, Vitamin C: 20mg, Calcium: 54mg, Iron: 2mg