Bullet Journaling For Productivity – 5 Spread Ideas
Most of us have an ambiguous relationship with bullet journals. We love them because they enhance our productivity, give us a place to track our thoughts and tie our lives together in a visual formal. Yet, we envy the presentability and aesthetic appeal standards set by Instagram and Pinterest. For this reason, I would like to preface this post with a reminder: your bullet journal absolutely does not have to look pretty in order for it to be effective. In fact, 90% of my bullet journal pages (in particular, weekly spreads) are covered in unsightly scribbles and take under five minutes to configure in the first place.
The are a couple of reasons for why the bullet journal images you see on my blog linger above the threshold of presentability. Firstly, in light of a pre-planned blog post, I want to create a better experience for my readers. Secondly, hand lettering, doodling and implementing colour schemes on a couple of my bullet journal pages acts, for me, as a creative outlet, which is something I believe most of us need. My study notes or anything destined to remain hidden from public consumption paint a different impression. And as an inherently 'messy' person with handwriting that can only be described as abysmal, I need reassurance that I do, in fact, posses a hint of artistic competence (lol). In short: do not be put off from starting a bullet journal because an obligation to make it look objectively aesthetic does not exist, unless this is something you wish to do for your own enjoyment.
Now, this post is a collab with Mia, who runs a lifestyle blog called Beautiful, Inspiring, Creative…Life. Not only is she is a super talented blogger with a very unique style and content (featuring many things including productivity, fashion and life advice), but also the loveliest person with an attitude all of us can admire. We bonded over our mutual love for many things, bullet journaling included, and decided to share our favourite spreads used to further productivity and personal development. You can check out her post HERE.
And now, let us have a look at some of my ideas, which you may wish to try out if you haven't already.
1. 'Reading, listening, watching'
(Gotta love my attempts to recreate my favourite 'Brusher' font, lol)
I know that many people often set themselves a goal of reading more books, whether fiction or non-fiction, listening to particular podcasts or watching interesting films. However, achieving this is tricky unless you are keeping yourself accountable. This is the main reason for why you may want to dedicate a page of your bullet journal to some sort of reading list, whether in the form of a space to jot down books you come across and may wish to read in the future, or a more structured 'to read' page with tick boxes next to each item.
As well as a to-read list for each month, I like to keep a reading/watching/listening log. Reading a book and forgetting all about it days later is easy. It is similarly easy to listen to a podcast episode, while absentmindedly doing something else, and have its central lesson escape your attention. In order to avoid this, I note down both the name of whatever I'm reading/listening/watching. Neighbouring the title is a summary or a few notes about what I found interesting. Of course, notebooks and my trusty Google Docs come in handy if I want to do a more extensive reflection. But a bullet journal is a fantastic place to start outlining anything that enhances your knowledge or influences your worldview as your faithfully stick to your reading intentions to the best of your ability.
2. Monthly/weekly goals mind map
I've spoken before about my extensive love for mind maps. Aside from their usefulness as a study technique, they can aid goal setting by allowing you to visualise what you want to achieve within a given time span and how these things fit into the broader scope of your life. In a sense, they act as a compact vision board.
Split your goals up into categories and scribble a few things under each heading, repeating this either on a monthly or weekly basis. When I do my mind maps, I like to be messy, vague and spontaneous, before refining the goals into a neater format on a different piece of paper. And if you're like me, doodle some cats (or have an actual cat nearby), because the more cats there are in your life, the better.
3. Monthly calendar
I feel like this should have been number one, given that it's pretty fundamental, but at this stage I hope you will excuse the spontaneous enthusiasm for reading lists that hindered my ability to create a logical order. Anyway, my favourite thing about monthly calendars is how they provide a general overview of the upcoming weeks, major events, deadlines, without 'zooming in' on details (the latter is the function of weekly spreads).
When organising your life, it's very easy to get caught up on the specifics of your day-to-day endeavours without having a clear focus of what you are working towards. In such cases, you may not notice deadlines creeping up. You may lose motivation when your broader goals are not identified. Even worse, you may fall victim to the panic of a last-minute birthday present purchase and scramble to write a meaningful, personalised card. Even if bullet journals aren't your thing and you do not wish to draw one out yourself, I would highly recommend investing in either a wall calendar or a pre-made planner. I, however, prefer to customise mine and surround it with what I feel like recording throughout the upcoming month.
4. Affirmations
Now, I have to admit that I find it difficult to find quotes which truly resonate with me on a deeper level, mostly because it is difficult to find any that have a direct relevance to my life without a considerable amount of extrapolation and the removal of vagueness. However, what I like to do is make a list of affirmations based on my individual experiences.
What does this have to do with productivity, you may ask? Well, in times of doubt and fear, which we all have as an inevitable part of the human experience, having a 'safety blanket', our guiding principles written out in concrete form to pushes us forward whenever we feel like slacking. I think reaching goals requires a mixture of discipline and motivation, and while the former is a habit you acquire through practice and consistency, the latter sometimes needs a boost to maximise your productivity. Moreover, my affirmations contain some items which are not directly linked to productivity and reaching goals, but mental and emotional wellbeing. This keeps me grounded and focused on the bigger picture whenever I start to get dismayed by day-to-day setbacks and nuances.
Of course, an entire page dedicated to affirmations on a weekly basis may not be for everyone. Going forward, one for each month could be a likely scenario in my case. A smaller box for weekly reminders, positioned in the corner of any page of your choice, is a much more realistic idea.
5. Writing plans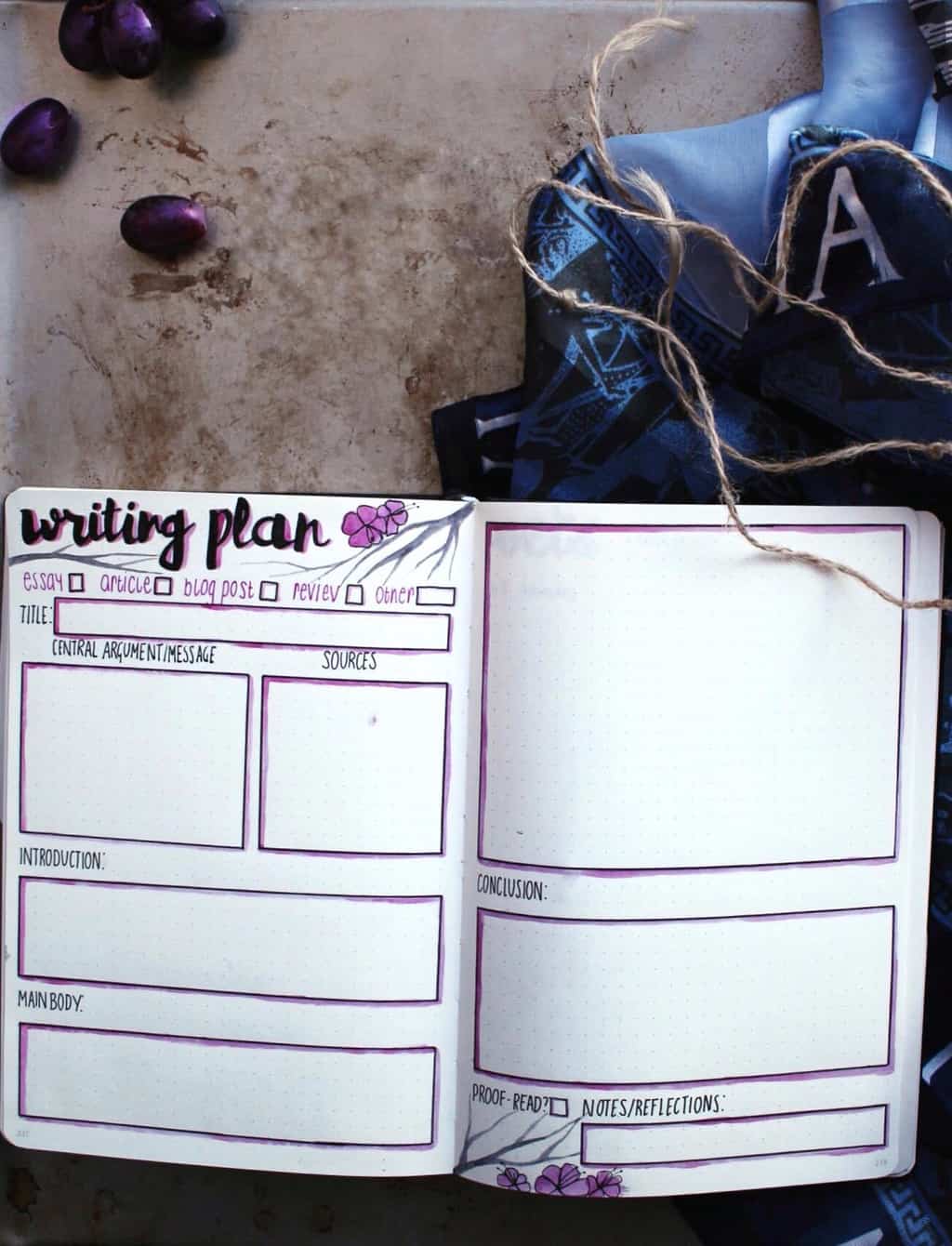 When I am studying, I like to do my writing plans in subject/topic specific notebooks. I also have a separate planner dedicated to my blog. However, I think that my bullet journal will come in handy when, for example, I wish to plan a written piece on a lengthy commute and reduce the weight of my bag. In the future, I may even invest in a writing-specific bullet journal because I think the size is perfect for a rough essay/blog post outline and the dot format delivers the freedom to scribble things down outside the constraints of lines and squares.
I hope this post has given you some fresh ideas for what to track, especially as February is only a couple of weeks away (am I the only person who feels like the pace of January has been a strange mixture of fast and slow?!). Be sure to let me know in the comments – do you like to bullet journal as a means of staying productive? And if you are not a bujo person, how do you like to organise your life on a weekly/monthly basis?
Lots of love, Maria ♡
Follow me on TWITTER and PINTEREST to keep updated.