Vegan Cookie Sandwiches With A Date Caramel Filling (Gluten-free)
These vegan cookie sandwiches bring together caramel and chocolate to make a sweet treat you'll keep coming back to. Enjoy them with a cup of tea, or even as a snack on the go! Made from healthy ingredients, gluten-free and ready in under thirty minutes. 
I don't think I can start this post without addressing the secret ingredient in these – black beans. Not a classic baking ingredient, for sure. Intuitively, we don't want beans and pulses to invade our baked treats: savoury dishes for sure, but not cookies, brownies and cakes.
Needless to say, these vegan cookie sandwiches exceeded all my expectation (after a few failed batches #foodieproblems). Being a healthier dessert, the cookie part doesn't taste exactly like your typical bakery treat, but has all the qualities to make it a frequent post-dinner dessert. They're crispy around the edges, chewy in their texture and very chocolatey.
And I pinky promise you can't taste the black beans at all! My mum spent a good ten minutes guessing the ingredients, and didn't even come close. The beans, however, is exactly what brings along the chewiness we all love in cookies. They're sweetened by agave nectar and cacao powder, and the slight hint of peanut butter you sense with each bite is perhaps my favourite part.
Of course, the cookies are good enough to eat by themselves. Throw a few in your lunchbox, and you've got a quick, delicious snack for school or work. But cookie sandwiches are always better – I mean, who can complain about eating two at once, with another irresistible flavour and texture in the middle?
That's where the date caramel filling comes in.
I'm pretty much obsessed with medjool dates, both by themselves and as an ingredient in sweet and savoury dishes alike. On most days, you're likely to find me snacking on a handful post-workout, eating them stuffed with peanut butter for breakfast, or throwing them in recipes for a hint of sweetness.
Medjools are the definition of nature's candy, making the perfect base ingredient for this caramel. Then, you only need three more (a nut butter of your choice, coconut milk, agave nectar) to make a sauce good enough to eat by the spoonful – which, I'm not gonna lie, is exactly what I did. I'd definitely recommend making a little extra just to enjoy by itself! Alternatively, store it in the fridge to spread on toast or drizzle as a finishing touch on oatmeal and smoothie bowls.
As the cookies aren't overpoweringly sweet, the two sandwich components harmonise both in flavour and in texture. Plus, I think we can all agree that dessert and sweet treat combos don't get much better than the pairing of caramel and chocolate.
So, what's to love about these vegan cookie sandwiches?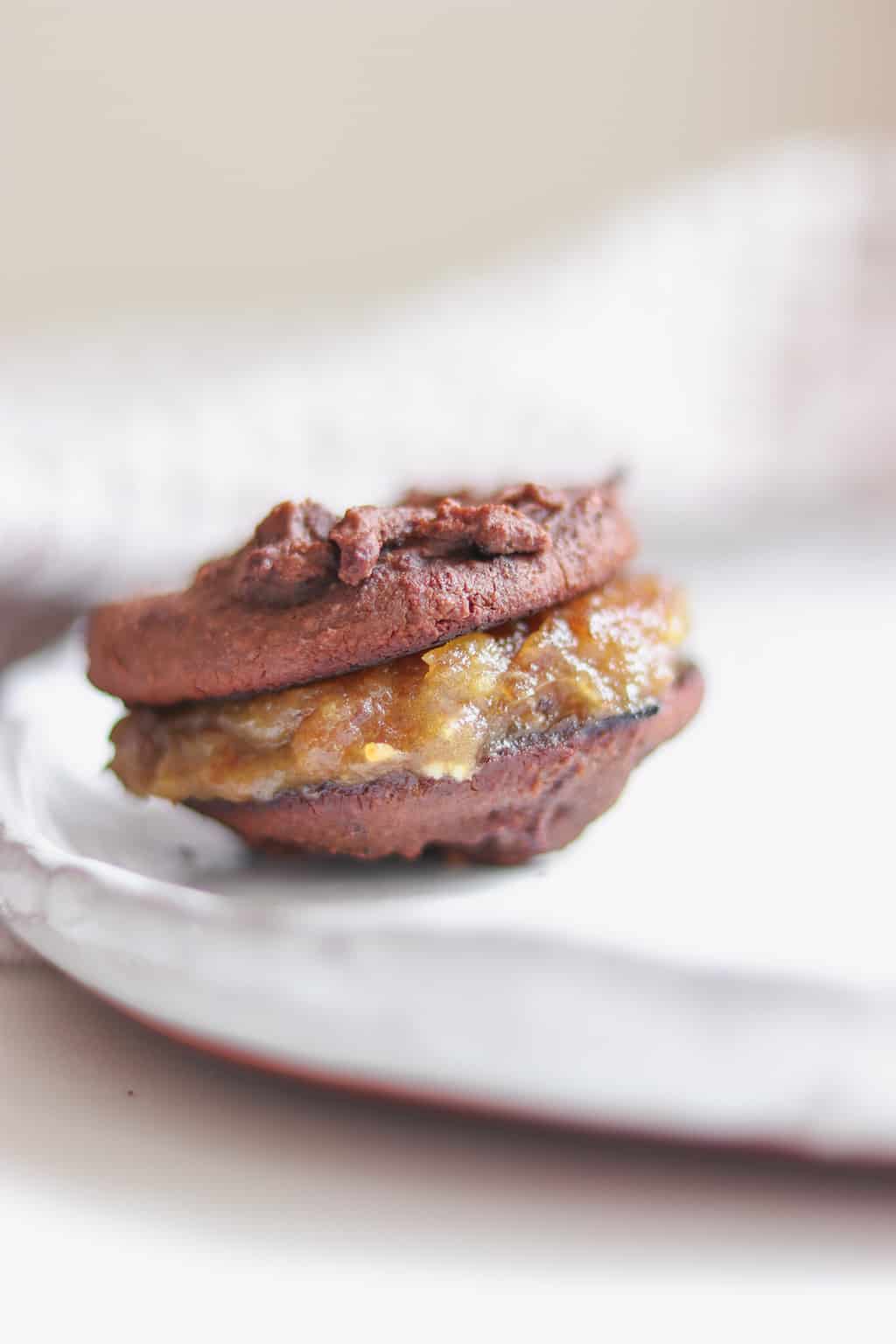 A lot, I would say. They're:
Vegan, gluten free and oil-free
Ready in under thirty minutes
Made from healthy, wholesome ingredients
Perfect for anything from a special occasion treat to an afternoon pick-me-up
Non-vegan approved.
The preparation couldn't be easier. I'd say the hardest part for me was washing the blender when moving on to the date filling from the cookie dough. All you have to do is whisk together the cookie ingredients, form the cookies and pop them in the oven. Meanwhile, prepare the golden caramel sauce, and once the cookies have cooled down, join the two parts into the finished product!
Let me know in the comments: what's a secret ingredient you love to use when baking? And if you end up trying out this recipe, tag me on Instagram (@earthofmariaa) so I can see your creation.
Get the Recipe: Vegan Cookie Sandwiches With A Date Caramel Filling (Gluten-free)
Chocolate cookie sandwiches with a thick date caramel filling for dessert, anyone? These treats may be on the healthier side, but nonetheless deliver a rich, nutty chocolate flavour, crunchiness and chewiness. Vegan, gluten-free and oil-free.
Ingredients
For the cookies
1 can black beans, drained and rinsed (8.5oz/240g/1.5 cups)
4.5 tbsp peanut butter , or any other nut or seed butter of your choice
4 tbsp agave nectar
20 g dark chocolate, roughly chopped (optional)
3 tbsp cacao powder
1.5 tbsp coconut flour
3/4 tsp baking powder
1/2 tsp sea salt
For the caramel filling
12 medjool dates
3 tbsp peanut butter, or any other nut or seed butter of your choice
6 tbsp coconut milk
3 tbsp agave nectar
Instructions
Preheat a conventional oven to 180 degrees C/356 F.

Add the black beans, peanut butter, agave nectar, dark chocolate, cacao powder, coconut flour, baking powder and sea salt to a blender or food processor. Blend until smooth and fully combined, before transferring the batter to a plate.

Scoop up the batter and place onto a sheet of parchment paper. Press down into a cookie shape - make sure your fingers are slightly damp to prevent sticking. The cookies should be quite small, around 2-3 cm in diameter. Repeat with the rest of the batter.

Place into the oven and bake for 8-10 minutes, until crispy around the edges.

Meanwhile, make the caramel by placing the medjool dates, nut or seed butter, coconut milk and agave nectar into a blender or food processor and blending until smooth. Transfer into a bowl.

Once the cookies are ready, allow them to cool for at least ten minutes. Then, assemble the sandwiches by spreading a generous layer of the caramel onto a cookie and then placing another on top.

Serve immediately or store in the fridge.
Calories: 214kcal, Carbohydrates: 36g, Protein: 5g, Fat: 6g, Saturated Fat: 2g, Sodium: 152mg, Potassium: 369mg, Fiber: 4g, Sugar: 25g, Vitamin A: 35IU, Calcium: 42mg, Iron: 1.3mg
Pin this recipe for later!