Maple Butternut Squash Autumn Salad Bowl
Vibrant and packed full of seasonal flavour and texture, this butternut squash and kale autumn salad will help you celebrate fall in style! Vegan, oil-free and gluten-free, and made from simple ingredients with minimal effort. 
We all know that summer is perhaps the optimal time for refreshing seasonal produce and eating huge, vibrant salads every single day. Over the last few months, I've had one at least once a day, every day. However, I don't plan on stopping any time soon. An autumn salad can be just as abundant, fresh and packed full of unique flavour!
A fun fact about me is that I've never disliked salad and vegetables, which is why going vegan was so easy for me. And since I've made that change in what I eat, I've actually become a far less fussy eater. As long as something is vegan, chances are I will eat it. My tastebuds have also become more sensitive over time, so now I can have grains such as rice/quinoa and raw veggies without any sauce or seasoning and find them genuinely enjoyable.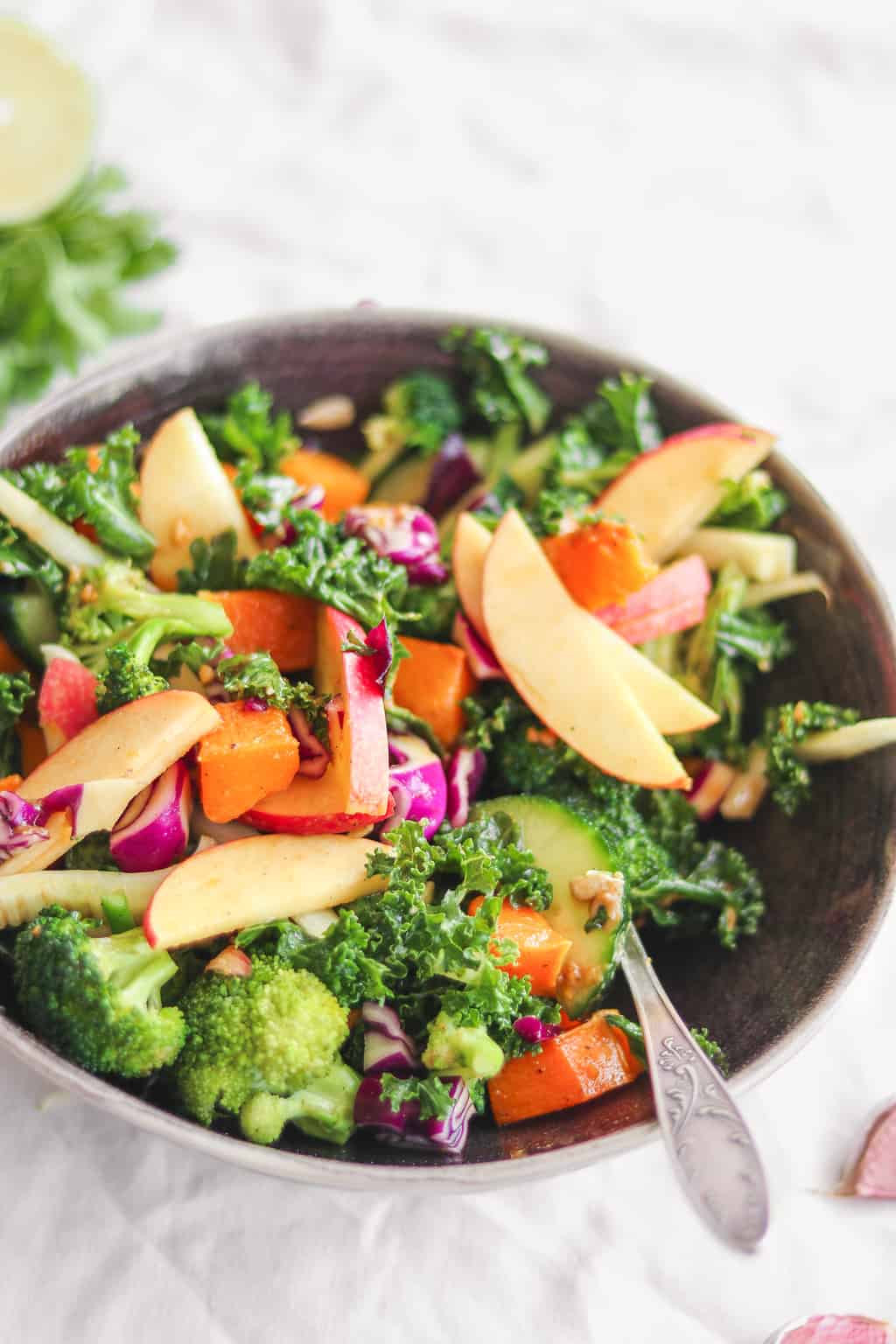 That being said, I also love making many of my salads as imaginative as possible. Whether that's combining sweet and savoury, making pasta the main ingredient, or just using a different tomato variety, I'm always trying out new things. One of my more recent creations is an autumn/fall-inspired salad with kale and butternut squash.
This autumn salad is busting with nourishing ingredients that keep every bite interesting. The butternut squash is soft and sweet, there's kale and broccoli bringing in some green goodness and absorbing flavour from the dressing. The apple is just the tastiest finishing touch of sweetness and crunch!
How to make a good autumn salad
Unlike with a summery salad, which can be as simple as throwing together whatever fresh veggies you have in the fridge, you typically need a starchy base. This can be something like pumpkin, different potato varieties, turnips, etc. For this autumn salad, we're using butternut squash, so sweet potato would work as a good alternative as it has a similar flavour.
While that's roasting in the oven with a pinch of salt, pepper and your favourite spices, prepare the other fruits and veggies. The key to a genuinely delicious salad is a variety of texture and flavours that all complement each other. This one includes massaged kale (massaging shrinks it down and helps the dressing coat it in an even layer), cucumber, purple cabbage and fennel. There are also broccoli florets sautéed with garlic powder and a splash of water. Finally, I added apple slices because I adore a good sweet/savoury combination. However, this is the stage where you can customise to your liking. Add whatever veggies, fruit or berries you want and see what you prefer.
Of course, dressing can take any salad-y recipe to the next level, and it doesn't have to be overly complicated. This one is just tamari, maple syrup, a clove of garlic and rice viegar, but because the salad in itself is so packed full of goodness, you don't need much more.
When the squash is ready (this usually takes around 20 minutes), stir everything together, add sunflower seeds for extra crunch (or any nuts/seeds of your choice) and that's it! Eat either straight away, while the butternut squash is warm, or set aside to cool down before serving.
Notes and modifications
Try adding orange instead of apple – this works brilliantly together with the dressing!
Nuts like almonds and pecans are perfect as an alternative topping for this salad.
If you're going to meal prep this, I would recommend replacing the apple with another fruit or berry because it may start to oxidise. Alternatively, prepare the rest of the salad ahead of time and then add the apple on the day.
Other recipes you might enjoy…
Let me know in the comments: are you a fan of autumn salads? If you give this recipe a go, be sure to tag me on Instagram (@earthofmariaa) so I can see your creations!
Get the Recipe: Maple Butternut Squash Autumn Salad Bowl
Vibrant and packed full of seasonal flavour and texture, this butternut squash and kale autumn salad will help you start fall off in style! Vegan, oil-free and gluten-free, it's also made from simple ingredients with minimal effort.
Ingredients
5 cups butternut squash, cubed
salt and pepper, to taste
2 cups kale, destemmed and chopped
1/2 cup red cabbage, chopped
1/2 large cucumber
1/2 large fennel bulb, choppwd
1 cup broccoli, florets
1 tsp garlic granules
1 large apple, chopped
1-2 tbsp pumpkin seeds
juice of 1 lime
For the dressing
2 tbsp tamari
1.5 tbsp rice vinegar
2 tbsp maple syrup
2 cloves garlic, minced
Instructions
Preheat oven to 200 degrees C/392 F. Spread butternut squash cubes evenly on a non-stick baking sheet or parchment paper. Season well with salt and pepper and roast in the oven for around 20 minutes, until tender.

Thoroughly massage the kale for a few minutes - this should make it shrink down.

In a frying pan, sautée the broccoli together with the garlic salt and 1-2 tbsps water, until it softens.

To make the dressing, simply stir together the tamari, rice vinegar, maple syrup and minced garlic clove.

Once the butternut squash is ready, toss it together with the kale, red cabbage, cucumber, fennel, broccoli, apple, pumpkin seeds and the dressing. Squeeze over the juice of 1 lime. Serve immediately or leave to cool for 10-15 minutes.
Calories: 390kcal, Carbohydrates: 87g, Protein: 12g, Fat: 4g, Sodium: 1094mg, Potassium: 2252mg, Fiber: 13g, Sugar: 33g, Vitamin A: 44860IU, Vitamin C: 186mg, Calcium: 373mg, Iron: 5.6mg
Pin this for later!