20+ Vegan Sauces You Need To Add To Your Meals
20+ Vegan sauces that will take your vegan cooking to the next level! This collection features sweet and savoury recipes alike, from dairy-free sour cream and pesto to caramel and chocolate. Plenty of quick options that use minimal ingredients.
I often preach the importance of sauces and condiments to anyone who's interested in going vegan, or simply adding more plant based meals to their diet. After all, they're the best way to take a boring meal and turn it into a masterpiece. After all, no one likes to eat flavourless food. And with a good sauce, you can bring in all the flavour imaginable.
Imagine this. You've had a long day, left with neither the time nor the energy to make anything more complicated than rice and beans. By itself, that's hardly a joy for the tastebuds. But if you have a good sauce sitting in the fridge, then your dinner experience will be much better!
Fear not, because many amazing vegan sauces require neither complex ingredients, nor a lot of preparation time. In fact, a lot of my personal favourites can be made in 5 minutes using just a blender!
So I've compiled a collection of incredible vegan sauces for you to pick and choose from to suit your needs. There are both sweet and savoury options included to suit a variety of meal types. Pick and choose these depending on that you're making, and don't forget to save this post to refer back to.
20+ Vegan Sauces That You Will Love
Sour cream is one of my favourite sauces because it's incredibly versatile! I grew up eating it, and love how easy it is to veganise. Stir it into pasta, add it to salads, or use it as a spread in wraps and sandwiches – regardless, it's going to make a delicious addition.
This chocolate sauce by Rebecca from Vegan Blueberry is the perfect treat for a sweet tooth. Drizzle it on top of pancakes or waffles, or use it as a dip for fruit for your new favourite snack. It would also work really well as a topping for porrige!
A rich and creamy peanut sauce like this one by Mary Ellen from V Nutrition And Wellness is a recipe that everyone needs to try, in particular if you love salads and nourish bowls with flavourful dressings. It would also make an excellent dip for vegetables, bread sticks and chips.
I love guacamole a lot, and I think most people can relate. Out of my favourite vegan sauces, this tops the list for the ones that. I make the most. It's incredibly simple and goes extremely well with nachos and potatoes. You can also switch up the flavours depending on your preferences.
Larisha and Andrew from Make It Dairy Free came up with this amazing BBQ sauce that uses fresh blueberries for a sweet and spicy flavour. Bring it to BBQs, use it as a sauce for burgers, or use it as a dip for anything from fries to onion rings and vegan chick'n nuggets.
This sunflower seed sauce by Kristen from MOON And Spoon And Yum looks so delicious and flavourful. You can use it as a salad dressing, a dip or a sauce. Not to mention that you only need 6 ingredients, not counting salt and pepper!
Use fresh herbs like cilantro and parsley to make this vibrant, fresh and robust green sauce by Mel from A Virtual Vegan. It's easy to whip up in minutes using a food processor and goes well with dishes like roast potatoes, tacos, various pasta dishes and sandwiches.
As far as vegan sauces go, cashew cream is the basis for many of them. This is a basic recipe that uses just a touch of paprika to add more depth to the flavour. Stir it into pasta, add it to salads, or use as a spread for toast/sandwiches. You can also switch up the flavours of cashew cream according to your preferences!
This amazing cheese sauce by Jessica from Jessica in the kitchen is perfect for any cheese lover out there! You certainly won't miss the dairy. Whether used as a dip or drizzled on your favourite meals, it's exactly what you would expect: very cheesy, flavourful, and incredibly versatile.
Not only is this caramel sauce by Britt from The Banana Diaries good enough to eat by itself straight from the jar, it is also allergy-friendly and refined sugar-free. You can use it as a topping for desserts, add a spoonful to coconut yoghurt, or use as a dip for fruit!
I love making fruity compotes at home, and this strawberry compote or sauce by Ela from Ela Vegan shows you exactly how to do that! Use this sauce for pancakes and waffles or add it to toast with peanut butter for a levelled-up PB&J sandwich.
I think we all love a good pesto, and this recipe by Tajda from My Vegan Minimalist is a pefecrt, vibrant recipe that's naturally gluten-free and uses just a handful of ingredients. Pesto tastes incredible with potatoes, vegetables and in pasta. I also love spreading it on toast and adding sliced avocado on top!
This pizza sauce by Karissa from Karissa's Vegan Kitchen will take your Friday night pizza to the next level! It is made with classic Italian spices in around 10 minutes with minimal effort.
You only need 25 minutes to make this incredible Alfredo Sauce by Melissa from Vegan Huggs! It uses cauliflower and cashews for an incredibly creamy texture that's perfect for serving with pasta as a winning weeknight dinner.
As far as special occasions and the holiday season go, gravy is everyone's sauce of choice. But it is not just for Christmas and Thanksgiving! It pairs super well with mashed potatoes, roast veggies and various stews. This recipe is so good, I often find myself eating it by itself with a spoon!
This chipotle aioli by Shane from Shane And Simple is spicy, with a hint of sweetness, and easy to make in just 5 minutes using 6 ingredients. You can serve it as a dip for onion rings, as a dressing for any salad of your choice, or as a sauce to liven up tacos, sandwiches and wraps.
If you want to make your own canned tomato sauce, this post by Sarah from My Vegan Darling will show you exactly how. Homemade tomato sauce tastes better and is healthier than store brought, so I would totally recommend canning your own tomatoes and using them across a huge range of recipes.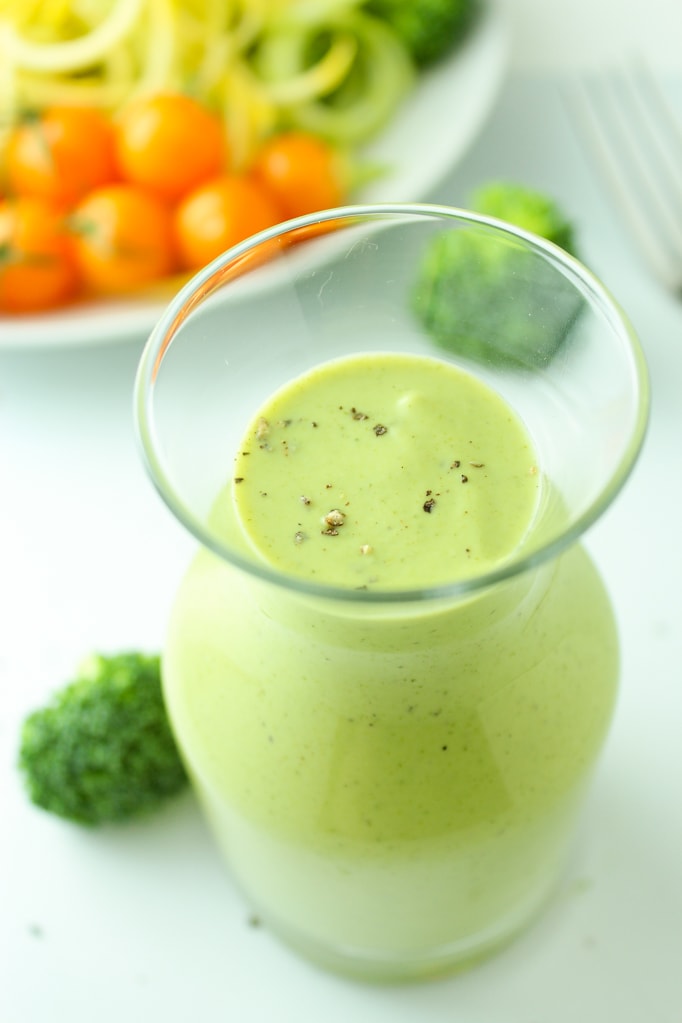 One of the most fun ways to use broccoli is blending it into a sauce like this one by Jordan and Clark from The Fitchen. Even if you think that you don't like broccoli, this recipe may convince you otherwise. It's super simple and great for serving with pasta or zoodles.
This citrus tahini dressing by Jenn from Veggie Inspired is an amazing oil-free option that's ideal for salads, especially those packed with leafy greens. Give this one a go if you love subtle citrusy flavours.
This pasta sauce is not only super creamy and flavourful, but also nut-free and incredibly simple. I love using it for pasta, of course, but it also tastes delicious drizzled over vegetables such as broccoli and cauliflower.
And that's it for this roundup! Let me know in the comments: which one of these vegan sauces is your favourite? Do you have any other ones that you love to make?